World Facts Index > Ireland > Cork, Dublin, Galway, Kilkenny, Killarney, Limerick, Sligo, Tralee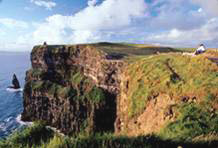 Celtic tribes arrived on the island between 600-150 B.C. Invasions by Norsemen that began in the late 8th century were finally ended when King Brian BORU defeated the Danes in 1014. English invasions began in the 12th century and set off more than seven centuries of Anglo-Irish struggle marked by fierce rebellions and harsh repressions. A failed 1916 Easter Monday Rebellion touched off several years of guerrilla warfare that in 1921 resulted in independence from the UK for 26 southern counties; six northern (Ulster) counties remained part of the UK. In 1949, Ireland withdrew from the British Commonwealth; it joined the European Community in 1973. Irish governments have sought the peaceful unification of Ireland and have cooperated with Britain against terrorist groups. A peace settlement for Northern Ireland is being implemented with some difficulties. In 2006, the Irish and British governments developed and began to implement the St. Andrews Agreement, building on the Good Friday Agreement approved in 1998.
Geography of Ireland
Location:

Western Europe, occupying five-sixths of the island of Ireland in the North Atlantic Ocean, west of Great Britain

Coordinates:

53 00 N, 8 00 W

Area:

total: 70,280 sq km
water: 1,390 sq km
land: 68,890 sq km

Area comparative:

slightly larger than West Virginia

Land boundaries:

total: 360 km
border countries: UK 360 km

Coastline:

1,448 km

Maritime claims:

exclusive fishing zone: 200 NM
territorial sea: 12 NM

Climate:

temperate maritime; modified by North Atlantic Current; mild winters, cool summers; consistently humid; overcast about half the time

Terrain:

mostly level to rolling interior plain surrounded by rugged hills and low mountains; sea cliffs on west coast

Elevation extremes:

lowest point: Atlantic Ocean 0 m
highest point: Carrauntoohil 1,041 m

Natural resources:

zinc, lead, natural gas, barite, copper, gypsum, limestone, dolomite, peat, silver

Environment current issues:

water pollution, especially of lakes, from agricultural runoff

Geography - note:

strategic location on major air and sea routes between North America and northern Europe; over 40% of the population resides within 97 km of Dublin
Population of Ireland
Population:

4,156,119 (July 2008 est.)

Age structure:

0-14 years: 20.9% (male 437,903/female 409,774)
15-64 years: 67.6% (male 1,373,771/female 1,370,452)
65 years and over: 11.6% (male 207,859/female 262,476)

Median age:

34 years

Growth rate:

1.15%

Infant mortality:

5.31 deaths/1,000 live births

Life expectancy at birth:

total population: 77.73 years
male: 75.11 years
female: 80.52 years

Fertility rate:

1.86 children born/woman

Nationality:

noun: Irishman(men), Irishwoman(women), Irish (collective plural)
adjective: Irish

Ethnic groups:

Celtic, English

Religions:

Roman Catholic 88.4%, Church of Ireland 3%, other Christian 1.6%, other 1.5%, unspecified 2%, none 3.5%

Languages:

English is the language generally used, Irish (Gaelic) spoken mainly in areas located along the western seaboard

Literacy:

definition: age 15 and over can read and write
total population: 99%
Government
Government type:

republic

Capital:

Dublin

Administrative divisions:

26 counties; Carlow, Cavan, Clare, Cork, Donegal, Dublin, Galway, Kerry, Kildare, Kilkenny, Laois, Leitrim, Limerick, Longford, Louth, Mayo, Meath, Monaghan, Offaly, Roscommon, Sligo, Tipperary, Waterford, Westmeath, Wexford, Wicklow
note: Cavan, Donegal, and Monaghan are part of Ulster Province

Independence:

6 December 1921 (from UK by treaty)

National holiday:

Saint Patrick's Day, 17 March

Constitution:

29 December 1937; adopted 1 July 1937 by plebiscite

Legal system:

based on English common law, substantially modified by indigenous concepts; judicial review of legislative acts in Supreme Court; has not accepted compulsory ICJ jurisdiction

Suffrage:

18 years of age; universal

Executive branch:

chief of state: President Mary MCALEESE (since 11 November 1997)
head of government: Prime Minister Brian COWEN (since 7 May 2008)
cabinet: Cabinet appointed by the president with previous nomination by the prime minister and approval of the House of Representatives
elections: president elected by popular vote for a seven-year term (eligible for a second term); election last held 31 October 1997 (next scheduled for October 2011); note - Mary MCALEESE appointed to a second term when no other candidate qualified for the 2004 presidential election; prime minister (taoiseach) nominated by the House of Representatives and appointed by the president.

Legislative branch:

bicameral Parliament or Oireachtas consists of the Senate or Seanad Eireann (60 seats - 49 elected by the universities and from candidates put forward by five vocational panels, 11 are nominated by the prime minister; members serve five-year terms) and the House of Representatives or Dail Eireann (166 seats; members are elected by popular vote on the basis of proportional representation to serve five-year terms).

Judicial branch:

Supreme Court (judges appointed by the president on the advice of the prime minister and cabinet)
Economy
Ireland is a small, modern, trade-dependent economy with growth averaging 6% in 1995-2007. Agriculture, once the most important sector, is now dwarfed by industry and services. Although the exports sector, dominated by foreign multinationals, remains a key component of Ireland's economy, construction has most recently fueled economic growth along with strong consumer spending and business investment. Property prices have risen more rapidly in Ireland in the decade up to 2006 than in any other developed world economy. Per capita GDP is 40% above that of the four big European economies and the second highest in the EU behind Luxembourg, and in 2007 surpassed that of the United States. The Irish Government has implemented a series of national economic programs designed to curb price and wage inflation, invest in infrastructure, increase labor force skills, and promote foreign investment. A slowdown in the property market, more intense global competition, and increased costs, however, have compelled government economists to lower Ireland's growth forecast slightly for 2008. Ireland joined in circulating the euro on 1 January 2002 along with 11 other EU nations.
GDP:

$191.6 billion (2007 est.)

GDP growth rate:

4.7%

GDP per capita:

$46,600

GDP composition by sector:

agriculture: 5%
industry: 46%
services: 49% (

Inflation rate:

2.4%

Labor force:

2.03 million

Labor force - by occupation:

agriculture 8%, industry 29%, services 64%

Unemployment:

4.3% (2005 est.)

Budget:

revenues: $70.46 billion
expenditures: $69.4 billion

Electricity production by source:

fossil fuel: 95.9%
hydro: 2.3%
other: 1.7%
nuclear: 0%

Industries:

steel, lead, zinc, silver, aluminum, barite, and gypsum mining processing; food products, brewing, textiles, clothing; chemicals, pharmaceuticals; machinery, rail transportation equipment, passenger and commercial vehicles, ship construction and refurbishment; glass and crystal; software, tourism

Agriculture:

turnips, barley, potatoes, sugar beets, wheat; beef, dairy products

Exports:

machinery and equipment, computers, chemicals, pharmaceuticals; live animals, animal products

Export partners:

US 19.3%, UK 16.9%, Belgium 14.8%, Germany 7.3%, France 6.3%, Netherlands 4.9%, Italy 4.2%

Imports:

data processing equipment, other machinery and equipment, chemicals, petroleum and petroleum products, textiles, clothing

Import partners:

US 19.3%, UK 16.9%, Belgium 14.8%, Germany 7.3%, France 6.3%, Netherlands 4.9%, Italy 4.2%

Currency:

euro (EUR)
note: on 1 January 1999, the European Monetary Union introduced the euro as a common currency to be used by financial institutions of member countries; on 1 January 2002, the euro became the sole currency for everyday transactions within the member countries
SOURCES: The CIA World Factbook, U.S. Department of State, Area Handbook of the US Library of Congress
Copyright 2004 - 2008 worldfacts.us