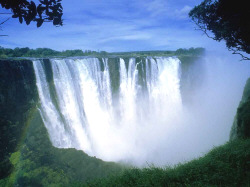 The UK annexed Southern Rhodesia from the [British] South Africa Company in 1923. A 1961 constitution was formulated that favored whites in power. In 1965 the government unilaterally declared its independence, but the UK did not recognize the act and demanded more complete voting rights for the black African majority in the country (then called Rhodesia). UN sanctions and a guerrilla uprising finally led to free elections in 1979 and independence (as Zimbabwe) in 1980. Robert MUGABE, the nation's first prime minister, has been the country's only ruler (as president since 1987) and has dominated the country's political system since independence. His chaotic land redistribution campaign, which began in 2000, caused an exodus of white farmers, crippled the economy, and ushered in widespread shortages of basic commodities. Ignoring international condemnation, MUGABE rigged the 2002 presidential election to ensure his reelection. The ruling ZANU-PF party used fraud and intimidation to win a two-thirds majority in the March 2005 parliamentary election, allowing it to amend the constitution at will and recreate the Senate, which had been abolished in the late 1980s. In April 2005, Harare embarked on Operation Restore Order, ostensibly an urban rationalization program, which resulted in the destruction of the homes or businesses of 700,000 mostly poor supporters of the opposition. President MUGABE in June 2007 instituted price controls on all basic commodities causing panic buying and leaving store shelves empty for months. General elections held in March 2008 contained irregularities but still amounted to a censure of the ZANU-PF-led government with significant gains in opposition seats in parliament. MDC opposition leader Morgan TSVANGIRAI won the presidential polls, and may have won an out right majority, but official results posted by the Zimbabwe Electoral Committee did not reflect this. In the lead up to a run-off election in late June 2008, considerable violence enacted against opposition party members led to the withdrawal of TSVANGIRAI from the ballot. Extensive evidence of vote tampering and ballot-box stuffing resulted in international condemnation of the process, and calls for the creation of a power-sharing government have been ignored.
Geography of Zimbabwe
Location:

Southern Africa, between South Africa and Zambia

Coordinates:

20 00 S, 30 00 E

Area:

total: 390,580 sq km
water: 3,910 sq km
land: 386,670 sq km

Area comparative:

slightly larger than Montana

Land boundaries:

total: 3,066 km
border countries: Botswana 813 km, Mozambique 1,231 km, South Africa 225 km, Zambia 797 km

Coastline:

0 km (landlocked)

Maritime claims:

none (landlocked)

Climate:

tropical; moderated by altitude; rainy season (November to March)

Terrain:

mostly high plateau with higher central plateau (high veld); mountains in east

Elevation extremes:

lowest point: junction of the Runde and Save rivers 162 m
highest point: Inyangani 2,592 m

Natural resources:

coal, chromium ore, asbestos, gold, nickel, copper, iron ore, vanadium, lithium, tin, platinum group metals

Natural hazards:

recurring droughts; floods and severe storms are rare

Environment current issues:

deforestation; soil erosion; land degradation; air and water pollution; the black rhinoceros herd - once the largest concentration of the species in the world - has been significantly reduced by poaching; poor mining practices have led to toxic waste and heavy metal pollution

Geography - note:

landlocked; the Zambezi forms a natural riverine boundary with Zambia; in full flood (February-April) the massive Victoria Falls on the river forms the world's largest curtain of falling water
Population of Zimbabwe
Population:

11,350,111 (July 2008 est.)

Age structure:

0-14 years: 37.4% (male 2,307,170/female 2,265,298)
15-64 years: 59.1% (male 3,616,528/female 3,621,190)
65 years and over: 3.5% (male 199,468/female 227,151)

Median age:

total: 19.9 years

Growth rate:

0.62%

Infant mortality:

51.71 deaths/1,000 live births

Life expectancy at birth:

total population: 39.29 years
male: 40.39 years
female: 38.16 years

Fertility rate:

3.13 children born/woman

Nationality:

noun: Zimbabwean(s)
adjective: Zimbabwean

Ethnic groups:

African 98% (Shona 82%, Ndebele 14%, other 2%), mixed and Asian 1%, white less than 1%

Religions:

syncretic (part Christian, part indigenous beliefs) 50%, Christian 25%, indigenous beliefs 24%, Muslim and other 1%

Languages:

English (official), Shona, Sindebele (the language of the Ndebele, sometimes called Ndebele), numerous but minor tribal dialects

Literacy:

definition: age 15 and over can read and write English
total population: 90.7%
male: 94.2%
female: 87.2%
Government
Country name:

conventional long form: Republic of Zimbabwe
former: Southern Rhodesia, Rhodesia

Government type:

parliamentary democracy

Capital:

Harare

Administrative divisions:

8 provinces and 2 cities* with provincial status; Bulawayo*, Harare*, Manicaland, Mashonaland Central, Mashonaland East, Mashonaland West, Masvingo, Matabeleland North, Matabeleland South, Midlands

Independence:

18 April 1980 (from UK)

National holiday:

Independence Day, 18 April (1980)

Constitution:

21 December 1979

Legal system:

mixture of Roman-Dutch and English common law

Suffrage:

18 years of age; universal

Executive branch:

chief of state: Executive President Robert Gabriel MUGABE; Vice President Joseph MSIKA and Vice President Joyce MUJUR; note - the president is both the chief of state and head of government
cabinet: Cabinet appointed by the president; responsible to the House of Assembly
elections: presidential candidates nominated with a nomination paper signed by at least 10 registered voters (at least one from each province) and elected by popular vote for a six-year term (no term limits); co-vice presidents appointed by the president

Legislative branch:

bicameral Parliament consists of a House of Assembly (150 seats - 120 elected by popular vote for five-year terms, 12 nominated by the president, 10 occupied by traditional chiefs chosen by their peers, and eight occupied by provincial governors appointed by the president) and a Senate (66 seats - 50 elected by popular vote for a five-year term, six nominated by the president, 10 nominated by the Council of Chiefs)

Judicial branch:

Supreme Court; High Court
Economy
The government of Zimbabwe faces a wide variety of difficult economic problems as it struggles with an unsustainable fiscal deficit, an overvalued official exchange rate, hyperinflation, and bare store shelves. Its 1998-2002 involvement in the war in the Democratic Republic of the Congo drained hundreds of millions of dollars from the economy. The government's land reform program, characterized by chaos and violence, has badly damaged the commercial farming sector, the traditional source of exports and foreign exchange and the provider of 400,000 jobs, turning Zimbabwe into a net importer of food products. The EU and the US provide food aid on humanitarian grounds. Badly needed support from the IMF has been suspended because of the government's arrears on past loans and the government's unwillingness to enact reforms that would stabilize the economy. The Reserve Bank of Zimbabwe routinely prints money to fund the budget deficit, causing the official annual inflation rate to rise from 32% in 1998, to 133% in 2004, 585% in 2005, passed 1000% in 2006, and 26000% in November 2007. Private sector estimates of inflation in 2007 are well above 100,000%. Meanwhile, the official exchange rate fell from approximately 1 (revalued) Zimbabwean dollar per US dollar in 2003 to 30,000 per US dollar in 2007.
GDP:

$2.342 billion (2007 est.)

GDP growth rate:

-5.5%

GDP per capita:

$200

GDP composition by sector:

agriculture: 17.9%
industry: 24.3%
services: 57.9%

Inflation rate:

12,563%

Labor force:

3.94 million

Labor force - by occupation:

agriculture 66%, services 24%, industry 10%

Unemployment:

80%

Budget:

revenues: $1.409 billion
expenditures: $1.905 billion

Electricity production by source:

fossil fuel: 47%
hydro: 53%

Industries:

mining (coal, gold, copper, nickel, tin, clay, numerous metallic and nonmetallic ores), steel, wood products, cement, chemicals, fertilizer, clothing and footwear, foodstuffs, beverages

Agriculture:

corn, cotton, wheat, coffee, sugarcane, peanuts; sheep, goats, pigs

Exports:

tobacco, gold, ferroalloys, textiles/clothing

Export partners:

South Africa 30.8%, China 6.7%, Switzerland 6.5%, Japan 5.2%, UK 4.5%, US 4.1%, Netherlands 4%

Imports:

machinery and transport equipment, other manufactures, chemicals, fuels

Import partners:

South Africa 43.6%, China 4.4%, Botswana 3.3%

Currency:

Zimbabwean dollar (ZWD)
SOURCES: The CIA World Factbook, U.S. Department of State, Area Handbook of the US Library of Congress
Copyright 2004 - 2008 worldfacts.us