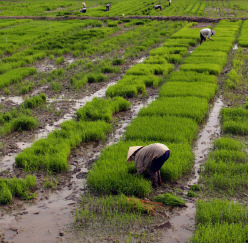 The conquest of Vietnam by France began in 1858 and was completed by 1884. It became part of French Indochina in 1887. Vietnam declared independence after World War II, but France continued to rule until its 1954 defeat by Communist forces under Ho Chi MINH. Under the Geneva Accords of 1954, Vietnam was divided into the Communist North and anti-Communist South. US economic and military aid to South Vietnam grew through the 1960s in an attempt to bolster the government, but US armed forces were withdrawn following a cease-fire agreement in 1973. Two years later, North Vietnamese forces overran the South reuniting the country under Communist rule. Despite the return of peace, for over a decade the country experienced little economic growth because of conservative leadership policies. However, since the enactment of Vietnam's "doi moi" (renovation) policy in 1986, Vietnamese authorities have committed to increased economic liberalization and enacted structural reforms needed to modernize the economy and to produce more competitive, export-driven industries. The country continues to experience protests from various groups - such as the Protestant Montagnard ethnic minority population of the Central Highlands and the Hoa Hao Buddhists in southern Vietnam over religious persecution. Montagnard grievances also include the loss of land to Vietnamese settlers.
Geography of Vietnam
Location:

Southeastern Asia, bordering the Gulf of Thailand, Gulf of Tonkin, and South China Sea, alongside China, Laos, and Cambodia

Coordinates:

16 00 N, 106 00 E

Area:

total: 329,560 sq km
land: 325,360 sq km
water: 4,200 sq km

Area comparative:

slightly larger than New Mexico

Land boundaries:

total: 4,639 km
border countries: Cambodia 1,228 km, China 1,281 km, Laos 2,130 km

Coastline:

3,444 km (excludes islands)

Maritime claims:

contiguous zone: 24 NM
territorial sea: 12 NM
continental shelf: 200 NM or to the edge of the continental margin
exclusive economic zone: 200 NM

Climate:

tropical in south; monsoonal in north with hot, rainy season (mid-May to mid-September) and warm, dry season (mid-October to mid-March)

Terrain:

low, flat delta in south and north; central highlands; hilly, mountainous in far north and northwest

Elevation extremes:

lowest point: South China Sea 0 m
highest point: Fan Si Pan 3,144 m

Natural resources:

phosphates, coal, manganese, bauxite, chromate, offshore oil and gas deposits, forests, hydropower

Natural hazards:

occasional typhoons (May to January) with extensive flooding, especially in the Mekong River delta

Environment current issues:

logging and slash-and-burn agricultural practices contribute to deforestation and soil degradation; water pollution and overfishing threaten marine life populations; groundwater contamination limits potable water supply; growing urban industrialization and population migration are rapidly degrading environment in Hanoi and Ho Chi Minh City

Geography - note:

extending 1,650 km north to south, the country is only 50 km across at its narrowest point
Population of Vietnam
Population:

86,116,560 (July 2008 est.)

Age structure:

0-14 years: 27% (male 11,826,457/female 10,983,069)
15-64 years: 67.1% (male 28,055,941/female 28,614,553)
65 years and over: 5.8% (male 1,924,562/female 2,998,384)

Median age:

25.9 years

Growth rate:

1.02%

Infant mortality:

25.14 deaths/1,000 live births

Life expectancy at birth:

total population: 70.85 years
male: 68.05 years
female: 73.85 years

Fertility rate:

1.91 children born/woman

Nationality:

noun: Vietnamese (singular and plural)
adjective: Vietnamese

Ethnic groups:

Vietnamese 85%-90%, Chinese, Hmong, Thai, Khmer, Cham, mountain groups

Religions:

Buddhist, Hoa Hao, Cao Dai, Christian (predominantly Roman Catholic, some Protestant), indigenous beliefs, Muslim

Languages:

Vietnamese (official), English (increasingly favored as a second language), some French, Chinese, and Khmer; mountain area languages (Mon-Khmer and Malayo-Polynesian)

Literacy:

definition: age 15 and over can read and write
total population: 94%
male: 95.8%
female: 92.3%
Government
Country name:

conventional long form: Socialist Republic of Vietnam
local short form: Viet Nam
abbreviation: SRV
local long form: Cong Hoa Xa Hoi Chu Nghia Viet Nam

Government type:

Communist state

Capital:

Hanoi

Administrative divisions:

58 provinces (tinh, singular and plural), and 3 municipalities (thu do, singular and plural)

Independence:

2 September 1945 (from France)

National holiday:

Independence Day, 2 September (1945)

Constitution:

15 April 1992

Legal system:

based on communist legal theory and French civil law system

Suffrage:

18 years of age; universal

Executive branch:

chief of state: President Nguyen Minh TRIET; Vice President Nguyen Thi DOAN
head of government: Prime Minister Nguyen Tan DUNG; Permanent Deputy Prime Minister Nguyen Sinh HUNG, Deputy Prime Minister Hoang Trung HAI, Deputy Prime Minister Nguyen Thien NHAN, Deputy Prime Minister Pham Gia KHIEM, and Deputy Prime Minister Truong Vinh TRONG
cabinet: Cabinet appointed by president based on proposal of prime minister and confirmed by National Assembly
elections: president elected by the National Assembly from among its members for five-year term; prime minister appointed by the president from among the members of the National Assembly; deputy prime ministers appointed by the prime minister; appointment of prime minister and deputy prime ministers confirmed by National Assembly

Legislative branch:

unicameral National Assembly or Quoc-Hoi (498 seats; members elected by popular vote to serve five-year terms)

Judicial branch:

Supreme People's Court (chief justice is elected for a five-year term by the National Assembly on the recommendation of the president)
Economy
Vietnam is a densely-populated developing country that in the last 30 years has had to recover from the ravages of war, the loss of financial support from the old Soviet Bloc, and the rigidities of a centrally-planned economy. Economic stagnation marked the period after reunification from 1975 to 1985. In 1986, the Sixth Party Congress approved a broad economic reform package that introduced market reforms and set the groundwork for Vietnam's improved investment climate. Substantial progress was achieved from 1986 to 1997 in moving forward from an extremely low level of development and significantly reducing poverty. The 1997 Asian financial crisis highlighted the problems in the Vietnamese economy and temporarily allowed opponents of reform to slow progress toward a market-oriented economy. GDP growth averaged 6.8% per year from 1997 to 2004 even against the background of the Asian financial crisis and a global recession. Since 2001, Vietnamese authorities have reaffirmed their commitment to economic liberalization and international integration. They have moved to implement the structural reforms needed to modernize the economy and to produce more competitive, export-driven industries. The economy grew 8.5% in 2007. Vietnam's membership in the ASEAN Free Trade Area (AFTA) and entry into force of the US-Vietnam Bilateral Trade Agreement in December 2001 have led to even more rapid changes in Vietnam's trade and economic regime. Vietnam's exports to the US increased 900% from 2001 to 2007. Vietnam joined the WTO in January 2007, following over a decade long negotiation process. WTO membership has provided Vietnam an anchor to the global market and reinforced the domestic economic reform process. Among other benefits, accession allows Vietnam to take advantage of the phase-out of the Agreement on Textiles and Clothing, which eliminated quotas on textiles and clothing for WTO partners on 1 January 2005. Agriculture's share of economic output has continued to shrink, from about 25% in 2000 to less than 20% in 2007. Deep poverty, defined as a percent of the population living under $1 per day, has declined significantly and is now smaller than that of China, India, and the Philippines. Vietnam is working to create jobs to meet the challenge of a labor force that is growing by more than one-and-a-half million people every year. In an effort to stem high inflation which took off in 2007, early in 2008 Vietnamese authorities began to raise benchmark interest rates and reserve requirements. Hanoi is targeting an economic growth rate of 7.5-8% during the next four years.
GDP:

$221.1 billion (2007 est.)

GDP growth rate:

8.5%

GDP per capita:

$2,600

GDP composition by sector:

agriculture: 20.9%
industry: 41%
services: 38.1%

Inflation rate:

8.3%

Labor force:

44.39 million

Labor force - by occupation:

agriculture: 56.8%
industry: 37%
services: 6.2%

Unemployment:

2.4%

Budget:

revenues: $11.64 billion
expenditures: $12.95 billion

Electricity production by source:

fossil fuel: 43.7%
hydro: 56.3%

Industries:

food processing, garments, shoes, machine-building, mining, cement, chemical fertilizer, glass, tires, oil, coal, steel, paper

Agriculture:

paddy rice, corn, potatoes, rubber, soybeans, coffee, tea, bananas, sugar; poultry, pigs, fish

Exports:

crude oil, marine products, rice, coffee, rubber, tea, garments, shoes

Export partners:

US 21.3%, Japan 13.4%, Australia 8.1%, China 7.5%, Singapore 5.4%, Germany 5.1%

Imports:

machinery and equipment, petroleum products, fertilizer, steel products, raw cotton, grain, cement, motorcycles

Import partners:

China 15.5%, Singapore 12.2%, Taiwan 11.3%, South Korea 10.7%, Japan 9.9%, Thailand 6.5%

Currency:

dong (VND)
SOURCES: The CIA World Factbook, U.S. Department of State, Area Handbook of the US Library of Congress
Copyright 2004 - 2008 worldfacts.us