World Facts Index > Venezuela > Caracas, Merida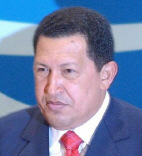 Venezuela was one of three countries that emerged from the collapse of Gran Colombia in 1830 (the others being Ecuador and New Granada, which became Colombia). For most of the first half of the 20th century, Venezuela was ruled by generally benevolent military strongmen, who promoted the oil industry and allowed for some social reforms. Democratically elected governments have held sway since 1959. Hugo CHAVEZ, president since 1999, seeks to implement his "21st Century Socialism," which purports to alleviate social ills while at the same time attacking globalization and undermining regional stability. Current concerns include: a weakening of democratic institutions, political polarization, a politicized military, drug-related violence along the Colombian border, increasing internal drug consumption, overdependence on the petroleum industry with its price fluctuations, and irresponsible mining operations that are endangering the rain forest and indigenous peoples.
Geography of Venezuela
Location:

Northern South America, bordering the Caribbean Sea and the North Atlantic Ocean, between Colombia and Guyana

Coordinates:

8 00 N, 66 00 W

Area:

total: 912,050 sq km
land: 882,050 sq km
water: 30,000 sq km

Area comparative:

slightly more than twice the size of California

Land boundaries:

total: 4,993 km
border countries: Brazil 2,200 km, Colombia 2,050 km, Guyana 743 km

Coastline:

2,800 km

Maritime claims:

contiguous zone: 15 NM
territorial sea: 12 NM
continental shelf: 200-m depth or to the depth of exploitation
exclusive economic zone: 200 NM

Climate:

tropical; hot, humid; more moderate in highlands

Terrain:

Andes Mountains and Maracaibo Lowlands in northwest; central plains (llanos); Guiana Highlands in southeast

Elevation extremes:

lowest point: Caribbean Sea 0 m
highest point: Pico Bolivar (La Columna) 5,007 m

Natural resources:

petroleum, natural gas, iron ore, gold, bauxite, other minerals, hydropower, diamonds

Natural hazards:

subject to floods, rockslides, mudslides; periodic droughts

Environment current issues:

sewage pollution of Lago de Valencia; oil and urban pollution of Lago de Maracaibo; deforestation; soil degradation; urban and industrial pollution, especially along the Caribbean coast; threat to the rainforest ecosystem from irresponsible mining operations

Geography - note:

on major sea and air routes linking North and South America; Angel Falls in the Guiana Highlands is the world's highest waterfall
Population of Venezuela
Population:

26,414,816 (July 2008 est.)

Age structure:

0-14 years: 29.1% (male 3,860,116/female 3,620,440)
15-64 years: 65.7% (male 8,494,944/female 8,410,874)
65 years and over: 5.2% (male 609,101/female 734,960)

Median age:

26 years

Growth rate:

1.38%

Infant mortality:

21.54 deaths/1,000 live births

Life expectancy at birth:

total population: 74.54 years
male: 71.49 years
female: 77.81 years

Fertility rate:

2.23 children born/woman

Nationality:

noun: Venezuelan(s)
adjective: Venezuelan

Ethnic groups:

Spanish, Italian, Portuguese, Arab, German, African, indigenous people

Religions:

nominally Roman Catholic 96%, Protestant 2%, other 2%

Languages:

Spanish (official), numerous indigenous dialects

Literacy:

definition: age 15 and over can read and write
total population: 93.4%
male: 93.8%
female: 93.1%
Government
Country name:

conventional long form: Bolivarian Republic of Venezuela
local long form: Republica Bolivariana de Venezuela

Government type:

federal republic

Capital:

Caracas

Administrative divisions:

23 states (estados, singular - estado), 1 federal district* (distrito federal), and 1 federal dependency** (dependencia federal); Amazonas, Anzoategui, Apure, Aragua, Barinas, Bolivar, Carabobo, Cojedes, Delta Amacuro, Dependencias Federales**, Distrito Federal*, Falcon, Guarico, Lara, Merida, Miranda, Monagas, Nueva Esparta, Portuguesa, Sucre, Tachira, Trujillo, Vargas, Yaracuy, Zulia
note: the federal dependency consists of 11 federally controlled island groups with a total of 72 individual islands

Independence:

5 July 1811 (from Spain)

National holiday:

Independence Day, 5 July (1811)

Constitution:

30 December 1999

Legal system:

based on organic laws as of July 1999; open, adversarial court system; has not accepted compulsory ICJ jurisdiction

Suffrage:

18 years of age; universal

Executive branch:

chief of state: President Hugo CHAVEZ Frias; Executive Vice President Ramon Alonzo CARRIZALEZ Rengifo; note - the president is both the chief of state and head of government.
cabinet: Council of Ministers appointed by the president
elections: president elected by popular vote for a six-year term (eligible for a second term)

Legislative branch:

unicameral National Assembly or Asamblea Nacional (167 seats; members elected by popular vote to serve five-year terms; three seats reserved for the indigenous peoples of Venezuela)

Judicial branch:

Supreme Tribunal of Justice or Tribuna Suprema de Justicia (magistrates are elected by the National Assembly for a single 12-year term)
Economy
Venezuela remains highly dependent on oil revenues, which account for roughly 90% of export earnings, more than 50% of the federal budget revenues, and around 30% of GDP. A nationwide strike between December 2002 and February 2003 had far-reaching economic consequences - real GDP declined by around 9% in 2002 and 8% in 2003 - but economic output since then has recovered strongly. Fueled by high oil prices, record government spending helped to boost GDP in 2006 by about 9% and in 2007 by about 8%. This spending, combined with recent minimum wage hikes and improved access to domestic credit, has created a consumption boom but has come at the cost of higher inflation-roughly 20 percent in 2007. Imports also have jumped significantly. Embolden by his December 2006 reelection, President Hugo CHAVEZ in 2007 nationalized firms in the petroleum, communications, and electricity sectors, which reduced foreign influence in the economy. Although voters in December 2007 rejected CHAVEZ's proposed constitutional changes, CHAVEZ still has significant control of the economy and has indicated he intends to continue to consolidate and centralize authority over the economy by implementing "21st Century Socialism."
GDP:

$334.3 billion (2007 est.)

GDP growth rate:

8.4%

GDP per capita:

$12,800

GDP composition by sector:

agriculture: 4%
industry: 41.9%
services: 54.1%

Inflation rate:

18.7%

Labor force:

12.31 million

Labor force - by occupation:

services 64%, industry 23%, agriculture 13%

Unemployment:

12.2%

Budget:

revenues: $39.63 billion
expenditures: $41.27 billion

Electricity production by source:

fossil fuel: 31.7%
hydro: 68.3%

Industries:

petroleum, iron ore mining, construction materials, food processing, textiles, steel, aluminum, motor vehicle assembly

Agriculture:

corn, sorghum, sugarcane, rice, bananas, vegetables, coffee; beef, pork, milk, eggs; fish

Exports:

petroleum, bauxite and aluminum, steel, chemicals, agricultural products, basic manufactures

Export partners:

US 55.2%, Netherlands Antilles 4.4%, Canada 2.8%

Imports:

raw materials, machinery and equipment, transport equipment, construction materials

Import partners:

US 28.9%, Colombia 8.4%, Brazil 6%

Currency:

bolivar (VEB)
SOURCES: The CIA World Factbook, U.S. Department of State, Area Handbook of the US Library of Congress
Copyright 2004 - 2008 worldfacts.us