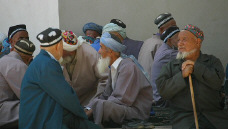 Russia conquered Uzbekistan in the late 19th century. Stiff resistance to the Red Army after World War I was eventually suppressed and a socialist republic set up in 1924. During the Soviet era, intensive production of "white gold" (cotton) and grain led to overuse of agrochemicals and the depletion of water supplies, which have left the land poisoned and the Aral Sea and certain rivers half dry. Independent since 1991, the country seeks to gradually lessen its dependence on agriculture while developing its mineral and petroleum reserves. Current concerns include terrorism by Islamic militants, economic stagnation, and the curtailment of human rights and democratization.
Geography of Uzbekistan
Location:

Central Asia, north of Afghanistan

Coordinates:

41 00 N, 64 00 E

Area:

total: 447,400 sq km
water: 22,000 sq km
land: 425,400 sq km

Area comparative:

slightly larger than California

Land boundaries:

total: 6,221 km
border countries: Afghanistan 137 km, Kazakhstan 2,203 km, Kyrgyzstan 1,099 km, Tajikistan 1,161 km, Turkmenistan 1,621 km

Coastline:

0 km (doubly landlocked); note - Uzbekistan includes the southern portion of the Aral Sea with a 420 km shoreline

Climate:

mostly midlatitude desert, long, hot summers, mild winters; semiarid grassland in east

Terrain:

mostly flat-to-rolling sandy desert with dunes; broad, flat intensely irrigated river valleys along course of Amu Darya, Syr Darya (Sirdaryo), and Zarafshon; Fergana Valley in east surrounded by mountainous Tajikistan and Kyrgyzstan; shrinking Aral Sea in west

Elevation extremes:

lowest point: Sariqarnish Kuli -12 m
highest point: Adelunga Toghi 4,301 m

Natural resources:

natural gas, petroleum, coal, gold, uranium, silver, copper, lead and zinc, tungsten, molybdenum

Environment current issues:

shrinkage of the Aral Sea is resulting in growing concentrations of chemical pesticides and natural salts; these substances are then blown from the increasingly exposed lake bed and contribute to desertification; water pollution from industrial wastes and the heavy use of fertilizers and pesticides is the cause of many human health disorders; increasing soil salination; soil contamination from buried nuclear processing and agricultural chemicals, including DDT

Geography - note:

along with Liechtenstein, one of the only two doubly landlocked countries in the world
Population of Uzbekistan
Population:

27,345,026 (July 2008 est.)

Age structure:

0-14 years: 32.9% (male 4,572,721/female 4,403,405)
15-64 years: 62.3% (male 8,420,174/female 8,594,478)
65 years and over: 4.8% (male 539,336/female 777,020)

Median age:

22.7 years

Growth rate:

1.7%

Infant mortality:

69.99 deaths/1,000 live births

Life expectancy at birth:

total population: 64.58 years
male: 61.19 years
female: 68.14 years

Fertility rate:

2.91 children born/woman

Nationality:

noun: Uzbekistani
adjective: Uzbekistani

Ethnic groups:

Uzbek 80%, Russian 5.5%, Tajik 5%, Kazakh 3%, Karakalpak 2.5%, Tatar 1.5%, other 2.5%

Religions:

Muslim 88% (mostly Sunnis), Eastern Orthodox 9%, other 3%

Languages:

Uzbek 74.3%, Russian 14.2%, Tajik 4.4%, other 7.1%

Literacy:

definition: age 15 and over can read and write
total population: 99.3%
male: 99.6%
female: 99%
Government
Country name:

conventional long form: Republic of Uzbekistan
local short form: Ozbekiston
former: Uzbek Soviet Socialist Republic
local long form: Ozbekiston Respublikasi

Government type:

republic; authoritarian presidential rule, with little power outside the executive branch

Capital:

Tashkent (Toshkent)

Administrative divisions:

12 provinces (viloyatlar, singular - viloyat), 1 autonomous republic (respublika), and 1 city

Independence:

1 September 1991 (from Soviet Union)

National holiday:

Independence Day, 1 September (1991)

Constitution:

new constitution adopted 8 December 1992

Legal system:

evolution of Soviet civil law; still lacks independent judicial system

Suffrage:

18 years of age; universal

Executive branch:

chief of state: President Islom KARIMOV
head of government: Prime Minister Shavkat MIRZIYAYEV
cabinet: Cabinet of Ministers appointed by the president with approval of the Supreme Assembly
elections: president elected by popular vote for a seven-year term; prime minister, ministers, and deputy ministers appointed by the president

Legislative branch:

bicameral Supreme Assembly or Oliy Majlis consists of an Upper House or Senate (100 seats; 84 members are elected by regional governing councils to serve five-year terms and 16 are appointed by the president) and a Lower House or Legislative Chamber (120 seats; elected by popular vote to serve five-year terms)

Judicial branch:

Supreme Court (judges are nominated by the president and confirmed by the Supreme Assembly)
Economy
Uzbekistan is a dry, landlocked country of which 11% consists of intensely cultivated, irrigated river valleys. More than 60% of its population lives in densely populated rural communities. Uzbekistan is now the world's second-largest cotton exporter and fifth largest producer; it relies heavily on cotton production as the major source of export earnings. Other major export earners include gold, natural gas, and oil. Following independence in September 1991, the government sought to prop up its Soviet-style command economy with subsidies and tight controls on production and prices. While aware of the need to improve the investment climate, the government still sponsors measures that often increase, not decrease, its control over business decisions. A sharp increase in the inequality of income distribution has hurt the lower ranks of society since independence. In 2003, the government accepted Article VIII obligations under the IMF, providing for full currency convertibility. However, strict currency controls and tightening of borders have lessened the effects of convertibility and have also led to some shortages that have further stifled economic activity. The Central Bank often delays or restricts convertibility, especially for consumer goods. Potential investment by Russia and China in Uzbekistan's gas and oil industry may boost growth prospects. In November 2005, Russian President Vladimir PUTIN and Uzbekistan President KARIMOV signed an "alliance," which included provisions for economic and business cooperation. Russian businesses have shown increased interest in Uzbekistan, especially in mining, telecom, and oil and gas. In 2006, Uzbekistan took steps to rejoin the Collective Security Treaty Organization (CSTO) and the Eurasian Economic Community (EurASEC), both organizations dominated by Russia. Uzbek authorities have accused US and other foreign companies operating in Uzbekistan of violating Uzbek tax laws and have frozen their assets.
GDP:

$64.4 billion (2007 est.)

GDP growth rate:

7.2%

GDP per capita:

$1,800

GDP composition by sector:

agriculture: 34.2%
industry: 22.9%
services: 43%

Inflation rate:

6.9%

Labor force:

14.26 million

Labor force - by occupation:

agriculture 44%, industry 20%, services 36%

Unemployment:

0.7% officially, plus another 20% underemployed

Budget:

revenues: $2.815 billion
expenditures: $2.917 billion

Electricity production by source:

fossil fuel: 88.2%
hydro: 11.8%

Industries:

textiles, food processing, machine building, metallurgy, natural gas, chemicals

Agriculture:

cotton, vegetables, fruits, grain; livestock

Exports:

cotton 41.5%, gold 9.6%, energy products 9.6%, mineral fertilizers, ferrous metals, textiles, food products, automobiles

Export partners:

Russia 23.8%, China 12.7%, Turkey 6.9%, Tajikistan 5.7%, Bangladesh 4.9%, Poland 4.4%

Imports:

machinery and equipment 49.8%, foodstuffs 16.4%, chemicals, metals

Import partners:

Russia 28.3%, South Korea 13.3%, Germany 8.9%, China 7.2%, Kazakhstan 6.7%, Turkey 5%, Ukraine 4.8%

Currency:

Uzbekistani sum (UZS)
SOURCES: The CIA World Factbook, U.S. Department of State, Area Handbook of the US Library of Congress
Copyright 2004 - 2008 worldfacts.us