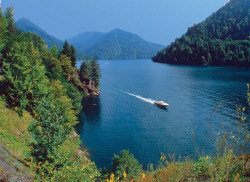 Ukraine was the center of the first eastern Slavic state, Kyivan Rus, which during the 10th and 11th centuries was the largest and most powerful state in Europe. Weakened by internecine quarrels and Mongol invasions, Kyivan Rus was incorporated into the Grand Duchy of Lithuania and eventually into the Polish-Lithuanian Commonwealth. The cultural and religious legacy of Kyivan Rus laid the foundation for Ukrainian nationalism through subsequent centuries. A new Ukrainian state, the Cossack Hetmanate, was established during the mid-17th century after an uprising against the Poles. Despite continuous Muscovite pressure, the Hetmanate managed to remain autonomous for well over 100 years. During the latter part of the 18th century, most Ukrainian ethnographic territory was absorbed by the Russian Empire. Following the collapse of czarist Russia in 1917, Ukraine was able to bring about a short-lived period of independence (1917-20), but was reconquered and forced to endure a brutal Soviet rule that engineered two artificial famines (1921-22 and 1932-33) in which over 8 million died. In World War II, German and Soviet armies were responsible for some 7 to 8 million more deaths. Although final independence for Ukraine was achieved in 1991 with the dissolution of the USSR, democracy remained elusive as the legacy of state control and endemic corruption stalled efforts at economic reform, privatization, and civil liberties. A peaceful mass protest "Orange Revolution" in the closing months of 2004 forced the authorities to overturn a rigged presidential election and to allow a new internationally monitored vote that swept into power a reformist slate under Viktor YUSHCHENKO. Subsequent internal squabbles in the YUSHCHENKO camp allowed his rival Viktor YANUKOVYCH to stage a comeback in parliamentary elections and become prime minister in August of 2006. An early legislative election, brought on by a political crisis in the spring of 2007, saw Yuliya TYMOSHENKO, as head of an "Orange" coalition, installed as a new prime minister in December 2007.
Geography of Ukraine
Location:

Eastern Europe, bordering the Black Sea, between Poland and Russia

Geographic coordinates:

49 00 N, 32 00 E

Area:

total: 603,700 sq km
water: 0 sq km
land: 603,700 sq km

Area - comparative:

slightly smaller than Texas

Land boundaries:

total: 4,663 km
border countries: Belarus 891 km, Hungary 103 km, Moldova 939 km, Poland 526 km, Romania (south) 169 km, Romania (west) 362 km, Russia 1,576 km, Slovakia 97 km

Coastline:

2,782 km

Maritime claims:

continental shelf: 200-m or to the depth of exploitation
exclusive economic zone: 200 NM
territorial sea: 12 NM

Climate:

temperate continental; Mediterranean only on the southern Crimean coast; precipitation disproportionately distributed, highest in west and north, lesser in east and southeast; winters vary from cool along the Black Sea to cold farther inland; summers are warm across the greater part of the country, hot in the south

Terrain:

most of Ukraine consists of fertile plains (steppes) and plateaus, mountains being found only in the west (the Carpathians), and in the Crimean Peninsula in the extreme south

Elevation extremes:

lowest point: Black Sea 0 m
highest point: Hora Hoverla 2,061 m

Natural resources:

iron ore, coal, manganese, natural gas, oil, salt, sulfur, graphite, titanium, magnesium, kaolin, nickel, mercury, timber, arable land

Land use:

arable land: 57.1%
permanent crops: 1.73%
other: 41.17% (1998 est.)

Irrigated land:

24,540 sq km (1998 est.)

Environment - current issues:

inadequate supplies of potable water; air and water pollution; deforestation; radiation contamination in the northeast from 1986 accident at Chornobyl' Nuclear Power Plant

Geography - note:

strategic position at the crossroads between Europe and Asia; second-largest country in Europe
Population of Ukraine
Population:

45,994,288 (July 2008 est.)

Age structure:

0-14 years: 15.9% (male 3,883,485; female 3,715,668)
15-64 years: 68.7% (male 15,692,388; female 17,096,611)
65 years and over: 15.4% (male 2,472,023; female 4,871,904)

Median age:

total: 38.1 years
male: 34.8 years
female: 41.1 years

Population growth rate:

-0.66% (2004 est.)

Birth rate:

10.21 births/1,000

Net migration rate:

-0.39 migrant(s)/1,000

Infant mortality rate:

20.61 deaths/1,000 live births

Life expectancy at birth:

total population: 66.68 years
male: 61.35 years
female: 72.27 years

Total fertility rate:

1.37 children born/woman

Nationality:

noun: Ukrainian(s)
adjective: Ukrainian

Ethnic groups:

Ukrainian 77.8%, Russian 17.3%, Belarusian 0.6%, Moldovan 0.5%, Crimean Tatar 0.5%, Bulgarian 0.4%, Hungarian 0.3%, Romanian 0.3%, Polish 0.3%, Jewish 0.2%, other 1.8%

Religions:

Ukrainian Orthodox - Moscow Patriarchate, Ukrainian Orthodox - Kiev Patriarchate, Ukrainian Autocephalous Orthodox, Ukrainian Catholic (Uniate), Protestant, Jewish

Languages:

Ukrainian, Russian, Romanian, Polish, Hungarian

Literacy:

female: 99.6%
male: 99.8%
total population: 99.7%
Government
Country name:

conventional long form: none
conventional short form: Ukraine
local long form: none
former: Ukrainian National Republic, Ukrainian State, Ukrainian Soviet Socialist Republic
local short form: Ukrayina

Government type:

republic

Capital:

Kiev (Kyyiv)

Administrative divisions:

24 oblasti (singular - oblast'), 1 autonomous republic* (avtomnaya respublika), and 2 municipalities (mista, singular - misto) with oblast status**; Cherkas'ka (Cherkasy), Chernihivs'ka (Chernihiv), Chernivets'ka (Chernivtsi), Dnipropetrovs'ka (Dnipropetrovs'k), Donets'ka (Donets'k), Ivano-Frankivs'ka (Ivano-Frankivs'k), Kharkivs'ka (Kharkiv), Khersons'ka (Kherson), Khmel'nyts'ka (Khmel'nyts'kyy), Kirovohrads'ka (Kirovohrad), Kyyiv**, Kyyivs'ka (Kiev), Luhans'ka (Luhans'k), L'vivs'ka (L'viv), Mykolayivs'ka (Mykolayiv), Odes'ka (Odesa), Poltavs'ka (Poltava), Avtonomna Respublika Krym* (Simferopol'), Rivnens'ka (Rivne), Sevastopol'**, Sums'ka (Sumy), Ternopil's'ka (Ternopil'), Vinnyts'ka (Vinnytsya), Volyns'ka (Luts'k), Zakarpats'ka (Uzhhorod), Zaporiz'ka (Zaporizhzhya), Zhytomyrs'ka (Zhytomyr); note - when using a place name with an adjectival ending "s'ka" or "z'ka," the word Oblast' should be added to the place name
note: oblasts have the administrative center name following in parentheses

Independence:

24 August 1991 (from the Soviet Union)

National holiday:

Independence Day, 24 August (1991); the date of 22 January (1918), the day Ukraine first declared its independence (from Soviet Russia), is now celebrated as Unity Day

Constitution:

adopted 28 June 1996

Legal system:

based on civil law system; judicial review of legislative acts

Suffrage:

18 years of age; universal

Executive branch:

chief of state: President Viktor A. YUSHCHENKO (since 23 January 2005)
head of government: Prime Minister Yuliya TYMOSHENKO (since 18 December 2007); First Deputy Prime Minister Oleksandr TURCHYNOV (since 18 December 2007); Deputy Prime Ministers Hryhoriy NEMYRYA and Ivan VASYUNYK (since 18 December 2007)
cabinet: Cabinet of Ministers selected by the prime minister; the only exceptions are the foreign and defense ministers, who are chosen by the president
note: there is also a National Security and Defense Council or NSDC originally created in 1992 as the National Security Council; the NSDC staff is tasked with developing national security policy on domestic and international matters and advising the president; a Presidential Secretariat helps draft presidential edicts and provides policy support to the president
elections: president elected by popular vote for a five-year term (eligible for a second term); note - a special repeat runoff presidential election between Viktor YUSHCHENKO and Viktor YANUKOVYCH took place on 26 December 2004 after the earlier 21 November 2004 contest - won by YANUKOVYCH - was invalidated by the Ukrainian Supreme Court because of widespread and significant violations; under constitutional reforms that went into effect 1 January 2006, the majority in parliament takes the lead in naming the prime minister.

Legislative branch:

unicameral Supreme Council or Verkhovna Rada (450 seats; under Ukraine's election law, 225 of the Supreme Council's seats are allocated on a proportional basis to those parties that gain 4% or more of the national electoral vote; the other 225 members are elected by popular vote in single-mandate constituencies; all serve four-year terms)
note: following the election, United Ukraine splintered into the Agrarian Party, European Choice, People's Choice, People's Democratic Party, Regions of Ukraine, and Working Ukraine-Industrialists and Entrepreneurs; European Choice joined Regions of Ukraine in the fall of 2003

Judicial branch:

Supreme Court; Constitutional Court

Political parties and leaders:

Agrarian Party [Kateryna VASHCHUK]; Communist Party of Ukraine or CPU [Petro SYMONENKO]; Democratic Initiatives [Stepan HAVRYSH]; Industrialists and Entrepreneurs [Anatoliy KINAKH]; Our Ukraine bloc (comprised of several parties the most prominent of which are Rukh, the Ukrainian People's Party, Reforms and Order, and Solidarity) [Viktor YUSHCHENKO]; People's Choice [Mykola HAPOCHKA]; People's Democratic Party or PDP [Valeriy PUSTOVOYTENKO]; People's Power [Bohdan HUBSKYY]; Regions of Ukraine [Viktor YANUKOVYCH]; Socialist Party of Ukraine or SPU [Oleksandr MOROZ, chairman]; United Social Democratic Party [Viktor MEDVEDCHUK]; Working Ukraine [Serhiy TYHYPKO]; Yuliya Tymoshenko Bloc [Yuliya TYMOSHENKO]
note: and numerous smaller parties; Democratic Initiatives, People's Choice, and People's Power are not actual political parties, but rather deputy groups (factions not based on a party)
Economy
After Russia, the Ukrainian republic was far and away the most important economic component of the former Soviet Union, producing about four times the output of the next-ranking republic. Its fertile black soil generated more than one-fourth of Soviet agricultural output, and its farms provided substantial quantities of meat, milk, grain, and vegetables to other republics. Likewise, its diversified heavy industry supplied the unique equipment (for example, large diameter pipes) and raw materials to industrial and mining sites (vertical drilling apparatus) in other regions of the former USSR. Shortly after independence was ratified in December 1991, the Ukrainian Government liberalized most prices and erected a legal framework for privatization, but widespread resistance to reform within the government and the legislature soon stalled reform efforts and led to some backtracking. Output by 1999 had fallen to less than 40% of the 1991 level. Ukraine's dependence on Russia for energy supplies and the lack of significant structural reform have made the Ukrainian economy vulnerable to external shocks. Ukraine depends on imports to meet about three-fourths of its annual oil and natural gas requirements. A dispute with Russia over pricing in late 2005 and early 2006 led to a temporary gas cut-off; Ukraine concluded a deal with Russia in January 2006 that almost doubled the price Ukraine pays for Russian gas. Outside institutions - particularly the IMF - have encouraged Ukraine to quicken the pace and scope of reforms. Ukrainian Government officials eliminated most tax and customs privileges in a March 2005 budget law, bringing more economic activity out of Ukraine's large shadow economy, but more improvements are needed, including fighting corruption, developing capital markets, and improving the legislative framework. Ukraine's economy remains buoyant despite political turmoil between the Prime Minister and President. Real GDP growth reached about 7% in 2006-07, fueled by high global prices for steel - Ukraine's top export - and by strong domestic consumption, spurred by rising pensions and wages. Although the economy is likely to expand in 2008, long-term growth could be threatened by the government's plans to reinstate tax, trade, and customs privileges and to maintain restrictive grain export quotas.
GDP:

$324.8 billion (2007 est.)

GDP - growth rate:

7.7%

GDP - per capita:

$7,000

GDP - composition by sector:

agriculture: 23.4%
industry: 41.5%
services: 35.1%

Labor force - by occupation:

industry 32%, agriculture 24%, services 44%

Unemployment rate:

4% officially registered; large number of unregistered or underemployed workers

Budget:

revenues: $10.2 billion
expenditures: $11.1 billion

Industries:

coal, electric power, ferrous and nonferrous metals, machinery and transport equipment, chemicals, food processing (especially sugar)

Electricity - production by source:

fossil fuel: 48.6%
hydro: 7.9%
nuclear: 43.5%

Agriculture - products:

grain, sugar beets, sunflower seeds, vegetables; beef, milk

Exports - commodities:

ferrous and nonferrous metals, fuel and petroleum products, chemicals, machinery and transport equipment, food products

Exports - partners:

Russia 17.8%, Turkey 6.9%, Italy 4.7%, Germany 4.2%

Imports - commodities:

energy, machinery and equipment, chemicals

Imports - partners:

Russia 37.6%, Turkmenistan 11.2%, Germany 9.9%

Currency:

hryvnia (UAH)

Currency code:

UAH
SOURCES: The CIA World Factbook, U.S. Department of State, Area Handbook of the US Library of Congress
Custom Search
Copyright 2005 worldfacts.us