World Facts Index > United Kingdom > Aberdeen, Bath, Belfast, Birmingham, Brighton, Bristol, Cambridge, Cardiff, Edinburgh, Glasgow, Leeds, Liverpool, London, Londonderry, Manchester, Norwich, Oxford, Plymouth, Southampton, Stratford-upon-Avon, Swansea, York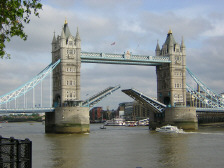 As the dominant industrial and maritime power of the 19th century, the United Kingdom of Great Britain and Ireland played a leading role in developing parliamentary democracy and in advancing literature and science. At its zenith, the British Empire stretched over one-fourth of the earth's surface. The first half of the 20th century saw the UK's strength seriously depleted in two World Wars and the Irish republic withdraw from the union. The second half witnessed the dismantling of the Empire and the UK rebuilding itself into a modern and prosperous European nation. As one of five permanent members of the UN Security Council, a founding member of NATO, and of the Commonwealth, the UK pursues a global approach to foreign policy; it currently is weighing the degree of its integration with continental Europe. A member of the EU, it chose to remain outside the Economic and Monetary Union for the time being. Constitutional reform is also a significant issue in the UK. The Scottish Parliament, the National Assembly for Wales, and the Northern Ireland Assembly were established in 1999, but the latter was suspended until May 2007 due to wrangling over the peace process.
Geography of the United Kingdom
Location:

Western Europe, islands including the northern one-sixth of the island of Ireland between the North Atlantic Ocean and the North Sea, northwest of France

Coordinates:

54 00 N, 2 00 W

Area:

total: 244,820 sq km
water: 3,230 sq km
note: includes Rockall and Shetland Islands
land: 241,590 sq km

Area comparative:

slightly smaller than Oregon

Land boundaries:

total: 360 km
border countries: Ireland 360 km

Coastline:

12,429 km

Maritime claims:

continental shelf: as defined in continental shelf orders or in accordance with agreed upon boundaries
exclusive fishing zone: 200 NM
territorial sea: 12 NM

Climate:

temperate; moderated by prevailing southwest winds over the North Atlantic Current; more than one-half of the days are overcast

Terrain:

mostly rugged hills and low mountains; level to rolling plains in east and southeast

Elevation extremes:

lowest point: Fenland -4 m
highest point: Ben Nevis 1,343 m

Natural resources:

coal, petroleum, natural gas, tin, limestone, iron ore, salt, clay, chalk, gypsum, lead, silica, arable land

Natural hazards:

winter windstorms; floods

Environment current issues:

continues to reduce greenhouse gas emissions (has met Kyoto Protocol target of a 12.5% reduction from 1990 levels and intends to meet the legally binding target and move towards a domestic goal of a 20% cut in emissions by 2010); by 2005 the government aims to reduce the amount of industrial and commercial waste disposed of in landfill sites to 85% of 1998 levels and to recycle or compost at least 25% of household waste, increasing to 33% by 2015; between 1998-99 and 1999-2000, household recycling increased from 8.8% to 10.3%

Geography - note:

lies near vital North Atlantic sea lanes; only 35 km from France and now linked by tunnel under the English Channel; because of heavily indented coastline, no location is more than 125 km from tidal waters
Population of the United Kingdom
Population:

60,943,912 (July 2008 est.)

Age structure:

0-14 years: 17.5% (male 5,417,663/female 5,161,714)
15-64 years: 66.8% (male 20,476,571/female 19,988,959)
65 years and over: 15.8% (male 4,087,020/female 5,477,226)

Median age:

39.3 years

Growth rate:

0.28%

Infant mortality:

5.08 deaths/1,000 live births

Life expectancy at birth:

total population: 78.54 years
male: 76.09 years
female: 81.13 years

Fertility rate:

1.66 children born/woman

Nationality:

noun: Briton(s), British (collective plural)
adjective: British

Ethnic groups:

English 81.5%, Scottish 9.6%, Irish 2.4%, Welsh 1.9%, Ulster 1.8%, West Indian, Indian, Pakistani, and other 2.8%

Religions:

Anglican and Roman Catholic 40 million, Muslim 1.5 million, Presbyterian 800,000, Methodist 760,000, Sikh 500,000, Hindu 500,000, Jewish 350,000

Languages:

English, Welsh (about 26% of the population of Wales), Scottish form of Gaelic (about 60,000 in Scotland)

Literacy:

definition: age 15 and over has completed five or more years of schooling
total population: 99%
Government
Country name:

conventional long form: United Kingdom of Great Britain and Northern Ireland; note - Great Britain includes England, Scotland, and Wales
conventional short form: United Kingdom
abbreviation: UK

Government type:

constitutional monarchy

Capital:

London

Administrative divisions:

England: 47 boroughs, 36 counties, 29 London boroughs, 12 cities and boroughs, 10 districts, 12 cities, 3 royal boroughs
Northern Ireland: 24 districts, 2 cities, 6 counties
Scotland: 32 council areas
Wales: 11 county boroughs, 9 counties, 2 cities and counties

Dependent areas:

Anguilla, Bermuda, British Indian Ocean Territory, British Virgin Islands, Cayman Islands, Falkland Islands, Gibraltar, Montserrat, Pitcairn Islands, Saint Helena and Ascension, South Georgia and the South Sandwich Islands, Turks and Caicos Islands

Independence:

England has existed as a unified entity since the 10th century; the union between England and Wales, begun in 1284 with the Statute of Rhuddlan, was not formalized until 1536 with an Act of Union; in another Act of Union in 1707, England and Scotland agreed to permanently join as Great Britain; the legislative union of Great Britain and Ireland was implemented in 1801, with the adoption of the name the United Kingdom of Great Britain and Ireland; the Anglo-Irish treaty of 1921 formalized a partition of Ireland; six northern Irish counties remained part of the United Kingdom as Northern Ireland and the current name of the country, the United Kingdom of Great Britain and Northern Ireland, was adopted in 1927.

National holiday:

the UK does not celebrate one particular national holiday

Constitution:

unwritten; partly statutes, partly common law and practice

Legal system:

common law tradition with early Roman and modern continental influences; has judicial review of Acts of Parliament under the Human Rights Act of 1998; accepts compulsory ICJ jurisdiction, with reservations

Suffrage:

18 years of age; universal

Executive branch:

chief of state: Queen ELIZABETH II; Heir Apparent Prince CHARLES (son of the queen, born 14 November 1948)
head of government: Prime Minister James Gordon BROWN
cabinet: Cabinet of Ministers appointed by the prime minister
elections: none; the monarchy is hereditary; following legislative elections, the leader of the majority party or the leader of the majority coalition is usually the prime minister

Legislative branch:

bicameral Parliament comprised of House of Lords (consists of approximately 500 life peers, 92 hereditary peers and 26 clergy) and House of Commons (646 seats since 2005 elections; members are elected by popular vote to serve five-year terms unless the House is dissolved earlier)

Judicial branch:

House of Lords (highest court of appeal; several Lords of Appeal in Ordinary are appointed by the monarch for life); Supreme Courts of England, Wales, and Northern Ireland (comprising the Courts of Appeal, the High Courts of Justice, and the Crown Courts); Scotland's Court of Session and Court of the Justiciary
Economy
The UK, a leading trading power and financial center, is one of the quintet of trillion dollar economies of Western Europe. Over the past two decades, the government has greatly reduced public ownership and contained the growth of social welfare programs. Agriculture is intensive, highly mechanized, and efficient by European standards, producing about 60% of food needs with less than 2% of the labor force. The UK has large coal, natural gas, and oil reserves; primary energy production accounts for 10% of GDP, one of the highest shares of any industrial nation. Services, particularly banking, insurance, and business services, account by far for the largest proportion of GDP while industry continues to decline in importance. Since emerging from recession in 1992, Britain's economy has enjoyed the longest period of expansion on record; growth has remained in the 2-3% range since 2004, outpacing most of Europe. The economy's strength has complicated the Labor government's efforts to make a case for Britain to join the European Economic and Monetary Union (EMU). Critics point out that the economy is doing well outside of EMU, and public opinion polls show a majority of Britons are opposed to the euro. The BROWN government has been speeding up the improvement of education, health services, and affordable housing at a cost in higher taxes and a widening public deficit.
GDP:

$2.13 trillion (2007 est.)

GDP growth rate:

3.1%

GDP per capita:

$35,000

GDP composition by sector:

agriculture: 0.5%
industry: 23.7%
services: 75.8%

Inflation rate:

2.1%

Labor force:

30.07 million

Labor force - by occupation:

agriculture: 1.5%
industry: 19.1%
services: 79.5%

Unemployment:

4.7%

Budget:

revenues: $881.4 billion
expenditures: $951 billion

Electricity production by source:

fossil fuel: 73.8%
hydro: 0.9%
other: 1.6%
nuclear: 23.7%

Industries:

machine tools, electric power equipment, automation equipment, railroad equipment, shipbuilding, aircraft, motor vehicles and parts, electronics and communications equipment, metals, chemicals, coal, petroleum, paper and paper products, food processing, textiles, clothing, and other consumer goods, tourism

Agriculture:

cereals, oilseed, potatoes, vegetables; cattle, sheep, poultry; fish

Exports:

manufactured goods, fuels, chemicals; food, beverages, tobacco

Export partners:

US 14.9%, Germany 10.7%, France 8.7%, Ireland 7.3%, Netherlands 5.5%, Belgium 5%, Spain 4.4%

Imports:

manufactured goods, machinery, fuels; foodstuffs

Import partners:

Germany 12.9%, US 8.7%, France 7.2%, Netherlands 6.6%, China 4.9%, Belgium 4.6%, Norway 4.5%, Italy 4.1%

Currency:

British pound (GBP)
SOURCES: The CIA World Factbook, U.S. Department of State, Area Handbook of the US Library of Congress
Copyright 2004 - 2008 worldfacts.us