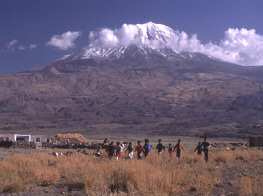 Modern Turkey was founded in 1923 from the Anatolian remnants of the defeated Ottoman Empire by national hero Mustafa KEMAL, who was later honored with the title Ataturk or "Father of the Turks." Under his authoritarian leadership, the country adopted wide-ranging social, legal, and political reforms. After a period of one-party rule, an experiment with multi-party politics led to the 1950 election victory of the opposition Democratic Party and the peaceful transfer of power. Since then, Turkish political parties have multiplied, but democracy has been fractured by periods of instability and intermittent military coups (1960, 1971, 1980), which in each case eventually resulted in a return of political power to civilians. In 1997, the military again helped engineer the ouster - popularly dubbed a "post-modern coup" - of the then Islamic-oriented government. Turkey intervened militarily on Cyprus in 1974 to prevent a Greek takeover of the island and has since acted as patron state to the "Turkish Republic of Northern Cyprus," which only Turkey recognizes. A separatist insurgency begun in 1984 by the Kurdistan Workers' Party (PKK) - now known as the People's Congress of Kurdistan or Kongra-Gel (KGK) - has dominated the Turkish military's attention and claimed more than 30,000 lives. After the capture of the group's leader in 1999, the insurgents largely withdrew from Turkey mainly to northern Iraq. In 2004, KGK announced an end to its ceasefire and attacks attributed to the KGK increased. Turkey joined the UN in 1945 and in 1952 it became a member of NATO. In 1964, Turkey became an associate member of the European Community; over the past decade, it has undertaken many reforms to strengthen its democracy and economy enabling it to begin accession membership talks with the European Union.
Geography of Turkey
Location:

southeastern Europe and southwestern Asia (that portion of Turkey west of the Bosporus is geographically part of Europe), bordering the Black Sea, between Bulgaria and Georgia, and bordering the Aegean Sea and the Mediterranean Sea, between Greece and Syria

Coordinates:

39 00 N, 35 00 E

Area:

total: 780,580 sq km
water: 9,820 sq km
land: 770,760 sq km

Area comparative:

slightly larger than Texas

Land boundaries:

total: 2,648 km
border countries: Armenia 268 km, Azerbaijan 9 km, Bulgaria 240 km, Georgia 252 km, Greece 206 km, Iran 499 km, Iraq 352 km, Syria 822 km

Coastline:

7,200 km

Maritime claims:

exclusive economic zone: in Black Sea only: to the maritime boundary agreed upon with the former USSR
territorial sea: 6 NM in the Aegean Sea; 12 NM in Black Sea and in Mediterranean Sea

Climate:

temperate; hot, dry summers with mild, wet winters; harsher in interior

Terrain:

high central plateau (Anatolia); narrow coastal plain; several mountain ranges

Elevation extremes:

lowest point: Mediterranean Sea 0 m
highest point: Mount Ararat 5,166 m

Natural resources:

antimony, coal, chromium, mercury, copper, borate, sulfur, iron ore, arable land, hydropower

Natural hazards:

very severe earthquakes, especially in northern Turkey, along an arc extending from the Sea of Marmara to Lake Van

Environment current issues:

water pollution from dumping of chemicals and detergents; air pollution, particularly in urban areas; deforestation; concern for oil spills from increasing Bosporus ship traffic

Geography - note:

strategic location controlling the Turkish Straits (Bosporus, Sea of Marmara, Dardanelles) that link Black and Aegean Seas; Mount Ararat, the legendary landing place of Noah's Ark, is in the far eastern portion of the country
Population of Turkey
Population:

71,892,808 (July 2008 est.)

Age structure:

0-14 years: 25.5% (male 9,133,226/female 8,800,070)
15-64 years: 67.7% (male 24,218,277/female 23,456,761)
65 years and over: 6.8% (male 2,198,073/female 2,607,551)

Median age:

28.1 years

Growth rate:

1.06%

Infant mortality:

39.69 deaths/1,000 live births

Life expectancy at birth:

total population: 72.62 years
male: 70.18 years
female: 75.18 years

Fertility rate:

1.92 children born/woman

Nationality:

noun: Turk(s)
adjective: Turkish

Ethnic groups:

Turkish 80%, Kurdish 20% (estimated)

Religions:

Muslim 99.8% (mostly Sunni), other 0.2% (mostly Christians and Jews)

Languages:

Turkish (official), Kurdish, Arabic, Armenian, Greek

Literacy:

definition: age 15 and over can read and write
total population: 86.5%
male: 94.3%
female: 78.7%
Government
Country name:

conventional long form: Republic of Turkey
local long form: Turkiye Cumhuriyeti
local short form: Turkiye

Government type:

republican parliamentary democracy

Capital:

Ankara

Administrative divisions:

81 provinces (iller, singular - il)

Independence:

29 October 1923 (successor state to the Ottoman Empire)

National holiday:

Independence Day, 29 October (1923)

Constitution:

7 November 1982

Legal system:

derived from various European continental legal systems; accepts compulsory ICJ jurisdiction, with reservations

Suffrage:

18 years of age; universal

Executive branch:

chief of state: President Abdullah GUL (since 28 August 2007)
head of government: Prime Minister Recep Tayyip ERDOGAN (since 14 March 2003); Deputy Prime Minister Cemil CICEK (since 29 August 2007); Deputy Prime Minister Hayati YAZICI (since 29 August 2007); Deputy Prime Minister Nazim EKREN (since 29 August 2007)
cabinet: Council of Ministers appointed by the president on the nomination of the prime minister
elections: president elected by the National Assembly for one seven-year terms; prime minister appointed by the president from among members of parliament.

Legislative branch:

unicameral Grand National Assembly of Turkey or Turkiye Buyuk Millet Meclisi (550 seats; members are elected by popular vote to serve five-year terms)

Judicial branch:

Constitutional Court; High Court of Appeals (Yargitay); Council of State (Danistay); Court of Accounts (Sayistay); Military High Court of Appeals; Military High Administrative Court
Economy
Turkey's dynamic economy is a complex mix of modern industry and commerce along with a traditional agriculture sector that still accounts for more than 35% of employment. It has a strong and rapidly growing private sector, yet the state still plays a major role in basic industry, banking, transport, and communication. The largest industrial sector is textiles and clothing, which accounts for one-third of industrial employment; it faces stiff competition in international markets with the end of the global quota system. However, other sectors, notably the automotive and electronics industries, are rising in importance within Turkey's export mix. Real GNP growth has exceeded 6% in many years, but this strong expansion has been interrupted by sharp declines in output in 1994, 1999, and 2001. The economy is turning around with the implementation of economic reforms, and 2004 GDP growth reached 9%, followed by roughly 5% annual growth from 2005-07. Inflation fell to 7.7% in 2005 - a 30-year low - but climbed back to 8.5% in 2007. Despite the strong economic gains from 2002-07, which were largely due to renewed investor interest in emerging markets, IMF backing, and tighter fiscal policy, the economy is still burdened by a high current account deficit and high external debt. Further economic and judicial reforms and prospective EU membership are expected to boost foreign direct investment. The stock value of FDI currently stands at about $85 billion. Privatization sales are currently approaching $21 billion. Oil began to flow through the Baku-Tblisi-Ceyhan pipeline in May 2006, marking a major milestone that will bring up to 1 million barrels per day from the Caspian to market. In 2007, Turkish financial markets weathered significant domestic political turmoil, including turbulence sparked by controversy over the selection of former Foreign Minister Abdullah GUL as Turkey's 11th president. Economic fundamentals are sound, marked by strong economic growth and foreign direct investment. Turkey's high current account deficit leaves the economy vulnerable to destabilizing shifts in investor confidence, however.
GDP:

$853.9 billion (2007 est.)

GDP growth rate:

5.6%

GDP per capita:

$8,200

GDP composition by sector:

agriculture: 11.7%
industry: 29.8%
services: 58.5%

Inflation rate:

8.2%

Labor force:

24.7 million
note: about 1.2 million Turks work abroad

Labor force - by occupation:

agriculture: 35.9%
industry: 22.8%
services: 41.2%

Unemployment:

10.2% plus underemployment of 4%

Industries:

textiles, food processing, autos, mining (coal, chromite, copper, boron), steel, petroleum, construction, lumber, paper

Electricity production by source:

fossil fuel: 79.3%
hydro: 20.4%
other: 0.3%
nuclear: 0%

Agriculture:

tobacco, cotton, grain, olives, sugar beets, pulse, citrus; livestock

Exports:

apparel, foodstuffs, textiles, metal manufactures, transport equipment

Export partners:

Germany 13%, UK 8.2%, Italy 7%, US 6.8%, France 5%, Spain 4.1%

Imports:

machinery, chemicals, semi-finished goods, fuels, transport equipment

Import partners:

Germany 13.6%, Russia 10.1%, Italy 6.9%, France 5.5%, China 4.4%, US 4.1%

Currency:

Turkish lira (TRL)
SOURCES: The CIA World Factbook, U.S. Department of State, Area Handbook of the US Library of Congress
Copyright 2004 - 2008 worldfacts.us