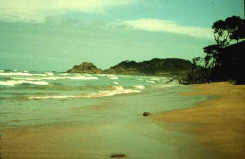 First colonized by the Spanish, the islands came under British control in the early 19th century. The islands' sugar industry was hurt by the emancipation of the slaves in 1834. Manpower was replaced with the importation of contract laborers from India between 1845 and 1917, which boosted sugar production as well as the cocoa industry. The discovery of oil on Trinidad in 1910 added another important export. Independence was attained in 1962. The country is one of the most prosperous in the Caribbean thanks largely to petroleum and natural gas production and processing. Tourism, mostly in Tobago, is targeted for expansion and is growing. The government is coping with a rise in violent crime.
Geography of Trinidad
Location:

Caribbean, islands between the Caribbean Sea and the North Atlantic Ocean, northeast of Venezuela

Coordinates:

11 00 N, 61 00 W

Area:

total: 5,128 sq km
land: 5,128 sq km
water: 0 sq km

Area comparative:

slightly smaller than Delaware

Land boundaries:

0 km

Coastline:

362 km

Maritime claims:

measured from claimed archipelagic baselines
exclusive economic zone: 200 NM
territorial sea: 12 NM
continental shelf: 200 NM or to the outer edge of the continental margin
contiguous zone: 24 NM

Climate:

tropical; rainy season (June to December)

Terrain:

mostly plains with some hills and low mountains

Elevation extremes:

lowest point: Caribbean Sea 0 m
highest point: El Cerro del Aripo 940 m

Natural resources:

petroleum, natural gas, asphalt

Natural hazards:

outside usual path of hurricanes and other tropical storms

Environment current issues:

water pollution from agricultural chemicals, industrial wastes, and raw sewage; oil pollution of beaches; deforestation; soil erosion

Geography - note:

Pitch Lake, on Trinidad's southwestern coast, is the world's largest natural reservoir of asphalt
Population of Trinidad
Population:

1,047,366 (July 2008 est.)

Age structure:

0-14 years: 20.1% (male 109,936/female 104,076)
15-64 years: 71.3% (male 398,657/female 361,093)
65 years and over: 8.6% (male 41,162/female 50,918)

Median age:

31.2 years

Growth rate:

-0.87%

Infant mortality:

25.05 deaths/1,000 live births

Life expectancy at birth:

total population: 66.76 years
male: 65.71 years
female: 67.86 years

Fertility rate:

1.74 children born/woman

Nationality:

noun: Trinidadian(s), Tobagonian(s)
adjective: Trinidadian, Tobagonian

Ethnic groups:

East Indian (a local term - primarily immigrants from northern India) 40.3%, black 39.5%, mixed 18.4%, white 0.6%, Chinese and other 1.2%

Religions:

Roman Catholic 29.4%, Hindu 23.8%, Anglican 10.9%, Muslim 5.8%, Presbyterian 3.4%, other 26.7%

Languages:

English (official), Hindi, French, Spanish, Chinese

Literacy:

definition: age 15 and over can read and write
total population: 98.6%
male: 99.1%
female: 98%
Government
Country name:

conventional long form: Republic of Trinidad and Tobago
conventional short form: Trinidad and Tobago

Government type:

parliamentary democracy

Capital:

Port-of-Spain

Administrative divisions:

8 counties, 3 municipalities*, and 1 ward**; Arima*, Caroni, Mayaro, Nariva, Port-of-Spain*, Saint Andrew, Saint David, Saint George, Saint Patrick, San Fernando*, Tobago**, Victoria

Independence:

31 August 1962 (from UK)

National holiday:

Independence Day, 31 August (1962)

Constitution:

1 August 1976

Legal system:

based on English common law; judicial review of legislative acts in the Supreme Court; has not accepted compulsory ICJ jurisdiction

Suffrage:

18 years of age; universal

Executive branch:

chief of state: President George Maxwell RICHARDS
head of government: Prime Minister Patrick MANNING
cabinet: Cabinet appointed from among the members of Parliament
elections: president elected by an electoral college, which consists of the members of the Senate and House of Representatives, for a five-year term (eligible for a second term); the president usually appoints as prime minister the leader of the majority party in the House of Representatives

Legislative branch:

bicameral Parliament consists of the Senate (31 seats; 16 members appointed by the ruling party, 9 by the President, 6 by the opposition party for a maximum term of five years) and the House of Representatives (36 seats; members are elected by popular vote to serve five-year terms)

Judicial branch:

Supreme Court of Judicature (comprised of the High Court of Justice and the Court of Appeals; the chief justice is appointed by the president after consultation with the prime minister and the leader of the opposition; other justices are appointed by the president on the advice of the Judicial and Legal Service Commission); High Court of Justice; Caribbean Court of Appeals member; Court of Appeals; the highest court of appeal is the Privy Council in London
Economy
Trinidad and Tobago has earned a reputation as an excellent investment site for international businesses and has one of the highest growth rates and per capita incomes in Latin America. Recent growth has been fueled by investments in liquefied natural gas (LNG), petrochemicals, and steel. Additional petrochemical, aluminum, and plastics projects are in various stages of planning. Trinidad and Tobago is the leading Caribbean producer of oil and gas, and its economy is heavily dependent upon these resources but it also supplies manufactured goods, notably food and beverages, as well as cement to the Caribbean region. Oil and gas account for about 40% of GDP and 80% of exports, but only 5% of employment. The country is also a regional financial center, and tourism is a growing sector, although it is not proportionately as important as in many other Caribbean islands. The economy benefits from a growing trade surplus. Economic growth reached 12.6% in 2006 and 5.5% in 2007 as prices for oil, petrochemicals, and LNG remained high, and as foreign direct investment continued to grow to support expanded capacity in the energy sector.
GDP:

$26.79 billion (2007 est.)

GDP growth rate:

5.5%

GDP per capita:

$16,700

GDP composition by sector:

agriculture: 0.7%
industry: 57%
services: 42.3%

Inflation rate:

6.9%

Labor force:

620,000

Labor force - by occupation:

construction and utilities 12.4%, manufacturing, mining, and quarrying 14%, agriculture 9.5%, services 64.1%

Unemployment:

8%

Budget:

revenues: $4.5 billion
expenditures: $4.06 billion

Electricity production by source:

fossil fuel: 99.8%
hydro: 0%
other: 0.2%

Industries:

petroleum, chemicals, tourism, food processing, cement, beverage, cotton textiles

Agriculture:

cocoa, sugarcane, rice, citrus, coffee, vegetables; poultry

Exports:

petroleum and petroleum products, chemicals, steel products, fertilizer, sugar, cocoa, coffee, citrus, flowers

Export partners:

US 69.7%, Jamaica 5.4%, Barbados 3%

Imports:

machinery, transportation equipment, manufactured goods, food, live animals

Import partners:

US 28.3%, Venezuela 14.3%, Brazil 12.6%, Japan 5.6%, Germany 4.4%, Gabon 4.2%

Currency:

Trinidad and Tobago dollar (TTD)
SOURCES: The CIA World Factbook, U.S. Department of State, Area Handbook of the US Library of Congress
Copyright 2004 - 2008 worldfacts.us