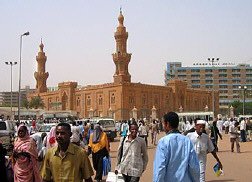 Military regimes favoring Islamic-oriented governments have dominated national politics since independence from the UK in 1956. Sudan was embroiled in two prolonged civil wars during most of the remainder of the 20th century. These conflicts were rooted in northern economic, political, and social domination of largely non-Muslim, non-Arab southern Sudanese. The first civil war ended in 1972 but broke out again in 1983. The second war and famine-related effects resulted in more than four million people displaced and, according to rebel estimates, more than two million deaths over a period of two decades. Peace talks gained momentum in 2002-04 with the signing of several accords. The final North/South Comprehensive Peace Agreement (CPA), signed in January 2005, granted the southern rebels autonomy for six years. After which, a referendum for independence is scheduled to be held. A separate conflict, which broke out in the western region of Darfur in 2003, has displaced nearly two million people and caused an estimated 200,000 to 400,000 deaths. The UN took command of the Darfur peacekeeping operation from the African Union on 31 December 2007. As of early 2008, peacekeeping troops were struggling to stabilize the situation, which has become increasingly regional in scope, and has brought instability to eastern Chad, and Sudanese incursions into the Central African Republic. Sudan also has faced large refugee influxes from neighboring countries, primarily Ethiopia and Chad. Armed conflict, poor transport infrastructure, and lack of government support have chronically obstructed the provision of humanitarian assistance to affected populations.
Geography of Sudan
Location:

Northern Africa, bordering the Red Sea, between Egypt and Eritrea

Coordinates:

15 00 N, 30 00 E

Area:

total: 2,505,810 sq km
water: 129,810 sq km
land: 2.376 million sq km

Area comparative:

slightly more than one-quarter the size of the US

Land boundaries:

total: 7,687 km
border countries: Central African Republic 1,165 km, Chad 1,360 km, Democratic Republic of the Congo 628 km, Egypt 1,273 km, Eritrea 605 km, Ethiopia 1,606 km, Kenya 232 km, Libya 383 km, Uganda 435 km

Coastline:

853 km

Maritime claims:

contiguous zone: 18 NM
continental shelf: 200-m depth or to the depth of exploitation
territorial sea: 12 NM

Climate:

tropical in south; arid desert in north; rainy season varies by region (April to November)

Terrain:

generally flat, featureless plain; mountains in far south, northeast and west; desert dominates the north

Elevation extremes:

lowest point: Red Sea 0 m
highest point: Kinyeti 3,187 m

Natural resources:

petroleum; small reserves of iron ore, copper, chromium ore, zinc, tungsten, mica, silver, gold, hydropower

Natural hazards:

dust storms and periodic persistent droughts

Environment current issues:

inadequate supplies of potable water; wildlife populations threatened by excessive hunting; soil erosion; desertification; periodic drought

Geography - note:

largest country in Africa; dominated by the Nile and its tributaries
Population of Sudan
Population:

40,218,456 (July 2008 est.)

Age structure:

0-14 years: 42.7% (male 8,993,483/female 8,614,022)
15-64 years: 54.9% (male 11,327,679/female 11,297,798)
65 years and over: 2.4% (male 536,754/female 466,642)

Median age:

18.3 years

Growth rate:

2.55%

Infant mortality:

61.05 deaths/1,000 live births

Life expectancy at birth:

total population: 58.92 years
male: 57.69 years
female: 60.21 years

Fertility rate:

4.72 children born/woman

Nationality:

noun: Sudanese (singular and plural)
adjective: Sudanese

Ethnic groups:

black 52%, Arab 39%, Beja 6%, foreigners 2%, other 1%

Religions:

Sunni Muslim 70% (in north), indigenous beliefs 25%, Christian 5% (mostly in south and Khartoum)

Languages:

Arabic (official), Nubian, Ta Bedawie, diverse dialects of Nilotic, Nilo-Hamitic, Sudanic languages, English
note: program of "Arabization" in process

Literacy:

definition: age 15 and over can read and write
total population: 61.1%
male: 71.8%
female: 50.5%
Government
Country name:

conventional long form: Republic of the Sudan
local short form: As-Sudan
former: Anglo-Egyptian Sudan
local long form: Jumhuriyat as-Sudan

Government type:

authoritarian regime - ruling military junta took power in 1989; government is run by an alliance of the military and the National Congress Party (NCP), formerly the National Islamic Front (NIF), which espouses an Islamist platform

Capital:

Khartoum

Administrative divisions:

26 states (wilayat, singular - wilayah)

Independence:

1 January 1956 (from Egypt and UK)

National holiday:

Independence Day, 1 January (1956)

Constitution:

12 April 1973; suspended following coup of 6 April 1985; interim constitution of 10 October 1985 suspended following coup of 30 June 1989; new constitution implemented on 30 June 1998 partially suspended 12 December 1999 by President BASHIR; under the CPA, Interim National Constitution ratified 5 July 2005; Constitution of Southern Sudan signed December 2005

Legal system:

based on English common law and Islamic law; as of 20 January 1991, the now defunct Revolutionary Command Council imposed Islamic law in the northern states; Islamic law applies to all residents of the northern states regardless of their religion; some separate religious courts; accepts compulsory ICJ jurisdiction, with reservations

Suffrage:

17 years of age; universal, but noncompulsory

Executive branch:

chief of state: President Umar Hassan Ahmad al-BASHIR (since 16 October 1993); First Vice President Salva KIIR (since 4 August 2005), Vice President Ali Osman TAHA (since 20 September 2005); note - the president is both the chief of state and head of government
head of government: President Umar Hassan Ahmad al-BASHIR (since 16 October 1993); First Vice President Salva KIIR (since 4 August 2005), Vice President Ali Osman TAHA (since 20 September 2005)
cabinet: Council of Ministers appointed by the president; note - the National Congress Party or NCP (formerly the National Islamic Front or NIF) dominates al-BASHIR's cabinet

Legislative branch:

bi-cameral body comprising the National Assembly and Council of States (replaced unicameral National Assembly of 360 seats); pending elections and National Election Law, the Presidency appointed 450 members to the National Assembly according to the provisions of the 2005 Comprehensive Peace Agreement: 52% NCP; 28% SPLM; 14% other Northerners; 6% other Southerners; 2 representatives from every state constitute the Council of States; terms in each chamber are five years following the first elections

Judicial branch:

Constitutional Court of nine justices; National Supreme Court; National Courts of Appeal; other national courts; National Judicial Service Commission will undertake overall management of the National Judiciary
Economy
Sudan's economy is booming on the back of increases in oil production, high oil prices, and large inflows of foreign direct investment. GDP growth registered more than 10% per year in 2006 and 2007. From 1997 to date, Sudan has been working with the IMF to implement macroeconomic reforms, including a managed float of the exchange rate. Sudan began exporting crude oil in the last quarter of 1999. Agricultural production remains important, because it employs 80% of the work force and contributes a third of GDP. The Darfur conflict, the aftermath of two decades of civil war in the south, the lack of basic infrastructure in large areas, and a reliance by much of the population on subsistence agriculture ensure much of the population will remain at or below the poverty line for years despite rapid rises in average per capita income. In January 2007, the government introduced a new currency, the Sudanese Pound, at an initial exchange rate of $1.00 equals 2 Sudanese Pounds.
GDP:

$80.98 billion (2007 est.)

GDP growth rate:

7%

GDP per capita:

$2,100

GDP composition by sector:

agriculture: 38.7%
industry: 20.3%
services: 41%

Inflation rate:

9%

Labor force - by occupation:

agriculture: 80%
industry: 7%
services: 13%

Budget:

revenues: $6.182 billion
expenditures: $5.753 billion

Electricity production by source:

fossil fuel: 52.1%
hydro: 47.9%
other: 0%

Industries:

oil, cotton ginning, textiles, cement, edible oils, sugar, soap distilling, shoes, petroleum refining, pharmaceuticals, armaments, automobile/light truck assembly

Agriculture:

cotton, groundnuts (peanuts), sorghum, millet, wheat, gum arabic, sugarcane, cassava (tapioca), mangos, papaya, bananas, sweet potatoes, sesame; sheep, livestock

Exports:

oil and petroleum products; cotton, sesame, livestock, groundnuts, gum arabic, sugar

Export partners:

China 46.7%, Japan 32.7%, Saudi Arabia 3.9%

Imports:

foodstuffs, manufactured goods, refinery and transport equipment, medicines and chemicals, textiles, wheat

Import partners:

China 20.6%, Saudi Arabia 8.6%, Germany 4.4%, UAE 4.4%

Currency:

Sudanese dinar (SDD)
SOURCES: The CIA World Factbook, U.S. Department of State, Area Handbook of the US Library of Congress
Copyright 2004 - 2008 worldfacts.us