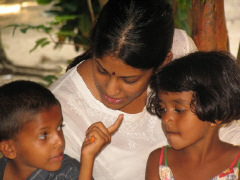 The first Sinhalese arrived in Sri Lanka late in the 6th century B.C. probably from northern India. Buddhism was introduced in about the mid-third century B.C., and a great civilization developed at the cities of Anuradhapura (kingdom from circa 200 B.C. to circa A.D. 1000) and Polonnaruwa (from about 1070 to 1200). In the 14th century, a south Indian dynasty established a Tamil kingdom in northern Sri Lanka. The coastal areas of the island were controlled by the Portuguese in the 16th century and by the Dutch in the 17th century. The island was ceded to the British in 1796, became a crown colony in 1802, and was united under British rule by 1815. As Ceylon, it became independent in 1948; its name was changed to Sri Lanka in 1972. Tensions between the Sinhalese majority and Tamil separatists erupted into war in 1983. Tens of thousands have died in the ethnic conflict that continues to fester. After two decades of fighting, the government and Liberation Tigers of Tamil Eelam (LTTE) formalized a cease-fire in February 2002 with Norway brokering peace negotiations. Violence between the LTTE and government forces intensified in 2006 and the government regained control of the Eastern Province in 2007. In January 2008, the government officially withdrew from the ceasefire, and has begun engaging the LTTE in the northern portion of the country.
Geography of Sri Lanka
Location:

Southern Asia, island in the Indian Ocean, south of India

Coordinates:

7 00 N, 81 00 E

Area:

total: 65,610 sq km
water: 870 sq km
land: 64,740 sq km

Area comparative:

slightly larger than West Virginia

Land boundaries:

0 km

Coastline:

1,340 km

Maritime claims:

contiguous zone: 24 NM
territorial sea: 12 NM
exclusive economic zone: 200 NM
continental shelf: 200 NM or to the edge of the continental margin

Climate:

tropical monsoon; northeast monsoon (December to March); southwest monsoon (June to October)

Terrain:

mostly low, flat to rolling plain; mountains in south-central interior

Elevation extremes:

lowest point: Indian Ocean 0 m
highest point: Pidurutalagala 2,524 m

Natural resources:

limestone, graphite, mineral sands, gems, phosphates, clay, hydropower

Natural hazards:

occasional cyclones and tornadoes

Environment current issues:

deforestation; soil erosion; wildlife populations threatened by poaching and urbanization; coastal degradation from mining activities and increased pollution; freshwater resources being polluted by industrial wastes and sewage runoff; waste disposal; air pollution in Colombo

Geography - note:

strategic location near major Indian Ocean sea lanes
Population of Sri Lanka
Population:

21,128,772 (July 2008 est.)

Age structure:

0-14 years: 24.1% (male 2,488,689/female 2,379,233)
15-64 years: 68.6% (male 6,727,399/female 7,140,751)
65 years and over: 7.3% (male 687,842/female 798,326)

Median age:

29.8 years

Growth rate:

0.78%

Infant mortality:

13.97 deaths/1,000 live births

Life expectancy at birth:

total population: 73.41 years
male: 70.83 years
female: 76.12 years

Fertility rate:

1.84 children born/woman

Nationality:

noun: Sri Lankan(s)
adjective: Sri Lankan

Ethnic groups:

Sinhalese 73.8%, Sri Lankan Moors 7.2%, Indian Tamil 4.6%, Sri Lankan Tamil 3.9%, other 0.5%, unspecified 10%

Religions:

Buddhist 69.1%, Muslim 7.6%, Hindu 7.1%, Christian 6.2%, unspecified 10%

Languages:

Sinhala (official and national language) 74%, Tamil (national language) 18%, other 8%
note: English is commonly used in government and is spoken competently by about 10% of the population

Literacy:

definition: age 15 and over can read and write
total population: 92.3%
male: 94.8%
female: 90%
Government
Country name:

conventional long form: Democratic Socialist Republic of Sri Lanka
former: Serendib, Ceylon

Government type:

republic

Capital:

Colombo; note - Sri Jayewardenepura Kotte is the legislative capital

Administrative divisions:

8 provinces; Central, North Central, North Eastern, North Western, Sabaragamuwa, Southern, Uva, Western; note - North Eastern province may have been divided in two - Northern and Eastern

Independence:

4 February 1948 (from UK)

National holiday:

Independence Day, 4 February (1948)

Constitution:

adopted 16 August 1978

Legal system:

a highly complex mixture of English common law, Roman-Dutch, Muslim, Sinhalese, and customary law; has not accepted compulsory ICJ jurisdiction

Suffrage:

18 years of age; universal

Executive branch:

chief of state: President Mahinda RAJAPAKSA (since 19 November 2005); note - the president is both the chief of state and head of government; Ratnasiri WICKREMANAYAKE (since 21 November 2005) holds the largely ceremonial title of prime minister
head of government: President Mahinda RAJAPAKSA (since 19 November 2005)
cabinet: Cabinet appointed by the president in consultation with the prime minister
elections: president elected by popular vote for a six-year term (eligible for a second term).

Legislative branch:

unicameral Parliament (225 seats; members elected by popular vote on the basis of a modified proportional representation system by district to serve six-year terms)

Judicial branch:

Supreme Court; Court of Appeals; judges for both courts are appointed by the president
Economy
In 1977, Colombo abandoned statist economic policies and its import substitution trade policy for more market-oriented policies, export-oriented trade, and encouragement of foreign investment. Recent changes in government, however, have brought some policy reversals. Currently, the ruling Sri Lanka Freedom Party has a more statist economic approach, which seeks to reduce poverty by steering investment to disadvantaged areas, developing small and medium enterprises, promoting agriculture, and expanding the already enormous civil service. The government has halted privatizations. Although suffering a brutal civil war that began in 1983, Sri Lanka saw GDP growth average 4.5% in the last 10 years with the exception of a recession in 2001. In late December 2004, a major tsunami took about 31,000 lives, left more than 6,300 missing and 443,000 displaced, and destroyed an estimated $1.5 billion worth of property. Government spending and reconstruction drove growth to more than 7% in 2006 but reduced agriculture output probably slowed growth to about 6 percent in 2007. Government spending and loose monetary policy drove inflation to nearly 16% in 2007. Sri Lanka's most dynamic sectors now are food processing, textiles and apparel, food and beverages, port construction, telecommunications, and insurance and banking. In 2006, plantation crops made up only about 15% of exports (compared with more than 90% in 1970), while textiles and garments accounted for more than 60%. About 800,000 Sri Lankans work abroad, 90% of them in the Middle East. They send home more than $1 billion a year. The struggle by the Tamil Tigers of the north and east for an independent homeland continues to cast a shadow over the economy.
GDP:

$82.02 billion (2007 est.)

GDP growth rate:

5.6%

GDP per capita:

$4,300

GDP composition by sector:

agriculture: 17.8%
industry: 27.6%
services: 54.5%

Inflation rate:

11.6%

Labor force:

8.08 million

Labor force - by occupation:

services 45%, agriculture 38%, industry 17%

Unemployment:

7.7%

Budget:

revenues: $3.804 billion
expenditures: $5.469 billion

Electricity production by source:

fossil fuel: 51.7%
hydro: 48.3%
other: 0%

Industries:

rubber processing, tea, coconuts, and other agricultural commodities; clothing, cement, petroleum refining, textiles, tobacco

Agriculture:

rice, sugarcane, grains, pulses, oilseed, spices, tea, rubber, coconuts; milk, eggs, hides, beef

Exports:

textiles and apparel, tea, diamonds, coconut products, petroleum products

Export partners:

US 30.9%, UK 11.7%, India 7.2%, Belgium 4.5%, Germany 4.4%

Imports:

textiles, mineral products, petroleum, foodstuffs, machinery and equipment

Import partners:

India 17.4%, China 10.5%, Singapore 7.6%, Iran 5.3%, Hong Kong 4.8%

Currency:

Sri Lankan rupee (LKR)
SOURCES: The CIA World Factbook, U.S. Department of State, Area Handbook of the US Library of Congress
Copyright 2004 - 2008 worldfacts.us