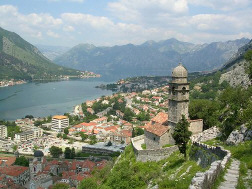 The Kingdom of Serbs, Croats, and Slovenes was formed in 1918; its name was changed to Yugoslavia in 1929. Various paramilitary bands resisted Nazi Germany's occupation and division of Yugoslavia from 1941 to 1945, but fought each other and ethnic opponents as much as the invaders. The military and political movement headed by Josip TITO (Partisans) took full control of Yugoslavia when German and Croatian separatist forces were defeated in 1945. Although Communist, TITO's new government and his successors (he died in 1980) managed to steer their own path between the Warsaw Pact nations and the West for the next four and a half decades. In 1989, Slobodan MILOSEVIC became president of the Serbian Republic and his ultranationalist calls for Serbian domination led to the violent breakup of Yugoslavia along ethnic lines. In 1991, Croatia, Slovenia, and Macedonia declared independence, followed by Bosnia in 1992. The remaining republics of Serbia and Montenegro declared a new Federal Republic of Yugoslavia (FRY) in April 1992 and under MILOSEVIC's leadership, Serbia led various military campaigns to unite ethnic Serbs in neighboring republics into a "Greater Serbia." These actions led to Yugoslavia being ousted from the UN in 1992, but Serbia continued its - ultimately unsuccessful - campaign until signing the Dayton Peace Accords in 1995. MILOSEVIC kept tight control over Serbia and eventually became president of the FRY in 1997. In 1998, an ethnic Albanian insurgency in the formerly autonomous Serbian province of Kosovo provoked a Serbian counterinsurgency campaign that resulted in massacres and massive expulsions of ethnic Albanians living in Kosovo. The MILOSEVIC government's rejection of a proposed international settlement led to NATO's bombing of Serbia in the spring of 1999 and to the eventual withdrawal of Serbian military and police forces from Kosovo in June 1999. UNSC Resolution 1244 in June 1999 authorized the stationing of a NATO-led force (KFOR) in Kosovo to provide a safe and secure environment for the region's ethnic communities, created a UN interim Administration Mission in Kosovo (UNMIK) to foster self-governing institutions, and reserved the issue of Kosovo's final status for an unspecified date in the future. In 2001, UNMIK promulgated a constitutional framework that allowed Kosovo to establish institutions of self-government and led to Kosovo's first parliamentary election. FRY elections in September 2000 led to the ouster of MILOSEVIC and installed Vojislav KOSTUNICA as president. A broad coalition of democratic reformist parties known as DOS (the Democratic Opposition of Serbia) was subsequently elected to parliament in December 2000 and took control of the government. DOS arrested MILOSEVIC in 2001 and allowed for him to be tried in The Hague for crimes against humanity. (MILOSEVIC died in March 2006 before the completion of his trial.) In 2001, the country's suspension from the UN was lifted. In 2003, the FRY became Serbia and Montenegro, a loose federation of the two republics with a federal level parliament. Widespread violence predominantly targeting ethnic Serbs in Kosovo in March 2004 caused the international community to open negotiations on the future status of Kosovo in January 2006. In May 2006, Montenegro invoked its right to secede from the federation and - following a successful referendum - it declared itself an independent nation on 3 June 2006. Two days later, Serbia declared that it was the successor state to the union of Serbia and Montenegro. A new Serbian constitution was approved in October 2006 and adopted the following month. After 15 months of inconclusive negotiations mediated by the UN and four months of further inconclusive negotiations mediated by the US, EU, and Russia, on 17 February 2008, the UNMIK-administered province of Kosovo declared itself independent of Serbia.
Geography of Serbia
Location:

Southeastern Europe, bordering the Adriatic Sea, between Albania and Bosnia and Herzegovina

Coordinates:

44 00 N, 21 00 E

Area:

total: 88,361 sq km
land: 88,361 sq km
water: 0 sq km

Area comparative:

slightly larger than South Carolina

Land boundaries:

total: 2,027 km
border countries: Albania 115 km, Bosnia and Herzegovina 302 km, Bulgaria 318 km, Croatia 241 km, Hungary 151 km, Macedonia 221 km, Montenegro 203 km, Romania 476 km

Coastline:

0 km

Climate:

in the north, continental climate (cold winters and hot, humid summers with well distributed rainfall); in other parts, continental and Mediterranean climate (hot, dry summers and autumns and relatively cold winters with heavy snowfall)

Terrain:

extremely varied; to the north, rich fertile plains; to the east, limestone ranges and basins; to the southeast, ancient mountains and hills

Elevation extremes:

lowest point: Adriatic Sea 0 m
highest point: Daravica 2,656 m

Natural resources:

oil, gas, coal, iron ore, copper, lead, zinc, antimony, chromite, nickel, gold, silver, magnesium, pyrite, limestone, marble, salt, arable land

Natural hazards:

destructive earthquakes

Environment current issues:

air pollution around Belgrade and other industrial cities; water pollution from industrial wastes dumped into the Sava which flows into the Danube

Geography - note:

controls one of the major land routes from Western Europe to Turkey and the Near East
Population of Serbia
Population:

10,159,046 (July 2008 est.)

Median age:

40.4 years

Life expectancy at birth:

total population: 74 years
male: 71 years
female: 76 years

Fertility rate:

1.78 children born/woman

Ethnic groups:

Serb 66%, Albanian 17%, Hungarian 3.5%, other 13.5%

Religions:

Serbian Orthodox, Muslim, Roman Catholic, Protestant

Languages:

Serbian (official nationwide); Romanian, Hungarian, Slovak, and Croatian (all official in Vojvodina); Albanian (official in Kosovo)

Literacy:

definition: age 15 and over can read and write
total population: 96.4%
male: 98.9%
female: 94.1%
Government
Country name:

conventional long form: Republic of Serbia
conventional short form: Serbia
local long form: Republika Srbija
local short form: Srbija
former: People's Republic of Serbia, Socialist Republic of Serbia

Government type:

republic

Capital:

Belgrade

Administrative divisions:

31 districts (okrugov; singular - okrug), 1 capital city

Independence:

5 June 2006 (from Serbia and Montenegro)

National holiday:

National Day, 27 April

Constitution:

4 February 2003

Legal system:

based on civil law system

Suffrage:

18 years of age, universal

Executive branch:

chief of state: President Boris TADIC (since 11 July 2004)
head of government: Prime Minister Mirko CVETKOVIC (since 7 July 2008)
cabinet: Federal Ministries act as cabinet
elections: president elected by direct vote for a five-year term (eligible for a second term); election last held 3 February 2008; prime minister elected by the Assembly.

Legislative branch:

unicameral National Assembly (250 deputies elected by direct vote for a four-year term)

Judicial branch:

Constitutional Court (nine justices with life tenure)

Political pressure groups and leaders:

Otpor Student Resistance Movement [leader NA]; Political Council for Presevo, Meveda and Bujanovac or PCPMB
Economy
MILOSEVIC-era mismanagement of the economy, an extended period of economic sanctions, and the damage to Yugoslavia's infrastructure and industry during the NATO airstrikes in 1999 left the economy only half the size it was in 1990. After the ousting of former Federal Yugoslav President MILOSEVIC in September 2000, the Democratic Opposition of Serbia (DOS) coalition government implemented stabilization measures and embarked on a market reform program. After renewing its membership in the IMF in December 2000, a down-sized Yugoslavia continued to reintegrate into the international community by rejoining the World Bank (IBRD) and the European Bank for Reconstruction and Development (EBRD). A World Bank-European Commission sponsored Donors' Conference held in June 2001 raised $1.3 billion for economic restructuring. In November 2001, the Paris Club agreed to reschedule the country's $4.5 billion public debt and wrote off 66% of the debt. In July 2004, the London Club of private creditors forgave $1.7 billion of debt just over half the total owed. Belgrade has made only minimal progress in restructuring and privatizing its holdings in major sectors of the economy, including energy and telecommunications. It has made halting progress towards EU membership and is currently pursuing a Stabilization and Association Agreement with Brussels. Serbia is also pursuing membership in the World Trade Organization. Unemployment remains an ongoing political and economic problem.
GDP:

$77.28 billion (2007 est.)

GDP growth rate:

5.9% for Serbia alone (excluding Kosovo)

GDP per capita:

$4,400

GDP composition by sector:

agriculture: 16.6%
industry: 25.5%
services: 57.9%

Inflation rate:

15.5%

Labor force:

2.961 million for Serbia (including Kosovo) (2002)

Labor force - by occupation:

agriculture: 30%
industry: 46%
services: 24%
note: excluding Kosovo and Montenegro

Unemployment:

31.6%
note: unemployment is approximately 50% in Kosovo

Industries:

sugar, agricultural machinery, electrical and communication equipment, paper and pulp, lead, transportation equipment

Agriculture:

wheat, maize, sugar beets, sunflower, beef, pork, milk

Exports:

manufactured goods, food and live animals, machinery and transport equipment

Currency:

new Yugoslav dinar (YUM); note - in Kosovo both the euro and the Yugoslav dinar are legal
SOURCES: The CIA World Factbook, U.S. Department of State, Area Handbook of the US Library of Congress
Copyright 2004 - 2008 worldfacts.us