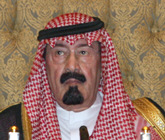 Saudi Arabia is the birthplace of Islam and home to Islam's two holiest shrines in Mecca and Medina. The king's official title is the Custodian of the Two Holy Mosques. The modern Saudi state was founded in 1932 by ABD AL-AZIZ bin Abd al-Rahman AL SAUD (Ibn Saud) after a 30-year campaign to unify most of the Arabian Peninsula. A male descendent of Ibn Saud, his son ABDALLAH bin Abd al-Aziz, rules the country today as required by the country's 1992 Basic Law. Following Iraq's invasion of Kuwait in 1990, Saudi Arabia accepted the Kuwaiti royal family and 400,000 refugees while allowing Western and Arab troops to deploy on its soil for the liberation of Kuwait the following year. The continuing presence of foreign troops on Saudi soil after the liberation of Kuwait became a source of tension between the royal family and the public until all operational US troops left the country in 2003. Major terrorist attacks in May and November 2003 spurred a strong on-going campaign against domestic terrorism and extremism. King ABDALLAH has continued the cautious reform program begun when he was crown prince. To promote increased political participation, the government held elections nationwide from February through April 2005 for half the members of 179 municipal councils. In December 2005, King ABDALLAH completed the process by appointing the remaining members of the advisory municipal councils. The country remains a leading producer of oil and natural gas and holds more than 20% of the world's proven oil reserves. The government continues to pursue economic reform and diversification, particularly since Saudi Arabia's accession to the WTO in December 2005, and promotes foreign investment in the kingdom. A burgeoning population, aquifer depletion, and an economy largely dependent on petroleum output and prices are all ongoing governmental concerns.
Geography of Saudi Arabia
Location:

Middle East, bordering the Persian Gulf and the Red Sea, north of Yemen

Coordinates:

25 00 N, 45 00 E

Area:

total: 1,960,582 sq km
water: 0 sq km
land: 1,960,582 sq km

Area comparative:

slightly more than one-fifth the size of the US

Land boundaries:

total: 4,431 km
border countries: Iraq 814 km, Jordan 744 km, Kuwait 222 km, Oman 676 km, Qatar 60 km, UAE 457 km, Yemen 1,458 km

Coastline:

2,640 km

Maritime claims:

contiguous zone: 18 NM
continental shelf: not specified
territorial sea: 12 NM

Climate:

harsh, dry desert with great temperature extremes

Terrain:

mostly uninhabited, sandy desert

Elevation extremes:

lowest point: Persian Gulf 0 m
highest point: Jabal Sawda' 3,133 m

Natural resources:

petroleum, natural gas, iron ore, gold, copper

Natural hazards:

frequent sand and dust storms

Environment current issues:

desertification; depletion of underground water resources; the lack of perennial rivers or permanent water bodies has prompted the development of extensive seawater desalination facilities; coastal pollution from oil spills

Geography - note:

extensive coastlines on Persian Gulf and Red Sea provide great leverage on shipping (especially crude oil) through Persian Gulf and Suez Canal
Population of Saudi Arabia
Population:

28,146,656 (July 2008 est.)

Age structure:

0-14 years: 38.2% (male 5,261,530/female 5,059,041)
15-64 years: 59.4% (male 9,159,519/female 6,895,616)
65 years and over: 2.4% (male 342,020/female 302,005)

Median age:

21.4 years

Growth rate:

2.18%

Infant mortality:

12.81 deaths/1,000 live births

Life expectancy at birth:

total population: 75.67 years
male: 73.66 years
female: 77.78 years

Fertility rate:

4 children born/woman

Nationality:

noun: Saudi(s)
adjective: Saudi or Saudi Arabian

Ethnic groups:

Arab 90%, Afro-Asian 10%

Religions:

Muslim 100%

Languages:

Arabic

Literacy:

definition: age 15 and over can read and write
total population: 78.8%
male: 84.7%
female: 70.8%
Government
Country name:

conventional long form: Kingdom of Saudi Arabia
local long form: Al Mamlakah al Arabiyah as Suudiyah
local short form: Al Arabiyah as Suudiyah

Government type:

monarchy

Capital:

Riyadh

Administrative divisions:

13 provinces (mintaqat, singular - mintaqah); Al Bahah, Al Hudud ash Shamaliyah, Al Jawf, Al Madinah, Al Qasim, Ar Riyad, Ash Sharqiyah (Eastern Province), 'Asir, Ha'il, Jizan, Makkah, Najran, Tabuk

Independence:

23 September 1932 (Unification of the Kingdom)

National holiday:

Unification of the Kingdom, 23 September (1932)

Constitution:

governed according to Shari'a (Islamic law); the Basic Law that articulates the government's rights and responsibilities was introduced in 1993

Legal system:

based on Islamic law, several secular codes have been introduced; commercial disputes handled by special committees; has not accepted compulsory ICJ jurisdiction

Suffrage:

adult male citizens age 21 or older
note: voter registration began in November 2004 for partial municipal council elections held nationwide from February through April 2005

Executive branch:

chief of state: King and Prime Minister ABDALLAH bin Abd al-Aziz Al Saud (since 1 August 2005); Heir Apparent Crown Prince SULTAN bin Abd al- Aziz Al Saud (half brother of the monarch, born 5 January 1928); note - the monarch is both the chief of state and head of government
head of government: King and Prime Minister ABDALLAH bin Abd al-Aziz Al Saud (since 1 August 2005)
cabinet: Council of Ministers is appointed by the monarch every four years and includes many royal family members
elections: none; the monarchy is hereditary. A new Allegiance Commission created by royal decree in October 2006 established a committee of Saudi princes that will play a role in selecting future Saudi kings, but the new system will not take effect until after Crown Prince Sultan becomes king.

Legislative branch:

Consultative Council or Majlis al-Shura (120 members and a chairman appointed by the monarch for four-year terms)

Judicial branch:

Supreme Council of Justice
Economy
Saudi Arabia has an oil-based economy with strong government controls over major economic activities. It possesses more than 20% of the world's proven petroleum reserves, ranks as the largest exporter of petroleum, and plays a leading role in OPEC. The petroleum sector accounts for roughly 75% of budget revenues, 45% of GDP, and 90% of export earnings. About 40% of GDP comes from the private sector. Roughly 5.5 million foreign workers play an important role in the Saudi economy, particularly in the oil and service sectors. High oil prices have boosted growth, government revenues, and Saudi ownership of foreign assets, while enabling Riyadh to pay down domestic debt. The government is encouraging private sector growth - especially in power generation, telecommunications, natural gas exploration, and petrochemicals - to lessen the kingdom's dependence on oil exports and to increase employment opportunities for the swelling Saudi population, nearly 40% of which are youths under 15 years old. Unemployment is high, and the large youth population generally lacks the education and technical skills the private sector needs. Riyadh has substantially boosted spending on job training and education, infrastructure development, and government salaries. As part of its effort to attract foreign investment and diversify the economy, Saudi Arabia acceded to the WTO in December 2005 after many years of negotiations. The government has announced plans to establish six "economic cities" in different regions of the country to promote development and diversification.
GDP:

$546 billion (2007 est.)

GDP growth rate:

6.1%

GDP per capita:

$12,800

GDP composition by sector:

agriculture: 3.3%
industry: 61.3%
services: 35.4%

Inflation rate:

0.4%

Labor force:

7 million

Labor force - by occupation:

6.76 million
note: more than 35% of the population in the 15-64 age group is non-national

Unemployment:

13% male only (local bank estimate; some estimates range as high as 25%)

Electricity production by source:

fossil fuel: 100%

Industries:

crude oil production, petroleum refining, basic petrochemicals, cement, construction, fertilizer, plastics

Agriculture:

wheat, barley, tomatoes, melons, dates, citrus; mutton, chickens, eggs, milk

Exports:

petroleum and petroleum products 90%

Export partners:

US 17%, Japan 16.8%, South Korea 8.7%, China 7.2%, Singapore 5.3%, Taiwan 4.1%

Imports:

machinery and equipment, foodstuffs, chemicals, motor vehicles, textiles

Import partners:

US 13.2%, Germany 9.8%, Japan 8.1%, China 7.4%, France 4.8%, UK 4.4%, Italy 4.3%

Currency:

Saudi riyal (SAR)
SOURCES: The CIA World Factbook, U.S. Department of State, Area Handbook of the US Library of Congress
Copyright 2004 - 2008 worldfacts.us