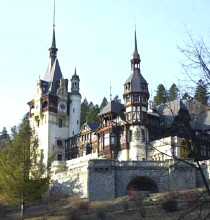 The principalities of Wallachia and Moldavia - for centuries under the suzerainty of the Turkish Ottoman Empire - secured their autonomy in 1856; they united in 1859 and a few years later adopted the new name of Romania. The country gained recognition of its independence in 1878. It joined the Allied Powers in World War I and acquired new territories - most notably Transylvania - following the conflict. In 1940, Romania allied with the Axis powers and participated in the 1941 German invasion of the USSR. Three years later, overrun by the Soviets, Romania signed an armistice. The post-war Soviet occupation led to the formation of a Communist "people's republic" in 1947 and the abdication of the king. The decades-long rule of dictator Nicolae CEAUSESCU, who took power in 1965, and his Securitate police state became increasingly oppressive and draconian through the 1980s. CEAUSESCU was overthrown and executed in late 1989. Former Communists dominated the government until 1996 when they were swept from power. Romania joined NATO in 2004 and the EU in 2007.
Geography of Romania
Location:

Southeastern Europe, bordering the Black Sea, between Bulgaria and Ukraine

Coordinates:

46 00 N, 25 00 E

Area:

total: 237,500 sq km
land: 230,340 sq km
water: 7,160 sq km

Area comparative:

slightly smaller than Oregon

Land boundaries:

total: 2,508 km
border countries: Bulgaria 608 km, Hungary 443 km, Moldova 450 km, Serbia and Montenegro 476 km, Ukraine (north) 362 km, Ukraine (east) 169 km

Coastline:

225 km

Maritime claims:

contiguous zone: 24 NM
territorial sea: 12 NM
continental shelf: 200-m depth or to the depth of exploitation
exclusive economic zone: 200 NM

Climate:

temperate; cold, cloudy winters with frequent snow and fog; sunny summers with frequent showers and thunderstorms

Terrain:

central Transylvanian Basin is separated from the Plain of Moldavia on the east by the Carpathian Mountains and separated from the Walachian Plain on the south by the Transylvanian Alps

Elevation extremes:

lowest point: Black Sea 0 m
highest point: Moldoveanu 2,544 m

Natural resources:

petroleum (reserves declining), timber, natural gas, coal, iron ore, salt, arable land, hydropower

Natural hazards:

earthquakes, most severe in south and southwest; geologic structure and climate promote landslides

Environment current issues:

soil erosion and degradation; water pollution; air pollution in south from industrial effluents; contamination of Danube delta wetlands

Geography - note:

controls most easily traversable land route between the Balkans, Moldova, and Ukraine
Population of Romania
Population:

22,246,862 (July 2008 est.)

Age structure:

0-14 years: 15.7% (male 1,799,072/female 1,708,030)
15-64 years: 69.6% (male 7,724,368/female 7,797,065)
65 years and over: 14.7% (male 1,347,392/female 1,927,625)

Median age:

36.6 years

Growth rate:

-0.12%

Infant mortality:

25.5 deaths/1,000 live births

Life expectancy at birth:

total population: 71.63 years
male: 68.14 years
female: 75.34 years

Fertility rate:

1.37 children born/woman

Nationality:

noun: Romanian(s)
adjective: Romanian

Ethnic groups:

Romanian 89.5%, Hungarian 6.6%, Roma 2.5%, Ukrainian 0.3%, German 0.3%, Russian 0.2%, Turkish 0.2%, other 0.4%

Religions:

Eastern Orthodox (including all sub-denominations) 87%, Protestant 6.8%, Catholic 5.6%, other (mostly Muslim) 0.4%, unaffiliated 0.2%

Languages:

Romanian (official), Hungarian, German

Literacy:

definition: age 15 and over can read and write
total population: 98.4%
male: 99.1%
female: 97.7%
Government
Country name:

local short form: Romania

Government type:

republic

Capital:

Bucharest

Administrative divisions:

41 counties (judete, singular - judet) and 1 municipality* (municipiu); Alba, Arad, Arges, Bacau, Bihor, Bistrita-Nasaud, Botosani, Braila, Brasov, Bucuresti*, Buzau, Calarasi, Caras-Severin, Cluj, Constanta, Covasna, Dimbovita, Dolj, Galati, Gorj, Giurgiu, Harghita, Hunedoara, Ialomita, Iasi, Ilfov, Maramures, Mehedinti, Mures, Neamt, Olt, Prahova, Salaj, Satu Mare, Sibiu, Suceava, Teleorman, Timis, Tulcea, Vaslui, Vilcea, Vrancea

Independence:

9 May 1877 (independence proclaimed from Turkey; independence recognized 13 July 1878 by the Treaty of Berlin; kingdom proclaimed 26 March 1881; republic proclaimed 30 December 1947)

National holiday:

Unification Day (of Romania and Transylvania), 1 December (1918)

Constitution:

8 December 1991; revision effective 29 October 2003

Legal system:

former mixture of civil law system and communist legal theory; is now based on the constitution of France's Fifth Republic

Suffrage:

18 years of age; universal

Executive branch:

chief of state: President Traian BASESCU (since 20 December 2004); note - President Traian BASESCU was suspended by vote of parliament on 19 April 2007, but resumed his duties on 23 May 2007 after a popular referendum confirmed that his impeachment should not stand
head of government: Prime Minister Calin Popescu-TARICEANU (since 29 December 2004)
cabinet: Council of Ministers appointed by the prime minister
elections: president elected by popular vote for a five-year term (eligible for a second term); election last held 28 November 2004 with runoff between the top two candidates held 12 December 2004; prime minister appointed by the president with the consent of the Parliament.

Legislative branch:

bicameral Parliament or Parlament consists of the Senate or Senat (137 seats; members are elected by direct, popular vote on a proportional representation basis to serve four-year terms) and the Chamber of Deputies or Camera Deputatilor (332 seats; members are elected by direct, popular vote on a proportional representation basis to serve four-year terms)

Judicial branch:

Supreme Court of Justice (comprised of 11 judges appointed for three-year terms by the president in consultation with the Superior Council of Magistrates, which is comprised of the minister of justice, the prosecutor general, two civil society representatives appointed by the Senate, and 14 judges and prosecutors elected by their peers); a separate body, the Constitutional Court, validates elections and makes decisions regarding the constitutionality of laws, treaties, ordinances, and internal rules of the Parliament; it is comprised of nine members serving nine-year terms, with three members each appointed by the president, the Senate, and the Chamber of Deputies
Economy
Romania, which joined the European Union on 1 January 2007, began the transition from Communism in 1989 with a largely obsolete industrial base and a pattern of output unsuited to the country's needs. The country emerged in 2000 from a punishing three-year recession thanks to strong demand in EU export markets. Domestic consumption and investment have fueled strong GDP growth in recent years, but have led to large current account imbalances. Romania's macroeconomic gains have only recently started to spur creation of a middle class and address Romania's widespread poverty. Corruption and red tape continue to handicap its business environment. Inflation rose in 2007 for the first time in eight years, driven in part by the depreciation of the currency, rising energy costs, a nation-wide drought affecting food prices, and a relaxation of fiscal discipline. Romania hopes to adopt the euro by 2014.
GDP:

$247.1 billion (2007 est.)

GDP growth rate:

4.5%

GDP per capita:

$8,200

GDP composition by sector:

agriculture: 10.1%
industry: 35%
services: 54.9%

Inflation rate:

9%

Labor force:

9.31 million

Labor force - by occupation:

agriculture: 31.6%
industry: 30.7%
services: 37.7%

Unemployment:

5.9%

Budget:

revenues: $29.97 billion
expenditures: $31.37 billion

Electricity production by source:

fossil fuel: 62.5%
hydro: 27.6%
other: 0%
nuclear: 9.9%

Industries:

textiles and footwear, light machinery and auto assembly, mining, timber, construction materials, metallurgy, chemicals, food processing, petroleum refining

Agriculture:

wheat, corn, barley, sugar beets, sunflower seed, potatoes, grapes; eggs, sheep

Exports:

textiles and footwear, metals and metal products, machinery and equipment, minerals and fuels, chemicals, agricultural products

Export partners:

Italy 18.3%, Germany 14.6%, Turkey 7.7%, France 6.6%, Austria 5.6%, UK 5.1%, Hungary 4.6%, US 4.5%

Imports:

machinery and equipment, fuels and minerals, chemicals, textile and products, basic metals, agricultural products

Import partners:

Germany 16.4%, Italy 15.1%, Russia 6.8%, France 6.3%, Austria 5.8%, Hungary 5.7%, Turkey 4.1%

Currency:

leu (ROL)
SOURCES: The CIA World Factbook, U.S. Department of State, Area Handbook of the US Library of Congress
Copyright 2004 - 2008 worldfacts.us