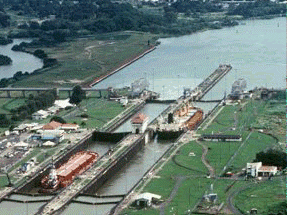 Explored and settled by the Spanish in the 16th century, Panama broke with Spain in 1821 and joined a union of Colombia, Ecuador, and Venezuela - named the Republic of Gran Colombia. When the latter dissolved in 1830, Panama remained part of Colombia. With US backing, Panama seceded from Colombia in 1903 and promptly signed a treaty with the US allowing for the construction of a canal and US sovereignty over a strip of land on either side of the structure (the Panama Canal Zone). The Panama Canal was built by the US Army Corps of Engineers between 1904 and 1914. In 1977, an agreement was signed for the complete transfer of the Canal from the US to Panama by the end of the century. Certain portions of the Zone and increasing responsibility over the Canal were turned over in the subsequent decades. With US help, dictator Manuel NORIEGA was deposed in 1989. The entire Panama Canal, the area supporting the Canal, and remaining US military bases were transferred to Panama by the end of 1999. In October 2006, Panamanians approved an ambitious plan to expand the Canal. The project, which began in 2007 and could double the Canal's capacity, is expected to be completed in 2014-15.
Geography of Panama
Location:

Middle America, bordering both the Caribbean Sea and the North Pacific Ocean, between Colombia and Costa Rica

Coordinates:

9 00 N, 80 00 W

Area:

total: 78,200 sq km
water: 2,210 sq km
land: 75,990 sq km

Area comparative:

slightly smaller than South Carolina

Land boundaries:

total: 555 km
border countries: Colombia 225 km, Costa Rica 330 km

Coastline:

2,490 km

Maritime claims:

contiguous zone: 24 NM
exclusive economic zone: 200 NM
territorial sea: 12 NM

Climate:

tropical maritime; hot, humid, cloudy; prolonged rainy season (May to January), short dry season (January to May)

Terrain:

interior mostly steep, rugged mountains and dissected, upland plains; coastal areas largely plains and rolling hills

Elevation extremes:

lowest point: Pacific Ocean 0 m
highest point: Volcan de Chiriqui 3,475 m

Natural resources:

copper, mahogany forests, shrimp, hydropower

Natural hazards:

occasional severe storms and forest fires in the Darien area

Environment current issues:

water pollution from agricultural runoff threatens fishery resources; deforestation of tropical rain forest; land degradation and soil erosion threatens siltation of Panama Canal; air pollution in urban areas; mining threatens natural resources

Geography - note:

strategic location on eastern end of isthmus forming land bridge connecting North and South America; controls Panama Canal that links North Atlantic Ocean via Caribbean Sea with North Pacific Ocean
Population of Panama
Population:

3,309,679 (July 2008 est.)

Age structure:

0-14 years: 30.3% (male 492,403/female 472,996)
15-64 years: 63.4% (male 1,025,898/female 998,926)
65 years and over: 6.3% (male 94,122/female 106,974)

Median age:

26.1 years

Growth rate:

1.6%

Infant mortality:

16.37 deaths/1,000 live births

Life expectancy at birth:

total population: 75.22 years
male: 72.68 years
female: 77.87 years

Fertility rate:

2.68 children born/woman

Nationality:

noun: Panamanian(s)
adjective: Panamanian

Ethnic groups:

mestizo (mixed Amerindian and white) 70%, Amerindian and mixed (West Indian) 14%, white 10%, Amerindian 6%

Religions:

Roman Catholic 85%, Protestant 15%

Languages:

Spanish (official), English 14%
note: many Panamanians bilingual

Literacy:

definition: age 15 and over can read and write
total population: 92.6%
male: 93.2%
female: 91.9%
Government
Country name:

conventional long form: Republic of Panama
local long form: Republica de Panama

Government type:

constitutional democracy

Capital:

Panama

Administrative divisions:

9 provinces (provincias, singular - provincia) and 1 territory* (comarca); Bocas del Toro, Chiriqui, Cocle, Colon, Darien, Herrera, Los Santos, Panama, San Blas*, and Veraguas

Independence:

3 November 1903 (from Colombia; became independent from Spain 28 November 1821)

National holiday:

Independence Day, 3 November (1903)

Constitution:

11 October 1972; major reforms adopted 1978, 1983 and 1994

Legal system:

based on civil law system; judicial review of legislative acts in the Supreme Court of Justice; accepts compulsory ICJ jurisdiction, with reservations

Suffrage:

18 years of age; universal and compulsory

Executive branch:

chief of state: President Martin TORRIJOS Espino (since 1 September 2004); First Vice President Samuel LEWIS Navarro (since 1 September 2004); Second Vice President Ruben AROSEMENA Valdes (since 1 September 2004); note - the president is both the chief of state and head of government
head of government: President Martin TORRIJOS Espino (since 1 September 2004); First Vice President Samuel LEWIS Navarro (since 1 September 2004); Second Vice President Ruben AROSEMENA Valdes (since 1 September 2004)
cabinet: Cabinet appointed by the president
elections: president and vice presidents elected on the same ticket by popular vote for five-year terms (not eligible for immediate reelection; president and vice presidents must sit out two additional terms (10 years) before becoming eligible for reelection); election last held 2 May 2004 (next to be held on 3 May 2009); note - beginning in 2009, Panama will have only one vice president.

Legislative branch:

unicameral National Assembly (formerly called Legislative Assembly) or Asamblea Nacional (78 seats; members are elected by popular vote to serve five-year terms); note - in 2009, the number of seats will change to 71

Judicial branch:

Supreme Court of Justice or Corte Suprema de Justicia (nine judges appointed for 10-year terms); five superior courts; three courts of appeal
Economy
Panama's dollarized economy rests primarily on a well-developed services sector that accounts for two-thirds of GDP. Services include operating the Panama Canal, banking, the Colon Free Zone, insurance, container ports, flagship registry, and tourism. Economic growth will be bolstered by the Panama Canal expansion project that began in 2007 and should be completed by 2014 at a cost of $5.3 billion (about 30% of current GDP). The expansion project will more than double the Canal's capacity, enabling it to accommodate ships that are now too large to transverse the transoceanic crossway and should help to reduce the high unemployment rate. The government has implemented tax reforms, as well as social security reforms, and backs regional trade agreements and development of tourism. Not a CAFTA signatory, Panama in December 2006 independently negotiated a free trade agreement with the US, which, when implemented, will help promote the country's economic growth.
GDP:

$34.81 billion (2007 est.)

GDP growth rate:

6.4%

GDP per capita:

$10,700

GDP composition by sector:

agriculture: 6.8%
industry: 15.6%
services: 77.6%

Inflation rate:

2.9%

Labor force:

1.39 million
note: shortage of skilled labor, but an oversupply of unskilled labor

Labor force - by occupation:

agriculture: 20.8%
industry: 18%
services: 61.2%

Unemployment:

9.8%

Electricity production by source:

fossil fuel: 37%
hydro: 61.3%
other: 1.7%
nuclear: 0%

Industries:

construction, brewing, cement and other construction materials, sugar milling

Agriculture:

bananas, rice, corn, coffee, sugarcane, vegetables; livestock; shrimp

Exports:

bananas, shrimp, sugar, coffee, clothing

Export partners:

US 18.3%, Spain 15.6%, Germany 7.9%, Greece 4.1%

Imports:

capital goods, foodstuffs, consumer goods, chemicals

Import partners:

Japan 36.2%, China 16.5%, US 11.4%, Singapore 10%

Currency:

balboa (PAB); US dollar (USD)

Currency code:

PAB; USD
SOURCES: The CIA World Factbook, U.S. Department of State, Area Handbook of the US Library of Congress
Copyright 2004 - 2008 worldfacts.us