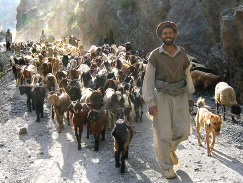 The Indus Valley civilization, one of the oldest in the world and dating back at least 5,000 years, spread over much of what is presently Pakistan. During the second millennium B.C., remnants of this culture fused with the migrating Indo-Aryan peoples. The area underwent successive invasions in subsequent centuries from the Persians, Greeks, Scythians, Arabs (who brought Islam), Afghans, and Turks. The Mughal Empire flourished in the 16th and 17th centuries; the British came to dominate the region in the 18th century. The separation in 1947 of British India into the Muslim state of Pakistan (with West and East sections) and largely Hindu India was never satisfactorily resolved, and India and Pakistan fought two wars - in 1947-48 and 1965 - over the disputed Kashmir territory. A third war between these countries in 1971 - in which India capitalized on Islamabad's marginalization of Bengalis in Pakistani politics - resulted in East Pakistan becoming the separate nation of Bangladesh. In response to Indian nuclear weapons testing, Pakistan conducted its own tests in 1998. The dispute over the state of Kashmir is ongoing, but discussions and confidence-building measures have led to decreased tensions since 2002. Mounting public dissatisfaction with President MUSHARRAF, coupled with the assassination of the prominent and popular political leader, Benazir BHUTTO, in late 2007, and MUSHARRAF's resignation in August 2008, led to the September presidential election of Asif ZARDARI, BHUTTO's widower. Pakistani government and military leaders are struggling to control Islamist militants, many of whom are located in the tribal areas adjacent to the border with Afghanistan. The Pakistani government is also faced with a deteriorating economy as foreign exchange reserves decline, the currency depreciates, and the current account deficit widens.
Geography of Pakistan
Location:

Southern Asia, bordering the Arabian Sea, between India on the east and Iran and Afghanistan on the west and China in the north

Coordinates:

30 00 N, 70 00 E

Area:

total: 803,940 sq km
land: 778,720 sq km
water: 25,220 sq km

Area comparative:

slightly less than twice the size of California

Land boundaries:

total: 6,774 km
border countries: Afghanistan 2,430 km, China 523 km, India 2,912 km, Iran 909 km

Coastline:

1,046 km

Maritime claims:

contiguous zone: 24 NM
territorial sea: 12 NM
continental shelf: 200 NM or to the edge of the continental margin
exclusive economic zone: 200 NM

Climate:

mostly hot, dry desert; temperate in northwest; arctic in north

Terrain:

flat Indus plain in east; mountains in north and northwest; Balochistan plateau in west

Elevation extremes:

lowest point: Indian Ocean 0 m
highest point: K2 (Mt. Godwin-Austen) 8,611 m

Natural resources:

land, extensive natural gas reserves, limited petroleum, poor quality coal, iron ore, copper, salt, limestone

Natural hazards:

frequent earthquakes, occasionally severe especially in north and west; flooding along the Indus after heavy rains (July and August)

Environment current issues:

water pollution from raw sewage, industrial wastes, and agricultural runoff; limited natural fresh water resources; a majority of the population does not have access to potable water; deforestation; soil erosion; desertification

Geography - note:

controls Khyber Pass and Bolan Pass, traditional invasion routes between Central Asia and the Indian Subcontinent
Population of Pakistan
Population:

172,800,048 (July 2008 est.)

Age structure:

0-14 years: 39% (male 33,293,428/female 31,434,314)
15-64 years: 56.9% (male 48,214,298/female 46,062,933)
65 years and over: 4.1% (male 3,256,065/female 3,542,522)

Median age:

19.8 years

Growth rate:

2.09%

Infant mortality:

70.45 deaths/1,000 live births

Life expectancy at birth:

total population: 63.39 years
male: 62.4 years
female: 64.44 years

Fertility rate:

4 children born/woman

Nationality:

noun: Pakistani(s)
adjective: Pakistani

Ethnic groups:

Punjabi, Sindhi, Pashtun (Pathan), Baloch, Muhajir (immigrants from India at the time of partition and their descendants)

Religions:

Muslim 97% (Sunni 77%, Shi'a 20%), Christian, Hindu, and other 3%

Languages:

Punjabi 48%, Sindhi 12%, Siraiki (a Punjabi variant) 10%, Pashtu 8%, Urdu (official) 8%, Balochi 3%, Hindko 2%, Brahui 1%, English (official and lingua franca of Pakistani elite and most government ministries), Burushaski, and other 8%

Literacy:

definition: age 15 and over can read and write
total population: 45.7%
male: 59.8%
female: 30.6%
Government
Country name:

conventional long form: Islamic Republic of Pakistan
former: West Pakistan

Government type:

federal republic

Capital:

Islamabad

Administrative divisions:

4 provinces, 1 territory*, and 1 capital territory**; Balochistan, Federally Administered Tribal Areas*, Islamabad Capital Territory**, North-West Frontier Province, Punjab, Sindh
note: the Pakistani-administered portion of the disputed Jammu and Kashmir region includes Azad Kashmir and the Northern Areas

Independence:

14 August 1947 (from UK)

National holiday:

Republic Day, 23 March (1956)

Constitution:

12 April 1973; suspended 5 July 1977, restored with amendments 30 December 1985; suspended 15 October 1999, restored in stages in 2002; amended 31 December 2003

Legal system:

based on English common law with provisions to accommodate Pakistan's status as an Islamic state; accepts compulsory ICJ jurisdiction, with reservations

Suffrage:

18 years of age; universal; joint electorates and reserved parliamentary seats for women and non-Muslims

Executive branch:

chief of state: President Asif Ali ZARDARI (since 9 September 2008)
head of government: Syed Yousuf Raza GILANI (since 25 March 2008)
cabinet: Cabinet appointed by the President upon the advice of the prime minister
elections: the president is elected by secret ballot through an Electoral College comprising the members of the Senate, National Assembly, and the provincial assemblies for a five-year term; election last held on 6 September 2008; note - any person who is a Muslim and not less than 45 years of age and is qualified to be elected as a member of the National Assembly can contest the presidential election; the prime minister is selected by the National Assembly.

Legislative branch:

bicameral Parliament or Majlis-e-Shoora consists of the Senate (100 seats - formerly 87; members indirectly elected by provincial assemblies to serve six-year terms and the National Assembly (342 seats - formerly 217; 60 seats represent women; 10 seats represent minorities; members elected by popular vote to serve five-year terms)

Judicial branch:

Supreme Court (justices appointed by the president); Federal Islamic or Shari'a Court

Political pressure groups and leaders:

military remains most important political force; ulema (clergy), landowners, industrialists, and small merchants also influential
Economy
Pakistan, an impoverished and underdeveloped country, has suffered from decades of internal political disputes, low levels of foreign investment, and a costly, ongoing confrontation with neighboring India. However, since 2001, IMF-approved reforms - most notably, privatization of the banking sector - bolstered by generous foreign assistance and renewed access to global markets, have generated macroeconomic recovery. Pakistan has experienced GDP growth in the 6-8% range in 2004-07, spurred by gains in the industrial and service sectors. Poverty levels have decreased by 10% since 2001, and Islamabad has steadily raised development spending in recent years, including a 52% real increase in the budget allocation for development in FY07. In 2007 the fiscal deficit - a result of chronically low tax collection and increased spending - exceeded Islamabad's target of 4% of GDP. Inflation remains the top concern among the public, jumping from 7.7% in 2007 to more than 11% during the first few months of 2008, primarily because of rising world commodity prices. The Pakistani rupee has depreciated since the proclamation of emergency rule in November 2007.
GDP:

$411.9 billion (2007 est.)

GDP growth rate:

6.9%

GDP per capita:

$2,400

GDP composition by sector:

agriculture: 21.6%
industry: 25.1%
services: 53.3%

Inflation rate:

9.1%

Labor force:

46.84 million
note: extensive export of labor, mostly to the Middle East, and use of child labor

Labor force - by occupation:

agriculture: 42%
industry: 20%
services: 38%

Unemployment:

6.6% plus substantial underemployment

Budget:

revenues: $15.45 billion
expenditures: $20.07 billion

Electricity production by source:

fossil fuel: 68.8%
hydro: 28.2%
nuclear: 3%

Industries:

textiles and apparel, food processing, pharmaceuticals, construction materials, paper products, fertilizer, shrimp

Agriculture:

cotton, wheat, rice, sugarcane, fruits, vegetables; milk, beef, mutton, eggs

Exports:

textiles (garments, bed linen, cotton cloth, and yarn), rice, leather goods, sports goods, chemicals, manufactures, carpets and rugs

Export partners:

US 22.4%, UAE 8.3%, UK 6%, China 5.4%, Germany 4.7%

Imports:

petroleum, petroleum products, machinery, plastics, transportation equipment, edible oils, paper and paperboard, iron and steel, tea

Import partners:

China 14.7%, Saudi Arabia 10.1%, UAE 8.7%, Japan 6.5%, US 5.3%, Germany 5%, Kuwait 4.9%

Currency:

Pakistani rupee (PKR)
SOURCES: The CIA World Factbook, U.S. Department of State, Area Handbook of the US Library of Congress
Copyright 2004 - 2008 worldfacts.us