World Facts Index > Norway > Oslo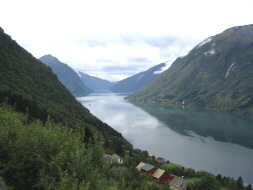 Two centuries of Viking raids into Europe tapered off following the adoption of Christianity by King Olav TRYGGVASON in 994. Conversion of the Norwegian kingdom occurred over the next several decades. In 1397, Norway was absorbed into a union with Denmark that lasted more than four centuries. In 1814, Norwegians resisted the cession of their country to Sweden and adopted a new constitution. Sweden then invaded Norway but agreed to let Norway keep its constitution in return for accepting the union under a Swedish king. Rising nationalism throughout the 19th century led to a 1905 referendum granting Norway independence. Although Norway remained neutral in World War I, it suffered heavy losses to its shipping. Norway proclaimed its neutrality at the outset of World War II, but was nonetheless occupied for five years by Nazi Germany (1940-45). In 1949, neutrality was abandoned and Norway became a member of NATO. Discovery of oil and gas in adjacent waters in the late 1960s boosted Norway's economic fortunes. The current focus is on containing spending on the extensive welfare system and planning for the time when petroleum reserves are depleted. In referenda held in 1972 and 1994, Norway rejected joining the EU.
Geography of Norway
Location:

Northern Europe, bordering the North Sea and the North Atlantic Ocean, west of Sweden

Coordinates:

62 00 N, 10 00 E

Area:

total: 324,220 sq km
land: 307,860 sq km
water: 16,360 sq km

Area comparative:

slightly larger than New Mexico

Land boundaries:

total: 2,544 km
border countries: Finland 729 km, Sweden 1,619 km, Russia 196 km

Coastline:

21,925 km (includes mainland 3,419 km, large islands 2,413 km, long fjords, numerous small islands, and minor indentations 16,093 km)

Maritime claims:

contiguous zone: 10 NM
territorial sea: 4 NM
continental shelf: 200 NM
exclusive economic zone: 200 NM

Climate:

temperate along coast, modified by North Atlantic Current; colder interior with increased precipitation and colder summers; rainy year-round on west coast

Terrain:

glaciated; mostly high plateaus and rugged mountains broken by fertile valleys; small, scattered plains; coastline deeply indented by fjords; arctic tundra in north

Elevation extremes:

lowest point: Norwegian Sea 0 m
highest point: Galdhopiggen 2,469 m

Natural resources:

petroleum, copper, natural gas, pyrites, nickel, iron ore, zinc, lead, fish, timber, hydropower

Natural hazards:

rockslides, avalanches

Environment current issues:

water pollution; acid rain damaging forests and adversely affecting lakes, threatening fish stocks; air pollution from vehicle emissions

Geography - note:

about two-thirds mountains; some 50,000 islands off its much indented coastline; strategic location adjacent to sea lanes and air routes in North Atlantic; one of most rugged and longest coastlines in world
Population of Norway
Population:

4,644,457 (July 2008 est.)

Age structure:

0-14 years: 19.3% (male 455,122/female 434,009)
15-64 years: 65.9% (male 1,542,439/female 1,496,745)
65 years and over: 14.8% (male 288,509/female 393,996)

Median age:

38.4 years

Growth rate:

0.38%

Infant mortality:

3.67 deaths/1,000 live births

Life expectancy at birth:

total population: 79.54 years
male: 76.91 years
female: 82.31 years

Fertility rate:

1.78 children born/woman

Nationality:

noun: Norwegian(s)
adjective: Norwegian

Ethnic groups:

Norwegian, Sami 20,000

Religions:

Church of Norway 85.7%, Pentecostal 1%, Roman Catholic 1%, other Christian 2.4%, Muslim 1.8%, other 8.1%

Languages:

Bokmal Norwegian (official), Nynorsk Norwegian (official), small Sami- and Finnish-speaking minorities; note - Sami is official in six municipalities

Literacy:

definition: age 15 and over can read and write
total population: 100%
Government
Country name:

conventional long form: Kingdom of Norway
local short form: Norge
local long form: Kongeriket Norge

Government type:

constitutional monarchy

Capital:

Oslo

Administrative divisions:

19 provinces (fylker, singular - fylke); Akershus, Aust-Agder, Buskerud, Finnmark, Hedmark, Hordaland, More og Romsdal, Nordland, Nord-Trondelag, Oppland, Oslo, Ostfold, Rogaland, Sogn og Fjordane, Sor-Trondelag, Telemark, Troms, Vest-Agder, Vestfold

Dependent areas:

Bouvet Island, Jan Mayen, Svalbard

Independence:

7 June 1905 Norway declared the union with Sweden dissolved; 26 October 1905 Sweden agreed to the repeal of the union

National holiday:

Constitution Day, 17 May (1814)

Constitution:

17 May 1814, modified in 1884

Legal system:

mixture of customary law, civil law system, and common law traditions; Supreme Court renders advisory opinions to legislature when asked; accepts compulsory ICJ jurisdiction, with reservations

Suffrage:

18 years of age; universal

Executive branch:

chief of state: King HARALD V (since 17 January 1991); Heir Apparent Crown Prince HAAKON MAGNUS, son of the monarch (born 20 July 1973)
head of government: Prime Minister Jens STOLTENBERG (since 17 October 2005)
cabinet: State Council appointed by the monarch with the approval of parliament
elections: the monarch is hereditary; following parliamentary elections, the leader of the majority party or the leader of the majority coalition is usually appointed prime minister by the monarch with the approval of the parliament.

Legislative branch:

modified unicameral Parliament or Storting (169 seats; members are elected by popular vote by proportional representation to serve four-year terms)
note: for certain purposes, the parliament divides itself into two chambers and elects one-fourth of its membership to an upper house or Lagting

Judicial branch:

Supreme Court or Hoyesterett (justices appointed by the monarch)

Political parties and leaders:

Center Party [Aslaug Marie HAGA]; Christian People's Party [Dagfinn HOYBRATEN]; Coastal Party [Roy WAAGE]; Conservative Party [Erna SOLBERG]; Labor Party [Jens STOLTENBERG]; Liberal Party [Lars SPONHEIM]; Progress Party [Carl I. HAGEN]; Red Electoral Alliance [Torstein DAHLE]; Socialist Left Party [Kristin HALVORSEN]
Economy
The Norwegian economy is a prosperous bastion of welfare capitalism, featuring a combination of free market activity and government intervention. The government controls key areas, such as the vital petroleum sector, through large-scale state enterprises. The country is richly endowed with natural resources - petroleum, hydropower, fish, forests, and minerals - and is highly dependent on its oil production and international oil prices, with oil and gas accounting for one-third of exports. Only Saudi Arabia and Russia export more oil than Norway. Norway opted to stay out of the EU during a referendum in November 1994; nonetheless, as a member of the European Economic Area, it contributes sizably to the EU budget. The government has moved ahead with privatization. Although Norwegian oil production peaked in 2000, natural gas production is still rising. Norwegians realize that once their gas production peaks they will eventually face declining oil and gas revenues; accordingly, Norway has been saving its oil-and-gas-boosted budget surpluses in a Government Petroleum Fund, which is invested abroad and now is valued at more than $250 billion. After lackluster growth of less than 1% in 2002-03, GDP growth picked up to 3-5% in 2004-07, partly due to higher oil prices. Norway's economy remains buoyant. Domestic economic activity is, and will continue to be, the main driver of growth, supported by high consumer confidence and strong investment spending in the offshore oil and gas sector. Norway's record high budget surplus and upswing in the labor market in 2007 highlight the strength of its economic position going into 2008.
GDP:

$246.6 billion (2007 est.)

GDP growth rate:

3.9%

GDP per capita:

$53,300

GDP composition by sector:

agriculture: 2.1%
industry: 41.5%
services: 56.4%

Inflation rate:

1.6%

Labor force:

2.4 million

Labor force - by occupation:

services 74%, industry 22%, agriculture, forestry, and fishing 4%

Unemployment:

4.6%

Budget:

revenues: $176.1 billion
expenditures: $131.3 billion

Electricity production by source:

fossil fuel: 0.4%
hydro: 99.3%

Industries:

petroleum and gas, food processing, shipbuilding, pulp and paper products, metals, chemicals, timber, mining, textiles, fishing

Agriculture:

barley, wheat, potatoes; pork, beef, veal, milk; fish

Exports:

petroleum and petroleum products, machinery and equipment, metals, chemicals, ships, fish

Export partners:

UK 24.3%, Germany 14.7%, France 9.2%, Netherlands 8.4%, US 6.9%, Sweden 6.7%, Canada 4.5%

Imports:

machinery and equipment, chemicals, metals, foodstuffs

Import partners:

Sweden 14.7%, Germany 14%, Denmark 7.7%, UK 7.2%, Netherlands 4.7%, US 4.7%, China 4.2%, Finland 4.1%

Currency:

Norwegian krone (NOK)
SOURCES: The CIA World Factbook, U.S. Department of State, Area Handbook of the US Library of Congress
Copyright 2004 - 2008 worldfacts.us