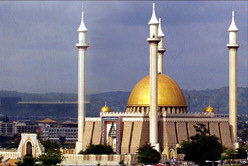 British influence and control over what would become Nigeria grew through the 19th century. A series of constitutions after World War II granted Nigeria greater autonomy; independence came in 1960. Following nearly 16 years of military rule, a new constitution was adopted in 1999, and a peaceful transition to civilian government was completed. The government continues to face the daunting task of reforming a petroleum-based economy, whose revenues have been squandered through corruption and mismanagement, and institutionalizing democracy. In addition, Nigeria continues to experience longstanding ethnic and religious tensions. Although both the 2003 and 2007 presidential elections were marred by significant irregularities and violence, Nigeria is currently experiencing its longest period of civilian rule since independence. The general elections of April 2007 marked the first civilian-to-civilian transfer of power in the country's history.
Geography of Nigeria
Location:

Western Africa, bordering the Gulf of Guinea, between Benin and Cameroon

Coordinates:

10 00 N, 8 00 E

Area:

total: 923,768 sq km
water: 13,000 sq km
land: 910,768 sq km

Area comparative:

slightly more than twice the size of California

Land boundaries:

total: 4,047 km
border countries: Benin 773 km, Cameroon 1,690 km, Chad 87 km, Niger 1,497 km

Coastline:

853 km

Maritime claims:

continental shelf: 200-m depth or to the depth of exploitation
exclusive economic zone: 200 NM
territorial sea: 12 NM

Climate:

varies; equatorial in south, tropical in center, arid in north

Terrain:

southern lowlands merge into central hills and plateaus; mountains in southeast, plains in north

Elevation extremes:

lowest point: Atlantic Ocean 0 m
highest point: Chappal Waddi 2,419 m

Natural resources:

natural gas, petroleum, tin, columbite, iron ore, coal, limestone, lead, zinc, arable land

Natural hazards:

periodic droughts; flooding

Environment current issues:

soil degradation; rapid deforestation; urban air and water pollution; desertification; oil pollution - water, air, and soil; has suffered serious damage from oil spills; loss of arable land; rapid urbanization

Geography - note:

the Niger enters the country in the northwest and flows southward through tropical rain forests and swamps to its delta in the Gulf of Guinea
Population of Nigeria
Population:

146,255,312 (July 2008 est.)

Age structure:

0-14 years: 42.3% (male 28,089,017/female 27,665,212)
15-64 years: 54.6% (male 36,644,885/female 35,405,915)
65 years and over: 3.1% (male 1,930,007/female 2,124,695)

Median age:

18.7 years

Growth rate:

2.38%

Infant mortality:

97.14 deaths/1,000 live births

Life expectancy at birth:

total population: 47.08 years
male: 46.52 years
female: 47.66 years

Fertility rate:

5.49 children born/woman

Nationality:

noun: Nigerian(s)
adjective: Nigerian

Ethnic groups:

Nigeria, which is Africa's most populous country, is composed of more than 250 ethnic groups; the following are the most populous and politically influential: Hausa and Fulani 29%, Yoruba 21%, Igbo (Ibo) 18%, Ijaw 10%, Kanuri 4%, Ibibio 3.5%, Tiv 2.5%

Religions:

Muslim 50%, Christian 40%, indigenous beliefs 10%

Languages:

English (official), Hausa, Yoruba, Igbo (Ibo), Fulani

Literacy:

definition: age 15 and over can read and write
total population: 68%
male: 75.7%
female: 60.6%
Government
Country name:

conventional long form: Federal Republic of Nigeria

Government type:

republic transitioning from military to civilian rule

Capital:

Abuja; note - on 12 December 1991 the capital was officially transferred from Lagos to Abuja; most federal government offices have now made the move to Abuja

Administrative divisions:

36 states and 1 territory*; Abia, Adamawa, Akwa Ibom, Anambra, Bauchi, Bayelsa, Benue, Borno, Cross River, Delta, Ebonyi, Edo, Ekiti, Enugu, Federal Capital Territory*, Gombe, Imo, Jigawa, Kaduna, Kano, Katsina, Kebbi, Kogi, Kwara, Lagos, Nassarawa, Niger, Ogun, Ondo, Osun, Oyo, Plateau, Rivers, Sokoto, Taraba, Yobe, Zamfara

Independence:

1 October 1960 (from UK)

National holiday:

Independence Day (National Day), 1 October (1960)

Constitution:

new constitution adopted May 1999

Legal system:

based on English common law, Islamic Shariah law (only in some northern states), and traditional law

Suffrage:

18 years of age; universal

Executive branch:

chief of state: President Umaru Musa YAR'ADUA (since 29 May 2007); note - the president is both the chief of state and head of government
head of government: President Umaru Musa YAR'ADUA (since 29 May 2007)
cabinet: Federal Executive Council
elections: president is elected by popular vote for a four-year term (eligible for a second term).

Legislative branch:

bicameral National Assembly consists of Senate (109 seats - 3 from each state plus 1 from Abuja, members elected by popular vote to serve four-year terms) and House of Representatives (360 seats, members elected by popular vote to serve four-year terms)

Judicial branch:

Supreme Court (judges appointed by the President); Federal Court of Appeal (judges are appointed by the federal government on the advice of the Advisory Judicial Committee)
Economy
Oil-rich Nigeria, long hobbled by political instability, corruption, inadequate infrastructure, and poor macroeconomic management, is undertaking some reforms under a new reform-minded administration. Nigeria's former military rulers failed to diversify the economy away from its overdependence on the capital-intensive oil sector, which provides 20% of GDP, 95% of foreign exchange earnings, and about 80% of budgetary revenues. The largely subsistence agricultural sector has failed to keep up with rapid population growth - Nigeria is Africa's most populous country - and the country, once a large net exporter of food, now must import food. Following the signing of an IMF stand-by agreement in August 2000, Nigeria received a debt-restructuring deal from the Paris Club and a $1 billion credit from the IMF, both contingent on economic reforms. Nigeria pulled out of its IMF program in April 2002, after failing to meet spending and exchange rate targets, making it ineligible for additional debt forgiveness from the Paris Club. In the last year the government has begun showing the political will to implement the market-oriented reforms urged by the IMF, such as to modernize the banking system, to curb inflation by blocking excessive wage demands, and to resolve regional disputes over the distribution of earnings from the oil industry. In 2003, the government began deregulating fuel prices, announced the privatization of the country's four oil refineries, and instituted the National Economic Empowerment Development Strategy, a domestically designed and run program modeled on the IMF's Poverty Reduction and Growth Facility for fiscal and monetary management. In November 2005, Abuja won Paris Club approval for a debt-relief deal that eliminated $18 billion of debt in exchange for $12 billion in payments - a total package worth $30 billion of Nigeria's total $37 billion external debt. The deal requires Nigeria to be subject to stringent IMF reviews. GDP rose strongly in 2007, based largely on increased oil exports and high global crude prices. Newly-elected President YAR'ADUA has pledged to continue the economic reforms of his predecessor and the proposed budget for 2008 reflects the administrations emphasis on infrastructure improvements. Infrastructure is the main impediment to growth. The government is working toward developing stronger public-private partnerships for electricity and roads.
GDP:

$296.1 billion (2007 est.)

GDP growth rate:

6.2%

GDP per capita:

$2,100

GDP composition by sector:

agriculture: 26.9%
industry: 48.7%
services: 24.4%

Inflation rate:

13.5%

Labor force:

57.21 million

Labor force - by occupation:

agriculture 70%, industry 10%, services 20%

Unemployment:

2.9%

Electricity production by source:

fossil fuel: 61.9%
hydro: 38.1%
other: 0%

Industries:

crude oil, coal, tin, columbite, palm oil, peanuts, cotton, rubber, wood, hides and skins, textiles, cement and other construction materials, food products, footwear, chemicals, fertilizer, printing, ceramics, steel

Agriculture:

cocoa, peanuts, palm oil, corn, rice, sorghum, millet, cassava (tapioca), yams, rubber; cattle, sheep, goats, pigs; timber; fish

Exports:

petroleum and petroleum products 95%, cocoa, rubber

Export partners:

US 49.2%, Brazil 9.5%, Spain 7.5%

Imports:

machinery, chemicals, transport equipment, manufactured goods, food and live animals

Import partners:

China 10.5%, US 7.4%, UK 6.9%, Netherlands 6.2%, France 6%

Currency:

naira (NGN)
SOURCES: The CIA World Factbook, U.S. Department of State, Area Handbook of the US Library of Congress
Copyright 2004 - 2008 worldfacts.us