World Facts Index > Netherlands > Amsterdam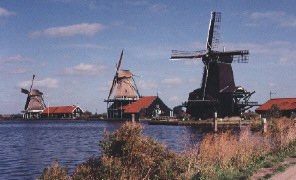 The Dutch United Provinces declared their independence from Spain in 1579; during the 17th century, they became a leading seafaring and commercial power, with settlements and colonies around the world. After a 20-year French occupation, a Kingdom of the Netherlands was formed in 1815. In 1830 Belgium seceded and formed a separate kingdom. The Netherlands remained neutral in World War I, but suffered invasion and occupation by Germany in World War II. A modern, industrialized nation, the Netherlands is also a large exporter of agricultural products. The country was a founding member of NATO and the EEC (now the EU), and participated in the introduction of the euro in 1999.
Geography of the Netherlands
Location:

Western Europe, bordering the North Sea, between Belgium and Germany

Coordinates:

52 30 N, 5 45 E

Area:

total: 41,526 sq km
water: 7,643 sq km
land: 33,883 sq km

Area comparative:

slightly less than twice the size of New Jersey

Land boundaries:

total: 1,027 km
border countries: Belgium 450 km, Germany 577 km

Coastline:

451 km

Maritime claims:

exclusive fishing zone: 200 NM
territorial sea: 12 NM

Climate:

temperate; marine; cool summers and mild winters

Terrain:

mostly coastal lowland and reclaimed land (polders); some hills in southeast

Elevation extremes:

lowest point: Zuidplaspolder -7 m
highest point: Vaalserberg 322 m

Natural resources:

natural gas, petroleum, arable land

Natural hazards:

flooding

Environment current issues:

water pollution in the form of heavy metals, organic compounds, and nutrients such as nitrates and phosphates; air pollution from vehicles and refining activities; acid rain

Geography - note:

located at mouths of three major European rivers (Rhine, Maas or Meuse, and Schelde)
Population of the Netherlands
Population:

16,645,313 (July 2008 est.)

Age structure:

0-14 years: 18% (male 1,515,123/female 1,445,390)
15-64 years: 67.8% (male 5,656,448/female 5,525,481)
65 years and over: 14.2% (male 994,723/female 1,354,296)

Median age:

39.4 years

Growth rate:

0.49%

Infant mortality:

4.96 deaths/1,000 live births

Life expectancy at birth:

total population: 78.96 years
male: 76.39 years
female: 81.67 years

Fertility rate:

1.66 children born/woman

Nationality:

noun: Dutchman(men), Dutchwoman(women)
adjective: Dutch

Ethnic groups:

Dutch 83%, other 17% (of which 9% are non-Western origin mainly Turks, Moroccans, Antilleans, Surinamese and Indonesians)

Religions:

Roman Catholic 31%, Dutch Reformed 13%, Calvinist 7%, Muslim 5.5%, other 2.5%, none 41%

Languages:

Dutch (official language), Frisian (official language)

Literacy:

definition: age 15 and over can read and write
total population: 99%
Government
Country name:

conventional long form: Kingdom of the Netherlands
local long form: Koninkrijk der Nederlanden
local short form: Nederland

Government type:

constitutional monarchy

Capital:

Amsterdam; The Hague is the seat of government

Administrative divisions:

12 provinces (provincies, singular - provincie); Drenthe, Flevoland, Friesland, Gelderland, Groningen, Limburg, Noord-Brabant, Noord-Holland, Overijssel, Utrecht, Zeeland, Zuid-Holland

Dependent areas:

Aruba, Netherlands Antilles

Independence:

1579 (from Spain); note - the northern provinces of the Low Country concluded the Union of Utrecht, but it was not until 1648 that Spain recognized their independence

National holiday:

Queen's Day (Birthday of Queen-Mother JULIANA in 1909 and accession to the throne of her oldest daughter BEATRIX in 1980), 30 April

Constitution:

adopted 1815; amended many times, most recently in 2002

Legal system:

civil law system incorporating French penal theory; constitution does not permit judicial review of acts of the States General; accepts compulsory ICJ jurisdiction, with reservations

Suffrage:

18 years of age; universal

Executive branch:

chief of state: Queen BEATRIX (since 30 April 1980); Heir Apparent WILLEM-ALEXANDER (born 27 April 1967), son of the monarch
head of government: Prime Minister Jan Peter BALKENENDE (since 22 July 2002); Deputy Prime Ministers Wouter BOS (since 22 February 2007) and Andre ROUVOET (since 22 February 2007)
cabinet: Council of Ministers appointed by the monarch
elections: the monarchy is hereditary; following Second Chamber elections, the leader of the majority party or leader of a majority coalition is usually appointed prime minister by the monarch; deputy prime ministers appointed by the monarch.

Legislative branch:

bicameral States General or Staten Generaal consists of the First Chamber or Eerste Kamer (75 seats; members indirectly elected by the country's 12 provincial councils for four-year terms) and the Second Chamber or Tweede Kamer (150 seats; members directly elected by popular vote to serve four-year terms)

Judicial branch:

Supreme Court or Hoge Raad (justices are nominated for life by the monarch)

Political parties and leaders:

Christian Democratic Appeal or CDA [Maxime Jacques Marcel VERHAGEN]; Christian Union Party [Andre ROUVOET]; Democrats 66 or D66 [Lousewies VAN DER LAAN]; Green Party [Femke HALSEMA]; Labor Party or PvdA [Wouter BOS]; List Pim Fortuyn [Gerard van AS]; People's Party for Freedom and Democracy (Liberal) or VVD [Mark RUTTE]; Socialist Party [Jan MARIJNISSEN]; plus a few minor parties

Political pressure groups and leaders:

Netherlands Trade Union Federation or FNV (consisting of a merger of Socialist and Catholic trade unions); Christian Trade Union Federation or CNV; Trade Union Federation of Middle and High Personnel or MHP; Federation of Catholic and Protestant Employers Associations; Interchurch Peace Council or IKV; large multinational firms; the nondenominational Federation of Netherlands Enterprises
Economy
The Netherlands has a prosperous and open economy, which depends heavily on foreign trade. The economy is noted for stable industrial relations, moderate unemployment and inflation, a sizable current account surplus, and an important role as a European transportation hub. Industrial activity is predominantly in food processing, chemicals, petroleum refining, and electrical machinery. A highly mechanized agricultural sector employs no more than 3% of the labor force but provides large surpluses for the food-processing industry and for exports. The Netherlands, along with 11 of its EU partners, began circulating the euro currency on 1 January 2002. The country continues to be one of the leading European nations for attracting foreign direct investment and is one of the five largest investors in the US. The economy experienced a slowdown in 2005 but in 2006 recovered to the fastest pace in six years on the back of increased exports and strong investment. The pace of job growth reached 10-year highs in 2007.
GDP:

$645.5 billion (2007 est.)

GDP growth rate:

1.1%

GDP per capita:

$39,000

GDP composition by sector:

agriculture: 2.1%
industry: 24.4%
services: 73.6%

Inflation rate:

1.7%

Labor force:

7.53 million

Labor force - by occupation:

agriculture: 2%
industry: 19%
services: 79%

Unemployment:

6.6%

Budget:

revenues: $291.8 billion
expenditures: $303.7 billion

Electricity production by source:

fossil fuel: 89.9%
hydro: 0.1%
other: 5.7%
nuclear: 4.3%

Industries:

agroindustries, metal and engineering products, electrical machinery and equipment, chemicals, petroleum, construction, microelectronics, fishing, tourism

Agriculture:

grains, potatoes, sugar beets, fruits, vegetables; livestock

Exports:

machinery and equipment, chemicals, fuels; foodstuffs

Export partners:

Germany 25.1%, Belgium 12.2%, France 9.4%, UK 9.4%, Italy 5.8%, US 4.3%, Spain 4%

Imports:

machinery and transport equipment, chemicals, fuels; foodstuffs, clothing

Import partners:

Germany 17%, Belgium 9.4%, China 8.8%, US 7.8%, UK 5.9%, France 4.6%

Currency:

euro (EUR)
note: on 1 January 1999, the European Monetary Union introduced the euro as a common currency to be used by financial institutions of member countries; on 1 January 2002, the euro became the sole currency for everyday transactions within the member countries
SOURCES: The CIA World Factbook, U.S. Department of State, Area Handbook of the US Library of Congress
Copyright 2004 - 2008 worldfacts.us