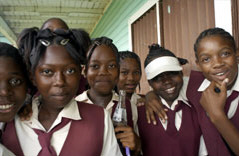 South Africa occupied the German colony of South-West Africa during World War I and administered it as a mandate until after World War II, when it annexed the territory. In 1966 the Marxist South-West Africa People's Organization (SWAPO) guerrilla group launched a war of independence for the area that was soon named Namibia, but it was not until 1988 that South Africa agreed to end its administration in accordance with a UN peace plan for the entire region. Namibia has been governed by SWAPO since the country won independence in 1990. Hifikepunye POHAMBA was elected president in November 2004 in a landslide victory replacing Sam NUJOMA who led the country during its first 14 years of self rule.
Geography of Namibia
Location:

Southern Africa, bordering the South Atlantic Ocean, between Angola and South Africa

Coordinates:

22 00 S, 17 00 E

Area:

total: 825,418 sq km
water: 0 sq km
land: 825,418 sq km

Area comparative:

slightly more than half the size of Alaska

Land boundaries:

total: 3,936 km
border countries: Angola 1,376 km, Botswana 1,360 km, South Africa 967 km, Zambia 233 km

Coastline:

1,572 km

Maritime claims:

contiguous zone: 24 NM
exclusive economic zone: 200 NM
territorial sea: 12 NM

Climate:

desert; hot, dry; rainfall sparse and erratic

Terrain:

mostly high plateau; Namib Desert along coast; Kalahari Desert in east

Elevation extremes:

lowest point: Atlantic Ocean 0 m
highest point: Konigstein 2,606 m

Natural resources:

diamonds, copper, uranium, gold, lead, tin, lithium, cadmium, zinc, salt, vanadium, natural gas, hydropower, fish
note: suspected deposits of oil, coal, and iron ore

Natural hazards:

prolonged periods of drought

Environment current issues:

very limited natural fresh water resources; desertification; wildlife poaching; land degradation has led to few conservation areas

Geography - note:

first country in the world to incorporate the protection of the environment into its constitution; some 14% of the land is protected, including virtually the entire Namib Desert coastal strip
Population of Namibia
Population:

2,088,669 (July 2008 est.)

Age structure:

0-14 years: 38.2% (male 393,878/female 387,147)
15-64 years: 58.1% (male 596,557/female 591,350)
65 years and over: 3.7% (male 34,245/female 40,970)

Median age:

20 years

Growth rate:

0.59%

Infant mortality:

48.1 deaths/1,000 live births

Life expectancy at birth:

total population: 43.39 years
male: 44.46 years
female: 42.29 years

Fertility rate:

3.06 children born/woman

Nationality:

noun: Namibian(s)
adjective: Namibian

Ethnic groups:

black 87.5%, white 6%, mixed 6.5%
note: about 50% of the population belong to the Ovambo tribe and 9% to the Kavangos tribe; other ethnic groups are: Herero 7%, Damara 7%, Nama 5%, Caprivian 4%, Bushmen 3%, Baster 2%, Tswana 0.5%

Religions:

Christian 80% to 90% (Lutheran 50% at least), indigenous beliefs 10% to 20%

Languages:

English 7% (official), Afrikaans common language of most of the population and about 60% of the white population, German 32%, indigenous languages: Oshivambo, Herero, Nama

Literacy:

definition: age 15 and over can read and write
total population: 84%
male: 84.4%
female: 83.7%
Government
Country name:

conventional long form: Republic of Namibia
former: German Southwest Africa, South-West Africa

Government type:

republic

Capital:

Windhoek

Administrative divisions:

13 regions; Caprivi, Erongo, Hardap, Karas, Khomas, Kunene, Ohangwena, Okavango, Omaheke, Omusati, Oshana, Oshikoto, Otjozondjupa

Independence:

21 March 1990 (from South African mandate)

National holiday:

Independence Day, 21 March (1990)

Constitution:

ratified 9 February 1990; effective 12 March 1990

Legal system:

based on Roman-Dutch law and 1990 constitution

Suffrage:

18 years of age; universal

Executive branch:

chief of state: President Hifikepunye POHAMBA (since 21 March 2005)
head of government: Prime Minister Nahas ANGULA (since 21 March 2005)
cabinet: Cabinet appointed by the president from among the members of the National Assembly
elections: president elected by popular vote for a five-year term (eligible for a second term)

Legislative branch:

bicameral legislature consists of the National Council (26 seats; 2 members are chosen from each regional council to serve six-year terms) and the National Assembly (72 seats; members are elected by popular vote to serve five-year terms)

Judicial branch:

Supreme Court (judges appointed by the president on the recommendation of the Judicial Service Commission)

Political parties and leaders:

Congress of Democrats or COD [Ben ULENGA]; Democratic Turnhalle Alliance of Namibia or DTA [Katuutire KAURA, president]; Monitor Action Group or MAG [Jurie VILJOEN]; South West Africa People's Organization or SWAPO [Sam Shafishuna NUJOMA]; United Democratic Front or UDF [Justus GAROEB]; Republican Party or RP [Henk MUDGE]; National Unity Democratic Organization or NUDO [Kuaima RIRUAKO]
Economy
The economy is heavily dependent on the extraction and processing of minerals for export. Mining accounts for 8% of GDP, but provides more than 50% of foreign exchange earnings. Rich alluvial diamond deposits make Namibia a primary source for gem-quality diamonds. Namibia is the fourth-largest exporter of nonfuel minerals in Africa, the world's fifth-largest producer of uranium, and the producer of large quantities of lead, zinc, tin, silver, and tungsten. The mining sector employs only about 3% of the population while about half of the population depends on subsistence agriculture for its livelihood. Namibia normally imports about 50% of its cereal requirements; in drought years food shortages are a major problem in rural areas. A high per capita GDP, relative to the region, hides one of the world's most unequal income distributions. The Namibian economy is closely linked to South Africa with the Namibian dollar pegged one-to-one to the South African rand. Increased payments from the Southern African Customs Union (SACU) put Namibia's budget into surplus in 2007 for the first time since independence, but SACU payments will decline after 2008 as part of a new revenue sharing formula. Increased fish production and mining of zinc, copper, uranium, and silver spurred growth in 2003-07, but growth in recent years was undercut by poor fish catches and high costs for metal inputs.
GDP:

$10.69 billion (2007 est.)

GDP growth rate:

3.5%

GDP per capita:

$7,000

GDP composition by sector:

agriculture: 9.7%
industry: 31.5%
services: 58.8%

Inflation rate:

2.3%

Labor force:

820,000

Labor force - by occupation:

agriculture 47%, industry 20%, services 33%

Unemployment:

35%

Industries:

meatpacking, fish processing, dairy products; mining (diamond, lead, zinc, tin, silver, tungsten, uranium, copper)

Agriculture:

millet, sorghum, peanuts; livestock; fish

Exports:

diamonds, copper, gold, zinc, lead, uranium; cattle, processed fish, karakul skins

Export partners:

South Africa 33.4%, US 4%

Imports:

foodstuffs; petroleum products and fuel, machinery and equipment, chemicals

Import partners:

South Africa 85.2%, US

Currency:

Namibian dollar (NAD); South African rand (ZAR)
SOURCES: The CIA World Factbook, U.S. Department of State, Area Handbook of the US Library of Congress
Copyright 2004 - 2008 worldfacts.us