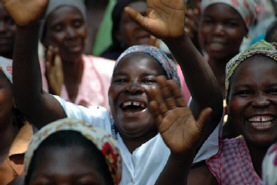 Almost five centuries as a Portuguese colony came to a close with independence in 1975. Large-scale emigration by whites, economic dependence on South Africa, a severe drought, and a prolonged civil war hindered the country's development until the mid 1990's. The ruling Front for the Liberation of Mozambique (FRELIMO) party formally abandoned Marxism in 1989, and a new constitution the following year provided for multiparty elections and a free market economy. A UN-negotiated peace agreement between FRELIMO and rebel Mozambique National Resistance (RENAMO) forces ended the fighting in 1992. In December 2004, Mozambique underwent a delicate transition as Joaquim CHISSANO stepped down after 18 years in office. His elected successor, Armando Emilio GUEBUZA, promised to continue the sound economic policies that have encouraged foreign investment. Mozambique has seen very strong economic growth since the end of the civil war largely due to post-conflict reconstruction.
Geography of Mozambique
Location:

South-eastern Africa, bordering the Mozambique Channel, between South Africa and Tanzania

Coordinates:

18 15 S, 35 00 E

Area:

total: 801,590 sq km
water: 17,500 sq km
land: 784,090 sq km

Area comparative:

slightly less than twice the size of California

Land boundaries:

total: 4,571 km
border countries: Malawi 1,569 km, South Africa 491 km, Swaziland 105 km, Tanzania 756 km, Zambia 419 km, Zimbabwe 1,231 km

Coastline:

2,470 km

Maritime claims:

exclusive economic zone: 200 NM
territorial sea: 12 NM

Climate:

tropical to subtropical

Terrain:

mostly coastal lowlands, uplands in center, high plateaus in northwest, mountains in west

Elevation extremes:

lowest point: Indian Ocean 0 m
highest point: Monte Binga 2,436 m

Natural resources:

coal, titanium, natural gas, hydropower, tantalum, graphite

Natural hazards:

severe droughts; devastating cyclones and floods occur in central and southern provinces

Environment current issues:

a long civil war and recurrent drought in the hinterlands have resulted in increased migration of the population to urban and coastal areas with adverse environmental consequences; desertification; pollution of surface and coastal waters; elephant poaching for ivory is a problem

Geography - note:

the Zambezi flows through the north-central and most fertile part of the country
Population of Mozambique
Population:

21,284,700 (July 2008 est.)

Age structure:

0-14 years: 42.7% (male 4,229,802/female 4,177,235)
15-64 years: 54.5% (male 5,207,149/female 5,519,291)
65 years and over: 2.8% (male 230,616/female 322,412)

Median age:

18.3 years

Growth rate:

1.38%

Infant mortality:

total: 129.24 deaths/1,000 live births
male: 134.31 deaths/1,000 live births
female: 124.02 deaths/1,000 live births

Life expectancy at birth:

total population: 39.82 years
male: 39.53 years
female: 40.13 years

Fertility rate:

4.62 children born/woman

Nationality:

noun: Mozambican(s)
adjective: Mozambican

Ethnic groups:

indigenous tribal groups 99.66% (Shangaan, Chokwe, Manyika, Sena, Makua, and others), Europeans 0.06%, Euro-Africans 0.2%, Indians 0.08%

Religions:

indigenous beliefs 50%, Christian 30%, Muslim 20%

Languages:

Portuguese (official), indigenous dialects

Literacy:

definition: age 15 and over can read and write
total population: 47.8%
male: 63.5%
female: 32.7%
Government
Country name:

conventional long form: Republic of Mozambique
local short form: Mocambique
former: Portuguese East Africa
local long form: Republica de Mocambique

Government type:

republic

Capital:

Maputo

Administrative divisions:

10 provinces (provincias, singular - provincia), 1 city (cidade)*; Cabo Delgado, Gaza, Inhambane, Manica, Maputo, Cidade de Maputo*, Nampula, Niassa, Sofala, Tete, Zambezia

Independence:

25 June 1975 (from Portugal)

National holiday:

Independence Day, 25 June (1975)

Constitution:

30 November 1990

Legal system:

based on Portuguese civil law system and customary law

Suffrage:

18 years of age; universal

Executive branch:

chief of state: President Armando GUEBUZA (since 2 February 2005)
head of government: Prime Minister Luisa DIOGO (since 17 February 2004)
elections: president elected by popular vote for a five-year term (eligible for a second term); prime minister appointed by the president.

Legislative branch:

unicameral Assembly of the Republic or Assembleia da Republica (250 seats; members are directly elected by popular vote on a secret ballot to serve five-year terms)

Judicial branch:

Supreme Court (the court of final appeal; some of its professional judges are appointed by the president and some are elected by the Assembly); other courts include an Administrative Court, customs courts, maritime courts, courts marshal, labor courts
note: although the constitution provides for a separate Constitutional Court, one has never been established; in its absence the Supreme Court reviews constitutional cases

Political parties and leaders:

Front for the Liberation of Mozambique (Frente de Liberatacao de Mocambique) or FRELIMO [Armando Emilio GUEBUZA, president]; Mozambique National Resistance-Electoral Union (Resistencia Nacional Mocambicana-Uniao Eleitoral) or RENAMO-UE [Afonso DHLAKAMA, president]
Economy
At independence in 1975, Mozambique was one of the world's poorest countries. Socialist mismanagement and a brutal civil war from 1977-92 exacerbated the situation. In 1987, the government embarked on a series of macroeconomic reforms designed to stabilize the economy. These steps, combined with donor assistance and with political stability since the multi-party elections in 1994, have led to dramatic improvements in the country's growth rate. Inflation was reduced to single digits during the late 1990s, and although it returned to double digits in 2000-06, in 2007 inflation had slowed to 8%, while GDP growth reached 7.5%. Fiscal reforms, including the introduction of a value-added tax and reform of the customs service, have improved the government's revenue collection abilities. In spite of these gains, Mozambique remains dependent upon foreign assistance for much of its annual budget, and the majority of the population remains below the poverty line. Subsistence agriculture continues to employ the vast majority of the country's work force. A substantial trade imbalance persists although the opening of the Mozal aluminum smelter, the country's largest foreign investment project to date, has increased export earnings. At the end of 2007, and after years of negotiations, the government took over Portugal's majority share of the Cahora Bassa Hydroelectricity (HCB) company, a dam that was not transferred to Mozambique at independence because of the ensuing civil war and unpaid debts. More power is needed for additional investment projects in titanium extraction and processing and garment manufacturing that could further close the import/export gap. Mozambique's once substantial foreign debt has been reduced through forgiveness and rescheduling under the IMF's Heavily Indebted Poor Countries (HIPC) and Enhanced HIPC initiatives, and is now at a manageable level. In July 2007 the Millennium Challenge Corporation (MCC) signed a Compact with Mozambique; the Mozambican government moved rapidly to ratify the Compact and propose a plan for funding.
GDP:

$17.64 billion (2007 est.)

GDP growth rate:

7%

GDP per capita:

$1,300

GDP composition by sector:

agriculture: 26.2%
industry: 34.8%
services: 39%

Inflation rate:

6.5%

Labor force:

9.2 million

Labor force - by occupation:

agriculture 81%, industry 6%, services 13%

Unemployment:

21%

Electricity production by source:

fossil fuel: 2.9%
hydro: 97.1%
other: 0%

Industries:

food, beverages, chemicals (fertilizer, soap, paints), aluminum, petroleum products, textiles, cement, glass, asbestos, tobacco

Agriculture:

cotton, cashew nuts, sugarcane, tea, cassava (tapioca), corn, coconuts, sisal, citrus and tropical fruits, potatoes, sunflowers; beef, poultry

Exports:

aluminum, prawns, cashews, cotton, sugar, citrus, timber; bulk electricity

Export partners:

Belgium 22.7%, South Africa 12.2%, Spain 11.2%, Netherlands 11%, Italy 10.1%, Germany 6.4%

Imports:

machinery and equipment, vehicles, fuel, chemicals, metal products, foodstuffs, textiles

Import partners:

South Africa 40.4%, Australia 7.5%, China 4%

Currency:

metical (MZM)
SOURCES: The CIA World Factbook, U.S. Department of State, Area Handbook of the US Library of Congress
Copyright 2004 - 2008 worldfacts.us