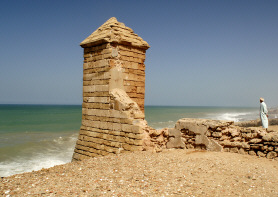 In 788, about a century after the Arab conquest of North Africa, successive Moorish dynasties began to rule in Morocco. In the 16th century, the Sa'adi monarchy, particularly under Ahmad AL-MANSUR (1578-1603), repelled foreign invaders and inaugurated a golden age. In 1860, Spain occupied northern Morocco and ushered in a half century of trade rivalry among European powers that saw Morocco's sovereignty steadily erode; in 1912, the French imposed a protectorate over the country. A protracted independence struggle with France ended successfully in 1956. The internationalized city of Tangier and most Spanish possessions were turned over to the new country that same year. Morocco virtually annexed Western Sahara during the late 1970s, but final resolution on the status of the territory remains unresolved. Gradual political reforms in the 1990s resulted in the establishment of a bicameral legislature, which first met in 1997. Improvements in human rights have occurred and there is a largely free press. Despite the continuing reforms, ultimate authority remains in the hands of the monarch.
Geography of Morocco
Location:

Northern Africa, bordering the North Atlantic Ocean and the Mediterranean Sea, between Algeria and Western Sahara

Coordinates:

32 00 N, 5 00 W

Area:

total: 446,550 sq km
land: 446,300 sq km
water: 250 sq km

Area comparative:

slightly larger than California

Land boundaries:

total: 2,017.9 km
border countries: Algeria 1,559 km, Western Sahara 443 km, Spain (Ceuta) 6.3 km, Spain (Melilla) 9.6 km

Coastline:

1,835 km

Maritime claims:

contiguous zone: 24 NM
territorial sea: 12 NM
continental shelf: 200-m depth or to the depth of exploitation
exclusive economic zone: 200 NM

Climate:

Mediterranean, becoming more extreme in the interior

Terrain:

northern coast and interior are mountainous with large areas of bordering plateaus, intermontane valleys, and rich coastal plains

Elevation extremes:

lowest point: Sebkha Tah -55 m
highest point: Jbel Toubkal 4,165 m

Natural resources:

phosphates, iron ore, manganese, lead, zinc, fish, salt

Natural hazards:

northern mountains geologically unstable and subject to earthquakes; periodic droughts

Environment current issues:

land degradation/desertification (soil erosion resulting from farming of marginal areas, overgrazing, destruction of vegetation); water supplies contaminated by raw sewage; siltation of reservoirs; oil pollution of coastal waters

Geography - note:

strategic location along Strait of Gibraltar
Population of Morocco
Population:

34,343,220 (July 2008 est.)

Age structure:

0-14 years: 31.6% (male 5,343,976/female 5,145,019)
15-64 years: 63.4% (male 10,505,018/female 10,580,599)
65 years and over: 5% (male 725,116/female 941,531)

Median age:

23.9 years

Growth rate:

1.55%

Infant mortality:

40.24 deaths/1,000 live births

Life expectancy at birth:

total population: 70.94 years
male: 68.62 years
female: 73.37 years

Fertility rate:

2.68 children born/woman

Nationality:

noun: Moroccan(s)
adjective: Moroccan

Ethnic groups:

Arab-Berber 99.1%, other 0.7%, Jewish 0.2%

Religions:

Muslim 98.7%, Christian 1.1%, Jewish 0.2%

Languages:

Arabic (official), Berber dialects, French often the language of business, government, and diplomacy
Government
Country name:

conventional long form: Kingdom of Morocco
local short form: Al Maghrib
local long form: Al Mamlakah al Maghribiyah

Government type:

constitutional monarchy

Capital:

Rabat

Administrative divisions:

15 regions; Grand Casablanca, Chaouia-Ouardigha, Doukkala-Abda, Fes-Boulemane, Gharb-Chrarda-Beni Hssen, Guelmim-Es Smara, Laayoune-Boujdour-Sakia El Hamra, Marrakech-Tensift-Al Haouz, Meknes-Tafilalet, Oriental, Rabat-Sale-Zemmour-Zaer, Souss-Massa-Draa, Tadla-Azilal, Tanger-Tetouan, Taza-Al Hoceima-Taounate
note: Morocco claims the territory of Western Sahara, the political status of which is considered undetermined by the US Government; portions of the regions Guelmim-Es Smara and Laayoune-Boujdour-Sakia El Hamra as claimed by Morocco lie within Western Sahara; Morocco claims another region, Oued Eddahab-Lagouira, which falls entirely within Western Sahara

Independence:

2 March 1956 (from France)

National holiday:

Throne Day (accession of King MOHAMED VI to the throne), 30 July (1999)

Constitution:

10 March 1972, revised 4 September 1992, amended (to create bicameral legislature) September 1996

Legal system:

based on Islamic law and French and Spanish civil law system; judicial review of legislative acts in Constitutional Chamber of Supreme Court

Suffrage:

18 years of age; universal

Executive branch:

chief of state: King MOHAMED VI (since 30 July 1999)
head of government: Prime Minister Abbas EL FASSI (since 19 September 2007)
cabinet: Council of Ministers appointed by the monarch
elections: the monarch is hereditary; prime minister appointed by the monarch following legislative elections.

Legislative branch:

bicameral Parliament consists of an upper house or Chamber of Counselors (270 seats; members elected indirectly by local councils, professional organizations, and labor syndicates for nine-year terms; one-third of the members are renewed every three years) and a lower house or Chamber of Representatives (325 seats; 295 by multi-seat constituencies and 30 from national lists of women; members elected by popular vote for five-year terms)

Judicial branch:

Supreme Court (judges are appointed on the recommendation of the Supreme Council of the Judiciary, presided over by the monarch)
Economy
Moroccan economic policies brought macroeconomic stability to the country in the early 1990s but have not spurred growth sufficient to reduce unemployment - nearing 20% in urban areas - despite the Moroccan Government's ongoing efforts to diversify the economy. Morocco's GDP growth rate slowed to 2.1% in 2007 as a result of a draught that severely reduced agricultural output and necessitated wheat imports at rising world prices. Continued dependence on foreign energy and Morocco's inability to develop small and medium size enterprises also contributed to the slowdown. Moroccan authorities understand that reducing poverty and providing jobs are key to domestic security and development. In 2005, Morocco launched the National Initiative for Human Development (INDH), a $2 billion social development plan to address poverty and unemployment and to improve the living conditions of the country's urban slums. Moroccan authorities are implementing reform efforts to open the economy to international investors. Despite structural adjustment programs supported by the IMF, the World Bank, and the Paris Club, the dirham is only fully convertible for current account transactions. In 2000, Morocco entered an Association Agreement with the EU and, in 2006, entered a Free Trade Agreement (FTA) with the US. Long-term challenges include improving education and job prospects for Morocco's youth, and closing the income gap between the rich and the poor, which the government hopes to achieve by increasing tourist arrivals and boosting competitiveness in textiles.
GDP:

$125 billion (2007 est.)

GDP growth rate:

1.8%

GDP per capita:

$3,700

GDP composition by sector:

agriculture: 21.7%
industry: 35.7%
services: 42.6%

Inflation rate:

1%

Labor force:

11.19 million

Labor force - by occupation:

agriculture 40%, services 45%, industry 15%

Unemployment:

11%

Budget:

revenues: $12.94 billion
expenditures: $16.77 billion

Electricity production by source:

fossil fuel: 95.4%
hydro: 4.6%
other: 0%

Industries:

phosphate rock mining and processing, food processing, leather goods, textiles, construction, tourism

Agriculture:

barley, wheat, citrus, wine, vegetables, olives; livestock

Exports:

clothing, fish, inorganic chemicals, transistors, crude minerals, fertilizers (including phosphates), petroleum products, fruits, vegetables

Export partners:

France 37.5%, Spain 16.4%, UK 5.1%

Imports:

crude petroleum, textile fabric, telecommunications equipment, wheat, gas and electricity, transistors, plastics

Import partners:

France 30%, Spain 11.6%, Italy 5.4%, China 5.3%, Germany 5.1%, Saudi Arabia 4.7%

Currency:

Moroccan dirham (MAD)
SOURCES: The CIA World Factbook, U.S. Department of State, Area Handbook of the US Library of Congress
Copyright 2004 - 2008 worldfacts.us