World Facts Index > Mexico > Acapulco, Cancun, Guadalajara, Mexico City, Monterrey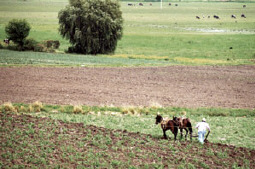 The site of advanced Amerindian civilizations, Mexico came under Spanish rule for three centuries before achieving independence early in the 19th century. A devaluation of the peso in late 1994 threw Mexico into economic turmoil, triggering the worst recession in over half a century. The nation continues to make an impressive recovery. Ongoing economic and social concerns include low real wages, underemployment for a large segment of the population, inequitable income distribution, and few advancement opportunities for the largely Amerindian population in the impoverished southern states. The elections held in 2000 marked the first time since the 1910 Mexican Revolution that an opposition candidate - Vicente FOX of the National Action Party (PAN) - defeated the party in government, the Institutional Revolutionary Party (PRI). He was succeeded in 2006 by another PAN candidate Felipe CALDERON.
Geography of Mexico
Location:

Middle America, bordering the Caribbean Sea and the Gulf of Mexico, between Belize and the US and bordering the North Pacific Ocean, between Guatemala and the US

Coordinates:

23 00 N, 102 00 W

Area:

total: 1,972,550 sq km
land: 1,923,040 sq km
water: 49,510 sq km

Area comparative:

slightly less than three times the size of Texas

Land boundaries:

total: 4,353 km
border countries: Belize 250 km, Guatemala 962 km, US 3,141 km

Coastline:

9,330 km

Maritime claims:

contiguous zone: 24 NM
territorial sea: 12 NM
exclusive economic zone: 200 NM
continental shelf: 200 NM or to the edge of the continental margin

Climate:

varies from tropical to desert

Terrain:

high, rugged mountains; low coastal plains; high plateaus; desert

Elevation extremes:

lowest point: Laguna Salada -10 m
highest point: Volcan Pico de Orizaba 5,700 m

Natural resources:

petroleum, silver, copper, gold, lead, zinc, natural gas, timber

Natural hazards:

tsunamis along the Pacific coast, volcanoes and destructive earthquakes in the center and south, and hurricanes on the Pacific, Gulf of Mexico, and Caribbean coasts

Environment current issues:

scarcity of hazardous waste disposal facilities; rural to urban migration; natural fresh water resources scarce and polluted in north, inaccessible and poor quality in center and extreme southeast; raw sewage and industrial effluents polluting rivers in urban areas; deforestation; widespread erosion; desertification; deteriorating agricultural lands; serious air and water pollution in the national capital and urban centers along US-Mexico border; land subsidence in Valley of Mexico caused by groundwater depletion
note: the government considers the lack of clean water and deforestation national security issues

Geography - note:

strategic location on southern border of US; corn (maize), one of the world's major grain crops, is thought to have originated in Mexico
Population of Mexico
Population:

109,955,400 (July 2008 est.)

Age structure:

0-14 years: 30.6% (male 16,770,957/female 16,086,172)
15-64 years: 63.6% (male 33,071,809/female 35,316,281)
65 years and over: 5.8% (male 2,814,707/female 3,389,599)

Median age:

25.3 years

Growth rate:

1.16%

Infant mortality:

20.26 deaths/1,000 live births

Life expectancy at birth:

total population: 75.41 years
male: 72.63 years
female: 78.33 years

Fertility rate:

2.42 children born/woman

Nationality:

noun: Mexican(s)
adjective: Mexican

Ethnic groups:

mestizo (Amerindian-Spanish) 60%, Amerindian or predominantly Amerindian 30%, white 9%, other 1%

Religions:

nominally Roman Catholic 89%, Protestant 6%, other 5%

Languages:

Spanish, various Mayan, Nahuatl, and other regional indigenous languages

Literacy:

definition: age 15 and over can read and write
total population: 92.2%
male: 94%
female: 90.5%
Government
Country name:

conventional long form: United Mexican States
local short form: Mexico
local long form: Estados Unidos Mexicanos

Government type:

federal republic

Capital:

Mexico (Distrito Federal)

Administrative divisions:

31 states (estados, singular - estado) and 1 federal district* (distrito federal); Aguascalientes, Baja California, Baja California Sur, Campeche, Chiapas, Chihuahua, Coahuila de Zaragoza, Colima, Distrito Federal*, Durango, Guanajuato, Guerrero, Hidalgo, Jalisco, Mexico, Michoacan de Ocampo, Morelos, Nayarit, Nuevo Leon, Oaxaca, Puebla, Queretaro de Arteaga, Quintana Roo, San Luis Potosi, Sinaloa, Sonora, Tabasco, Tamaulipas, Tlaxcala, Veracruz-Llave, Yucatan, Zacatecas

Independence:

16 September 1810 (from Spain)

National holiday:

Independence Day, 16 September (1810)

Constitution:

5 February 1917

Legal system:

mixture of US constitutional theory and civil law system; judicial review of legislative acts; accepts compulsory ICJ jurisdiction, with reservations

Suffrage:

18 years of age; universal and compulsory (but not enforced)

Executive branch:

chief of state: President Felipe de Jesus CALDERON Hinojosa (since 1 December 2006); note - the president is both the chief of state and head of government
head of government: President Felipe de Jesus CALDERON Hinojosa (since 1 December 2006)
cabinet: Cabinet appointed by the president; note - appointment of attorney general requires consent of the Senate
elections: president elected by popular vote for a single six-year term; election last held on 2 July 2006.

Legislative branch:

bicameral National Congress or Congreso de la Union consists of the Senate or Camara de Senadores (128 seats; 96 are elected by popular vote to serve six-year terms, and 32 are allocated on the basis of each party's popular vote) and the Federal Chamber of Deputies or Camara Federal de Diputados (500 seats; 300 members are directly elected by popular vote to serve three-year terms; remaining 200 members are allocated on the basis of each party's popular vote, also for three-year terms)

Judicial branch:

Supreme Court of Justice or Corte Suprema de Justicia (judges are appointed by the president with consent of the Senate)

Political parties and leaders:

Convergence for Democracy or CD [Dante DELGADO Ranauro]; Institutional Revolutionary Party (Institutional Revolutionary Party) or PRI [leader NA]; Mexican Green Ecological Party or PVEM [Jorge Emilio GONZALEZ Martinez]; National Action Party (Partido Accion Nacional) or PAN [Manuel ESPINO Barrientos]; New Alliance Party (Partido Nueva Alianza) or PNA [Miguel Angel JIMENEZ Godines]; Party of the Democratic Revolution (Partido de la Revolucion Democratica) or PRD [Leonel COTA Montano]; Workers Party or PT [Alberto ANAYA Gutierrez]
Economy
Mexico has a free market economy in the trillion dollar class. It contains a mixture of modern and outmoded industry and agriculture, increasingly dominated by the private sector. Recent administrations have expanded competition in seaports, railroads, telecommunications, electricity generation, natural gas distribution, and airports. Per capita income is one-fourth that of the US; income distribution remains highly unequal. Trade with the US and Canada has tripled since the implementation of NAFTA in 1994. Mexico has 12 free trade agreements with over 40 countries including, Guatemala, Honduras, El Salvador, the European Free Trade Area, and Japan, putting more than 90% of trade under free trade agreements. In 2007, during his first year in office, the Felipe CALDERON administration was able to garner support from the opposition to successfully pass a pension and a fiscal reform. The administration continues to face many economic challenges including the need to upgrade infrastructure, modernize labor laws, and allow private investment in the energy sector. CALDERON has stated that his top economic priorities remain reducing poverty and creating jobs.
GDP:

$1.353 trillion (2007 est.)

GDP growth rate:

3%

GDP per capita:

$12,400

GDP composition by sector:

agriculture: 3.8%
industry: 25.9%
services: 70.2%

Inflation rate:

4%

Labor force:

43.4 million

Labor force - by occupation:

agriculture 18%, industry 24%, services 58%

Unemployment:

3.6% plus underemployment of perhaps 25%

Budget:

revenues: $181 billion
expenditures: $184 billion

Electricity production by source:

fossil fuel: 78.7%
hydro: 14.2%
other: 2.9%
nuclear: 4.2%

Industries:

food and beverages, tobacco, chemicals, iron and steel, petroleum, mining, textiles, clothing, motor vehicles, consumer durables, tourism

Agriculture:

corn, wheat, soybeans, rice, beans, cotton, coffee, fruit, tomatoes; beef, poultry, dairy products; wood products

Exports:

manufactured goods, oil and oil products, silver, fruits, vegetables, coffee, cotton

Export partners:

US 79.9%, Canada 5.7%, Spain 1.4%

Imports:

metalworking machines, steel mill products, agricultural machinery, electrical equipment, car parts for assembly, repair parts for motor vehicles, aircraft, and aircraft parts

Import partners:

US 59.4%, Germany 3.8%, Japan 3.4%

Currency:

Mexican peso (MXN)
SOURCES: The CIA World Factbook, U.S. Department of State, Area Handbook of the US Library of Congress
Copyright 2004 - 2008 worldfacts.us