World Facts Index > Malaysia > Kota Kinabalu, Kuala Lumpur, Langkawi, Malacca, Penang, Petaling Jaya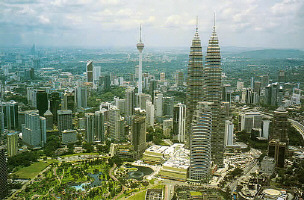 During the late 18th and 19th centuries, Great Britain established colonies and protectorates in the area of current Malaysia; these were occupied by Japan from 1942 to 1945. In 1948, the British-ruled territories on the Malay Peninsula formed the Federation of Malaya, which became independent in 1957. Malaysia was formed in 1963 when the former British colonies of Singapore and the East Malaysian states of Sabah and Sarawak on the northern coast of Borneo joined the Federation. The first several years of the country's history were marred by a Communist insurgency, Indonesian confrontation with Malaysia, Philippine claims to Sabah, and Singapore's secession from the Federation in 1965. During the 22-year term of Prime Minister MAHATHIR bin Mohamad (1981-2003), Malaysia was successful in diversifying its economy from dependence on exports of raw materials to expansion in manufacturing, services, and tourism.
Geography of Malaysia
Location:

Southeastern Asia, peninsula and northern one-third of the island of Borneo, bordering Indonesia and the South China Sea, south of Vietnam

Coordinates:

2 30 N, 112 30 E

Area:

total: 329,750 sq km
water: 1,200 sq km
land: 328,550 sq km

Area comparative:

slightly larger than New Mexico

Land boundaries:

total: 2,669 km
border countries: Brunei 381 km, Indonesia 1,782 km, Thailand 506 km

Coastline:

4,675 km (Peninsular Malaysia 2,068 km, East Malaysia 2,607 km)

Maritime claims:

continental shelf: 200-m depth or to the depth of exploitation; specified boundary in the South China Sea
exclusive economic zone: 200 NM
territorial sea: 12 NM

Climate:

tropical; annual southwest (April to October) and northeast (October to February) monsoons

Terrain:

coastal plains rising to hills and mountains

Elevation extremes:

lowest point: Indian Ocean 0 m
highest point: Gunung Kinabalu 4,100 m

Natural resources:

tin, petroleum, timber, copper, iron ore, natural gas, bauxite

Natural hazards:

flooding, landslides, forest fires

Environment current issues:

air pollution from industrial and vehicular emissions; water pollution from raw sewage; deforestation; smoke/haze from Indonesian forest fires

Geography - note:

strategic location along Strait of Malacca and southern South China Sea
Population of Malaysia
Population:

25,274,132 (July 2008 est.)

Age structure:

0-14 years: 32.6% (male 4,093,859/female 3,862,730)
15-64 years: 62.6% (male 7,660,680/female 7,613,537)
65 years and over: 4.7% (male 509,260/female 645,792)

Median age:

24.1 years

Growth rate:

1.78%

Infant mortality:

17.16 deaths/1,000 live births

Life expectancy at birth:

total population: 72.5 years
male: 69.8 years
female: 75.38 years

Fertility rate:

3.04 children born/woman

Nationality:

noun: Malaysian(s)
adjective: Malaysian

Ethnic groups:

Malay 50.4%, Chinese 23.7%, Indigenous 11%, Indian 7.1%, others 7.8%

Religions:

Muslim, Buddhist, Daoist, Hindu, Christian, Sikh; note - in addition, Shamanism is practiced in East Malaysia

Languages:

Bahasa Melayu (official), English, Chinese dialects (Cantonese, Mandarin, Hokkien, Hakka, Hainan, Foochow), Tamil, Telugu, Malayalam, Panjabi, Thai; note - in addition, in East Malaysia several indigenous languages are spoken, the largest are Iban and Kadazan

Literacy:

definition: age 15 and over can read and write
total population: 88.9%
male: 92.4%
female: 85.4%
Government
Country name:

former: Federation of Malaysia

Government type:

constitutional monarchy
note: Malaya (what is now Peninsular Malaysia) formed 31 August 1957; Federation of Malaysia (Malaya, Sabah, Sarawak, and Singapore) formed 9 July 1963 (Singapore left the Federation on 9 August 1965); nominally headed by the paramount ruler and a bicameral Parliament consisting of a nonelected upper house and an elected lower house; all of the Peninsular Malaysian states have hereditary rulers except Melaka and Penang; Sabah and Sarawak in East Malaysia have governors appointed by the Malaysian Government; powers of state governments are limited by the federal constitution; under the terms of federation, Sabah and Sarawak retain certain constitutional prerogatives (e.g., the right to maintain their own immigration controls); Sabah - currently holds 20 seats in House of Representatives and will hold 25 seats after the next election; Sarawak holds 28 seats in House of Representatives

Capital:

Kuala Lumpur
note: Putrajaya is referred to as the administrative capital

Administrative divisions:

13 states (negeri-negeri, singular - negeri) and 3 federal territories* (wilayah-wilayah persekutuan, singular - wilayah persekutuan); Johor, Kedah, Kelantan, Labuan*, Melaka, Negeri Sembilan, Pahang, Perak, Perlis, Pulau Pinang, Putrajaya*, Sabah, Sarawak, Selangor, Terengganu, Wilayah Persekutuan*
note: the city of Kuala Lumpur is within the federal territory of Wilayah Persekutuan; the terms therefore are not interchangeable;

Independence:

31 August 1957 (from UK)

National holiday:

Independence Day/Malaysia Day, 31 August (1957)

Constitution:

31 August 1957, amended 16 September 1963

Legal system:

based on English common law; judicial review of legislative acts in the Supreme Court at request of supreme head of the federation; has not accepted compulsory ICJ jurisdiction

Suffrage:

21 years of age; universal

Executive branch:

chief of state: Paramount Ruler Sultan MIZAN Zainal Abidin (since 13 December 2006)
head of government: Prime Minister ABDULLAH bin Ahmad Badawi (since 31 October 2003); Deputy Prime Minister Mohamed NAJIB bin Abdul Razak (since 7 January 2004)
cabinet: Cabinet appointed by the prime minister from among the members of Parliament with consent of the paramount ruler
elections: paramount ruler elected by and from the hereditary rulers of nine of the states for five-year terms; election last held on 3 November 2006 (next to be held in 2011); prime minister designated from among the members of the House of Representatives; following legislative elections, the leader of the party that wins a plurality of seats in the House of Representatives becomes prime minister.

Legislative branch:

bicameral Parliament or Parlimen consists of the Senate or Dewan Negara (70 seats; 44 appointed by the paramount ruler, 26 appointed by the state legislatures) and the House of Representatives or Dewan Rakyat (219 seats; members elected by popular vote to serve five-year terms)

Judicial branch:

Federal Court (judges appointed by the paramount ruler on the advice of the prime minister)
Economy
Malaysia, a middle-income country, has transformed itself since the 1970s from a producer of raw materials into an emerging multi-sector economy. Since coming to office in 2003, Prime Minister ABDULLAH has tried to move the economy farther up the value-added production chain by attracting investments in high technology industries, medical technology, and pharmaceuticals. The Government of Malaysia is continuing efforts to boost domestic demand to wean the economy off of its dependence on exports. Nevertheless, exports - particularly of electronics - remain a significant driver of the economy. As an oil and gas exporter, Malaysia has profited from higher world energy prices, although the rising cost of domestic gasoline and diesel fuel forced Kuala Lumpur to reduce government subsidies. Malaysia "unpegged" the ringgit from the US dollar in 2005 and the currency appreciated 6% per year against the dollar in 2006-07. Although this has helped to hold down the price of imports, inflationary pressures began to build in 2007. Healthy foreign exchange reserves and a small external debt greatly reduce the risk that Malaysia will experience a financial crisis over the near term similar to the one in 1997. The government presented its five-year national development agenda in April 2006 through the Ninth Malaysia Plan, a comprehensive blueprint for the allocation of the national budget from 2006-10. With national elections expected within the year, ABDULLAH has unveiled a series of ambitious development schemes for several regions that have had trouble attracting business investment. Real GDP growth has averaged about 6% per year under ABDULLAH, but regions outside of Kuala Lumpur and the manufacturing hub Penang have not fared as well.
GDP:

$361.2 billion (2007 est.)

GDP growth rate:

5.3%

GDP per capita:

$12,100

GDP composition by sector:

agriculture: 8.4%
industry: 48%
services: 43.6%

Inflation rate:

3%

Labor force:

10.67 million

Labor force - by occupation:

agriculture 14.5%, industry 36%, services 49.5%

Unemployment:

3.6%

Electricity production by source:

fossil fuel: 89.5%
hydro: 10.5%
other: 0%

Industries:

Peninsular Malaysia - rubber and oil palm processing and manufacturing, light manufacturing industry, electronics, tin mining and smelting, logging and processing timber; Sabah - logging, petroleum production; Sarawak - agriculture processing, petroleum production and refining, logging

Agriculture:

Peninsular Malaysia - rubber, palm oil, cocoa, rice; Sabah - subsistence crops, rubber, timber, coconuts, rice; Sarawak - rubber, pepper; timber

Exports:

electronic equipment, petroleum and liquefied natural gas, wood and wood products, palm oil, rubber, textiles, chemicals

Export partners:

US 19.5%, Singapore 15.4%, China 11.3%, Japan 8.3%, Thailand 4.6%, Hong Kong 4.1%

Imports:

electronics, machinery, petroleum products, plastics, vehicles, iron and steel products, chemicals

Import partners:

Singapore 26.4%, Japan 11%, China 9.2%, US 9.1%, Taiwan 5.4%, Thailand 4.9%, South Korea 4.9%, Indonesia 4.2%

Currency:

ringgit (MYR)
SOURCES: The CIA World Factbook, U.S. Department of State, Area Handbook of the US Library of Congress
Copyright 2004 - 2008 worldfacts.us