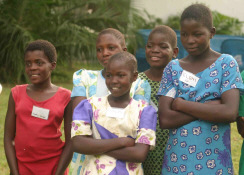 Established in 1891, the British protectorate of Nyasaland became the independent nation of Malawi in 1964. After three decades of one-party rule under President Hastings Kamuzu BANDA the country held multiparty elections in 1994, under a provisional constitution that came into full effect the following year. Current President Bingu wa MUTHARIKA, elected in May 2004 after a failed attempt by the previous president to amend the constitution to permit another term, struggled to assert his authority against his predecessor and subsequently started his own party, the Democratic Progressive Party (DPP) in 2005. As president, MUTHARIKA has overseen substantial economic improvement but because of political deadlock in the legislature, his minority party has been unable to pass significant legislation, and anti-corruption measures have stalled. Population growth, increasing pressure on agricultural lands, corruption, and the spread of HIV/AIDS pose major problems for Malawi.
Geography of Malawi
Location:

Southern Africa, east of Zambia

Coordinates:

13 30 S, 34 00 E

Area:

total: 118,480 sq km
water: 24,400 sq km
land: 94,080 sq km

Area comparative:

slightly smaller than Pennsylvania

Land boundaries:

total: 2,881 km
border countries: Mozambique 1,569 km, Tanzania 475 km, Zambia 837 km

Coastline:

0 km (landlocked)

Climate:

sub-tropical; rainy season (November to May); dry season (May to November)

Terrain:

narrow elongated plateau with rolling plains, rounded hills, some mountains

Elevation extremes:

lowest point: junction of the Shire River and international boundary with Mozambique 37 m
highest point: Sapitwa (Mount Mlanje) 3,002 m

Natural resources:

limestone, arable land, hydropower, unexploited deposits of uranium, coal, and bauxite

Environment current issues:

deforestation; land degradation; water pollution from agricultural runoff, sewage, industrial wastes; siltation of spawning grounds endangers fish populations

Geography - note:

landlocked; Lake Nyasa, some 580 km long, is the country's most prominent physical feature
Population of Malawi
Population:

13,931,831 (July 2009 est.)

Age structure:

0-14 years: 46.5% (male 3,056,522/female 3,000,493)
15-64 years: 50.8% (male 3,277,573/female 3,332,907)
65 years and over: 2.7% (male 139,953/female 206,478)

Median age:

16.5 years


Growth rate:

2.38%

Infant mortality:

94.37 deaths/1,000 live births

Life expectancy at birth:

total population: 41.7 years
male: 41.93 years
female: 41.45 years

Fertility rate:

5.92 children born/woman

Nationality:

noun: Malawian(s)
adjective: Malawian

Ethnic groups:

Chewa, Nyanja, Tumbuka, Yao, Lomwe, Sena, Tonga, Ngoni, Ngonde, Asian, European

Religions:

Protestant 55%, Roman Catholic 20%, Muslim 20%, indigenous beliefs 3%, other 2%

Languages:

English (official), Chichewa (official), other languages important regionally

Literacy:

definition: age 15 and over can read and write
total population: 62.7%
male: 76.1%
female: 49.8%
Government
Country name:

conventional long form: Republic of Malawi
former: British Central African Protectorate, Nyasaland Protectorate, Nyasaland

Government type:

multiparty democracy

Capital:

Lilongwe

Administrative divisions:

27 districts; Balaka, Blantyre, Chikwawa, Chiradzulu, Chitipa, Dedza, Dowa, Karonga, Kasungu, Likoma, Lilongwe, Machinga (Kasupe), Mangochi, Mchinji, Mulanje, Mwanza, Mzimba, Ntcheu, Nkhata Bay, Nkhotakota, Nsanje, Ntchisi, Phalombe, Rumphi, Salima, Thyolo, Zomba

Independence:

6 July 1964 (from UK)

National holiday:

Independence Day (Republic Day), 6 July (1964)

Constitution:

18 May 1994

Legal system:

based on English common law and customary law; judicial review of legislative acts in the Supreme Court of Appeal; has not accepted compulsory ICJ jurisdiction

Suffrage:

18 years of age; universal

Executive branch:

chief of state: President Bingu wa MUTHARIKA (since 24 May 2004); note - the president is both the chief of state and head of government
head of government: President Bingu wa MUTHARIKA (since 24 May 2004)
cabinet: 46-member Cabinet named by the president
elections: president elected by popular vote for a five-year term (eligible for a second term).

Legislative branch:

unicameral National Assembly (193 seats; members elected by popular vote to serve five-year terms)

Judicial branch:

Supreme Court of Appeal; High Court (chief justice appointed by the president, puisne judges appointed on the advice of the Judicial Service Commission); magistrate's courts
Economy
Landlocked Malawi ranks among the world's most densely populated and least developed countries. The economy is predominately agricultural with about 85% of the population living in rural areas. Agriculture accounts for more than one-third of GDP and 90% of export revenues. The performance of the tobacco sector is key to short-term growth as tobacco accounts for more than half of exports. The economy depends on substantial inflows of economic assistance from the IMF, the World Bank, and individual donor nations. In December 2007, the US granted Malawi eligibility status to receive financial support within the Millennium Challenge Corporation (MCC) initiative. Malawi will now begin a consultative process to develop a five-year program before funding can begin. In 2006, Malawi was approved for relief under the Heavily Indebted Poor Countries (HIPC) program. The government faces many challenges including developing a market economy, improving educational facilities, facing up to environmental problems, dealing with the rapidly growing problem of HIV/AIDS, and satisfying foreign donors that fiscal discipline is being tightened. In 2005, President MUTHARIKA championed an anticorruption campaign. Since 2005 President MUTHARIKA'S government has exhibited improved financial discipline under the guidance of Finance Minister Goodall GONDWE and signed a three year Poverty Reduction and Growth Facility worth $56 million with the IMF. Improved relations with the IMF lead other international donors to resume aid as well.
GDP:

$10.59 billion (2007 est.)

GDP growth rate:

8%

GDP per capita:

$800

GDP composition by sector:

agriculture: 34.2%
industry: 15.8%
services: 49.9%

Inflation rate:

15.4%

Labor force:

4.5 million

Labor force - by occupation:

agriculture 90%

Budget:

revenues: $844.6 million
expenditures: $913.9 million

Electricity production by source:

fossil fuel: 3.3%
hydro: 96.7%
other: 0%

Industries:

tobacco, tea, sugar, sawmill products, cement, consumer goods

Agriculture:

tobacco, sugarcane, cotton, tea, corn, potatoes, cassava (tapioca), sorghum, pulses; groundnuts, Macadamia nuts; cattle, goats

Exports:

tobacco 60%, tea, sugar, cotton, coffee, peanuts, wood products, apparel

Export partners:

US 17.7%, South Africa 12.5%, Egypt 7.8%, Netherlands 6.6%, Germany 6.6%, Japan 4.8%, UK 4.3%, Mozambique 4.2%

Imports:

food, petroleum products, semimanufactures, consumer goods, transportation equipment

Import partners:

South Africa 37.6%, India 8.1%, Mozambique 7.8%, Zimbabwe 7.2%, Zambia 6.7%, Tanzania 4.6%

Currency:

Malawian kwacha (MWK)
SOURCES: The CIA World Factbook, U.S. Department of State, Area Handbook of the US Library of Congress
Copyright 2004 - 2008 worldfacts.us