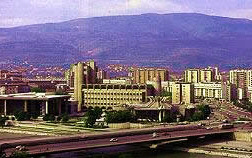 Macedonia gained its independence peacefully from Yugoslavia in 1991, but Greece's objection to the new state's use of what it considered a Hellenic name and symbols delayed international recognition, which occurred under the provisional designation of "the Former Yugoslav Republic of Macedonia." In 1995, Greece lifted a 20-month trade embargo and the two countries agreed to normalize relations. The United States began referring to Macedonia by its constitutional name, Republic of Macedonia, in 2004 and negotiations continue between Greece and Macedonia to resolve the name issue. Some ethnic Albanians, angered by perceived political and economic inequities, launched an insurgency in 2001 that eventually won the support of the majority of Macedonia's Albanian population and led to the internationally-brokered Framework Agreement, which ended the fighting by establishing a set of new laws enhancing the rights of minorities. Fully implementating the Framework Agreement and stimulating economic growth and development continue to be challenges for Macedonia, although progress has been made on both fronts over the past several years.
Geography of Macedonia
Location:

Southeastern Europe, north of Greece

Coordinates:

41 50 N, 22 00 E

Area:

total: 25,333 sq km
water: 477 sq km
land: 24,856 sq km

Area comparative:

slightly larger than Vermont

Land boundaries:

total: 766 km
border countries: Albania 151 km, Bulgaria 148 km, Greece 246 km, Serbia and Montenegro 221 km

Coastline:

0 km (landlocked)

Maritime claims:

none (landlocked)

Climate:

warm, dry summers and autumns and relatively cold winters with heavy snowfall

Terrain:

mountainous territory covered with deep basins and valleys; three large lakes, each divided by a frontier line; country bisected by the Vardar River

Elevation extremes:

lowest point: Vardar River 50 m
highest point: Golem Korab (Maja e Korabit) 2,753 m

Natural resources:

chromium, lead, zinc, manganese, tungsten, nickel, low-grade iron ore, asbestos, sulfur, timber, arable land

Natural hazards:

high seismic risks

Environment current issues:

air pollution from metallurgical plants

Geography - note:

landlocked; major transportation corridor from Western and Central Europe to Aegean Sea and Southern Europe to Western Europe
Population of Macedonia
Population:

2,061,315 (July 2008 est.)

Age structure:

0-14 years: 20.1% (male 213,486/female 199,127)
15-64 years: 68.9% (male 711,853/female 701,042)
65 years and over: 11% (male 98,618/female 126,428)

Median age:

34.1 years


Growth rate:

0.26%

Infant mortality:

9.81 deaths/1,000 live births

Life expectancy at birth:

total population: 73.97 years
male: 71.51 years
female: 76.62 years

Fertility rate:

1.57 children born/woman

Nationality:

noun: Macedonian(s)
adjective: Macedonian

Ethnic groups:

Macedonian 64.2%, Albanian 25.2%, Turkish 3.9%, Roma 2.7%, Serb 1.8%, other 2.2%

Religions:

Macedonian Orthodox 64.7%, other Christian 0.37%, Muslim 33.3%, other and unspecified 1.63%

Languages:

Macedonian 66.5%, Albanian 25.1%, Turkish 3.5%, Roma 1.9%, Serbian 1.2%, other 1.8%
Government
Country name:

conventional long form: The Former Yugoslav Republic of Macedonia
local long form: Republika Makedonija
abbreviation: F.Y.R.O.M.
local short form: Makedonija

Government type:

parliamentary democracy

Capital:

Skopje

Administrative divisions:

85 municipalities (opstini, singular - opstina); Aerodrom (Skopje), Aracinovo, Berovo, Bitola, Bogdanci, Bogovinje, Bosilovo, Brvenica, Butel (Skopje), Cair (Skopje), Caska, Centar (Skopje), Centar Zupa, Cesinovo, Cucer-Sandevo, Debar, Debartsa, Delcevo, Demir Hisar, Demir Kapija, Dojran, Dolneni, Drugovo, Gazi Baba (Skopje), Gevgelija, Gjorce Petrov (Skopje), Gostivar, Gradsko, Ilinden, Jegunovce, Karbinci, Karpos (Skopje), Kavadarci, Kicevo, Kisela Voda (Skopje), Kocani, Konce, Kratovo, Kriva Palanka, Krivogastani, Krusevo, Kumanovo, Lipkovo, Lozovo, Makedonska Kamenica, Makedonski Brod, Mavrovo i Rastusa, Mogila, Negotino, Novaci, Novo Selo, Ohrid, Oslomej, Pehcevo, Petrovec, Plasnica, Prilep, Probistip, Radovis, Rankovce, Resen, Rosoman, Saraj (Skopje), Skopje, Sopiste, Staro Nagoricane, Stip, Struga, Strumica, Studenicani, Suto Orizari (Skopje), Sveti Nikole, Tearce, Tetovo, Valandovo, Vasilevo, Veles, Vevcani, Vinica, Vranestica, Vrapciste, Zajas, Zelenikovo, Zelino, Zrnovci
note: the ten municipalities followed by Skopje in parentheses collectively constitute "greater Skopje"

Independence:

8 September 1991 referendum by registered voters endorsing independence (from Yugoslavia)

National holiday:

Uprising Day, 2 August (1903); note - also known as Saint Elijah's Day and Ilinden

Constitution:

adopted 17 November 1991, effective 20 November 1991; amended November 2001 by a series of new constitutional amendments strengthening minority rights and in 2005 with amendments related to the judiciary

Legal system:

based on civil law system; judicial review of legislative acts

Suffrage:

18 years of age; universal

Executive branch:

chief of state: President Branko CRVENKOVSKI (since 12 May 2004)
head of government: Prime Minister Nikola GRUEVSKI (since 26 August 2006)
cabinet: Council of Ministers elected by the majority vote of all the deputies in the Assembly; note - current cabinet formed by the government coalition parties VMRO/DPMNE, NSDP, PDSh/DPA, and several small parties
elections: president elected by popular vote for a five-year term (eligible for a second term); two-round election last held 14 April and 28 April 2004 (next to be held by April 2009); prime minister elected by the Assembly following legislative elections.

Legislative branch:

unicameral Assembly or Sobranie (120 seats - members elected by popular vote from party lists based on the percentage of the overall vote the parties gain in each of six electoral districts; all serve four-year terms)

Judicial branch:

Supreme Court - the Assembly appoints the judges; Constitutional Court - the Assembly appoints the judges; Republican Judicial Council - the Assembly appoints the judges
Economy
At independence in September 1991, Macedonia was the least developed of the Yugoslav republics, producing a mere 5% of the total federal output of goods and services. The collapse of Yugoslavia ended transfer payments from the central government and eliminated advantages from inclusion in a de facto free trade area. An absence of infrastructure, UN sanctions on the downsized Yugoslavia, and a Greek economic embargo over a dispute about the country's constitutional name and flag hindered economic growth until 1996. GDP subsequently rose each year through 2000. In 2001, during a civil conflict, the economy shrank 4.5% because of decreased trade, intermittent border closures, increased deficit spending on security needs, and investor uncertainty. Growth barely recovered in 2002 to 0.9%, then averaged 4% per year during 2003-07, expanding to 5.1% in 2007. Macedonia has maintained macroeconomic stability with low inflation, but it has so far lagged the region in attracting foreign investment and creating jobs, despite making extensive fiscal and business sector reforms. Official unemployment remains high at nearly 35%, but may be overstated based on the existence of an extensive gray market, estimated to be more than 20 percent of GDP, that is not captured by official statistics.
GDP:

$17.35 billion (2007 est.)

GDP growth rate:

3.7%

GDP per capita:

$7,800

GDP composition by sector:

agriculture: 11.8%
industry: 31.9%
services: 56.3%

Inflation rate:

0%

Labor force:

855,000

Unemployment:

37.3%

Electricity production by source:

fossil fuel: 83.7%
hydro: 16.3%
other: 0%
nuclear: 0%

Industries:

food processing, beverages, textiles, chemicals, steel, cement, energy, pharmaceuticals

Agriculture:

grapes, wine, tobacco, vegetables; milk, eggs

Exports:

food, beverages, tobacco; miscellaneous manufactures, iron and steel

Export partners:

Serbia and Montenegro 27.8%, Germany 16.8%, Italy 11.7%, Greece 10.8%, Croatia 6.3%

Imports:

machinery and equipment, automobiles, chemicals, fuels, food products

Import partners:

Greece 13.8%, Germany 12.3%, Serbia and Montenegro 10.5%, Bulgaria 8.1%, Slovenia 6.6%, Italy 6.4%, Turkey 6.1%, Romania 4.9%

Currency:

Macedonian denar (MKD)
SOURCES: The CIA World Factbook, U.S. Department of State, Area Handbook of the US Library of Congress
Copyright 2004 - 2008 worldfacts.us