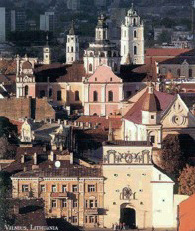 Lithuanian lands were united under MINDAUGAS in 1236; over the next century, through alliances and conquest, Lithuania extended its territory to include most of present-day Belarus and Ukraine. By the end of the 14th century Lithuania was the largest state in Europe. An alliance with Poland in 1386 led the two countries into a union through the person of a common ruler. In 1569, Lithuania and Poland formally united into a single dual state, the Polish-Lithuanian Commonwealth. This entity survived until 1795, when its remnants were partitioned by surrounding countries. Lithuania regained its independence following World War I but was annexed by the USSR in 1940 - an action never recognized by the US and many other countries. On 11 March 1990, Lithuania became the first of the Soviet republics to declare its independence, but Moscow did not recognize this proclamation until September of 1991 (following the abortive coup in Moscow). The last Russian troops withdrew in 1993. Lithuania subsequently restructured its economy for integration into Western European institutions; it joined both NATO and the EU in the spring of 2004.
Geography of Lithuania
Location:

Eastern Europe, bordering the Baltic Sea, between Latvia and Russia

Coordinates:

56 00 N, 24 00 E

Area:

total: 65,200 sq km
water: NA sq km
land: NA sq km

Area comparative:

slightly larger than West Virginia

Land boundaries:

total: 1,273 km
border countries: Belarus 502 km, Latvia 453 km, Poland 91 km, Russia (Kaliningrad) 227 km

Coastline:

99 km

Maritime claims:

territorial sea: 12 NM

Climate:

transitional, between maritime and continental; wet, moderate winters and summers

Terrain:

lowland, many scattered small lakes, fertile soil

Elevation extremes:

lowest point: Baltic Sea 0 m
highest point: Juozapines/Kalnas 292 m

Natural resources:

peat, arable land

Environment current issues:

contamination of soil and groundwater with petroleum products and chemicals at military bases

Geography - note:

fertile central plains are separated by hilly uplands that are ancient glacial deposits
Population of Lithuania
Population:

3,565,205 (July 2008 est.)

Age structure:

0-14 years: 15.5% (male 284,888/female 270,458)
15-64 years: 69.1% (male 1,210,557/female 1,265,542)
65 years and over: 15.5% (male 190,496/female 363,965)

Median age:

38.2 years

Growth rate:

-0.3%

Infant mortality:

6.78 deaths/1,000 live births

Life expectancy at birth:

total population: 74.2 years
male: 69.2 years
female: 79.49 years

Fertility rate:

1.2 children born/woman

Nationality:

noun: Lithuanian(s)
adjective: Lithuanian

Ethnic groups:

Lithuanian 83.4%, Polish 6.7%, Russian 6.3%, other or unspecified 3.6%

Religions:

Roman Catholic 79%, Russian Orthodox 4.1%, Protestant (including Lutheran and Evangelical Christian Baptist) 1.9%, other or unspecified 5.5%, none 9.5%

Languages:

Lithuanian (official) 82%, Russian 8%, Polish 5.6%, other and unspecified 4.4%

Literacy:

definition: age 15 and over can read and write
total population: 99.6%
male: 99.7%
female: 99.6%
Government
Country name:

conventional long form: Republic of Lithuania
conventional short form: Lithuania
local short form: Lietuva
former: Lithuanian Soviet Socialist Republic
local long form: Lietuvos Respublika

Government type:

parliamentary democracy

Capital:

Vilnius

Administrative divisions:

10 counties (apskritys, singular - apskritis); Alytaus, Kauno, Klaipedos, Marijampoles, Panevezio, Siauliu, Taurages, Telsiu, Utenos, Vilniaus

Independence:

11 March 1990 (independence declared from Soviet Union); 6 September 1991 (Soviet Union recognizes Lithuania's independence)

National holiday:

Independence Day, 16 February (1918); note - 16 February 1918 is the date Lithuania declared its independence from Soviet Russia and established its statehood; 11 March 1990 is the date it declared its independence from the Soviet Union

Constitution:

adopted 25 October 1992

Legal system:

based on civil law system; legislative acts can be appealed to the constitutional court

Suffrage:

18 years of age; universal

Executive branch:

chief of state: President Valdas ADAMKUS (since 12 July 2004)
head of government: Prime Minister Gediminas KIRKILAS (since 4 July 2006)
cabinet: Council of Ministers appointed by the president on the nomination of the prime minister
elections: president elected by popular vote for a five-year term (eligible for a second term); election last held 13 and 27 June 2004 (next to be held in June 2009); prime minister appointed by the president on the approval of the Parliament.

Legislative branch:

unicameral Parliament or Seimas (141 seats, 71 members are directly elected by popular vote, 70 are elected by proportional representation; members serve four-year terms)

Judicial branch:

Constitutional Court; Supreme Court; Court of Appeal; judges for all courts appointed by the President
Economy
Lithuania, the Baltic state that has conducted the most trade with Russia, has grown rapidly since rebounding from the 1998 Russian financial crisis. Unemployment fell to 3.2% in 2007 while wages continued to grow at double digit rates, contributing to rising inflation. Exports and imports also grew strongly, and the current account deficit rose to nearly 15% of GDP in 2007. Trade has been increasingly oriented toward the West. Lithuania has gained membership in the World Trade Organization and joined the EU in May 2004. Privatization of the large, state-owned utilities is nearly complete. Foreign government and business support have helped in the transition from the old command economy to a market economy.
GDP:

$59.98 billion (2007 est.)

GDP growth rate:

7.5%

GDP per capita:

$13,700

GDP composition by sector:

agriculture: 5.5%
industry: 32.5%
services: 62%

Inflation rate:

2.7%

Labor force:

1.61 million

Labor force - by occupation:

industry 30%, agriculture 20%, services 50%

Unemployment:

4.8%

Electricity production by source:

fossil fuel: 16.5%
hydro: 5.7%
nuclear: 77.7%

Industries:

metal-cutting machine tools, electric motors, television sets, refrigerators and freezers, petroleum refining, shipbuilding (small ships), furniture making, textiles, food processing, fertilizers, agricultural machinery, optical equipment, electronic components, computers, amber

Agriculture:

grain, potatoes, sugar beets, flax, vegetables; beef, milk, eggs; fish

Exports:

mineral products 23%, textiles and clothing 16%, machinery and equipment 11%, chemicals 6%, wood and wood products 5%, foodstuffs 5%

Export partners:

Russia 10.4%, Latvia 10.2%, Germany 9.4%, France 7%, Estonia 5.9%, Poland 5.5%, Sweden 5%, US 4.7%, UK 4.7%, Denmark 4.3%

Imports:

mineral products, machinery and equipment, transport equipment, chemicals, textiles and clothing, metals

Import partners:

Russia 27.9%, Germany 15.1%, Poland 8.3%

Currency:

litas (LTL)
SOURCES: The CIA World Factbook, U.S. Department of State, Area Handbook of the US Library of Congress
Copyright 2004 - 2008 worldfacts.us