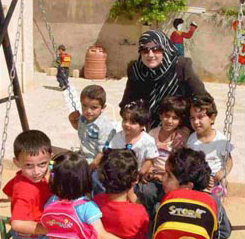 Following World War I and the dissolution of the Ottoman Empire, the UK received a mandate to govern much of the Middle East. Britain separated out a semi-autonomous region of Transjordan from Palestine in the early 1920s, and the area gained its independence in 1946; it adopted the name of Jordan in 1950. The country's long-time ruler was King HUSSEIN (1953-99). A pragmatic leader, he successfully navigated competing pressures from the major powers (US, USSR, and UK), various Arab states, Israel, and a large internal Palestinian population, despite several wars and coup attempts. In 1989 he reinstituted parliamentary elections and gradual political liberalization; in 1994 he signed a peace treaty with Israel. King ABDALLAH II, the son of King HUSSEIN, assumed the throne following his father's death in February 1999. Since then, he has consolidated his power and undertaken an aggressive economic reform program. Jordan acceded to the World Trade Organization in 2000, and began to participate in the European Free Trade Association in 2001. Municipal elections were held in July 2007 under a system in which 20% of seats in all municipal councils were reserved by quota for women. Parliamentary elections were held in November 2007 and saw independent pro-government candidates win the vast majority of seats. In November 2007, King Abdallah instructed his new prime minister to focus on socioeconomic reform, developing a healthcare and housing network for civilians and military personnel, and improving the educational system.
Geography of Jordan
Location:

Middle East, northwest of Saudi Arabia

Coordinates:

31 00 N, 36 00 E

Area:

total: 92,300 sq km
water: 329 sq km
land: 91,971 sq km

Area comparative:

slightly smaller than Indiana

Land boundaries:

total: 1,635 km
border countries: Iraq 181 km, Israel 238 km, Saudi Arabia 744 km, Syria 375 km, West Bank 97 km

Coastline:

26 km

Maritime claims:

territorial sea: 3 NM

Climate:

mostly arid desert; rainy season in west (November to April)

Terrain:

mostly desert plateau in east, highland area in west; Great Rift Valley separates East and West Banks of the Jordan River

Elevation extremes:

lowest point: Dead Sea -408 m
highest point: Jabal Ram 1,734 m

Natural resources:

phosphates, potash, shale oil

Natural hazards:

droughts; periodic earthquakes

Environment current issues:

limited natural fresh water resources; deforestation; overgrazing; soil erosion; desertification

Geography - note:

strategic location at the head of the Gulf of Aqaba and as the Arab country that shares the longest border with Israel and the occupied West Bank
Population of Jordan
Population:

6,198,677 (July 2008 est.)

Age structure:

0-14 years: 33.8% (male 1,018,070/female 976,442)
15-64 years: 62.4% (male 1,966,794/female 1,716,255)
65 years and over: 3.9% (male 111,636/female 117,563)

Median age:

23 years

Growth rate:

2.49%

Infant mortality:

16.76 deaths/1,000 live births

Life expectancy at birth:

total population: 78.4 years
male: 75.9 years
female: 81.05 years

Fertility rate:

2.63 children born/woman

Nationality:

noun: Jordanian(s)
adjective: Jordanian

Ethnic groups:

Arab 98%, Circassian 1%, Armenian 1%

Religions:

Sunni Muslim 92%, Christian 6% (majority Greek Orthodox, but some Greek and Roman Catholics, Syrian Orthodox, Coptic Orthodox, Armenian Orthodox, and Protestant denominations), other 2% (several small Shi'a Muslim and Druze populations)

Languages:

Arabic (official), English widely understood among upper and middle classes

Literacy:

definition: age 15 and over can read and write
total population: 91.3%
male: 95.9%
female: 86.3%
Government
Country name:

conventional long form: Hashemite Kingdom of Jordan
local short form: Al Urdun
local long form: Al Mamlakah al Urduniyah al Hashimiyah
former: Transjordan

Government type:

constitutional monarchy

Capital:

'Amman

Administrative divisions:

12 governorates (muhafazat, singular - muhafazah); Ajlun, Al 'Aqabah, Al Balqa', Al Karak, Al Mafraq, 'Amman, At Tafilah, Az Zarqa', Irbid, Jarash, Ma'an, Madaba

Independence:

25 May 1946 (from League of Nations mandate under British administration)

National holiday:

Independence Day, 25 May (1946)

Constitution:

8 January 1952

Legal system:

based on Islamic law and French codes; judicial review of legislative acts in a specially provided High Tribunal; has not accepted compulsory ICJ jurisdiction

Suffrage:

18 years of age; universal

Executive branch:

chief of state: King ABDALLAH II (since 7 February 1999); Prince HUSSEIN (born 1994), eldest son of King ABDALLAH II, is considered to be first in line to inherit the throne
head of government: Prime Minister Nader al-DAHABI (since 25 November 2007)
cabinet: Cabinet appointed by the prime minister in consultation with the monarch
elections: the monarch is hereditary; prime minister appointed by the monarch.

Legislative branch:

bicameral National Assembly or Majlis al-'Umma consists of the Senate, also called the House of Notables (Majlis al-Ayan) (55 seats; members appointed by the monarch from designated categories of public figures; members serve four-year terms) and the House of Representatives, also called the House of Deputies (Majlis al-Nuwaab) (110 seats; members elected by popular vote on the basis of proportional representation to serve four-year terms); note - six seats are reserved for women and are allocated by a special electoral panel if no women are elected
note: the House of Representatives has been convened and dissolved by the monarch several times since 1974; in November 1989, the first parliamentary elections in 22 years were held; political parties were not legalized until 1992; King ABDALLAH delayed the 2001 elections until 2003

Judicial branch:

Court of Cassation; Supreme Court (court of final appeal)

Political pressure groups and leaders:

Anti-Normalization Committee [Ali Abu SUKKAR, president vice chairman]; Jordanian Bar Association [Saleh ARMOUTI, president]; Jordanian Press Association [Sayf al-SHARIF, president]; Muslim Brotherhood [Salem AL-FALAHAT, secretary general]
Economy
Jordan is a small Arab country with insufficient supplies of water, oil, and other natural resources. Poverty, unemployment, and inflation are fundamental problems, but King ABDALLAH II, since assuming the throne in 1999, has undertaken some broad economic reforms in a long-term effort to improve living standards. Since Jordan's graduation from its most recent IMF program in 2002, Amman has continued to follow IMF guidelines, practicing careful monetary policy, making substantial headway with privatization, and opening the trade regime. Jordan's exports have significantly increased under the free trade accord with the US and Jordanian Qualifying Industrial Zones (QIZ), which allow Jordan to export goods duty free to the US. In 2006, Jordan reduced its debt-to-GDP ratio significantly. These measures have helped improve productivity and have made Jordan more attractive for foreign investment. Before the US-led war in Iraq, Jordan imported most of its oil from Iraq. Since 2003, however, Jordan has been more dependent on oil from other Gulf nations. The government ended subsidies for petroleum and other consumer goods in 2008 in an effort to control the budget. The main challenges facing Jordan are reducing dependence on foreign grants, reducing the budget deficit, attracting investments, and creating jobs.
GDP:

$28.45 billion (2007 est.)

GDP growth rate:

6.1%

GDP per capita:

$4,700

GDP composition by sector:

agriculture: 3.3%
industry: 28.7%
services: 68%

Inflation rate:

4.5%

Labor force:

1.46 million

Labor force - by occupation:

agriculture: 5%
industry: 12.5%
services: 82.5%

Unemployment:

12.5% official rate; unofficial rate is approximately 30

Budget:

revenues: $2.8 billion
expenditures: $4.688 billion

Electricity production by source:

fossil fuel: 99.4%
hydro: 0.6%
other: 0%

Industries:

textiles, phosphate mining, fertilizers, pharmaceuticals, petroleum refining, cement, potash, inorganic chemicals, light manufacturing, tourism

Agriculture:

wheat, barley, citrus, tomatoes, melons, olives; sheep, goats, poultry

Exports:

clothing, phosphates, fertilizers, potash, vegetables, manufactures, pharmaceuticals

Export partners:

US 29.5%, Iraq 15.1%, India 8.8%, Saudi Arabia 5.7%

Imports:

crude oil, textile fabrics, machinery, transport equipment, manufactured goods

Import partners:

Saudi Arabia 20.1%, China 8%, Germany 7.3%, US 6.3%

Currency:

Jordanian dinar (JOD)
SOURCES: The CIA World Factbook, U.S. Department of State, Area Handbook of the US Library of Congress
Copyright 2004 - 2008 worldfacts.us