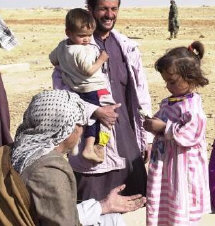 Formerly part of the Ottoman Empire, Iraq was occupied by Britain during the course of World War I; in 1920, it was declared a League of Nations mandate under UK administration. In stages over the next dozen years, Iraq attained its independence as a kingdom in 1932. A "republic" was proclaimed in 1958, but in actuality a series of military strongmen ruled the country until 2003. The last was SADDAM Husayn. Territorial disputes with Iran led to an inconclusive and costly eight-year war (1980-88). In August 1990, Iraq seized Kuwait but was expelled by US-led, UN coalition forces during the Gulf War of January-February 1991. Following Kuwait's liberation, the UN Security Council (UNSC) required Iraq to scrap all weapons of mass destruction and long-range missiles and to allow UN verification inspections. Continued Iraqi noncompliance with UNSC resolutions over a period of 12 years led to the US-led invasion of Iraq in March 2003 and the ouster of the SADDAM Husayn regime. Coalition forces remain in Iraq under a UNSC mandate, helping to provide security and to support the freely elected government. The Coalition Provisional Authority, which temporarily administered Iraq after the invasion, transferred full governmental authority on 28 June 2004 to the Iraqi Interim Government, which governed under the Transitional Administrative Law for Iraq (TAL). Under the TAL, elections for a 275-member Transitional National Assembly (TNA) were held in Iraq on 30 January 2005. Following these elections, the Iraqi Transitional Government (ITG) assumed office. The TNA was charged with drafting Iraq's permanent constitution, which was approved in a 15 October 2005 constitutional referendum. An election under the constitution for a 275-member Council of Representatives (CoR) was held on 15 December 2005. The CoR approval in the selection of most of the cabinet ministers on 20 May 2006 marked the transition from the ITG to Iraq's first constitutional government in nearly a half-century.
Geography of Iraq
Location:

Middle East, bordering the Persian Gulf, between Iran and Kuwait

Coordinates:

33 00 N, 44 00 E

Area:

total: 437,072 sq km
water: 4,910 sq km
land: 432,162 sq km

Area comparative:

slightly more than twice the size of Idaho

Land boundaries:

total: 3,650 km
border countries: Iran 1,458 km, Jordan 181 km, Kuwait 240 km, Saudi Arabia 814 km, Syria 605 km, Turkey 352 km

Coastline:

58 km

Maritime claims:

continental shelf: not specified
territorial sea: 12 NM

Climate:

mostly desert; mild to cool winters with dry, hot, cloudless summers; northern mountainous regions along Iranian and Turkish borders experience cold winters with occasionally heavy snows that melt in early spring, sometimes causing extensive flooding in central and southern Iraq

Terrain:

mostly broad plains; reedy marshes along Iranian border in south with large flooded areas; mountains along borders with Iran and Turkey

Elevation extremes:

lowest point: Persian Gulf 0 m
highest point: Haji Ibrahim 3,600 m

Natural resources:

petroleum, natural gas, phosphates, sulfur

Natural hazards:

dust storms, sandstorms, floods

Environment current issues:

government water control projects have drained most of the inhabited marsh areas east of An Nasiriyah by drying up or diverting the feeder streams and rivers; a once sizable population of Marsh Arabs, who inhabited these areas for thousands of years, has been displaced; furthermore, the destruction of the natural habitat poses serious threats to the area's wildlife populations; inadequate supplies of potable water; development of the Tigris and Euphrates rivers system contingent upon agreements with upstream riparian Turkey; air and water pollution; soil degradation (salination) and erosion; desertification

Geography - note:

strategic location on Shatt al Arab waterway and at the head of the Persian Gulf
Population of Iraq
Population:

28,221,180 (July 2008 est.)

Age structure:

0-14 years: 39.7% (male 5,398,645/female 5,231,760)
15-64 years: 57.3% (male 7,776,257/female 7,576,726)
65 years and over: 3% (male 376,700/female 423,295)

Median age:

19.7 years

Growth rate:

2.66%

Infant mortality:

48.64 deaths/1,000 live births

Life expectancy at birth:

total population: 69.01 years
male: 67.76 years
female: 70.31 years

Fertility rate:

4.18 children born/woman

Nationality:

noun: Iraqi(s)
adjective: Iraqi

Ethnic groups:

Arab 75%-80%, Kurdish 15%-20%, Turkoman, Assyrian or other 5%

Religions:

Muslim 97% (Shi'a 60%-65%, Sunni 32%-37%), Christian or other 3%

Languages:

Arabic, Kurdish (official in Kurdish regions), Assyrian, Armenian

Literacy:

definition: age 15 and over can read and write
total population: 40.4%
male: 55.9%
female: 24.4%
Government
Country name:

conventional long form: Republic of Iraq
local short form: Al Iraq
local long form: Al Jumhuriyah al Iraqiyah

Government type:

transitional democracy

Capital:

Baghdad

Administrative divisions:

18 governorates (muhafazat, singular - muhafazah); Al Anbar, Al Basrah, Al Muthanna, Al Qadisiyah, An Najaf, Arbil, As Sulaymaniyah, At Ta'mim, Babil, Baghdad, Dahuk, Dhi Qar, Diyala, Karbala', Maysan, Ninawa, Salah ad Din, Wasit

Independence:

3 October 1932 (from League of Nations mandate under British administration); note - on 28 June 2004 the Coalition Provisional Authority transferred sovereignty to the Iraqi Interim Government

National holiday:

Revolution Day, 17 July (1968); note - this holiday was celebrated under the SADDAM Husayn regime but the Iraqi Interim Government has yet to declare a new national holiday.

Constitution:

iratified on 15 October 2005

Legal system:

based on European civil and Islamic law under the framework outlined in the Iraqi Constitution

Suffrage:

18 years of age; universal

Executive branch:

cchief of state: President Jalal TALABANI (since 6 April 2005); Vice Presidents Adil ABD AL-MAHDI and Tariq al-HASHIMI (since 22 April 2006); note - the president and vice presidents comprise the Presidency Council)
head of government: Prime Minister Nuri al-MALIKI (since 20 May 2006); Deputy Prime Ministers Barham SALIH (since 20 May 2006)and Rafi al-ISSAWI (since 19 July 2008)
cabinet: 34 ministers appointed by the Presidency Council, plus Prime Minister Nuri al-MALIKI and Deputy Prime Ministers Barham SALIH and Rafi al-ISSAWI
elections: held 15 December 2005 to elect a 275-member Council of Representatives

Legislative branch:

unicameral Council of Representatives or Mejlis Watani (consisting of 275 members elected by a closed-list, proportional-representation system)

Judicial branch:

Supreme Court appointed by the Prime Minister, confirmed by the Presidency Council
Economy
Iraq's economy is dominated by the oil sector, which has traditionally provided about 95% of foreign exchange earnings. Although looting, insurgent attacks, and sabotage have undermined economy rebuilding efforts, economic activity is beginning to pick up in areas recently secured by the US military surge. Oil exports are around levels seen before Operation Iraqi Freedom, and total government revenues have benefited from high oil prices. Despite political uncertainty, Iraq is making some progress in building the institutions needed to implement economic policy and has negotiated a debt reduction agreement with the Paris Club and a new Stand-By Arrangement with the IMF. Iraq has received pledges for $13.5 billion in foreign aid for 2004-07 from outside of the US, more than $33 billion in total pledges. The International Compact with Iraq was established in May 2007 to integrate Iraq into the regional and global economy, and the Iraqi government is seeking to pass laws to strengthen its economy. This legislation includes a hydrocarbon law to establish a modern legal framework to allow Iraq to develop its resources and a revenue sharing law to equitably divide oil revenues within the nation, although both are still bogged down in discussions. The Central Bank has been successful in controlling inflation through appreciation of the dinar against the US dollar. Reducing corruption and implementing structural reforms, such as bank restructuring and developing the private sector, will be key to Iraq's economic success.
GDP:

$102.4 billion (2007 est.)

GDP growth rate:

5.9%

GDP per capita:

$3,700

GDP composition by sector:

agriculture: 7.3%
industry: 66.6%
services: 26.1%

Inflation rate:

33%

Labor force:

7.4 million

Unemployment:

25% to 30%

Budget:

revenues: $19.3 billion
expenditures: $24 billion

Electricity production by source:

fossil fuel: 98.4%
hydro: 1.6%
other: 0%
nuclear: 0%

Industries:

petroleum, chemicals, textiles, leather, construction materials, food processing, fertilizer, metal fabrication/processing

Agriculture:

wheat, barley, rice, vegetables, dates, cotton; cattle, sheep, poultry

Exports:

crude oil (83.9%), crude materials excluding fuels (8.0%), food and live animals (5.0%)

Export partners:

US 49.4%, Italy 9.7%, Canada 6.6%, Spain 6.2%

Imports:

food, medicine, manufactures

Import partners:

Syria 22.3%, Turkey 20.9%, US 12%, Jordan 5.1%

Currency:

New Iraqi dinar (NID) as of 22 January 2004
SOURCES: The CIA World Factbook, U.S. Department of State, Area Handbook of the US Library of Congress
Copyright 2004 - 2008 worldfacts.us