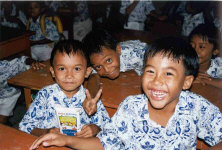 The Dutch began to colonize Indonesia in the early 17th century; the islands were occupied by Japan from 1942 to 1945. Indonesia declared its independence after Japan's surrender, but it required four years of intermittent negotiations, recurring hostilities, and UN mediation before the Netherlands agreed to relinquish its colony. Indonesia is the world's largest archipelagic state and home to the world's largest Muslim population. Current issues include: alleviating poverty, preventing terrorism, consolidating democracy after four decades of authoritarianism, implementing financial sector reforms, stemming corruption, holding the military and police accountable for human rights violations, and controlling avian influenza. In 2005, Indonesia reached a historic peace agreement with armed separatists in Aceh, which led to democratic elections in December 2006. Indonesia continues to face a low intensity separatist movement in Papua.
Geography of Indonesia
Location:

Southeastern Asia, archipelago between the Indian Ocean and the Pacific Ocean

Coordinates:

5 00 S, 120 00 E

Area:

total: 1,919,440 sq km
water: 93,000 sq km
land: 1,826,440 sq km

Area comparative:

slightly less than three times the size of Texas

Land boundaries:

total: 2,830 km
border countries: East Timor 228 km, Malaysia 1,782 km, Papua New Guinea 820 km

Coastline:

54,716 km

Maritime claims:

measured from claimed archipelagic baselines
exclusive economic zone: 200 NM
territorial sea: 12 NM

Climate:

tropical; hot, humid; more moderate in highlands

Terrain:

mostly coastal lowlands; larger islands have interior mountains

Elevation extremes:

lowest point: Indian Ocean 0 m
highest point: Puncak Jaya 5,030 m

Natural resources:

petroleum, tin, natural gas, nickel, timber, bauxite, copper, fertile soils, coal, gold, silver

Natural hazards:

occasional floods, severe droughts, tsunamis, earthquakes, volcanoes, forest fires

Environment current issues:

deforestation; water pollution from industrial wastes, sewage; air pollution in urban areas; smoke and haze from forest fires

Geography - note:

archipelago of more than 17,000 islands (6,000 inhabited); straddles Equator; strategic location astride or along major sea lanes from Indian Ocean to Pacific Ocean
Population of Indonesia
Population:

237,512,352 (July 2008 est.)

Age structure:

0-14 years: 28.8% (male 35,995,919/female 34,749,582)
15-64 years: 65.8% (male 80,796,794/female 80,754,238)
65 years and over: 5.4% (male 5,737,473/female 7,418,733)

Median age:

26.8 years

Growth rate:

1.41%

Infant mortality:

34.39 deaths/1,000 live births

Life expectancy at birth:

total population: 69.87 years
male: 67.42 years
female: 72.45 years

Fertility rate:

2.4 children born/woman

Nationality:

noun: Indonesian(s)
adjective: Indonesian

Ethnic groups:

Javanese 45%, Sundanese 14%, Madurese 7.5%, coastal Malays 7.5%, other 26%

Religions:

Muslim 88%, Protestant 5%, Roman Catholic 3%, Hindu 2%, Buddhist 1%, other 1% (1998)

Languages:

Bahasa Indonesia (official, modified form of Malay), English, Dutch, local dialects, the most widely spoken of which is Javanese

Literacy:

definition: age 15 and over can read and write
total population: 88.5%
male: 92.9%
female: 84.1%
Government
Country name:

conventional long form: Republic of Indonesia
former: Netherlands East Indies; Dutch East Indies

Government type:

republic

Capital:

Jakarta

Administrative divisions:

27 provinces (propinsi-propinsi, singular - propinsi), 2 special regions* (daerah-daerah istimewa, singular - daerah istimewa), and 1 special capital city district** (daerah khusus ibukota); Aceh*, Bali, Banten, Bengkulu, Gorontalo, Jakarta Raya**, Jambi, Jawa Barat, Jawa Tengah, Jawa Timur, Kalimantan Barat, Kalimantan Selatan, Kalimantan Tengah, Kalimantan Timur, Kepulauan Bangka Belitung, Lampung, Maluku, Maluku Utara, Nusa Tenggara Barat, Nusa Tenggara Timur, Papua, Riau, Sulawesi Selatan, Sulawesi Tengah, Sulawesi Tenggara, Sulawesi Utara, Sumatera Barat, Sumatera Selatan, Sumatera Utara, Yogyakarta*; note - with the implementation of decentralization on 1 January 2001, the 357 districts (regencies) have become the key administrative units responsible for providing most government services
note: following the 30 August 1999 provincial referendum for independence that was overwhelmingly approved by the people of Timor Timur and the October 1999 concurrence of Indonesia's national legislature, the name Timor Leste (East Timor) was adopted as the name for the political entity formerly known as Propinsi Timor Timur; East Timor gained its formal independence on 20 May 2002

Independence:

17 August 1945 (proclaimed independence; on 27 December 1949, Indonesia became legally independent from the Netherlands)

National holiday:

Independence Day, 17 August (1945)

Constitution:

August 1945, abrogated by Federal Constitution of 1949 and Provisional Constitution of 1950, restored 5 July 1959

Legal system:

based on Roman-Dutch law, substantially modified by indigenous concepts and by new criminal procedures and election codes; has not accepted compulsory ICJ jurisdiction

Suffrage:

17 years of age; universal and married persons regardless of age

Executive branch:

chief of state: President Susilo Bambang YUDHOYONO (since 20 October 2004); Vice President Muhammad Yusuf KALLA (since 20 October 2004); note - the president is both the chief of state and head of government
head of government: President Susilo Bambang YUDHOYONO (since 20 October 2004); Vice President Muhammad Yusuf KALLA (since 20 October 2004)
cabinet: Cabinet appointed by the president
elections: president and vice president were elected for five-year terms (eligible for a second term) by direct vote of the citizenry; last held 20 September 2004 (next to be held in 2009).

Legislative branch:

House of Representatives or Dewan Perwakilan Rakyat (DPR) (550 seats; members elected to serve five-year terms); House of Regional Representatives (Dewan Perwakilan Daerah or DPD), constitutionally mandated role includes providing legislative input to DPR on issues affecting regions; People's Consultative Assembly (Majelis Permusyawaratan Rakyat or MPR) has role in inaugurating and impeaching president and in amending constitution; consists of popularly-elected members in DPR and DPD; MPR does not formulate national policy.

Judicial branch:

Supreme Court or Mahkamah Agung (justices appointed by the president from a list of candidates approved by the legislature); a separate Constitutional Court or Mahkamah Konstitusi was invested by the president on 16 August 2003; in March 2004 the Supreme Court assumed administrative and financial responsibility for the lower court system from the Ministry of Justice and Human Rights; Labor Court under supervision of Supreme Court began functioning in January 2006.

Political parties and leaders:

Crescent Moon and Star Party or PBB [Yusril Ihza MAHENDRA]; Democratic Party or PD [Subur BUDHISANTOSO]; Functional Groups Party or Golkar [Yusuf KALLA]; Indonesia Democratic Party-Struggle or PDI-P [MEGAWATI Sukarnoputri]; National Awakening Party or PKB [Alwi SHIHAB]; National Mandate Party or PAN [Sutrisno BACHIR]; Prosperous Justice Party or PKS [Tifatul SEMBIRING]; United Development Party or PPP [Hamzah HAZ]
Economy
Indonesia, a vast polyglot nation, has been undergoing significant economic reforms under President YUDHOYONO. Indonesia's debt-to-GDP ratio has been declining steadily, its foreign exchange reserves are at an all-time high of over $50 billion, and its stock market has been one of the three best performers in the world in 2006 and 2007, as global investors sought out higher returns in emerging markets. The government has introduced significant reforms in the financial sector, including tax and customs reforms, the introduction of Treasury bills, and improved capital market supervision. Indonesia's new investment law, passed in March 2007, seeks to address some of the concerns of foreign and domestic investors. Indonesia still struggles with poverty and unemployment, inadequate infrastructure, corruption, a complex regulatory environment, and unequal resource distribution among regions. Indonesia has been slow to privatize over 100 state-owned enterprises, several of which have monopolies in key sectors. The non-bank financial sector, including pension funds and insurance, remains weak. Capital markets are underdeveloped. The high global price of oil in 2007 increased the cost of domestic fuel and electricity subsidies, and are contributing to concerns about higher food prices. Located on the Pacific "Ring of Fire" Indonesia remains vulnerable to volcanic and tectonic disasters. Significant progress has been made in rebuilding Aceh after the devastating December 2004 tsunami, and the province now shows more economic activity than before the disaster. Unfortunately, Indonesia suffered new disasters in 2006 and early 2007 including: a major earthquake near Yogyakarta, an industrial accident in Sidoarjo, East Java that created a "mud volcano," a tsunami in South Java, and major flooding in Jakarta, all of which caused additional damages in the billions of dollars. Donors are assisting Indonesia with its disaster mitigation and early warning efforts.
GDP:

$843.7 billion (2007 est.)

GDP growth rate:

5.6%

GDP per capita:

$3,600

GDP composition by sector:

agriculture: 13.4%
industry: 45.8%
services: 40.8%

Inflation rate:

10.5%

Labor force:

94.2 million

Labor force - by occupation:

agriculture 45%, industry 16%, services 39%

Unemployment:

11.8%

Budget:

revenues: $54.3 billion
expenditures: $57.7 billion

Electricity production by source:

fossil fuel: 86.9%
hydro: 10.5%
other: 2.6%
nuclear: 0%

Industries:

petroleum and natural gas, textiles, apparel, footwear, mining, cement, chemical fertilizers, plywood, rubber, food, tourism

Agriculture:

rice, cassava (tapioca), peanuts, rubber, cocoa, coffee, palm oil, copra, poultry, beef, pork, eggs

Exports:

oil and gas, electrical appliances, plywood, textiles, rubber

Export partners:

Japan 20.3%, US 12.7%, China 8.2%, Singapore 8.1%, South Korea 6.5%, Malaysia 4.1%

Imports:

machinery and equipment, chemicals, fuels, foodstuffs

Import partners:

Japan 16%, China 14.3%, Singapore 11.3%, Thailand 6.8%, US 5.2%, Australia 4.4%

Currency:

Indonesian rupiah (IDR)
SOURCES: The CIA World Factbook, U.S. Department of State, Area Handbook of the US Library of Congress
Copyright 2004 - 2008 worldfacts.us