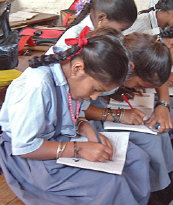 Aryan tribes from the northwest infiltrated onto the Indian subcontinent about 1500 B.C.; their merger with the earlier Dravidian inhabitants created the classical Indian culture. The Maurya Empire of the 4th and 3rd centuries B.C. - which reached its zenith under ASHOKA - united much of South Asia. The Golden Age ushered in by the Gupta dynasty (4th to 6th centuries A.D.) saw a flowering of Indian science, art, and culture. Arab incursions starting in the 8th century and Turkic in the 12th were followed by those of European traders, beginning in the late 15th century. By the 19th century, Britain had assumed political control of virtually all Indian lands. Indian armed forces in the British army played a vital role in both World Wars. Nonviolent resistance to British colonialism led by Mohandas GANDHI and Jawaharlal NEHRU brought independence in 1947. The subcontinent was divided into the secular state of India and the smaller Muslim state of Pakistan. A third war between the two countries in 1971 resulted in East Pakistan becoming the separate nation of Bangladesh. India's nuclear weapons testing in 1998 caused Pakistan to conduct its own tests that same year. The dispute between the countries over the state of Kashmir is ongoing, but discussions and confidence-building measures have led to decreased tensions since 2002. Despite impressive gains in economic investment and output, India faces pressing problems such as significant overpopulation, environmental degradation, extensive poverty, and ethnic and religious strife.
Geography of India
Location:

Southern Asia, bordering the Arabian Sea and the Bay of Bengal, between Burma and Pakistan

Coordinates:

20 00 N, 77 00 E

Area:

total: 3,287,590 sq km
land: 2,973,190 sq km
water: 314,400 sq km

Area comparative:

slightly more than one-third the size of the US

Land boundaries:

total: 14,103 km
border countries: Bangladesh 4,053 km, Bhutan 605 km, Burma 1,463 km, China 3,380 km, Nepal 1,690 km, Pakistan 2,912 km

Coastline:

7,000 km

Maritime claims:

contiguous zone: 24 NM
territorial sea: 12 NM
continental shelf: 200 NM or to the edge of the continental margin
exclusive economic zone: 200 NM

Climate:

varies from tropical monsoon in south to temperate in north

Terrain:

upland plain (Deccan Plateau) in south, flat to rolling plain along the Ganges, deserts in west, Himalayas in north

Elevation extremes:

lowest point: Indian Ocean 0 m
highest point: Kanchenjunga 8,598 m

Natural resources:

coal (fourth-largest reserves in the world), iron ore, manganese, mica, bauxite, titanium ore, chromite, natural gas, diamonds, petroleum, limestone, arable land

Natural hazards:

droughts; flash floods, as well as widespread and destructive flooding from monsoonal rains; severe thunderstorms; earthquakes

Environment current issues:

deforestation; soil erosion; overgrazing; desertification; air pollution from industrial effluents and vehicle emissions; water pollution from raw sewage and runoff of agricultural pesticides; tap water is not potable throughout the country; huge and growing population is overstraining natural resources

Geography - note:

dominates South Asian subcontinent; near important Indian Ocean trade routes
Population of India
Population:

1,147,995,904 (July 2008 est.)

Age structure:

0-14 years: 30.8% (male 173,478,760/female 163,852,827)
15-64 years: 64.3% (male 363,876,219/female 340,181,764)
65 years and over: 4.9% (male 27,258,020/female 26,704,405)

Median age:

24.9 years

Growth rate:

1.38%

Infant mortality:

54.63 deaths/1,000 live births

Life expectancy at birth:

total population: 64.71 years
male: 63.9 years
female: 65.57 years

Fertility rate:

2.73 children born/woman

Nationality:

noun: Indian(s)
adjective: Indian

Ethnic groups:

Indo-Aryan 72%, Dravidian 25%, Mongoloid and other 3%

Religions:

Hindu 80.5%, Muslim 13.4%, Christian 2.3%, Sikh 1.9%, other 1.8%, unspecified 0.1%

Languages:

English enjoys associate status but is the most important language for national, political, and commercial communication; Hindi is the national language and primary tongue of 30% of the people; there are 14 other official languages: Bengali, Telugu, Marathi, Tamil, Urdu, Gujarati, Malayalam, Kannada, Oriya, Punjabi, Assamese, Kashmiri, Sindhi, and Sanskrit; Hindustani is a popular variant of Hindi/Urdu spoken widely throughout northern India but is not an official language

Literacy:

definition: age 15 and over can read and write
total : 59.5%
male: 70.2%
female: 48.3%
Government
Country name:

conventional long form: Republic of India

Government type:

federal republic

Capital:

New Delhi

Administrative divisions:

28 states and 7 union territories*; Andaman and Nicobar Islands*, Andhra Pradesh, Arunachal Pradesh, Assam, Bihar, Chandigarh*, Chhattisgarh, Dadra and Nagar Haveli*, Daman and Diu*, Delhi*, Goa, Gujarat, Haryana, Himachal Pradesh, Jammu and Kashmir, Jharkhand, Karnataka, Kerala, Lakshadweep*, Madhya Pradesh, Maharashtra, Manipur, Meghalaya, Mizoram, Nagaland, Orissa, Pondicherry*, Punjab, Rajasthan, Sikkim, Tamil Nadu, Tripura, Uttaranchal, Uttar Pradesh, West Bengal

Independence:

15 August 1947 (from UK)

National holiday:

Republic Day, 26 January (1950)

Constitution:

26 January 1950

Legal system:

based on English common law; limited judicial review of legislative acts; accepts compulsory ICJ jurisdiction, with reservations

Suffrage:

18 years of age; universal

Executive branch:

chief of state: President Pratibha PATIL (since 25 July 2007); Vice President Hamid ANSARI (since 11 August 2007)
head of government: Prime Minister Manmohan SINGH (since 22 May 2004)
cabinet: Cabinet appointed by the president on the recommendation of the prime minister
elections: president elected by an electoral college consisting of elected members of both houses of Parliament and the legislatures of the states for a five-year term (no term limits); election last held 21 July 2007 (next to be held in July 2012); vice president elected by both houses of Parliament for a five-year term; election last held 12 August 2002 (next to be held August 2007); prime minister chosen by parliamentary members of the majority party following legislative elections; election last held April - May 2004 (next to be held May 2009).

Legislative branch:

bicameral Parliament or Sansad consists of the Council of States or Rajya Sabha (a body consisting of not more than 250 members, up to 12 of whom are appointed by the president, the remainder are chosen by the elected members of the state and territorial assemblies; members serve six-year terms) and the People's Assembly or Lok Sabha (545 seats; 543 elected by popular vote, 2 appointed by the president; members serve five-year terms).

Judicial branch:

Supreme Court (one chief justice and 25 associate justices are appointed by the president and remain in office until they reach the age of 65 or are removed for "proved misbehavior")
Economy
India's diverse economy encompasses traditional village farming, modern agriculture, handicrafts, a wide range of modern industries, and a multitude of services. Services are the major source of economic growth, accounting for more than half of India's output with less than one third of its labor force. About three-fifths of the work force is in agriculture, leading the United Progressive Alliance (UPA) government to articulate an economic reform program that includes developing basic infrastructure to improve the lives of the rural poor and boost economic performance. The government has reduced controls on foreign trade and investment. Higher limits on foreign direct investment were permitted in a few key sectors, such as telecommunications. However, tariff spikes in sensitive categories, including agriculture, and incremental progress on economic reforms still hinder foreign access to India's vast and growing market. Privatization of government-owned industries remains stalled and continues to generate political debate; populist pressure from within the UPA government and from its Left Front allies continues to restrain needed initiatives. The economy has posted an average growth rate of more than 7% in the decade since 1997, reducing poverty by about 10 percentage points. India achieved 8.5% GDP growth in 2006, and again in 2007, significantly expanding production of manufactures. India is capitalizing on its large numbers of well-educated people skilled in the English language to become a major exporter of software services and software workers. Economic expansion has helped New Delhi continue to make progress in reducing its federal fiscal deficit. However, strong growth combined with easy consumer credit and a real estate boom fueled inflation concerns in 2006 and 2007, leading to a series of central bank interest rate hikes that have slowed credit growth and eased inflation concerns. The huge and growing population is the fundamental social, economic, and environmental problem.
GDP:

$2.966 trillion (2007 est.)

GDP growth rate:

7.6%

GDP per capita:

$2,600

GDP composition by sector:

agriculture: 18.6%
industry: 27.6%
services: 53.8%

Inflation rate:

4.2%

Labor force:

496.4 million

Labor force - by occupation:

agriculture 60%, services 23%, industry 17%

Unemployment:

8.9%

Budget:

revenues: $111.2 billion
expenditures: $135.8 billion

Electricity production by source:

fossil fuel: 81.7%
hydro: 14.5%
other: 0.3%
nuclear: 3.4%

Industries:

textiles, chemicals, food processing, steel, transportation equipment, cement, mining, petroleum, machinery, software

Agriculture:

rice, wheat, oilseed, cotton, jute, tea, sugarcane, potatoes; cattle, water buffalo, sheep, goats, poultry; fish

Exports:

textile goods, gems and jewelry, engineering goods, chemicals, leather manufactures

Export partners:

US 22.4%, UK 5.1%, Hong Kong 4.5%, Germany 4.3%, China 4.1%

Imports:

crude oil, machinery, gems, fertilizer, chemicals

Import partners:

US 18.1%, China 8.9%, UAE 7.9%, UK 4.6%, Hong Kong 4.2%

Currency:

Indian rupee (INR)
SOURCES: The CIA World Factbook, U.S. Department of State, Area Handbook of the US Library of Congress
Copyright 2004 - 2008 worldfacts.us