World Facts Index > Hungary > Budapest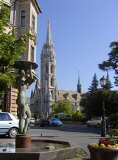 Hungary became a Christian kingdom in A.D. 1000 and for many centuries served as a bulwark against Ottoman Turkish expansion in Europe. The kingdom eventually became part of the polyglot Austro-Hungarian Empire, which collapsed during World War I. The country fell under Communist rule following World War II. In 1956, a revolt and an announced withdrawal from the Warsaw Pact were met with a massive military intervention by Moscow. Under the leadership of Janos KADAR in 1968, Hungary began liberalizing its economy, introducing so-called "Goulash Communism." Hungary held its first multiparty elections in 1990 and initiated a free market economy. It joined NATO in 1999 and the EU in 2004.
Geography of Hungary
Location:

Central Europe, northwest of Romania

Coordinates:

47 00 N, 20 00 E

Area:

total: 93,030 sq km
water: 690 sq km
land: 92,340 sq km

Area comparative:

slightly smaller than Indiana

Land boundaries:

total: 2,171 km
border countries: Austria 366 km, Croatia 329 km, Romania 443 km, Serbia and Montenegro 151 km, Slovakia 677 km, Slovenia 102 km, Ukraine 103 km

Coastline:

0 km (landlocked)

Climate:

temperate; cold, cloudy, humid winters; warm summers

Terrain:

mostly flat to rolling plains; hills and low mountains on the Slovakian border

Elevation extremes:

lowest point: Tisza River 78 m
highest point: Kekes 1,014 m

Natural resources:

bauxite, coal, natural gas, fertile soils, arable land

Environment current issues:

the approximation of Hungary's standards in waste management, energy efficiency, and air, soil, and water pollution with environmental requirements for EU accession will require large investments

Geography - note:

landlocked; strategic location astride main land routes between Western Europe and Balkan Peninsula as well as between Ukraine and Mediterranean basin; the north-south flowing Duna (Danube) and Tisza Rivers divide the country into three large regions
Population of Hungary
Population:

9,930,915 (July 2008 est.)

Age structure:

0-14 years: 15.6% (male 799,163/female 755,389)
15-64 years: 69.2% (male 3,403,375/female 3,505,640)
65 years and over: 15.2% (male 550,297/female 967,470)

Median age:

38.7 years

Growth rate:

-0.25%

Infant mortality:

8.39 deaths/1,000 live births

Life expectancy at birth:

total population: 72.66 years
male: 68.45 years
female: 77.14 years

Fertility rate:

1.32 children born/woman

Nationality:

noun: Hungarian(s)
adjective: Hungarian

Ethnic groups:

Hungarian 92.3%, Roma 1.9%, other or unknown 5.8%

Religions:

Roman Catholic 51.9%, Calvinist 15.9%, Lutheran 3%, Greek Catholic 2.6%, other Christian 1%, other or unspecified 11.1%, unaffiliated 14.5%

Languages:

Hungarian 93.6%, other or unspecified 6.4%

Literacy:

definition: age 15 and over can read and write
total population: 99.4%
male: 99.5%
female: 99.3%
Government
Country name:

conventional long form: Republic of Hungary
local short form: Magyarorszag
local long form: Magyar Koztarsasag

Government type:

parliamentary democracy

Capital:

Budapest

Administrative divisions:

19 counties (megyek, singular - megye), 20 urban counties* (singular - megyei varos), and 1 capital city** (fovaros); Bacs-Kiskun, Baranya, Bekes, Bekescsaba*, Borsod-Abauj-Zemplen, Budapest**, Csongrad, Debrecen*, Dunaujvaros*, Eger*, Fejer, Gyor*, Gyor-Moson-Sopron, Hajdu-Bihar, Heves, Hodmezovasarhely*, Jasz-Nagykun-Szolnok, Kaposvar*, Kecskemet*, Komarom-Esztergom, Miskolc*, Nagykanizsa*, Nograd, Nyiregyhaza*, Pecs*, Pest, Somogy, Sopron*, Szabolcs-Szatmar-Bereg, Szeged*, Szekesfehervar*, Szolnok*, Szombathely*, Tatabanya*, Tolna, Vas, Veszprem, Veszprem*, Zala, Zalaegerszeg*

Independence:

1001 (unification by King Stephen I)

National holiday:

Saint Stephen's Day, 20 August

Constitution:

18 August 1949, effective 20 August 1949, revised 19 April 1972; 18 October 1989 revision ensured legal rights for individuals and constitutional checks on the authority of the prime minister and also established the principle of parliamentary oversight; 1997 amendment streamlined the judicial system

Legal system:

rule of law based on Western model

Suffrage:

18 years of age; universal

Executive branch:

chief of state: President Laszlo SOLYOM (since 5 August 2005)
head of government: Prime Minister Ferenc GYURCSANY (since 29 September 2004)
cabinet: Council of Ministers prime minister elected by the National Assembly on the recommendation of the president; other ministers proposed by the prime minister and appointed and relieved of their duties by the president
elections: president elected by the National Assembly for a five-year term (eligible for a second term); election last held 6-7 June 2005 (next to be held by June 2010); prime minister elected by the National Assembly on the recommendation of the president; election last held 29 September 2004.

Legislative branch:

unicameral National Assembly or Orszaggyules (386 seats; members are elected by popular vote under a system of proportional and direct representation to serve four-year terms)

Judicial branch:

Constitutional Court (judges are elected by the National Assembly for nine-year terms)
Economy
Hungary has made the transition from a centrally planned to a market economy, with a per capita income nearly two-thirds that of the EU-25 average. The private sector accounts for more than 80% of GDP. Foreign ownership of and investment in Hungarian firms are widespread, with cumulative foreign direct investment totaling more than $60 billion since 1989. Hungary issues investment-grade sovereign debt. International observers, however, have expressed concerns over Hungary's fiscal and current account deficits. In 2007, Hungary eliminated a trade deficit that had persisted for several years. Inflation declined from 14% in 1998 to a low of 3.7% in 2006, but jumped to 7.8% in 2007. Unemployment has persisted above 6%. Hungary's labor force participation rate of 57% is one of the lowest in the Organization for Economic Cooperation and Development (OECD). Germany is by far Hungary's largest economic partner. Policy challenges include cutting the public sector deficit to 4% of GDP by 2008, from about 6% in 2007. The government's austerity program of tax hikes and subsidy cuts has reduced Hungary's large budget deficit, but the reforms have dampened domestic consumption, slowing GDP growth to about 2% in 2007. The government will need to pass additional reforms to ensure the long-term stability of public finances. The government plans to eventually lower its public sector deficit to below 3% of GDP to adopt the euro.
GDP:

$191.7 billion (2007 est.)

GDP growth rate:

4.1%

GDP per capita:

$16,300

GDP composition by sector:

agriculture: 3.7%
industry: 31.2%
services: 65.1%

Inflation rate:

3.6%

Labor force:

4.18 million

Labor force - by occupation:

agriculture: 6.2%
industry: 27.1%
services: 66.7%

Unemployment:

7.2%

Budget:

revenues: $51.4 billion
expenditures: $58.34 billion

Electricity production by source:

fossil fuel: 60.1%
hydro: 0.5%
other: 0.3%
nuclear: 39%

Industries:

mining, metallurgy, construction materials, processed foods, textiles, chemicals (especially pharmaceuticals), motor vehicles

Agriculture:

wheat, corn, sunflower seed, potatoes, sugar beets; pigs, cattle, poultry, dairy products

Exports:

machinery and equipment 61.1%, other manufactures 28.7%, food products 6.5%, raw materials 2%, fuels and electricity 1.6%

Export partners:

Germany 29.2%, Austria 6.4%, Italy 5.5%, France 4.9%, UK 4.7%

Imports:

machinery and equipment 51.6%, other manufactures 35.7%, fuels and electricity 7.7%, food products 3.1%, raw materials 2.0%

Import partners:

Germany 27.5%, Russia 7.2%, China 7%, Austria 6.7%, Italy 5%, France 4.7%, Netherlands 4.4%

Currency:

forint (HUF)
SOURCES: The CIA World Factbook, U.S. Department of State, Area Handbook of the US Library of Congress
Copyright 2004 - 2008 worldfacts.us