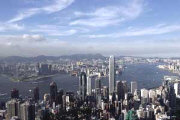 Occupied by the UK in 1841, Hong Kong was formally ceded by China the following year; various adjacent lands were added later in the 19th century. Pursuant to an agreement signed by China and the UK on 19 December 1984, Hong Kong became the Hong Kong Special Administrative Region (SAR) of China on 1 July 1997. In this agreement, China promised that, under its "one country, two systems" formula, China's socialist economic system would not be imposed on Hong Kong and that Hong Kong would enjoy a high degree of autonomy in all matters except foreign and defense affairs for the next 50 years.
Geography of Hong Kong
Location:

Eastern Asia, bordering the South China Sea and China

Coordinates:

22 15 N, 114 10 E

Area:

total: 1,092 sq km
water: 50 sq km
land: 1,042 sq km

Area comparative:

six times the size of Washington, DC

Land boundaries:

total: 30 km
border countries: China 30 km

Coastline:

733 km

Maritime claims:

territorial sea: 3 NM

Climate:

tropical monsoon; cool and humid in winter, hot and rainy from spring through summer, warm and sunny in fall

Terrain:

hilly to mountainous with steep slopes; lowlands in north

Elevation extremes:

lowest point: South China Sea 0 m
highest point: Tai Mo Shan 958 m

Natural resources:

outstanding deepwater harbor, feldspar

Natural hazards:

occasional typhoons

Environment current issues:

air and water pollution from rapid urbanization

Geography - note:

more than 200 islands
Population of Hong Kong
Population:

7,018,636 (July 2008 est.)

Age structure:

0-14 years: 13.5% (male 488,607/female 445,593)
15-64 years: 73.7% (male 2,495,679/female 2,620,336)
65 years and over: 12.8% (male 413,031/female 477,186)

Median age:

40.7 years

Growth rate:

0.59%

Infant mortality:

2.95 deaths/1,000 live births

Life expectancy at birth:

total population: 81.59 years
male: 78.9 years
female: 84.5 years

Fertility rate:

0.95 children born/woman

Nationality:

noun: Chinese/Hong Konger
adjective: Chinese/Hong Kong

Ethnic groups:

Chinese 95%, other 5%

Religions:

eclectic mixture of local religions 90%, Christian 10%

Languages:

Chinese (Cantonese), English; both are official

Literacy:

definition: age 15 and over has ever attended school
total : 94%
male: 97.1%
female: 90.5%
Government
Country name:

conventional long form: Hong Kong Special Administrative Region
local short form: Xianggang
local long form: Xianggang Tebie Xingzhengqu
abbreviation: HK

Dependency status:

special administrative region of China

Government type:

limited democracy

Administrative divisions:

none (special administrative region of China)

Independence:

none (special administrative region of China)

National holiday:

National Day (Anniversary of the Founding of the People's Republic of China), 1 October (1949); note - 1 July 1997 is celebrated as Hong Kong Special Administrative Region Establishment Day

Constitution:

Basic Law approved in March 1990 by China's National People's Congress is Hong Kong's "mini-constitution"

Legal system:

based on English common law

Suffrage:

direct election 18 years of age; universal for permanent residents living in the territory of Hong Kong for the past seven years; indirect election limited to about 100,000 members of functional constituencies and an 800-member election committee drawn from broad regional groupings, municipal organizations, and central government bodies

Executive branch:

chief of state: President of China HU Jintao (since 15 March 2003)
head of government: Chief Executive Donald TSANG (since 24 June 2005)
cabinet: Executive Council consists of 15 official members and 16 non-official members
elections: chief executive elected for five-year term by 800-member electoral committee; last held on 25 March 2007 (next to be held in 2012).

Legislative branch:

unicameral Legislative Council or LEGCO (60 seats; in 2004 30 seats indirectly elected by functional constituencies, 30 elected by popular vote; members serve four-year terms)

Judicial branch:

Court of Final Appeal in the Hong Kong Special Administrative Region
Economy
Hong Kong has a free market economy highly dependent on international trade. In 2006, the total value of goods and services trade, including the sizable share of reexports, was equivalent to 400% of GDP. The territory has become increasingly integrated with mainland China over the past few years through trade, tourism, and financial links. The mainland has long been Hong Kong's largest trading partner, accounting for 46% of Hong Kong's total trade by value in 2006. As a result of China's easing of travel restrictions, the number of mainland tourists to the territory has surged from 4.5 million in 2001 to 13.6 million in 2006, when they outnumbered visitors from all other countries combined. Hong Kong has also established itself as the premier stock market for Chinese firms seeking to list abroad. Bolstered by several successful initial public offerings in early 2007, by September 2007 mainland companies accounted for one-third of the firms listed on the Hong Kong Stock Exchange, and more than half of the Exchange's market capitalization. During the past decade, as Hong Kong's manufacturing industry moved to the mainland, its service industry has grown rapidly and now accounts for 91% of the territory's GDP. Hong Kong's natural resources are limited, and food and raw materials must be imported. GDP growth averaged a strong 5% from 1989 to 2007, despite the economy suffering two recessions during the Asian financial crisis in 1997-98 and the global downturn in 2001-02. Hong Kong continues to link its currency closely to the US dollar, maintaining an arrangement established in 1983.
GDP:

$293.3 billion (2007 est.)

GDP growth rate:

7.3%

GDP per capita:

$42,000

GDP composition by sector:

agriculture: 0.1%
industry: 9.2%
services: 90.6%

Inflation rate:

0.9%

Labor force:

3.61 million

Labor force - by occupation:

manufacturing 7.5%, construction 2.9%, wholesale and retail trade, restaurants, and hotels 43.9%, financing, insurance, and real estate 19.6%, transport and communications 7.1%, community and social services 18.8%
note: above data exclude public sector

Unemployment:

5.5%

Budget:

revenues: $31.31 billion
expenditures: $32.3 billion

Electricity production by source:

fossil fuel: 100%
hydro: 0%
other: 0%

Industries:

textiles, clothing, tourism, banking, shipping, electronics, plastics, toys, watches, clocks

Agriculture:

fresh vegetables, poultry, fish, pork

Exports:

electrical machinery and appliances, textiles, apparel, footwear, watches and clocks, toys, plastics, precious stones, printed material

Export partners:

China 45%, US 16.1%, Japan 5.3%

Imports:

raw materials and semi-manufactures, consumer goods, capital goods, foodstuffs, fuel (most is re-exported)

Import partners:

China 45%, Japan 11%, Taiwan 7.2%, Singapore 5.8%, US 5.1%, South Korea 4.4%

Currency:

Hong Kong dollar (HKD)
SOURCES: The CIA World Factbook, U.S. Department of State, Area Handbook of the US Library of Congress
Copyright 2004 - 2008 worldfacts.us