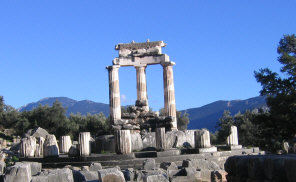 Greece achieved independence from the Ottoman Empire in 1829. During the second half of the 19th century and the first half of the 20th century, it gradually added neighboring islands and territories, most with Greek-speaking populations. In World War II, Greece was first invaded by Italy (1940) and subsequently occupied by Germany (1941-44); fighting endured in a protracted civil war between supporters of the king and Communist rebels. Following the latter's defeat in 1949, Greece joined NATO in 1952. A military dictatorship, which in 1967 suspended many political liberties and forced the king to flee the country, lasted seven years. The 1974 democratic elections and a referendum created a parliamentary republic and abolished the monarchy. In 1981, Greece joined the EC (now the EU); it became the 12th member of the European Economic and Monetary Union in 2001.
Geography of Greece
Location:

Southern Europe, bordering the Aegean Sea, Ionian Sea, and the Mediterranean Sea, between Albania and Turkey

Coordinates:

39 00 N, 22 00 E

Area:

total: 131,940 sq km
water: 1,140 sq km
land: 130,800 sq km

Area comparative:

slightly smaller than Alabama

Land boundaries:

total: 1,228 km
border countries: Albania 282 km, Bulgaria 494 km, Turkey 206 km, The Former Yugoslav Republic of Macedonia 246 km

Coastline:

13,676 km

Maritime claims:

continental shelf: 200-m depth or to the depth of exploitation
territorial sea: 6 NM

Climate:

temperate; mild, wet winters; hot, dry summers

Terrain:

mostly mountains with ranges extending into the sea as peninsulas or chains of islands

Elevation extremes:

lowest point: Mediterranean Sea 0 m
highest point: Mount Olympus 2,917 m

Natural resources:

bauxite, lignite, magnesite, petroleum, marble, hydropower potential

Natural hazards:

severe earthquakes

Environment current issues:

air pollution; water pollution

Geography - note:

strategic location dominating the Aegean Sea and southern approach to Turkish Straits; a peninsular country, possessing an archipelago of about 2,000 islands
Population of Greece
Population:

10,722,816 (July 2008 est.)

Age structure:

0-14 years: 14.3% (male 790,291/female 742,902)
15-64 years: 66.7% (male 3,562,251/female 3,566,097)
65 years and over: 19% (male 891,620/female 1,134,897)

Median age:

40.8 years

Growth rate:

0.18%

Infant mortality:

5.43 deaths/1,000 live births

Life expectancy at birth:

total population: 79.24 years
male: 76.72 years
female: 81.91 years

Fertility rate:

1.34 children born/woman

Nationality:

noun: Greek(s)
adjective: Greek

Ethnic groups:

Greek 98%, other 2%
note: the Greek Government states there are no ethnic divisions in Greece

Religions:

Greek Orthodox 98%, Muslim 1.3%, other 0.7%

Languages:

Greek 99% (official), English, French

Literacy:

definition: age 15 and over can read and write
total population: 97.5%
male: 98.6%
female: 96.5%
Government
Country name:

conventional long form: Hellenic Republic
local short form: Ellas or Ellada
former: Kingdom of Greece
local long form: Elliniki Dhimokratia

Government type:

parliamentary republic; monarchy rejected by referendum 8 December 1974

Capital:

Athens

Administrative divisions:

51 prefectures (nomoi, singular - nomos) and 1 autonomous region*; Agion Oros* (Mt. Athos), Achaia, Aitolia kai Akarmania, Argolis, Arkadia, Arta, Attiki, Chalkidiki, Chanion, Chios, Dodekanisos, Drama, Evros, Evrytania, Evvoia, Florina, Fokidos, Fthiotis, Grevena, Ileia, Imathia, Ioannina, Irakleion, Karditsa, Kastoria, Kavala, Kefallinia, Kerkyra, Kilkis, Korinthia, Kozani, Kyklades, Lakonia, Larisa, Lasithi, Lefkas, Lesvos, Magnisia, Messinia, Pella, Pieria, Preveza, Rethynnis, Rodopi, Samos, Serrai, Thesprotia, Thessaloniki, Trikala, Voiotia, Xanthi, Zakynthos

Independence:

1829 (from the Ottoman Empire)

National holiday:

Independence Day, 25 March (1821)

Constitution:

11 June 1975; amended March 1986 and April 2001

Legal system:

based on codified Roman law; judiciary divided into civil, criminal, and administrative courts

Suffrage:

18 years of age; universal and compulsory

Executive branch:

chief of state: President Karolos PAPOULIAS (since 12 March 2005)
head of government: Prime Minister Konstandinos (Kostas) KARAMANLIS (since 7 March 2004)
cabinet: Cabinet appointed by the president on the recommendation of the prime minister
elections: president elected by parliament for a five-year term (eligible for a second term); election last held 8 February 2005 (next to be held by February 2010); according to the Greek Constitution, presidents may only serve two terms; president appoints leader of the party securing plurality of vote in election to become prime minister and form a government.

Legislative branch:

unicameral Parliament or Vouli ton Ellinon (300 seats; members are elected by direct popular vote to serve four-year terms)

Judicial branch:

Supreme Judicial Court; Special Supreme Tribunal; all judges appointed for life by the president after consultation with a judicial council
Economy
Greece has a capitalist economy with the public sector accounting for about 40% of GDP and with per capita GDP at least 75% of the leading euro-zone economies. Tourism provides 15% of GDP. Immigrants make up nearly one-fifth of the work force, mainly in agricultural and unskilled jobs. Greece is a major beneficiary of EU aid, equal to about 3.3% of annual GDP. The Greek economy grew by nearly 4.0% per year between 2003 and 2007, due partly to infrastructural spending related to the 2004 Athens Olympic Games, and in part to an increased availability of credit, which has sustained record levels of consumer spending. Greece violated the EU's Growth and Stability Pact budget deficit criteria of no more than 3% of GDP from 2001 to 2006, but finally met that criteria in 2007. Public debt, inflation, and unemployment are above the euro-zone average, but are falling. The Greek Government continues to grapple with cutting government spending, reducing the size of the public sector, and reforming the labor and pension systems, in the face of often vocal opposition from the country's powerful labor unions and the general public. The economy remains an important domestic political issue in Greece and, while the ruling New Democracy government has had some success in improving economic growth and reducing the budget deficit, Athens faces long-term challenges in its effort to continue its economic reforms, especially social security reform and privatization.
GDP:

$327.6 billion (2007 est.)

GDP growth rate:

3.7%

GDP per capita:

$30,600

GDP composition by sector:

agriculture: 5.4%
industry: 21.3%
services: 73.3%

Inflation rate:

3.5%

Labor force:

4.72 million

Labor force - by occupation:

agriculture: 12%
industry: 20%
services: 68%

Unemployment:

9.9%

Budget:

revenues: $94.13 billion
expenditures: $103.4 billion

Electricity production by source:

fossil fuel: 94.5%
hydro: 3.8%
other: 1.7%
nuclear: 0%

Industries:

tourism; food and tobacco processing, textiles; chemicals, metal products; mining, petroleum

Agriculture:

wheat, corn, barley, sugar beets, olives, tomatoes, wine, tobacco, potatoes; beef, dairy products

Exports:

food and beverages, manufactured goods, petroleum products, chemicals, textiles

Export partners:

Germany 12.4%, Italy 10.4%, UK 6.7%, Bulgaria 5.9%, US 5.3%, Cyprus 5.2%, Turkey 5.1%, France 4.2%

Imports:

machinery, transport equipment, fuels, chemicals

Import partners:

Germany 12.7%, Italy 12.4%, Russia 7.8%, France 5.7%, Netherlands 5.5%, Saudi Arabia 4.1%

Currency:

euro (EUR)
note: on 1 January 1999, the European Monetary Union introduced the euro as a common currency to be used by financial institutions of member countries; on 1 January 2002, the euro became the sole currency for everyday transactions within the member countries
SOURCES: The CIA World Factbook, U.S. Department of State, Area Handbook of the US Library of Congress
Copyright 2004 - 2008 worldfacts.us