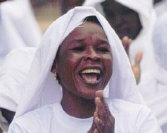 Formed from the merger of the British colony of the Gold Coast and the Togoland trust territory, Ghana in 1957 became the first sub-Saharan country in colonial Africa to gain its independence. Ghana endured a long series of coups before Lt. Jerry RAWLINGS took power in 1981 and banned political parties. After approving a new constitution and restoring multiparty politics in 1992, RAWLINGS won presidential elections in 1992 and 1996, but was constitutionally prevented from running for a third term in 2000. John KUFUOR succeeded him and was reelected in 2004. Kufuor is constitutionally barred from running for a third term in upcoming Presidential elections, which are scheduled for December 2008.
Geography of Ghana
Location:

Western Africa, bordering the Gulf of Guinea, between Cote d'Ivoire and Togo

Coordinates:

8 00 N, 2 00 W

Area:

total: 239,460 sq km
land: 230,940 sq km
water: 8,520 sq km

Area comparative:

slightly smaller than Oregon

Land boundaries:

total: 2,094 km
border countries: Burkina Faso 549 km, Cote d'Ivoire 668 km, Togo 877 km

Coastline:

539 km

Maritime claims:

contiguous zone: 24 NM
territorial sea: 12 NM
continental shelf: 200 NM
exclusive economic zone: 200 NM

Climate:

tropical; warm and comparatively dry along southeast coast; hot and humid in southwest; hot and dry in north

Terrain:

mostly low plains with dissected plateau in south-central area

Elevation extremes:

lowest point: Atlantic Ocean 0 m
highest point: Mount Afadjato 880 m

Natural resources:

gold, timber, industrial diamonds, bauxite, manganese, fish, rubber, hydropower

Natural hazards:

dry, dusty, northeastern harmattan winds occur from January to March; droughts

Environment current issues:

recurrent drought in north severely affects agricultural activities; deforestation; overgrazing; soil erosion; poaching and habitat destruction threatens wildlife populations; water pollution; inadequate supplies of potable water

Geography - note:

Lake Volta is the world's largest artificial lake
Population of Ghana
Population:

23,382,848 (July 2008 est.)

Age structure:

0-14 years: 38.8% (male 4,395,744/female 4,288,720)
15-64 years: 57.7% (male 6,450,828/female 6,483,781)
65 years and over: 3.5% (male 371,428/female 419,071)

Median age:

19.9 years

Growth rate:

2.07%

Infant mortality:

55.02 deaths/1,000 live births

Life expectancy at birth:

total population: 58.87 years
male: 58.07 years
female: 59.69 years

Fertility rate:

3.99 children born/woman

Nationality:

noun: Ghanaian(s)
adjective: Ghanaian

Ethnic groups:

black African 98.5% (major tribes - Akan 44%, Moshi-Dagomba 16%, Ewe 13%, Ga 8%, Gurma 3%, Yoruba 1%), European and other 1.5% (

Religions:

Christian 63%, Muslim 16%, indigenous beliefs 21%

Languages:

English (official), African languages (including Akan, Moshi-Dagomba, Ewe, and Ga)

Literacy:

definition: age 15 and over can read and write
total population: 74.8%
male: 82.7%
female: 67.1%
Government
Country name:

conventional long form: Republic of Ghana
former: Gold Coast

Government type:

constitutional democracy

Capital:

Accra

Administrative divisions:

10 regions; Ashanti, Brong-Ahafo, Central, Eastern, Greater Accra, Northern, Upper East, Upper West, Volta, Western

Independence:

6 March 1957 (from UK)

National holiday:

Independence Day, 6 March (1957)

Constitution:

approved 28 April 1992

Legal system:

based on English common law and customary law; has not accepted compulsory ICJ jurisdiction

Suffrage:

18 years of age; universal

Executive branch:

chief of state: President John Agyekum KUFUOR (since 7 January 2001); Vice President Alhaji Aliu MAHAMA (since 7 January 2001); note - the president is both the chief of state and head of government
head of government: President John Agyekum KUFUOR (since 7 January 2001); Vice President Alhaji Aliu MAHAMA (since 7 January 2001)
cabinet: Council of Ministers; president nominates members subject to approval by Parliament
elections: president and vice president elected on the same ticket by popular vote for four-year terms (eligible for a second term); election last held 7 December 2004 (next to be held in December 2008).

Legislative branch:

unicameral Parliament (230 seats; note - increased from 200 seats in last election; members are elected by direct, popular vote to serve four-year terms).

Judicial branch:

Supreme Court
Economy
Well endowed with natural resources, Ghana has roughly twice the per capita output of the poorest countries in West Africa. Even so, Ghana remains heavily dependent on international financial and technical assistance. Gold and cocoa production, and individual remittances, are major sources of foreign exchange. The domestic economy continues to revolve around agriculture, which accounts for about 35% of GDP and employs about 55% of the work force, mainly small landholders. Ghana opted for debt relief under the Heavily Indebted Poor Country (HIPC) program in 2002, and is also benefiting from the Multilateral Debt Relief Initiative that took effect in 2006. Thematic priorities under its current Growth and Poverty Reduction Strategy, which also provides the framework for development partner assistance, are: macroeconomic stability; private sector competitiveness; human resource development; and good governance and civic responsibility. Sound macro-economic management along with high prices for gold and cocoa helped sustain GDP growth in 2007. Ghana signed a Millennium Challenge Corporation (MCC) Compact in 2006, which aims to assist in transforming Ghana's agricultural sector.
GDP:

$31.13 billion (2007 est.)

GDP growth rate:

4.3%

GDP per capita:

$2,500

GDP composition by sector:

agriculture: 36.6%
industry: 24.6%
services: 38.7%

Inflation rate:

15.1%

Labor force:

10.62 million

Labor force - by occupation:

agriculture 60%, industry 15%, services 25%

Unemployment:

20%

Budget:

revenues: $3.216 billion
expenditures: $3.506 billion

Electricity production by source:

fossil fuel: 5%
hydro: 95%
other: 0%

Industries:

mining, lumbering, light manufacturing, aluminum smelting, food processing

Agriculture:

cocoa, rice, coffee, cassava (tapioca), peanuts, corn, shea nuts, bananas; timber

Exports:

gold, cocoa, timber, tuna, bauxite, aluminum, manganese ore, diamonds

Export partners:

Netherlands 12.8%, UK 8.2%, US 6.5%, Belgium 6%, France 5.5%, Germany 4.5%

Imports:

capital equipment, petroleum, foodstuffs

Import partners:

Nigeria 14%, China 12.5%, US 6.2%, UK 5.5%, Netherlands 4.2%, South Africa 4.2%

Currency:

cedi (GHC)
SOURCES: The CIA World Factbook, U.S. Department of State, Area Handbook of the US Library of Congress
Copyright 2004 - 2008 worldfacts.us