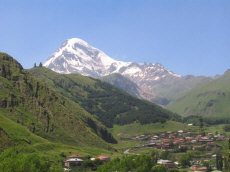 The region of present-day Georgia contained the ancient kingdoms of Colchis and Kartli-Iberia. The area came under Roman influence in the first centuries A.D. and Christianity became the state religion in the 330s. Domination by Persians, Arabs, and Turks was followed by a Georgian golden age (11th-13th centuries) that was cut short by the Mongol invasion of 1236. Subsequently, the Ottoman and Persian empires competed for influence in the region. Georgia was absorbed into the Russian Empire in the 19th century. Independent for three years (1918-1921) following the Russian revolution, it was forcibly incorporated into the USSR until the Soviet Union dissolved in 1991. An attempt by the incumbent Georgian government to manipulate national legislative elections in November 2003 touched off widespread protests that led to the resignation of Eduard SHEVARDNADZE, president since 1995. New elections in early 2004 swept Mikheil SAAKASHVILI into power along with his National Movement party. Progress on market reforms and democratization has been made in the years since independence, but this progress has been complicated by Russian assistance and support to the breakaway regions of Abkhazia and South Ossetia. Georgian military action in South Ossetia in early August 2008 led to a Russian military response that not only occupied the breakaway areas, but large portions of Georgia proper as well. Russian troops pulled back from most occupied Georgian territory, but in late August 2008 Russia unilaterally recognized the independence of Abkhazia and South Ossetia. This action was strongly condemned by most of the world's nations and international organizations.
Geography of Georgia
Location:

Southwestern Asia, bordering the Black Sea, between Turkey and Russia

Coordinates:

42 00 N, 43 30 E

Area:

total: 69,700 sq km
water: 0 sq km
land: 69,700 sq km

Area comparative:

slightly smaller than South Carolina

Land boundaries:

total: 1,461 km
border countries: Armenia 164 km, Azerbaijan 322 km, Russia 723 km, Turkey 252 km

Coastline:

310 km

Climate:

warm and pleasant; Mediterranean-like on Black Sea coast

Terrain:

largely mountainous with Great Caucasus Mountains in the north and Lesser Caucasus Mountains in the south; Kolkhet'is Dablobi (Kolkhida Lowland) opens to the Black Sea in the west; Mtkvari River Basin in the east; good soils in river valley flood plains, foothills of Kolkhida Lowland

Elevation extremes:

lowest point: Black Sea 0 m
highest point: Mt'a Shkhara 5,201 m

Natural resources:

forests, hydropower, manganese deposits, iron ore, copper, minor coal and oil deposits; coastal climate and soils allow for important tea and citrus growth

Natural hazards:

earthquakes

Environment current issues:

air pollution, particularly in Rust'avi; heavy pollution of Mtkvari River and the Black Sea; inadequate supplies of potable water; soil pollution from toxic chemicals

Geography - note:

strategically located east of the Black Sea; Georgia controls much of the Caucasus Mountains and the routes through them
Population of Georgia
Population:

4,630,841 (July 2008 est.)

Age structure:

0-14 years: 17.3% (male 428,056/female 380,193)
15-64 years: 66.2% (male 1,482,908/female 1,602,064)
65 years and over: 16.5% (male 308,905/female 459,347)

Median age:

37.7 years

Growth rate:

-0.34%

Infant mortality:

17.97 deaths/1,000 live births

Life expectancy at birth:

total population: 76.09 years
male: 72.8 years
female: 79.87 years

Fertility rate:

1.42 children born/woman

Nationality:

noun: Georgian(s)
adjective: Georgian

Ethnic groups:

Georgian 83.8%, Azeri 6.5%, Armenian 5.7%, Russian 1.5%, other 2.5%

Religions:

Orthodox Christian 83.9%, Muslim 9.9%, Armenian-Gregorian 3.9%, Catholic 0.8%, other 0.8%, none 0.7%

Languages:

Georgian 71% (official), Russian 9%, Armenian 7%, Azeri 6%, other 7%
note: Abkhaz is the official language in Abkhazia

Literacy:

definition: age 15 and over can read and write
total population: 100%
Government
Country name:

local short form: Sak'art'velo
former: Georgian Soviet Socialist Republic

Government type:

republic

Capital:

T'bilisi

Administrative divisions:

9 regions, (mkharebi, singular - mkhare), 9 cities* (k'alak'ebi, singular - k'alak'i), and 2 autonomous republics** (avtomnoy respubliki, singular - avtom respublika)

Independence:

9 April 1991 (from Soviet Union)

National holiday:

Independence Day, 26 May (1918); note - 26 May 1918 is the date of independence from Soviet Russia, 9 April 1991 is the date of independence from the Soviet Union

Constitution:

adopted 17 October 1995

Legal system:

based on civil law system

Suffrage:

18 years of age; universal

Executive branch:

chief of state: President Mikheil SAAKASHVILI (since 25 January 2004); the president is both the chief of state and head of government for the power ministries: state security (includes interior) and defense
head of government: President Mikheil SAAKASHVILI (since 25 January 2004); Prime Minister Vladimir "Lado" GURGENIDZE (since 19 November 2007); the president is both the chief of state and head of government for the power ministries: state security (includes interior) and defense; the prime minister is head of the remaining ministries of government
cabinet: Cabinet of Ministers
elections: president elected by popular vote for a five-year term (eligible for a second term); election last held 5 January 2008 (next to be held January 2013).

Legislative branch:

unicameral Supreme Council (commonly referred to as Parliament) or Umaghiesi Sabcho (235 seats - 150 elected by party lists); members are elected by popular vote to serve four-year terms).

Judicial branch:

Supreme Court (judges elected by the Supreme Council on the president's or chairman of the Supreme Court's recommendation); Constitutional Court; first and second instance courts
Economy
Georgia's economy has sustained robust GDP growth of close to 10% in 2006 and 12% in 2007, based on strong inflows of foreign investment and robust government spending. However, a widening trade deficit and higher inflation are emerging risks to the economy. Areas of recent improvement include increasing foreign direct investment as well as growth in the construction, banking services and mining sectors. Georgia's main economic activities include the cultivation of agricultural products such as grapes, citrus fruits, and hazelnuts; mining of manganese and copper; and output of a small industrial sector producing alcoholic and nonalcoholic beverages, metals, machinery, aircraft and chemicals. The country imports nearly all its needed supplies of natural gas and oil products. It has sizeable hydropower capacity, a growing component of its energy supplies. Despite the severe damage the economy suffered due to civil strife in the 1990s, Georgia, with the help of the IMF and World Bank, has made substantial economic gains since 2000, achieving positive GDP growth and curtailing inflation. Georgia's GDP growth neared 10% in 2006 and 2007 despite restrictions on commerce with Russia. Areas of recent improvement include increased foreign direct investment as well as growth in the construction, banking services, and mining sectors. In addition, the reinvigorated privatization process has met with success. However, a widening trade deficit and higher inflation are emerging risks to the economy. Georgia has suffered from a chronic failure to collect tax revenues; however, the new government is making progress and has reformed the tax code, improved tax administration, increased tax enforcement, and cracked down on corruption. Government revenues have increased nearly four fold since 2003. Due to improvements in customs and financial (tax) enforcement, smuggling is a declining problem. Georgia has overcome the chronic energy shortages of the past by renovating hydropower plants and by bringing newly available natural gas supplies from Azerbaijan. It also has an increased ability to pay for more expensive gas imports from Russia. The country is pinning its hopes for long-term growth on a determined effort to reduce regulation, taxes and corruption in order to attract foreign investment. The construction on the Baku-T'bilisi-Ceyhan oil pipeline, the Baku-T'bilisi-Erzerum gas pipeline, and the Kars-Akhalkalaki Railroad are part of a strategy to capitalize on Georgia's strategic location between Europe and Asia and develop its role as a transit point for gas, oil and other goods.
GDP:

$20.6 billion (2007 est.)

GDP growth rate:

12%

GDP per capita:

$3,300

GDP composition by sector:

agriculture: 17.2%
industry: 27.5%
services: 55.3%

Inflation rate:

5%

Labor force:

2.04 million

Labor force - by occupation:

industry 20%, agriculture 40%, services 40%

Unemployment:

12.6%

Budget:

revenues: $1.43 billion
expenditures: $1.56 billion

Electricity production by source:

fossil fuel: 19.7%
hydro: 80.3%
other: 0%
nuclear: 0%

Industries:

steel, aircraft, machine tools, electrical appliances, mining (manganese and copper), chemicals, wood products, wine

Agriculture:

citrus, grapes, tea, hazelnuts, vegetables; livestock

Exports:

scrap metal, machinery, chemicals; fuel reexports; citrus fruits, tea, wine

Export partners:

US 16.1%, Turkey 15.8%, Turkmenistan 11.8%, Russia 10%, Armenia 5.6%

Imports:

fuels, machinery and parts, transport equipment, grain and other foods, pharmaceuticals

Import partners:

Russia 14.2%, Turkey 11%, US 10%, Azerbaijan 8.1%, Ukraine 7.3%, Germany 6.6%, Italy 4.3%

Currency:

lari (GEL)
SOURCES: The CIA World Factbook, U.S. Department of State, Area Handbook of the US Library of Congress
Copyright 2004 - 2008 worldfacts.us