World Facts Index > Ecuador > Quito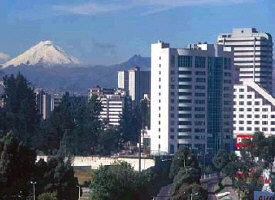 What is now Ecuador formed part of the northern Inca Empire until the Spanish conquest in 1533. Quito became a seat of Spanish colonial government in 1563 and part of the Viceroyalty of New Granada in 1717. The territories of the Viceroyalty - New Granada (Colombia), Venezuela, and Quito - gained their independence between 1819 and 1822 and formed a federation known as Gran Colombia. When Quito withdrew in 1830, the traditional name was changed in favor of the "Republic of the Equator." Between 1904 and 1942, Ecuador lost territories in a series of conflicts with its neighbors. A border war with Peru that flared in 1995 was resolved in 1999. Although Ecuador marked 25 years of civilian governance in 2004, the period has been marred by political instability. Protests in Quito have contributed to the mid-term ouster of Ecuador's last three democratically elected Presidents. In 2007, a Constituent Assembly was elected to draft a new constitution; Ecuador's twentieth since gaining independence.
Geography of Ecuador
Location:

Western South America, bordering the Pacific Ocean at the Equator, between Colombia and Peru

Coordinates:

2 00 S, 77 30 W

Area:

total: 283,560 sq km
note: includes Galapagos Islands
water: 6,720 sq km
land: 276,840 sq km

Area comparative:

slightly smaller than Nevada

Land boundaries:

total: 2,010 km
border countries: Colombia 590 km, Peru 1,420 km

Coastline:

2,237 km

Maritime claims:

continental shelf: claims continental shelf between mainland and Galapagos Islands
territorial sea: 200 NM

Climate:

tropical along coast, becoming cooler inland at higher elevations; tropical in Amazonian jungle lowlands

Terrain:

coastal plain (costa), inter-Andean central highlands (sierra), and flat to rolling eastern jungle (oriente)

Elevation extremes:

lowest point: Pacific Ocean 0 m
highest point: Chimborazo 6,267 m

Natural resources:

petroleum, fish, timber, hydropower

Natural hazards:

frequent earthquakes, landslides, volcanic activity; floods; periodic droughts

Environment current issues:

deforestation; soil erosion; desertification; water pollution; pollution from oil production wastes in ecologically sensitive areas of the Galapagos Islands

Geography - note:

Cotopaxi in Andes is highest active volcano in world
Population of Ecuador
Population:

13,927,650 (July 2008 est.)

Age structure:

0-14 years: 33% (male 2,281,499/female 2,195,551)
15-64 years: 61.9% (male 4,178,653/female 4,210,766)
65 years and over: 5% (male 319,719/female 361,322)

Median age:

23.6 years

Growth rate:

1.5%

Infant mortality:

22.87 deaths/1,000 live births

Life expectancy at birth:

total population: 76.42 years
male: 73.55 years
female: 79.43 years

Fertility rate:

2.68 children born/woman

Nationality:

noun: Ecuadorian(s)
adjective: Ecuadorian

Ethnic groups:

mestizo (mixed Amerindian and white) 65%, Amerindian 25%, Spanish and others 7%, black 3%

Religions:

Roman Catholic 95%

Languages:

Spanish (official), Amerindian languages (especially Quechua)

Literacy:

definition: age 15 and over can read and write
total population: 92.5%
male: 94%
female: 91%
Government
Country name:

conventional long form: Republic of Ecuador
local long form: Republica del Ecuador

Government type:

republic

Capital:

Quito

Administrative divisions:

22 provinces (provincias, singular - provincia); Azuay, Bolivar, Canar, Carchi, Chimborazo, Cotopaxi, El Oro, Esmeraldas, Galapagos, Guayas, Imbabura, Loja, Los Rios, Manabi, Morona-Santiago, Napo, Orellana, Pastaza, Pichincha, Sucumbios, Tungurahua, Zamora-Chinchipe

Independence:

24 May 1822 (from Spain)

National holiday:

Independence Day (independence of Quito), 10 August (1809)

Constitution:

10 August 1998

Legal system:

based on civil law system; has not accepted compulsory ICJ jurisdiction

Suffrage:

18 years of age; universal, compulsory for literate persons ages 18-65, optional for other eligible voters

Executive branch:

chief of state: President Rafael CORREA Delgado (since 15 January 2007); Vice President Lenin MORENO Garces (since 15 January 2007); note - the president is both the chief of state and head of government
head of government: President Rafael CORREA Delgado (since 15 January 2007); Vice President Lenin MORENO Garces (since 15 January 2007)
cabinet: Cabinet appointed by the president
elections: the president and vice president are elected on the same ticket by popular vote for a four-year term (may not serve consecutive terms); election last held 15 October 2006 with a runoff election on 26 November 2006 (next to be held in October 2010)

Legislative branch:

unicameral National Congress or Congreso Nacional (100 seats; members are popularly elected by province to serve four-year terms)

Judicial branch:

Supreme Court or Corte Suprema (according to the Constitution, new justices are elected by the full Supreme Court; in December 2004, however, Congress successfully replaced the entire court via a simple-majority resolution)
Economy
Ecuador is substantially dependent on its petroleum resources, which have accounted for more than half of the country's export earnings and one-fourth of public sector revenues in recent years. In 1999/2000, Ecuador suffered a severe economic crisis, with GDP contracted by more than 6%, with a significant increase in poverty. The banking system also collapsed, and Ecuador defaulted on its external debt later that year. In March 2000, Congress approved a series of structural reforms that also provided for the adoption of the US dollar as legal tender. Dollarization stabilized the economy, and positive growth returned in the years that followed, helped by high oil prices, remittances, and increased non-traditional exports. From 2002-06 the economy grew 5.5%, the highest five-year average in 25 years. The poverty rate declined but remained high at 38% in 2006. In 2006 the government of Alfredo PALACIO (2005-07) seized the assets of Occidental Petroleum for alleged contract violations and imposed a windfall revenue tax on foreign oil companies, leading to the suspension of free trade negotiations with the US. These measures, combined with chronic underinvestment in the state oil company, Petroecuador, led to a drop in petroleum production in 2007. PALACIO's successor, Rafael CORREA, raised the specter of debt default - but Ecuador has paid its debt on time. He also decreed a higher windfall revenue tax on private oil companies, then sought to renegotiate their contracts to overcome the debilitating effect of the tax. This generated economic uncertainty; private investment has dropped and economic growth has slowed significantly.
GDP:

$98.71 billion (2007 est.)

GDP growth rate:

3.9%

GDP per capita:

$4,300

GDP composition by sector:

agriculture: 7%
industry: 31.2%
services: 61.8%

Inflation rate:

2.1%

Labor force:

4.6 million (urban)

Labor force - by occupation:

agriculture: 8%
industry: 24%
services: 68%

Unemployment:

10.7% official rate; but underemployment of 47%

Budget:

revenues: $8.822 billion
expenditures: planned $8.153 billion

Electricity production by source:

fossil fuel: 81%
hydro: 19%
other: 0%

Industries:

petroleum, food processing, textiles, wood products, chemicals

Agriculture:

bananas, coffee, cocoa, rice, potatoes, manioc (tapioca), plantains, sugarcane; cattle, sheep, pigs, beef, pork, dairy products; balsa wood; fish, shrimp

Exports:

petroleum, bananas, cut flowers, shrimp

Export partners:

US 47.2%, Panama 10.9%, Peru 7.4%

Imports:

vehicles, medicinal products, telecommunications equipment, electricity

Import partners:

US 22.2%, Colombia 13.5%, Venezuela 7.2%, Brazil 6.2%, China 5.2%, Mexico 4.1%

Currency:

US dollar (USD)
SOURCES: The CIA World Factbook, U.S. Department of State, Area Handbook of the US Library of Congress
Copyright 2004 - 2008 worldfacts.us