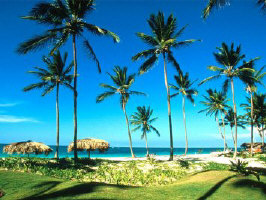 Explored and claimed by Christopher COLUMBUS on his first voyage in 1492, the island of Hispaniola became a springboard for Spanish conquest of the Caribbean and the American mainland. In 1697, Spain recognized French dominion over the western third of the island, which in 1804 became Haiti. The remainder of the island, by then known as Santo Domingo, sought to gain its own independence in 1821, but was conquered and ruled by the Haitians for 22 years; it finally attained independence as the Dominican Republic in 1844. In 1861, the Dominicans voluntarily returned to the Spanish Empire, but two years later they launched a war that restored independence in 1865. A legacy of unsettled, mostly non-representative rule followed, capped by the dictatorship of Rafael Leonidas TRUJILLO from 1930-61. Juan BOSCH was elected president in 1962, but was deposed in a military coup in 1963. In 1965, the United States led an intervention in the midst of a civil war sparked by an uprising to restore BOSCH. In 1966, Joaquin BALAGUER defeated BOSCH in an election to become president. BALAGUER maintained a tight grip on power for most of the next 30 years when international reaction to flawed elections forced him to curtail his term in 1996. Since then, regular competitive elections have been held in which opposition candidates have won the presidency. Former President (1996-2000) Leonel FERNANDEZ Reyna won election to a second term in 2004 following a constitutional amendment allowing presidents to serve more than one term.
Geography of the Dominican Republic
Location:

Caribbean, eastern two-thirds of the island of Hispaniola, between the Caribbean Sea and the North Atlantic Ocean, east of Haiti

Coordinates:

19 00 N, 70 40 W

Area:

total: 48,730 sq km
land: 48,380 sq km
water: 350 sq km

Area comparative:

slightly more than twice the size of New Hampshire

Land boundaries:

total: 360 km
border countries: Haiti 360 km

Coastline:

1,288 km

Maritime claims:

contiguous zone: 24 NM
territorial sea: 6 NM
continental shelf: 200 NM or to the edge of the continental margin
exclusive economic zone: 200 NM

Climate:

tropical maritime; little seasonal temperature variation; seasonal variation in rainfall

Terrain:

rugged highlands and mountains with fertile valleys interspersed

Elevation extremes:

lowest point: Lago Enriquillo -46 m
highest point: Pico Duarte 3,175 m

Natural resources:

nickel, bauxite, gold, silver

Natural hazards:

lies in the middle of the hurricane belt and subject to severe storms from June to October; occasional flooding; periodic droughts

Environment current issues:

water shortages; soil eroding into the sea damages coral reefs; deforestation; Hurricane Georges damage

Geography - note:

shares island of Hispaniola with Haiti (eastern two-thirds is the Dominican Republic, western one-third is Haiti)
Population of the Dominican Republic
Population:

9,507,133 (July 2008 est.)

Age structure:

0-14 years: 32.6% (male 1,531,145/female 1,464,076)
15-64 years: 61.9% (male 2,902,098/female 2,782,608)
65 years and over: 5.5% (male 235,016/female 269,041)

Median age:

24.1 years

Growth rate:

1.47%

Infant mortality:

28.25 deaths/1,000 live births

Life expectancy at birth:

total population: 71.73 years
male: 70.21 years
female: 73.33 years

Fertility rate:

2.83 children born/woman

Nationality:

noun: Dominican(s)
adjective: Dominican

Ethnic groups:

mixed 73%, white 16%, black 11%

Religions:

Roman Catholic 95%

Languages:

Spanish

Literacy:

definition: age 15 and over can read and write
total population: 84.7%
male: 84.6%
female: 84.8%
Government
Country name:

conventional long form: Dominican Republic
local long form: Republica Dominicana

Government type:

representative democracy

Capital:

Santo Domingo

Administrative divisions:

31 provinces (provincias, singular - provincia) and 1 district* (distrito); Azua, Baoruco, Barahona, Dajabon, Distrito Nacional*, Duarte, Elias Pina, El Seibo, Espaillat, Hato Mayor, Independencia, La Altagracia, La Romana, La Vega, Maria Trinidad Sanchez, Monsenor Nouel, Monte Cristi, Monte Plata, Pedernales, Peravia, Puerto Plata, Salcedo, Samana, Sanchez Ramirez, San Cristobal, San Jose de Ocoa, San Juan, San Pedro de Macoris, Santiago, Santiago Rodriguez, Santo Domingo, Valverde

Independence:

27 February 1844 (from Haiti)

National holiday:

Independence Day, 27 February (1844)

Constitution:

28 November 1966

Legal system:

based on French civil codes; undergoing modification in 2004 towards an accusatory system

Suffrage:

18 years of age, universal and compulsory; married persons regardless of age
note: members of the armed forces and police cannot vote

Executive branch:

chief of state: President Leonel FERNANDEZ Reyna (since 16 August 2004); Vice President Rafael ALBURQUERQUE de Castro (since 16 August 2004); note - the president is both the chief of state and head of government
head of government: President Leonel FERNANDEZ Reyna (since 16 August 2004); Vice President Rafael ALBURQUERQUE de Castro (since 16 August 2004)
cabinet: Cabinet nominated by the president
elections: president and vice president elected on the same ticket by popular vote for four-year terms (eligible for a second consecutive term); election last held 16 May 2008 (next to be held in May 2012)

Legislative branch:

bicameral National Congress or Congreso Nacional consists of the Senate or Senado (32 seats; members are elected by popular vote to serve four-year terms) and the House of Representatives or Camara de Diputados (150 seats; members are elected by popular vote to serve four-year terms)

Judicial branch:

Supreme Court or Corte Suprema (judges are appointed by the National Judicial Council comprised of the president, the leaders of both chambers of congress, the president of the Supreme Court, and an additional non-governing party congressional representative)
Economy
The Dominican Republic has enjoyed strong GDP growth since 2005, with double digit growth in 2006. In 2007, exports were bolstered by the nearly 50% increase in nickel prices; however, prices are expected to fall in 2008, contributing to a slowdown in GDP growth for the year. Although the country has long been viewed primarily as an exporter of sugar, coffee, and tobacco, in recent years the service sector has overtaken agriculture as the economy's largest employer due to growth in tourism and free trade zones. The economy is highly dependent upon the US, the source of nearly three-fourths of exports, and remittances represent about a tenth of GDP, equivalent to almost half of exports and three-quarters of tourism receipts. With the help of strict fiscal targets agreed to in the 2004 renegotiation of an IMF standby loan, President FERNANDEZ has stabilized the country's financial situation, lowering inflation to less than 6%. A fiscal expansion is expected for 2008 prior to the elections in May and for Tropical Storm Noel reconstruction. Although the economy is growing at a respectable rate, high unemployment and underemployment remains an important challenge. The country suffers from marked income inequality; the poorest half of the population receives less than one-fifth of GNP, while the richest 10% enjoys nearly 40% of national income. The Central America-Dominican Republic Free Trade Agreement (CAFTA-DR) came into force in March 2007, which should boost investment and exports and diminishs losses to the Asian garment industry.
GDP:

$61.67 billion (2007 est.)

GDP growth rate:

9.3%

GDP per capita:

$7,000

GDP composition by sector:

agriculture: 11.2%
industry: 30.6%
services: 58.2%

Inflation rate:

4.2%

Labor force:

2.3 million - 2.6 million

Labor force - by occupation:

services and government 58.7%, industry 24.3%, agriculture 17%

Unemployment:

17%

Budget:

revenues: $5.322 billion
expenditures: $5.485 billion

Electricity production by source:

fossil fuel: 92%
hydro: 7.6%
other: 0.4%
nuclear: 0%

Industries:

tourism, sugar processing, ferronickel and gold mining, textiles, cement, tobacco

Agriculture:

sugarcane, coffee, cotton, cocoa, tobacco, rice, beans, potatoes, corn, bananas; cattle, pigs, dairy products, beef, eggs

Exports:

ferronickel, sugar, gold, silver, coffee, cocoa, tobacco, meats, consumer goods

Export partners:

US 78.8%, South Korea 2.4%, Netherlands 2.2%

Imports:

foodstuffs, petroleum, cotton and fabrics, chemicals and pharmaceuticals

Import partners:

US 44.9%, Venezuela 14.6%, Colombia 5%, Mexico 4.9%

Currency:

Dominican peso (DOP)
SOURCES: The CIA World Factbook, U.S. Department of State, Area Handbook of the US Library of Congress
Copyright 2004 - 2008 worldfacts.us