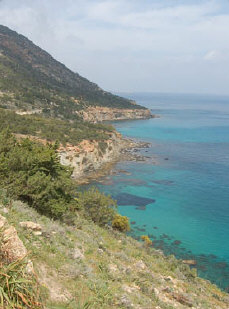 A former British colony, Cyprus became independent in 1960 following years of resistance to British rule. Tensions between the Greek Cypriot majority and Turkish Cypriot minority came to a head in December 1963, when violence broke out in the capital of Nicosia. Despite the deployment of UN peacekeepers in 1964, sporadic intercommunal violence continued forcing most Turkish Cypriots into enclaves throughout the island. In 1974, a Greek Government-sponsored attempt to seize control of Cyprus was met by military intervention from Turkey, which soon controlled more than a third of the island. In 1983, the Turkish-held area declared itself the "Turkish Republic of Northern Cyprus" (TRNC), but it is recognized only by Turkey. The latest two-year round of UN-brokered talks - between the leaders of the Greek Cypriot and Turkish Cypriot communities to reach an agreement to reunite the divided island - ended when the Greek Cypriots rejected the UN settlement plan in an April 2004 referendum. The entire island entered the EU on 1 May 2004, although the EU acquis - the body of common rights and obligations - applies only to the areas under direct government control, and is suspended in the areas administered by Turkish Cypriots. However, individual Turkish Cypriots able to document their eligibility for Republic of Cyprus citizenship legally enjoy the same rights accorded to other citizens of European Union states. The election of a new Cypriot president in 2008 served as the impetus for the UN to encourage both the Turkish and Cypriot Governments to reopen unification negotiations.
Geography of Cyprus
Location:

Middle East, island in the Mediterranean Sea, south of Turkey

Coordinates:

35 00 N, 33 00 E

Map references:

Middle East

Area:

total: 9,250 sq km (of which 3,355 sq km are in the Turkish Cypriot area)
water: 10 sq km
land: 9,240 sq km

Area comparative:

about 0.6 times the size of Connecticut

Land boundaries:

0 km

Coastline:

648 km

Maritime claims:

territorial sea: 12 NM
continental shelf: 200-m depth or to the depth of exploitation

Climate:

temperate; Mediterranean with hot, dry summers and cool winters

Terrain:

central plain with mountains to north and south; scattered but significant plains along southern coast

Elevation extremes:

lowest point: Mediterranean Sea 0 m
highest point: Olympus 1,951 m

Natural resources:

copper, pyrites, asbestos, gypsum, timber, salt, marble, clay earth pigment

Natural hazards:

moderate earthquake activity; droughts

Environment - current issues:

water resource problems (no natural reservoir catchments, seasonal disparity in rainfall, sea water intrusion to island's largest aquifer, increased salination in the north); water pollution from sewage and industrial wastes; coastal degradation; loss of wildlife habitats from urbanization

Geography - note:

the third largest island in the Mediterranean Sea (after Sicily and Sardinia)
Population of Cyprus
Population:

792,604 (July 2008 est.)

Age structure:

0-14 years: 20.4% (male 81,776/female 78,272)
15-64 years: 68% (male 270,254/female 263,354)
65 years and over: 11.6% (male 39,536/female 51,109)

Median age:

34.9 years

Growth rate:

0.53%

Infant mortality:

7.04 deaths/1,000 live births

Life expectancy at birth:

total population: 77.82 years
male: 75.44 years
female: 80.31 years

Total fertility rate:

1.82 children born/woman

Nationality:

noun: Cypriot(s)
adjective: Cypriot

Ethnic groups:

Greek 77%, Turkish 18%, other 5%

Religions:

Greek Orthodox 78%, Muslim 18%, Maronite, Armenian Apostolic, and other 4%

Languages:

Greek, Turkish, English

Literacy:

definition: age 15 and over can read and write
total population: 97.6%
male: 98.9%
female: 96.3%
Government
Country name:

conventional long form: Republic of Cyprus
note: the Turkish Cypriot area refers to itself as the "Turkish Republic of Northern Cyprus" (TRNC)

Government type:

republic
note: a disaggregation of the two ethnic communities inhabiting the island began following the outbreak of communal strife in 1963; this separation was further solidified after the Turkish intervention in July 1974 after a Greek junta-based coup attempt gave the Turkish Cypriots de facto control in the north; Greek Cypriots control the only internationally recognized government; on 15 November 1983 Turkish Cypriot "President" Rauf DENKTASH declared independence and the formation of a "Turkish Republic of Northern Cyprus" (TRNC), recognized only by Turkey; both sides publicly support a settlement based on a federation (Greek Cypriot position) or confederation (Turkish Cypriot position)

Capital:

Nicosia

Administrative divisions:

6 districts; Famagusta, Kyrenia, Larnaca, Limassol, Nicosia, Paphos; note - Turkish Cypriot area's administrative divisions include Kyrenia, all but a small part of Famagusta, and small parts of Lefkosia (Nicosia) and Larnaca

Independence:

16 August 1960 (from UK); note - Turkish Cypriot area proclaimed self-rule on 13 February 1975

National holiday:

Independence Day, 1 October (1960); note - Turkish Cypriot area celebrates 15 November (1983) as Independence Day

Constitution:

16 August 1960; negotiations to create the basis for a new or revised constitution to govern the island and to better relations between Greek and Turkish Cypriots have been held intermittently; in 1975 Turkish Cypriots created their own constitution and governing bodies within the "Turkish Federated State of Cyprus," which was renamed the "Turkish Republic of Northern Cyprus" in 1983; a new constitution for the Turkish Cypriot area passed by referendum on 5 May 1985

Legal system:

based on common law, with civil law modifications

Suffrage:

18 years of age; universal

Executive branch:

chief of state: President Dimitris CHRISTOFIAS (since 28 February 2008); note - the president is both the chief of state and head of government; post of vice president is currently vacant; under the 1960 constitution, the post is reserved for a Turkish Cypriot
head of government: President Dimitris CHRISTOFIAS (since 28 February 2008)
cabinet: Council of Ministers appointed jointly by the president and vice president
elections: president elected by popular vote for a five-year term; election last held 17 and 24 February 2008 (next to be held in February 2013)

Legislative branch:

unicameral - Republic of Cyprus: House of Representatives or Vouli Antiprosopon (80 seats; 56 assigned to the Greek Cypriots, 24 to Turkish Cypriots; note - only those assigned to Greek Cypriots are filled; members are elected by popular vote to serve five-year terms); north Cyprus: Assembly of the Republic or Cumhuriyet Meclisi (50 seats; members are elected by popular vote to serve five-year terms)

Judicial branch:

Supreme Court (judges are appointed jointly by the president and vice president)
note: there is also a Supreme Court in the Turkish Cypriot area
Economy
The area of the Republic of Cyprus under government control has a market economy dominated by the service sector, which accounts for 78% of GDP. Tourism, financial services, and real estate are the most important sectors. Erratic growth rates over the past decade reflect the economy's reliance on tourism, which often fluctuates with political instability in the region and economic conditions in Western Europe. Nevertheless, the economy in the area under government control grew by an average of 3.6% per year during the period of 2000-06, well above the EU average. Cyprus joined the European Exchange Rate Mechanism (ERM2) in May 2005 and adopted the euro as its national currency on 1 January 2008. An aggressive austerity program in the preceeding years, aimed at paving the way for the euro, helped turn a soaring fiscal deficit (6.3% in 2003) into a surplus of 1.5% in 2007. As in the area administered by Turkish Cypriots, water shortages are a perennial problem; a few desalination plants are now on line. After 10 years of drought, the country received substantial rainfall from 2001-04 alleviating immediate concerns. Rainfall in 2005 and 2006, however, was well below average, making water rationing a necessity in 2007.
GDP:

$21.4 billion (2007 est.)

GDP growth rate:

Republic of Cyprus: 3.8%; north Cyprus: 10.6%

GDP per capita:

Republic of Cyprus: $21,500; north Cyprus: $7,135

GDP composition by sector:

Republic of Cyprus: agriculture 3.7%; industry 19.8%; services 76.5%
north Cyprus: agriculture 10.6%; industry 20.5%; services 68.9%

Inflation rate:

Republic of Cyprus: 2.6%; north Cyprus: 9.1%

Labor force:

Republic of Cyprus: 370,000, north Cyprus: 95,025

Labor force - by occupation:

Republic of Cyprus: agriculture 7.4%, industry 38.2%, services 54.4%; north Cyprus: agriculture 14.5%, industry 29%, services 56.5%

Unemployment:

Republic of Cyprus: 4%; north Cyprus: 5.6%

Budget:

revenues: Republic of Cyprus - $6.698 billion
expenditures: Republic of Cyprus - $7.122 billion
revenues: north Cyprus - $231.3 million
expenditures: north Cyprus - $432.8 million

Electricity production by source:

fossil fuel: 100%
other: 0%
hydro: 0%

Industries:

tourism, food and beverage processing, cement and gypsum production, ship repair and refurbishment, textiles, light chemicals, metal products, wood, paper, stone, and clay products

Agriculture:

potatoes, citrus, vegetables, barley, grapes, olives, vegetables, poultry, pork, lamb, kids, dairy

Exports:

Republic of Cyprus: citrus, potatoes, pharmaceuticals, cement, clothing and cigarettes; north Cyprus: citrus, potatoes, textiles

Export partners:

UK 18.5%, Greece 13.4%, France 11.7%, Germany 5.7%

Imports:

Republic of Cyprus: consumer goods, petroleum and lubricants, intermediate goods, machinery, transport equipment; north Cyprus: vehicles, fuel, cigarettes, food, minerals, chemicals, machinery

Import partners:

Greece 16.3%, Italy 10.9%, UK 8.9%, Germany 8.3%, Israel 6.5%, China 4.3%, Netherlands 4.1%

Currency:

Republic of Cyprus: Cypriot pound (CYP); Turkish Cypriot area: Turkish New lira (YTL)
SOURCES: The CIA World Factbook, U.S. Department of State, Area Handbook of the US Library of Congress
Copyright 2004 - 2008 worldfacts.us