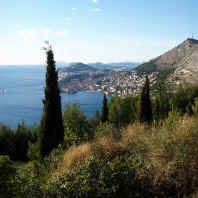 The lands that today comprise Croatia were part of the Austro-Hungarian Empire until the close of World War I. In 1918, the Croats, Serbs, and Slovenes formed a kingdom known after 1929 as Yugoslavia. Following World War II, Yugoslavia became a federal independent Communist state under the strong hand of Marshal TITO. Although Croatia declared its independence from Yugoslavia in 1991, it took four years of sporadic, but often bitter, fighting before occupying Serb armies were mostly cleared from Croatian lands. Under UN supervision, the last Serb-held enclave in eastern Slavonia was returned to Croatia in 1998.
Geography of Croatia
Location:

Southeastern Europe, bordering the Adriatic Sea, between Bosnia and Herzegovina and Slovenia

Coordinates:

45 10 N, 15 30 E

Area:

total: 56,542 sq km
water: 128 sq km
land: 56,414 sq km

Area comparative:

slightly smaller than West Virginia

Land boundaries:

total: 2,197 km
border countries: Bosnia and Herzegovina 932 km, Hungary 329 km, Serbia and Montenegro (north) 241 km, Serbia and Montenegro (south) 25 km, Slovenia 670 km

Coastline:

5,835 km (mainland 1,777 km, islands 4,058 km)

Maritime claims:

continental shelf: 200-m depth or to the depth of exploitation
territorial sea: 12 NM

Climate:

Mediterranean and continental; continental climate predominant with hot summers and cold winters; mild winters, dry summers along coast

Terrain:

geographically diverse; flat plains along Hungarian border, low mountains and highlands near Adriatic coastline and islands

Elevation extremes:

lowest point: Adriatic Sea 0 m
highest point: Dinara 1,830 m

Natural resources:

oil, some coal, bauxite, low-grade iron ore, calcium, natural asphalt, silica, mica, clays, salt, hydropower

Natural hazards:

destructive earthquakes

Environment - current issues:

air pollution (from metallurgical plants) and resulting acid rain is damaging the forests; coastal pollution from industrial and domestic waste; landmine removal and reconstruction of infrastructure consequent to 1992-95 civil strife

Geography - note:

controls most land routes from Western Europe to Aegean Sea and Turkish Straits
Population of Croatia
Population:

4,491,543 (July 2008 est.)

Age structure:

0-14 years: 16.2% (male 373,638/female 354,261)
15-64 years: 67% (male 1,497,958/female 1,515,314)
65 years and over: 16.8% (male 288,480/female 465,098)

Median age:

40.3 years

Growth rate:

-0.03%

Infant mortality:

6.72 deaths/1,000 live births

Life expectancy at birth:

total population: 74.68 years
male: 71.03 years
female: 78.53 years

Total fertility rate:

1.4 children born/woman

Nationality:

noun: Croat(s), Croatian(s)
adjective: Croatian

Ethnic groups:

Croat 89.6%, Serb 4.5%, Bosniak 0.5%, Hungarian 0.4%, Slovene 0.3%, Czech 0.2%, Roma 0.2%, Albanian 0.1%, Montenegrin 0.1%, others 4.1%

Religions:

Roman Catholic 87.8%, Orthodox 4.4%, Muslim 1.3%, Protestant 0.3%, others and unknown 6.2% (2001)

Languages:

Croatian 96%, other 4% (including Italian, Hungarian, Czech, Slovak, and German)

Literacy:

definition: age 15 and over can read and write
total population: 98.5%
male: 99.4%
female: 97.8%
Government
Country name:

conventional long form: Republic of Croatia
local short form: Hrvatska
local long form: Republika Hrvatska

Government type:

presidential/parliamentary democracy

Capital:

Zagreb

Administrative divisions:

20 counties (zupanije, zupanija - singular) and 1 city* (grad - singular)

Independence:

25 June 1991 (from Yugoslavia)

National holiday:

Statehood Day, 25 June (1991)

Constitution:

adopted on 22 December 1990

Legal system:

based on civil law system

Suffrage:

18 years of age; universal (16 years of age, if employed)

Executive branch:

chief of state: President Stjepan (Stipe) MESIC (since 18 February 2000)
head of government: Prime Minister Ivo SANADER (since 9 December 2003); Deputy Prime Ministers Jadranka KOSOR (since 23 December 2003) and Damir POLANCEC (since 15 February 2005), Djurdja ADLESIC (since 12 January 2008), Slobodan UZELAC (since 12 January 2008)
cabinet: Council of Ministers named by the prime minister and approved by the parliamentary Assembly
elections: president elected by popular vote for a five-year term (eligible for a second term); election last held 16 January 2005 (next to be held in January 2010); the leader of the majority party or the leader of the majority coalition is usually appointed prime minister by the president and then approved by the Assembly

Legislative branch:

unicameral Assembly or Sabor (152 seats; note - one seat was added in the November 2003 parliamentary elections; members elected from party lists by popular vote to serve four-year terms)

Judicial branch:

Supreme Court; Constitutional Court; judges for both courts appointed for eight-year terms by the Judicial Council of the Republic, which is elected by the Assembly
Economy
Once one of the wealthiest of the Yugoslav republics, Croatia's economy suffered badly during the 1991-95 war as output collapsed and the country missed the early waves of investment in Central and Eastern Europe that followed the fall of the Berlin Wall. Since 2000, however, Croatia's economic fortunes have begun to improve slowly, with moderate but steady GDP growth between 4% and 6% led by a rebound in tourism and credit-driven consumer spending. Inflation over the same period has remained tame and the currency, the kuna, stable. Nevertheless, difficult problems still remain, including a stubbornly high unemployment rate, a growing trade deficit and uneven regional development. The state retains a large role in the economy, as privatization efforts often meet stiff public and political resistance. While macroeconomic stabilization has largely been achieved, structural reforms lag because of deep resistance on the part of the public and lack of strong support from politicians. The EU accession process should accelerate fiscal and structural reform.
GDP:

$69.59 billion (2007 est.)

GDP growth rate:

4%

GDP per capita:

$11,600

GDP composition by sector:

agriculture: 7%
industry: 30.8%
services: 62.2%

Inflation rate:

3.3%

Labor force:

1.71 million

Labor force - by occupation:

agriculture: 2.7%
industry: 32.8%
services: 64.5%

Unemployment:

18% official rate; labor force surveys indicate unemployment around 14%.

Budget:

revenues: $17.69 billion
expenditures: $19.35 billion

Electricity production by source:

fossil fuel: 33.6%
hydro: 66%
other: 0.4%
nuclear: 0%

Industries:

chemicals and plastics, machine tools, fabricated metal, electronics, pig iron and rolled steel products, aluminum, paper, wood products, construction materials, textiles, shipbuilding, petroleum and petroleum refining, food and beverages; tourism

Agriculture:

wheat, corn, sugar beets, sunflower seed, barley, alfalfa, clover, olives, citrus, grapes, soybeans, potatoes; livestock, dairy products

Exports:

transport equipment, textiles, chemicals, foodstuffs, fuels

Export partners:

Italy 21.8%, Bosnia and Herzegovina 14.7%, Germany 10.7%, Slovenia 8.1%, Austria 7.3%

Imports:

machinery, transport and electrical equipment, chemicals, fuels and lubricants, foodstuffs

Import partners:

Italy 15.9%, Germany 14.9%, Russia 9.1%, Slovenia 6.8%, Austria 5.8%, China 4.7%, France 4.2%

Currency:

kuna (HRK)
SOURCES: The CIA World Factbook, U.S. Department of State, Area Handbook of the US Library of Congress
Copyright 2004 - 2008 worldfacts.us