World Facts Index > Costa Rica > San Jose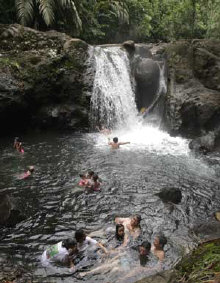 Although explored by the Spanish early in the 16th century, initial attempts at colonizing Costa Rica proved unsuccessful due to a combination of factors, including: disease from mosquito-infested swamps, brutal heat, resistance by natives, and pirate raids. It was not until 1563 that a permanent settlement of Cartago was established in the cooler, fertile central highlands. The area remained a colony for some two and a half centuries. In 1821, Costa Rica became one of several Central American provinces that jointly declared their independence from Spain. Two years later it joined the United Provinces of Central America, but this federation disintegrated in 1838, at which time Costa Rica proclaimed its sovereignty and independence. Since the late 19th century, only two brief periods of violence have marred the country's democratic development. Although it still maintains a large agricultural sector, Costa Rica has expanded its economy to include strong technology and tourism industries. The standard of living is relatively high. Land ownership is widespread.
Geography of Costa Rica
Location:

Middle America, bordering both the Caribbean Sea and the North Pacific Ocean, between Nicaragua and Panama

Coordinates:

10 00 N, 84 00 W

Area:

total: 51,100 sq km
water: 440 sq km
note: includes Isla del Coco
land: 50,660 sq km

Area comparative:

slightly smaller than West Virginia

Land boundaries:

total: 639 km
border countries: Nicaragua 309 km, Panama 330 km

Coastline:

1,290 km

Maritime claims:

continental shelf: 200 NM
exclusive economic zone: 200 NM
territorial sea: 12 NM

Climate:

tropical and subtropical; dry season (December to April); rainy season (May to November); cooler in highlands

Terrain:

coastal plains separated by rugged mountains including over 100 volcanic cones, of which several are major volcanoes

Elevation extremes:

lowest point: Pacific Ocean 0 m
highest point: Cerro Chirripo 3,810 m

Natural resources:

hydropower

Natural hazards:

occasional earthquakes, hurricanes along Atlantic coast; frequent flooding of lowlands at onset of rainy season and landslides; active volcanoes

Environment - current issues:

deforestation and land use change, largely a result of the clearing of land for cattle ranching and agriculture; soil erosion; coastal marine pollution; fisheries protection; solid waste management; air pollution

Geography - note:

four volcanoes, two of them active, rise near the capital of San Jose in the center of the country; one of the volcanoes, Irazu, erupted destructively in 1963-65
Population of Costa Rica
Population:

4,195,914 (July 2008 est.)

Age structure:

0-14 years: 28.3% (male 590,261/female 563,196)
15-64 years: 66% (male 1,359,750/female 1,329,346)
65 years and over: 5.7% (male 108,041/female 124,667)

Median age:

26.4 years

Growth rate:

1.45%

Infant mortality:

9.7 deaths/1,000 live births

Life expectancy at birth:

total population: 77.02 years
male: 74.43 years
female: 79.74 years

Total fertility rate:

2.24 children born/woman

Nationality:

noun: Costa Rican(s)
adjective: Costa Rican

Ethnic groups:

white (including mestizo) 94%, black 3%, Amerindian 1%, Chinese 1%, other 1%

Religions:

Roman Catholic 76.3%, Evangelical 13.7%, Jehovah's Witnesses 1.3%, other Protestant 0.7%, other 4.8%, none 3.2%

Languages:

Spanish (official), English

Literacy:

definition: age 15 and over can read and write
total population: 96%
male: 95.9%
female: 96.1%
Government
Country name:

conventional long form: Republic of Costa Rica
local long form: Republica de Costa Rica

Government type:

democratic republic

Capital:

San Jose

Administrative divisions:

7 provinces (provincias, singular - provincia); Alajuela, Cartago, Guanacaste, Heredia, Limon, Puntarenas, San Jose

Independence:

15 September 1821 (from Spain)

National holiday:

Independence Day, 15 September (1821)

Constitution:

7 November 1949

Legal system:

based on Spanish civil law system; judicial review of legislative acts in the Supreme Court; has accepted compulsory ICJ jurisdiction

Suffrage:

18 years of age; universal and compulsory

Executive branch:

chief of state: President Oscar ARIAS Sanchez (since 8 May 2006); First Vice President Laura CHINCHILLA (since 8 May 2006); Second Vice President (vacant); note - the president is both the chief of state and head of government
head of government: President Oscar ARIAS Sanchez (since 8 May 2006); First Vice President Laura CHINCHILLA (since 8 May 2006); Second Vice President (vacant)
cabinet: Cabinet selected by the president
elections: president and vice presidents elected on the same ticket by popular vote for a single four-year term; election last held 5 February 2006 (next to be held in February 2010)

Legislative branch:

unicameral Legislative Assembly or Asamblea Legislativa (57 seats; members are elected by direct, popular vote to serve four-year terms)

Judicial branch:

Supreme Court or Corte Suprema (22 justices are elected for eight-year terms by the Legislative Assembly)
Economy
Costa Rica's basically stable economy depends on tourism, agriculture, and electronics exports. Poverty has remained around 20% for nearly 20 years, and the strong social safety net that had been put into place by the government has eroded due to increased financial constraints on government expenditures. Immigration from Nicaragua has increasingly become a concern for the government. The estimated 300,000-500,000 Nicaraguans estimated to be in Costa Rica legally and illegally are an important source of (mostly unskilled) labor, but also place heavy demands on the social welfare system. Foreign investors remain attracted by the country's political stability and high education levels, as well as the fiscal incentives offered in the free-trade zones. Exports have become more diversified in the past 10 years due to the growth of the high-tech manufacturing sector, which is dominated by the microprocessor industry. Tourism continues to bring in foreign exchange, as Costa Rica's impressive biodiversity makes it a key destination for ecotourism. The government continues to grapple with its large internal and external deficits and sizable internal debt. Reducing inflation remains a difficult problem because of rising import prices, labor market rigidities, and fiscal deficits. Tax and public expenditure reforms will be necessary to close the budget gap. In October 2007, a national referendum voted in favor of the US-Central American Free Trade Agreement (CAFTA).
GDP:

$45.77 billion (2007 est.)

GDP growth rate:

4%

GDP per capita:

$11,100

GDP composition by sector:

agriculture: 8.8%
industry: 29.9%
services: 61.4%

Inflation rate:

13.8%

Labor force:

1.82 million

Labor force - by occupation:

agriculture: 20%
industry: 22%
services: 58%

Unemployment:

6.6%

Budget:

revenues: $2.722 billion
expenditures: $3.195 billion

Electricity production by source:

fossil fuel: 1.5%
hydro: 81.9%
other: 16.6%
nuclear: 0%

Industries:

microprocessors, food processing, textiles and clothing, construction materials, fertilizer, plastic products

Agriculture:

coffee, pineapples, bananas, sugar, corn, rice, beans, potatoes; beef; timber

Exports:

coffee, bananas, sugar; pineapples; textiles, electronic components, medical equipment

Export partners:

US 30.3%, Netherlands 13.1%, UK 7.9%, China 7.7%

Imports:

raw materials, consumer goods, capital equipment, petroleum

Import partners:

US 43.2%, Japan 5.8%, Mexico 5.5%, Brazil 4.6%, Venezuela 4.5%

Currency:

Costa Rican colon (CRC)
SOURCES: The CIA World Factbook, U.S. Department of State, Area Handbook of the US Library of Congress
Copyright 2004 - 2008 worldfacts.us