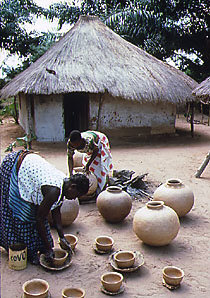 Established as a Belgian colony in 1908, the Republic of the Congo gained its independence in 1960, but its early years were marred by political and social instability. Col. Joseph MOBUTU seized power and declared himself president in a November 1965 coup. He subsequently changed his name - to MOBUTU Sese Seko - as well as that of the country - to Zaire. MOBUTU retained his position for 32 years through several sham elections, as well as through the use of brutal force. Ethnic strife and civil war, touched off by a massive inflow of refugees in 1994 from fighting in Rwanda and Burundi, led in May 1997 to the toppling of the MOBUTU regime by a rebellion backed by Rwanda and Uganda and fronted by Laurent KABILA. He renamed the country the Democratic Republic of the Congo (DRC), but in August 1998 his regime was itself challenged by a second insurrection again backed by Rwanda and Uganda. Troops from Angola, Chad, Namibia, Sudan, and Zimbabwe intervened to support KABILA's regime. A cease-fire was signed in July 1999 by the DRC, Congolese armed rebel groups, Angola, Namibia, Rwanda, Uganda, and Zimbabwe but sporadic fighting continued. Laurent KABILA was assassinated in January 2001 and his son, Joseph KABILA, was named head of state. In October 2002, the new president was successful in negotiating the withdrawal of Rwandan forces occupying eastern Congo; two months later, the Pretoria Accord was signed by all remaining warring parties to end the fighting and establish a government of national unity. A transitional government was set up in July 2003. Joseph KABILA as president and four vice presidents represented the former government, former rebel groups, the political opposition, and civil society. The transitional government held a successful constitutional referendum in December 2005 and elections for the presidency, National Assembly, and provincial legislatures in 2006. KABILA was inaugurated president in December 2006. The National Assembly was installed in September 2006. Its president, Vital KAMERHE, was chosen in December. Provincial assemblies were constituted in early 2007, and elected governors and national senators in January 2007.
Geography of the Democratic Republic of the Congo
Location:

Central Africa, northeast of Angola

Coordinates:

0 00 N, 25 00 E

Area:

total: 2,345,410 sq km
water: 77,810 sq km
land: 2,267,600 sq km

Area comparative:

slightly less than one-fourth the size of the US

Land boundaries:

total: 10,730 km
border countries: Angola 2,511 km (of which 225 km is the boundary of Angola's discontiguous Cabinda Province), Burundi 233 km, Central African Republic 1,577 km, Republic of the Congo 2,410 km, Rwanda 217 km, Sudan 628 km, Tanzania 459 km, Uganda 765 km, Zambia 1,930 km

Coastline:

37 km

Maritime claims:

exclusive economic zone: boundaries with neighbors
territorial sea: 12 NM

Climate:

tropical; hot and humid in equatorial river basin; cooler and drier in southern highlands; cooler and wetter in eastern highlands; north of Equator - wet season April to October, dry season December to February; south of Equator - wet season November to March, dry season April to October

Terrain:

vast central basin is a low-lying plateau; mountains in east

Elevation extremes:

lowest point: Atlantic Ocean 0 m
highest point: Pic Marguerite on Mont Ngaliema (Mount Stanley) 5,110 m

Natural resources:

cobalt, copper, cadmium, petroleum, industrial and gem diamonds, gold, silver, zinc, manganese, tin, germanium, uranium, radium, bauxite, iron ore, coal, hydropower, timber

Natural hazards:

periodic droughts in south; Congo River floods (seasonal); in the east, in the Great Rift Valley, there are active volcanoes

Environment - current issues:

poaching threatens wildlife populations; water pollution; deforestation; refugees responsible for significant deforestation, soil erosion, and wildlife poaching; mining of minerals (coltan - a mineral used in creating capacitors, diamonds, and gold) causing environmental damage

Geography - note:

straddles equator; has very narrow strip of land that controls the lower Congo River and is only outlet to South Atlantic Ocean; dense tropical rain forest in central river basin and eastern highlands
Population of the Democratic Republic of the Congo
Population:

66,514,504 (July 2008 est.)

Age structure:

0-14 years: 47.4% (male 14,906,488/female 14,798,210)
15-64 years: 50.1% (male 15,597,353/female 15,793,350)
65 years and over: 2.5% (male 632,143/female 933,007)

Median age:

16.2 years

Growth rate:

3.07%

Infant mortality:

88.62 deaths/1,000 live births

Life expectancy at birth:

total population: 51.46 years
male: 50.01 years
female: 52.94 years

Total fertility rate:

6.45 children born/woman

Nationality:

noun: Congolese (singular and plural)
adjective: Congolese or Congo

Ethnic groups:

over 200 African ethnic groups of which the majority are Bantu; the four largest tribes - Mongo, Luba, Kongo (all Bantu), and the Mangbetu-Azande (Hamitic) make up about 45% of the population

Religions:

Roman Catholic 50%, Protestant 20%, Kimbanguist 10%, Muslim 10%, other syncretic sects and indigenous beliefs 10%

Languages:

French (official), Lingala (a lingua franca trade language), Kingwana (a dialect of Kiswahili or Swahili), Kikongo, Tshiluba

Literacy:

definition: age 15 and over can read and write French, Lingala, Kingwana, or Tshiluba
total population: 65.5%
male: 76.2%
female: 55.1%
Government
Country name:

conventional long form: Democratic Republic of the Congo
former: Congo Free State, Belgian Congo, Congo/Leopoldville, Congo/Kinshasa, Zaire
local long form: Republique Democratique du Congo
abbreviation: DROC

Government type:

dictatorship; presumably undergoing a transition to representative government

Capital:

Kinshasa

Administrative divisions:

10 provinces (provinces, singular - province) and one city* (ville); Bandundu, Bas-Congo, Equateur, Kasai-Occidental, Kasai-Oriental, Katanga, Kinshasa*, Maniema, Nord-Kivu, Orientale, Sud-Kivu

Independence:

30 June 1960 (from Belgium)

National holiday:

Independence Day, 30 June (1960)

Constitution:

24 June 1967, amended August 1974, revised 15 February 1978, amended April 1990; transitional constitution promulgated in April 1994; in November 1998, a draft constitution was approved by former President Laurent KABILA but it was not ratified by a national referendum; one outcome of the ongoing inter-Congolese dialogue will be a new constitution

Legal system:

based on Belgian civil law system and tribal law; has not accepted compulsory ICJ jurisdiction

Suffrage:

18 years of age; universal and compulsory

Executive branch:

chief of state: President Joseph KABILA (since 17 January 2001); note - following the assassination of his father, Joseph KABILA succeeded to the presidency which he retained through the 2003-06 transition; he was subsequently elected president in October 2006
head of government: Prime Minister Adolphe MUZITO (since 10 October 2008)
cabinet: Ministers of State appointed by the president
elections: under the new constitution the president is elected by popular vote for a five-year term (eligible for a second term); elections last held 30 July 2006 and 29 October 2006 (next to be held in 2011); prime minister appointed by the president
election results: Joseph KABILA elected president; percent of vote (second round) - Joseph KABILA 58%, Jean-Pierre BEMBA Gombo 42%
note: Joseph KABILA succeeded his father, Laurent Desire KABILA, following the latter's assassination in January 2001; negotiations with rebel leaders led to the establishment of a transitional government in July 2003 with free elections held on 30 July 2006 and 29 October 2006 confirming Joseph KABILA as president

Legislative branch:

a 500-member National Assembly and a 120-seat Senate established in June 2003

Judicial branch:

Supreme Court or Cour Supreme
Economy
The economy of the Democratic Republic of the Congo - a nation endowed with vast potential wealth - is slowly recovering from two decades of decline. Conflict, which began in August 1998, dramatically reduced national output and government revenue, increased external debt, and resulted in the deaths of more than 3.5 million people from violence, famine, and disease. Foreign businesses curtailed operations due to uncertainty about the outcome of the conflict, lack of infrastructure, and the difficult operating environment. Conditions began to improve in late 2002 with the withdrawal of a large portion of the invading foreign troops. The transitional government reopened relations with international financial institutions and international donors, and President KABILA has begun implementing reforms, although progress is slow and the International Monetary Fund curtailed their program for the DRC at the end of March 2006 because of fiscal overruns. Much economic activity still occurs in the informal sector, and is not reflected in GDP data. Renewed activity in the mining sector, the source of most export income, boosted Kinshasa's fiscal position and GDP growth. Government reforms and improved security may lead to increased government revenues, outside budget assistance, and foreign direct investment, although an uncertain legal framework, corruption, and a lack of transparency in government policy are continuing long-term problems.
GDP:

$19.03 billion (2007 est.)

GDP growth rate:

6.5%

GDP per capita:

$700

GDP composition by sector:

agriculture: 55%
industry: 11%
services: 34%

Inflation rate:

9%

Budget:

revenues: $700 million
expenditures: $750 million

Electricity production by source:

fossil fuel: 1.8%
hydro: 98.2%
other: 0%

Industries:

mining (diamonds, copper, zinc), mineral processing, consumer products (including textiles, footwear, cigarettes, processed foods and beverages), cement

Agriculture:

coffee, sugar, palm oil, rubber, tea, quinine, cassava (tapioca), palm oil, bananas, root crops, corn, fruits; wood products

Exports:

diamonds, copper, crude oil, coffee, cobalt

Export partners:

Belgium 37.8%, US 17.8%, China 11.6%, Finland 9%, France 7.9%, Chile 4.3%

Imports:

foodstuffs, mining and other machinery, transport equipment, fuels

Import partners:

South Africa 17.1%, Belgium 15.7%, France 9%, Zambia 8.4%, Kenya 5.9%, Germany 4.6%, US 4.5%, Cote d'Ivoire 4.3%

Currency:

Congolese franc (CDF)
SOURCES: The CIA World Factbook, U.S. Department of State, Area Handbook of the US Library of Congress
Copyright 2004 - 2008 worldfacts.us