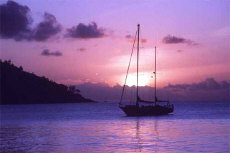 Comoros has endured more than 20 coups or attempted coups since gaining independence from France in 1975. In 1997, the islands of Anjouan and Moheli declared independence from Comoros. In 1999, military chief Col. AZALI seized power in a bloodless coup, and helped negotiate the 2000 Fomboni Accords power-sharing agreement in which the federal presidency rotates among the three islands, and each island maintains its own local government. AZALI won the 2002 Presidential election, and each island in the archipelago elected its own president. AZALI stepped down in 2006 and President SAMBI took office. Since 2006, Anjouan's President Mohamed BACAR has refused to work effectively with the Union presidency. In 2007, BACAR effected Anjouan's de-facto secession from the Union, refusing to step down in favor of fresh Anjouanais elections when Comoros' other islands held legitimate elections in July. The African Union (AU) initially attempted to resolve the political crisis by applying sanctions and a naval blockade on Anjouan, but in March 2008, AU and Comoran soldiers seized the island. The move was generally welcomed by the island's inhabitants.
Geography of Comoros
Location:

Southern Africa, group of islands at the northern mouth of the Mozambique Channel, about two-thirds of the way between northern Madagascar and northern Mozambique

Coordinates:

12 10 S, 44 15 E

Area:

total: 2,170 sq km
water: 0 sq km
land: 2,170 sq km

Area comparative:

slightly more than 12 times the size of Washington, DC

Land boundaries:

0 km

Coastline:

340 km

Maritime claims:

exclusive economic zone: 200 NM
territorial sea: 12 NM

Climate:

tropical marine; rainy season (November to May)

Terrain:

volcanic islands, interiors vary from steep mountains to low hills

Elevation extremes:

lowest point: Indian Ocean 0 m
highest point: Le Kartala 2,360 m

Natural resources:

Negligible

Natural hazards:

cyclones possible during rainy season (December to April); Le Kartala on Grand Comore is an active volcano

Environment - current issues:

soil degradation and erosion results from crop cultivation on slopes without proper terracing; deforestation

Geography - note:

important location at northern end of Mozambique Channel
Population of Comoros
Population:

731,775 (July 2008 est.)

Age structure:

0-14 years: 42.7% (male 148,009/female 147,038)
15-64 years: 54.3% (male 185,107/female 190,139)
65 years and over: 3% (male 9,672/female 10,983)

Median age:

18.6 years

Growth rate:

2.87%

Infant mortality:

72.85 deaths/1,000 live births

Life expectancy at birth:

total population: 62.33 years
male: 60 years
female: 64.72 years

Total fertility rate:

5.03 children born/woman

Nationality:

noun: Comoran(s)
adjective: Comoran

Ethnic groups:

Antalote, Cafre, Makoa, Oimatsaha, Sakalava

Religions:

Sunni Muslim 98%, Roman Catholic 2%

Languages:

Arabic (official), French (official), Shikomoro (a blend of Swahili and Arabic)

Literacy:

definition: age 15 and over can read and write
total population: 56.5%
male: 63.6%
female: 49.3%
Government
Country name:

conventional long form: Union of the Comoros
local short form: Comores
local long form: Union des Comores

Government type:

independent republic

Capital:

Moroni

Administrative divisions:

3 islands; Grande Comore (Njazidja), Anjouan (Nzwani), and Moheli (Mwali); note - there are also four municipalities named Domoni, Fomboni, Moroni, and Moutsamoudou

Independence:

6 July 1975 (from France)

National holiday:

Independence Day, 6 July (1975)

Constitution:

23 December 2001
note: a Transitional National Unity Government (GUNT) was formed on 20 January 2002 following the passing of the new constitution; the GUNT governed until the presidential elections on 14 April 2002

Legal system:

French and Sharia (Islamic) law in a new consolidated code

Suffrage:

18 years of age; universal

Executive branch:

chief of state: President Ahmed Abdallah SAMBI (since 26 May 2006)
head of government: President Ahmed Abdallah SAMBI (since 26 May 2006)
cabinet: Council of Ministers appointed by the president
elections: as defined by the 2001 constitution, the presidency rotates every four years among the elected presidents from the three main islands in the Union; election last held 14 May 2006 (next to be held by May 2010); prime minister appointed by the president; note - the post of prime minister has been vacant since May 2002

Legislative branch:

unicameral Assembly of the Union (33 seats; 15 deputies are selected by the individual islands' local assemblies and the 18 by universal suffrage; deputies serve for five years)

Judicial branch:

Supreme Court or Cour Supremes (two members appointed by the president, two members elected by the Federal Assembly, one elected by the Council of each island, and others are former presidents of the republic).
Economy
One of the world's poorest countries, Comoros is made up of three islands that have inadequate transportation links, a young and rapidly increasing population, and few natural resources. The low educational level of the labor force contributes to a subsistence level of economic activity, high unemployment, and a heavy dependence on foreign grants and technical assistance. Agriculture, including fishing, hunting, and forestry, contributes 40% to GDP, employs 80% of the labor force, and provides most of the exports. The country is not self-sufficient in food production; rice, the main staple, accounts for the bulk of imports. The government - which is hampered by internal political disputes - is struggling to upgrade education and technical training, privatize commercial and industrial enterprises, improve health services, diversify exports, promote tourism, and reduce the high population growth rate. The political problems caused the economy to contract in 2007. Remittances from 150,000 Comorans abroad help supplement GDP.
GDP:

$1.262 billion (2007 est.)

GDP growth rate:

3%

GDP per capita:

$1,100

GDP composition by sector:

agriculture: 40%
industry: 4%
services: 56%

Inflation rate:

3%

Labor force:

144,500

Labor force - by occupation:

agriculture: 80%
industry and services: 20%

Unemployment:

20%

Budget:

revenues: $27.6 million

Electricity production by source:

fossil fuel: 90.6%
hydro: 9.4%

Industries:

tourism, perfume distillation

Agriculture:

vanilla, cloves, perfume essences, copra, coconuts, bananas, cassava (tapioca)

Exports:

vanilla, ylang-ylang, cloves, perfume oil, copra

Export partners:

France 27.6%, Singapore 16.7%, Japan 15.1%, Germany 13.6%, US 5.8%, Netherlands 5.2%

Imports:

rice and other foodstuffs, consumer goods; petroleum products, cement, transport equipment

Import partners:

France 20.3%, South Africa 12.1%, Kenya 8.3%, UAE 8.3%, Pakistan 5.2%, Mauritius 4.6%, Belgium 4.2%

Currency:

Comoran franc (KMF)
SOURCES: The CIA World Factbook, U.S. Department of State, Area Handbook of the US Library of Congress
Copyright 2004 - 2008 worldfacts.us