World Facts Index > China > Beijing, Chengdu, Guangzhou, Harbin, Kunming, Shanghai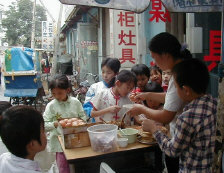 For centuries China stood as a leading civilization, outpacing the rest of the world in the arts and sciences, but in the 19th and early 20th centuries, the country was beset by civil unrest, major famines, military defeats, and foreign occupation. After World War II, the Communists under MAO Zedong established an autocratic socialist system that, while ensuring China's sovereignty, imposed strict controls over everyday life and cost the lives of tens of millions of people. After 1978, his successor DENG Xiaoping and other leaders focused on market-oriented economic development and by 2000 output had quadrupled. For much of the population, living standards have improved dramatically and the room for personal choice has expanded, yet political controls remain tight.
Geography of China
Location:

Eastern Asia, bordering the East China Sea, Korea Bay, Yellow Sea, and South China Sea, between North Korea and Vietnam

Coordinates:

35 00 N, 105 00 E

Area:

total: 9,596,960 sq km
land: 9,326,410 sq km
water: 270,550 sq km

Area comparative:

slightly smaller than the US

Land boundaries:

total: 22,147.34 km
border countries: Afghanistan 76 km, Bhutan 470 km, Burma 2,185 km, Hong Kong 30 km, India 3,380 km, Kazakhstan 1,533 km, North Korea 1,416 km, Kyrgyzstan 858 km, Laos 423 km, Macau 0.34 km, Mongolia 4,677 km, Nepal 1,236 km, Pakistan 523 km, Russia (northeast) 3,605 km, Russia (northwest) 40 km, Tajikistan 414 km, Vietnam 1,281 km

Coastline:

14,500 km

Maritime claims:

contiguous zone: 24 NM
exclusive economic zone: 200 NM
continental shelf: 200 NM or to the edge of the continental margin
territorial sea: 12 NM

Climate:

extremely diverse; tropical in south to subarctic in north

Terrain:

mostly mountains, high plateaus, deserts in west; plains, deltas, and hills in east

Elevation extremes:

lowest point: Turpan Pendi -154 m
highest point: Mount Everest 8,850 m (1999 est.)

Natural resources:

coal, iron ore, petroleum, natural gas, mercury, tin, tungsten, antimony, manganese, molybdenum, vanadium, magnetite, aluminum, lead, zinc, uranium, hydropower potential (world's largest)

Natural hazards:

frequent typhoons (about five per year along southern and eastern coasts); damaging floods; tsunamis; earthquakes; droughts; land subsidence

Environment - current issues:

air pollution (greenhouse gases, sulfur dioxide particulates) from reliance on coal produces acid rain; water shortages, particularly in the north; water pollution from untreated wastes; deforestation; estimated loss of one-fifth of agricultural land since 1949 to soil erosion and economic development; desertification; trade in endangered species

Geography - note:

world's fourth-largest country (after Russia, Canada, and US); Mount Everest on the border with Nepal is the world's tallest peak;
Population of China
Population:

1,330,044,544 (July 2008 est.)

Age structure:

0-14 years: 20.8% (male 145,461,833/female 128,445,739)
15-64 years: 71.4% (male 482,439,115/female 455,960,489)
65 years and over: 7.7% (male 48,562,635/female 53,103,902)

Median age:

32.7 years

Growth rate:

0.59%

Infant mortality:

23.12 deaths/1,000 live births

Life expectancy at birth:

total population: 72.58 years
male: 70.89 years
female: 74.46 years

Total fertility rate:

1.73 children born/woman

Nationality:

noun: Chinese (singular and plural)
adjective: Chinese

Ethnic groups:

Han Chinese 91.9%, Zhuang, Uygur, Hui, Yi, Tibetan, Miao, Manchu, Mongol, Buyi, Korean, and other nationalities 8.1%

Religions:

Daoist (Taoist), Buddhist, Muslim 1%-2%, Christian 3%-4%
note: officially atheist

Languages:

Standard Chinese or Mandarin (Putonghua, based on the Beijing dialect), Yue (Cantonese), Wu (Shanghaiese), Minbei (Fuzhou), Minnan (Hokkien-Taiwanese), Xiang, Gan, Hakka dialects, minority languages (see Ethnic groups entry)

Literacy:

definition: age 15 and over can read and write
total population: 90.9%
male: 95.1%
female: 86.5%
Government
Country name:

conventional long form: People's Republic of China
local short form: Zhong Guo
abbreviation: PRC
local long form: Zhonghua Renmin Gongheguo

Government type:

Communist state

Capital:

Beijing

Administrative divisions:

23 provinces (sheng, singular and plural), 5 autonomous regions* (zizhiqu, singular and plural), and 4 municipalities** (shi, singular and plural); Anhui, Beijing**, Chongqing**, Fujian, Gansu, Guangdong, Guangxi*, Guizhou, Hainan, Hebei, Heilongjiang, Henan, Hubei, Hunan, Jiangsu, Jiangxi, Jilin, Liaoning, Nei Mongol*, Ningxia*, Qinghai, Shaanxi, Shandong, Shanghai**, Shanxi, Sichuan, Tianjin**, Xinjiang*, Xizang* (Tibet), Yunnan, Zhejiang; note - China considers Taiwan its 23rd province; see separate entries for the special administrative regions of Hong Kong and Macau

Independence:

221 BC (unification under the Qin or Ch'in Dynasty 221 BC; Qing or Ch'ing Dynasty replaced by the Republic on 12 February 1912; People's Republic established 1 October 1949)

National holiday:

Anniversary of the Founding of the People's Republic of China, 1 October (1949)

Constitution:

most recent promulgation 4 December 1982

Legal system:

a complex amalgam of custom and statute, largely criminal law; rudimentary civil code in effect since 1 January 1987; new legal codes in effect since 1 January 1980; continuing efforts are being made to improve civil, administrative, criminal, and commercial law

Suffrage:

18 years of age; universal

Executive branch:

chief of state: President HU Jintao (since 15 March 2003); Vice President XI Jinping (since 15 March 2008)
head of government: Premier WEN Jiabao (since 16 March 2003); Executive Vice Premier LI Keqiang (17 March 2008), Vice Premier HUI Liangyu (since 17 March 2003), Vice Premier ZHANG Deijiang (since 17 March 2008), and Vice Premier WANG Qishan (since 17 March 2008)
cabinet: State Council appointed by National People's Congress (NPC)
elections: president and vice president elected by National People's Congress for a five-year term (eligible for a second term); elections last held 15-17 March 2008 (next to be held in mid-March 2013); premier nominated by president, confirmed by National People's Congress

Legislative branch:

unicameral National People's Congress or Quanguo Renmin Daibiao Dahui (2,985 seats; members elected by municipal, regional, and provincial people's congresses to serve five-year terms)

Judicial branch:

Supreme People's Court (judges appointed by the National People's Congress); Local Peoples Courts (comprise higher, intermediate and local courts); Special Peoples Courts (primarily military, maritime, and railway transport courts)
Economy
China's economy during the last quarter century has changed from a centrally planned system that was largely closed to international trade to a more market-oriented economy that has a rapidly growing private sector and is a major player in the global economy. Reforms started in the late 1970s with the phasing out of collectivized agriculture, and expanded to include the gradual liberalization of prices, fiscal decentralization, increased autonomy for state enterprises, the foundation of a diversified banking system, the development of stock markets, the rapid growth of the non-state sector, and the opening to foreign trade and investment. China has generally implemented reforms in a gradualist or piecemeal fashion, including the sale of minority shares in four of China's largest state banks to foreign investors and refinements in foreign exchange and bond markets in 2005. After keeping its currency tightly linked to the US dollar for years, China in July 2005 revalued its currency by 2.1% against the US dollar and moved to an exchange rate system that references a basket of currencies. Cumulative appreciation of the renminbi against the US dollar since the end of the dollar peg reached 15% in January 2008. The restructuring of the economy and resulting efficiency gains have contributed to a more than tenfold increase in GDP since 1978. Measured on a purchasing power parity (PPP) basis, China in 2007 stood as the second-largest economy in the world after the US, although in per capita terms the country is still lower middle-income. Annual inflows of foreign direct investment in 2007 rose to $75 billion. By the end of 2007, more than 5,000 domestic Chinese enterprises had established direct investments in 172 countries and regions around the world. The Chinese government faces several economic development challenges: (a) to sustain adequate job growth for tens of millions of workers laid off from state-owned enterprises, migrants, and new entrants to the work force; (b) to reduce corruption and other economic crimes; and (c) to contain environmental damage and social strife related to the economy's rapid transformation. Economic development has been more rapid in coastal provinces than in the interior, and approximately 200 million rural laborers have relocated to urban areas to find work. One demographic consequence of the "one child" policy is that China is now one of the most rapidly aging countries in the world. Deterioration in the environment - notably air pollution, soil erosion, and the steady fall of the water table, especially in the north - is another long-term problem. China continues to lose arable land because of erosion and economic development. In 2007 China intensified government efforts to improve environmental conditions, tying the evaluation of local officials to environmental targets, publishing a national climate change policy, and establishing a high level leading group on climate change, headed by Premier WEN Jiabao. The Chinese government seeks to add energy production capacity from sources other than coal and oil as its double-digit economic growth increases demand. Chinese energy officials in 2007 agreed to purchase five third generation nuclear reactors from Western companies. More power generating capacity came on line in 2006 as large scale investments - including the Three Gorges Dam across the Yangtze River - were completed.
GDP:

$7.099 trillion (2007 est.)

GDP growth rate:

9.9%

GDP per capita:

$5,400

GDP composition by sector:

agriculture: 12.5%
industry: 47.3%
services: 40.3%
note: industry includes construction

Inflation rate:

1.8%

Labor force:

791.4 million

Labor force - by occupation:

agriculture: 49%
industry: 22%
services: 29%

Budget:

revenues: $392.1 billion
expenditures: $424.3 billion

Electricity production by source:

fossil fuel: 80.2%
hydro: 18.5%
other: 0.1%
nuclear: 1.2%

Industries:

mining and ore processing, iron, steel, aluminum, and other metals, coal; machine building; armaments; textiles and apparel; petroleum; cement; chemicals; fertilizers; consumer products, including footwear, toys, and electronics; food processing; transportation equipment, including automobiles, rail cars and locomotives, ships, and aircraft; telecommunications equipment, commercial space launch vehicles, satellites

Agriculture:

rice, wheat, potatoes, sorghum, peanuts, tea, millet, barley, cotton, oilseed, pork, fish

Exports:

machinery and equipment, plastics, optical and medical equipment, iron and steel

Export partners:

US 21.4%, Hong Kong 16.3%, Japan 11%, South Korea 4.6%, Germany 4.3%

Imports:

machinery and equipment, mineral fuels, plastics, iron and steel, chemicals

Import partners:

Japan 15.2%, South Korea 11.6%, Taiwan 11.2%, US 7.4%, Germany 4.6%

Currency:

yuan (CNY)
note:: also referred to as the Renminbi (RMB)
SOURCES: The CIA World Factbook, U.S. Department of State, Area Handbook of the US Library of Congress
Copyright 2004 - 2008 worldfacts.us