World Facts Index > Chile > Santiago, Vina Del Mar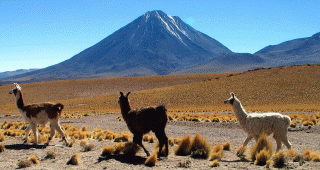 Prior to the coming of the Spanish in the 16th century, northern Chile was under Inca rule while Araucanian Indians (also known as Mapuches) inhabited central and southern Chile. Although Chile declared its independence in 1810, decisive victory over the Spanish was not achieved until 1818. In the War of the Pacific (1879-83), Chile defeated Peru and Bolivia and won its present northern regions. It was not until the 1880s that the Araucanian Indians were completely subjugated. A three-year-old Marxist government of Salvador ALLENDE was overthrown in 1973 by a military coup led by Augusto PINOCHET, who ruled until a freely elected president was installed in 1990. Sound economic policies, maintained consistently since the 1980s, have contributed to steady growth, reduced poverty rates by over half, and have helped secure the country's commitment to democratic and representative government. Chile has increasingly assumed regional and international leadership roles befitting its status as a stable, democratic nation.
Geography of Chile
Location:

Southern South America, bordering the South Pacific Ocean, between Argentina and Peru

Coordinates:

30 00 S, 71 00 W

Area:

total: 756,950 sq km
land: 748,800 sq km
note: includes Easter Island (Isla de Pascua) and Isla Sala y Gomez
water: 8,150 sq km

Area comparative:

slightly smaller than twice the size of Montana

Land boundaries:

total: 6,171 km
border countries: Argentina 5,150 km, Bolivia 861 km, Peru 160 km

Coastline:

6,435 km

Maritime claims:

contiguous zone: 24 NM
territorial sea: 12 NM
continental shelf: 200/350 NM
exclusive economic zone: 200 NM

Climate:

temperate; desert in north; Mediterranean in central region; cool and damp in south

Terrain:

low coastal mountains; fertile central valley; rugged Andes in east

Elevation extremes:

lowest point: Pacific Ocean 0 m
highest point: Nevado Ojos del Salado 6,880 m

Natural resources:

copper, timber, iron ore, nitrates, precious metals, molybdenum, hydropower

Natural hazards:

severe earthquakes; active volcanism; tsunamis

Environment - current issues:

widespread deforestation and mining threaten natural resources; air pollution from industrial and vehicle emissions; water pollution from raw sewage

Geography - note:

strategic location relative to sea lanes between Atlantic and Pacific Oceans (Strait of Magellan, Beagle Channel, Drake Passage); Atacama Desert is one of world's driest regions
Population of Chile
Population:

16,454,143 (July 2008 est.)

Age structure:

0-14 years: 24.7% (male 2,035,278/female 1,944,754)
15-64 years: 67.1% (male 5,403,525/female 5,420,497)
65 years and over: 8.2% (male 555,075/female 775,090)

Median age:

30.4 years

Growth rate:

0.94%

Infant mortality:

8.58 deaths/1,000 live births

Life expectancy at birth:

total population: 76.77 years
male: 73.49 years
female: 80.21 years

Total fertility rate:

2 children born/woman

Nationality:

noun: Chilean(s)
adjective: Chilean

Ethnic groups:

white and white-Amerindian 95%, Amerindian 3%, other 2%

Religions:

Roman Catholic 89%, Protestant 11%, Jewish NEGL%

Languages:

Spanish

Literacy:

definition: age 15 and over can read and write
total population: 96.2%
male: 96.4%
female: 96.1%
Government
Country name:

conventional long form: Republic of Chile
local long form: Republica de Chile

Government type:

republic

Capital:

Santiago

Administrative divisions:

13 regions (regiones, singular - region); Aisen del General Carlos Ibanez del Campo, Antofagasta, Araucania, Atacama, Bio-Bio, Coquimbo, Libertador General Bernardo O'Higgins, Los Lagos, Magallanes y de la Antartica Chilena, Maule, Region Metropolitana (Santiago), Tarapaca, Valparaiso
note: the US does not recognize claims to Antarctica

Independence:

18 September 1810 (from Spain)

National holiday:

Independence Day, 18 September (1810)

Constitution:

11 September 1980, effective 11 March 1981, amended 30 July 1989, 1993, and 1997

Legal system:

based on Code of 1857 derived from Spanish law and subsequent codes influenced by French and Austrian law; judicial review of legislative acts in the Supreme Court; has not accepted compulsory ICJ jurisdiction
note: Chile is in the process of completely overhauling its criminal justice system; a new, US-style adversarial system is being gradually implemented throughout the country with the final stage of implementation in the Santiago metropolitan region expected in June 2005

Suffrage:

18 years of age; universal and compulsory

Executive branch:

chief of state: President Michelle BACHELET Jeria (since 11 March 2006); note - the president is both the chief of state and head of government
head of government: President Michelle BACHELET Jeria (since 11 March 2006)
cabinet: Cabinet appointed by the president
elections: president elected by popular vote for a single four-year term; election last held 11 December 2005, with runoff election held 15 January 2006 (next to be held in December 2009)

Legislative branch:

bicameral National Congress or Congreso Nacional consists of the Senate or Senado (38 seats elected by popular vote; members serve eight-year terms - one-half elected every four years) and the Chamber of Deputies or Camara de Diputados (120 seats; members are elected by popular vote to serve four-year terms)

Judicial branch:

Supreme Court or Corte Suprema (judges are appointed by the president and ratified by the Senate from lists of candidates provided by the court itself; the president of the Supreme Court is elected every three years by the 20-member court); Constitutional Tribunal.
Economy
Chile has a market-oriented economy characterized by a high level of foreign trade. During the early 1990s, Chile's reputation as a role model for economic reform was strengthened when the democratic government of Patricio AYLWIN - which took over from the military in 1990 - deepened the economic reform initiated by the military government. Growth in real GDP averaged 8% during 1991-97, but fell to half that level in 1998 because of tight monetary policies implemented to keep the current account deficit in check and because of lower export earnings - the latter a product of the global financial crisis. A severe drought exacerbated the recession in 1999, reducing crop yields and causing hydroelectric shortfalls and electricity rationing, and Chile experienced negative economic growth for the first time in more than 15 years. Despite the effects of the recession, Chile maintained its reputation for strong financial institutions and sound policy that have given it the strongest sovereign bond rating in South America. Between 2000 and 2007 growth ranged between 2%-6%. Throughout these years Chile maintained a low rate of inflation with GDP growth coming from high copper prices, solid export earnings (particularly forestry, fishing, and mining), and growing domestic consumption. President BACHELET in 2006 established an Economic and Social Stabilization Fund to hold excess copper revenues so that social spending can be maintained during periods of copper shortfalls. This fund probably surpassed $20 billion at the end of 2007. Chile continues to attract foreign direct investment, but most foreign investment goes into gas, water, electricity and mining. Unemployment has exhibited a downward trend over the past two years, dropping to 7.8% and 7.0% at the end of 2006 and 2007, respectively. Chile deepened its longstanding commitment to trade liberalization with the signing of a free trade agreement with the US, which took effect on 1 January 2004. Chile claims to have more bilateral or regional trade agreements than any other country. It has 57 such agreements (not all of them full free trade agreements), including with the European Union, Mercosur, China, India, South Korea, and Mexico.
GDP:

$232.8 billion (2007 est.)

GDP growth rate:

6%

GDP per capita:

$14,300

GDP composition by sector:

agriculture: 6%
industry: 49.3%
services: 44.7%

Inflation rate:

3.1%

Labor force:

6.3 million

Labor force - by occupation:

agriculture: 13.6%
industry: 23.4%
services: 63%

Unemployment:

8.1%

Budget:

revenues: $29.2 billion
expenditures: $24.75 billion

Electricity production by source:

fossil fuel: 47%
hydro: 51.5%
other: 1.4%
nuclear: 0%

Industries:

copper, other minerals, foodstuffs, fish processing, iron and steel, wood and wood products, transport equipment, cement, textiles, tourism

Agriculture:

grapes, apples, pears, onions, wheat, corn, oats, peaches, garlic, asparagus, beans, beef, poultry, wool; fish; timber

Exports:

copper, fish, fruits, paper and pulp, chemicals, wine

Export partners:

US 15.8%, Japan 11.1%, China 11.1%, Netherlands 5.8%, South Korea 5.5%, Brazil 4.4%, Italy 4.1%, Mexico 4.1%

Imports:

petroleum and petroleum products, chemicals, electrical and telecommunications equipment, industrial machinery, vehicles, natural gas

Import partners:

Argentina 14.8%, US 14.6%, Brazil 11.7%, China 7.8%, South Korea 4.8%, Yemen 4.4%

Currency:

Chilean peso (CLP)
SOURCES: The CIA World Factbook, U.S. Department of State, Area Handbook of the US Library of Congress
Copyright 2004 - 2008 worldfacts.us