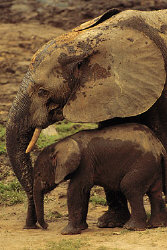 The former French colony of Ubangi-Shari became the Central African Republic upon independence in 1960. After three tumultuous decades of misrule - mostly by military governments - civilian rule was established in 1993 and lasted for one decade. President Ange-Felix PATASSE's civilian government was plagued by unrest, and in March 2003 he was deposed in a military coup led by General Francois BOZIZE, who established a transitional government. Though the government has the tacit support of civil society groups and the main parties, a wide field of candidates contested the municipal, legislative, and presidential elections held in March and May of 2005 in which General BOZIZE was affirmed as president. The government still does not fully control the countryside, where pockets of lawlessness persist. Unrest in neighboring nations, Chad, Sudan, and the DRC, continues to affect stability in the Central African Republic as well.
Geography of the Central African Republic
Location:

Central Africa, north of Democratic Republic of the Congo

Coordinates:

7 00 N, 21 00 E

Area:

total: 622,984 sq km
water: 0 sq km
land: 622,984 sq km

Area comparative:

slightly smaller than Texas

Land boundaries:

total: 5,203 km
border countries: Cameroon 797 km, Chad 1,197 km, Democratic Republic of the Congo 1,577 km, Republic of the Congo 467 km, Sudan 1,165 km

Coastline:

0 km (landlocked)

Maritime claims:

none (landlocked)

Climate:

tropical; hot, dry winters; mild to hot, wet summers

Terrain:

vast, flat to rolling, monotonous plateau; scattered hills in northeast and southwest

Elevation extremes:

lowest point: Oubangui River 335 m
highest point: Mont Ngaoui 1,420 m

Natural resources:

diamonds, uranium, timber, gold, oil, hydropower

Natural hazards:

hot, dry, dusty harmattan winds affect northern areas; floods are common

Environment - current issues:

tap water is not potable; poaching has diminished its reputation as one of the last great wildlife refuges; desertification; deforestation

Geography - note:

landlocked; almost the precise center of Africa
Population of the Central African Republic
Population:

4,444,330 (July 2008 est.)

Age structure:

0-14 years: 41.9% (male 907,629/female 897,153)
15-64 years: 53.9% (male 1,146,346/female 1,173,268)
65 years and over: 4.2% (male 71,312/female 107,648)

Median age:

18.4 years

Growth rate:

1.53%

Infant mortality:

85.63 deaths/1,000 live births

Life expectancy at birth:

total population: 43.54 years
male: 43.46 years
female: 43.62 years

Total fertility rate:

4.41 children born/woman

Nationality:

noun: Central African(s)
adjective: Central African

Ethnic groups:

Baya 33%, Banda 27%, Mandjia 13%, Sara 10%, Mboum 7%, M'Baka 4%, Yakoma 4%, other 2%

Religions:

indigenous beliefs 35%, Protestant 25%, Roman Catholic 25%, Muslim 15%
note: animistic beliefs and practices strongly influence the Christian majority

Languages:

French (official), Sangho (lingua franca and national language), tribal languages

Literacy:

definition: age 15 and over can read and write
total population: 51%
male: 63.3%
female: 39.9%
Government
Country name:

local long form: Republique Centrafricaine
former: Ubangi-Shari, Central African Empire
abbreviation: CAR

Government type:

republic

Capital:

Bangui

Administrative divisions:

14 prefectures (prefectures, singular - prefecture), 2 economic prefectures* (prefectures economiques, singular - prefecture economique), and 1 commune**; Bamingui-Bangoran, Bangui**, Basse-Kotto, Haute-Kotto, Haut-Mbomou, Kemo, Lobaye, Mambere-Kadei, Mbomou, Nana-Grebizi*, Nana-Mambere, Ombella-Mpoko, Ouaka, Ouham, Ouham-Pende, Sangha-Mbaere*, Vakaga

Independence:

13 August 1960 (from France)

National holiday:

Republic Day, 1 December (1958)

Constitution:

passed by referendum 29 December 1994; adopted 7 January 1995

Legal system:

based on French law

Suffrage:

21 years of age; universal

Executive branch:

chief of state: President Francois BOZIZE (since 15 March 2003 coup)
head of government: Prime Minister Faustin-Archange TOUADERA (since 22 January 2008)
cabinet: Council of Ministers
elections: under the new constitution, the president elected to a five-year term (eligible for a second term); elections last held 13 March and 8 May 2005 (next to be held in 2010); prime minister appointed by the political party with a parliamentary majority

Legislative branch:

unicameral National Assembly or Assemblee Nationale (109 seats; members are elected by popular vote to serve five-year terms)

Judicial branch:

Supreme Court or Cour Supreme; Constitutional Court (3 judges appointed by the president, 3 by the president of the National Assembly, and 3 by fellow judges); Court of Appeal; Criminal Courts; Inferior Courts
Economy
Subsistence agriculture, together with forestry, remains the backbone of the economy of the Central African Republic (CAR), with more than 70% of the population living in outlying areas. The agricultural sector generates more than half of GDP. Timber has accounted for about 16% of export earnings and the diamond industry, for 40%. Important constraints to economic development include the CAR's landlocked position, a poor transportation system, a largely unskilled work force, and a legacy of misdirected macroeconomic policies. Factional fighting between the government and its opponents remains a drag on economic revitalization. Distribution of income is extraordinarily unequal. Grants from France and the international community can only partially meet humanitarian needs.
GDP:

$3.007 billion (2007 est.)

GDP growth rate:

2.2%

GDP per capita:

$700

GDP composition by sector:

agriculture: 55%
industry: 20%
services: 25%

Electricity production by source:

fossil fuel: 19.8%
hydro: 80.2%

Industries:

diamond mining, logging, brewing, textiles, footwear, assembly of bicycles and motorcycles

Agriculture:

cotton, coffee, tobacco, manioc (tapioca), yams, millet, corn, bananas; timber

Exports:

diamonds, timber, cotton, coffee, tobacco

Export partners:

Belgium 34.3%, France 9.1%, Italy 8.2%, Spain 8.1%, Indonesia 7.5%, China 6.7%, Democratic Republic of the Congo 4.6%, US 4.2%

Imports:

food, textiles, petroleum products, machinery, electrical equipment, motor vehicles, chemicals, pharmaceuticals

Import partners:

France 16.2%, Netherlands 11%, Cameroon 9.9%, US 7.2%

Currency:

Communaute Financiere Africaine franc (XAF); note - responsible authority is the Bank of the Central African States
SOURCES: The CIA World Factbook, U.S. Department of State, Area Handbook of the US Library of Congress
Copyright 2004 - 2008 worldfacts.us