World Facts Index > Brazil > Rio De Janeiro, Sao Paulo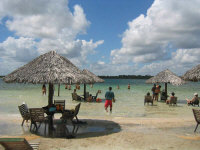 Following three centuries under the rule of Portugal, Brazil became an independent nation in 1822 and a republic in 1889. By far the largest and most populous country in South America, Brazil overcame more than half a century of military intervention in the governance of the country when in 1985 the military regime peacefully ceded power to civilian rulers. Brazil continues to pursue industrial and agricultural growth and development of its interior. Exploiting vast natural resources and a large labor pool, it is today South America's leading economic power and a regional leader. Highly unequal income distribution remains a pressing problem.
Geography of Brazil
Location:

Eastern South America, bordering the Atlantic Ocean

Coordinates:

10 00 S, 55 00 W

Area:

total: 8,511,965 sq km
land: 8,456,510 sq km
note: includes Arquipelago de Fernando de Noronha, Atol das Rocas, Ilha da Trindade, Ilhas Martin Vaz, and Penedos de Sao Pedro e Sao Paulo
water: 55,455 sq km

Area comparative:

slightly smaller than the US

Land boundaries:

total: 14,691 km
border countries: Argentina 1,224 km, Bolivia 3,400 km, Colombia 1,643 km, French Guiana 673 km, Guyana 1,119 km, Paraguay 1,290 km, Peru 1,560 km, Suriname 597 km, Uruguay 985 km, Venezuela 2,200 km

Coastline:

7,491 km

Maritime claims:

contiguous zone: 24 NM
territorial sea: 12 NM
continental shelf: 200 NM or to edge of the continental margin
exclusive economic zone: 200 NM

Climate:

mostly tropical, but temperate in south

Terrain:

mostly flat to rolling lowlands in north; some plains, hills, mountains, and narrow coastal belt

Elevation extremes:

lowest point: Atlantic Ocean 0 m
highest point: Pico da Neblina 3,014 m

Natural resources:

bauxite, gold, iron ore, manganese, nickel, phosphates, platinum, tin, uranium, petroleum, hydropower, timber

Natural hazards:

recurring droughts in northeast; floods and occasional frost in south

Environment - current issues:

deforestation in Amazon Basin destroys the habitat and endangers a multitude of plant and animal species indigenous to the area; there is a lucrative illegal wildlife trade; air and water pollution in Rio de Janeiro, Sao Paulo, and several other large cities; land degradation and water pollution caused by improper mining activities; wetland degradation; severe oil spills

Geography - note:

largest country in South America; shares common boundaries with every South American country except Chile and Ecuador
Population of Brazil
Population:

196,342,592 (July 2008 est.)

Age structure:

0-14 years: 25.8% (male 24,687,656/female 23,742,998)
15-64 years: 68.1% (male 63,548,331/female 64,617,539)
65 years and over: 6.1% (male 4,712,675/female 6,769,028)

Median age:

28.2 years

Growth rate:

1.04%

Infant mortality:

28.6 deaths/1,000 live births

Life expectancy at birth:

total population: 71.97 years
male: 68.02 years
female: 76.12 years

Total fertility rate:

1.91 children born/woman

Nationality:

noun: Brazilian(s)
adjective: Brazilian

Ethnic groups:

white 53.7%, mulatto (mixed white and black) 38.5%, black 6.2%, other (includes Japanese, Arab, Amerindian) 0.9%, unspecified 0.7%

Religions:

Roman Catholic (nominal) 73.6%, Protestant 15.4%, Spiritualist 1.3%, Bantu/voodoo 0.3%, other 1.8%, unspecified 0.2%, none 7.4%

Languages:

Portuguese (official), Spanish, English, French

Literacy:

definition: age 15 and over can read and write
total population: 86.4%
male: 86.1%
female: 86.6%
Government
Country name:

long form: Federative Republic of Brazil
local long form: Republica Federativa do Brasil

Government type:

federative republic

Capital:

Brasilia

Administrative divisions:

26 states (estados, singular - estado) and 1 federal district* (distrito federal); Acre, Alagoas, Amapa, Amazonas, Bahia, Ceara, Distrito Federal*, Espirito Santo, Goias, Maranhao, Mato Grosso, Mato Grosso do Sul, Minas Gerais, Para, Paraiba, Parana, Pernambuco, Piaui, Rio de Janeiro, Rio Grande do Norte, Rio Grande do Sul, Rondonia, Roraima, Santa Catarina, Sao Paulo, Sergipe, Tocantins

Independence:

7 September 1822 (from Portugal)

National holiday:

Independence Day, 7 September (1822)

Constitution:

5 October 1988

Legal system:

based on Roman codes; has not accepted compulsory ICJ jurisdiction

Suffrage:

voluntary between 16 and 18 years of age and over 70; compulsory over 18 and under 70 years of age; note - military conscripts do not vote

Executive branch:

chief of state: President Luiz Inacio LULA DA SILVA (since 1 January 2003); Vice President Jose ALENCAR (since 1 January 2003); note - the president is both the chief of state and head of government
head of government: President Luiz Inacio LULA DA SILVA (since 1 January 2003); Vice President Jose ALENCAR (since 1 January 2003)
cabinet: Cabinet appointed by the president
elections: president and vice president elected on the same ticket by popular vote for a single four-year term; election last held 1 October 2006 with runoff 29 October 2006 (next to be held 3 October 2010 and, if necessary, 31 October 2010)

Legislative branch:

bicameral National Congress or Congresso Nacional consists of the Federal Senate or Senado Federal (81 seats; 3 members from each state and federal district elected according to the principle of majority to serve eight-year terms; one-third elected after a four-year period, two-thirds elected after the next four-year period) and the Chamber of Deputies or Camara dos Deputados (513 seats; members are elected by proportional representation to serve four-year terms)

Judicial branch:

Supreme Federal Tribunal (11 ministers are appointed for life by the president and confirmed by the Senate); Higher Tribunal of Justice; Regional Federal Tribunals (judges are appointed for life); note - though appointed "for life," judges, like all federal employees, have a mandatory retirement age of 70

Political pressure groups and leaders:

Landless Worker's Movement; labor unions and federations; large farmers' associations; religious groups including evangelical Christian churches and the Catholic Church
Economy
Characterized by large and well-developed agricultural, mining, manufacturing, and service sectors, Brazil's economy outweighs that of all other South American countries and is expanding its presence in world markets. Having weathered 2001-03 financial turmoil, capital inflows are regaining strength and the currency has resumed appreciating. The appreciation has slowed export volume growth, but since 2004, Brazil's growth has yielded increases in employment and real wages. The resilience in the economy stems from commodity-driven current account surpluses, and sound macroeconomic policies that have bolstered international reserves to historically high levels, reduced public debt, and allowed a significant decline in real interest rates. A floating exchange rate, an inflation-targeting regime, and a tight fiscal policy are the three pillars of the economic program. From 2003 to 2007, Brazil ran record trade surpluses and recorded its first current account surpluses since 1992. Productivity gains coupled with high commodity prices contributed to the surge in exports. Brazil improved its debt profile in 2006 by shifting its debt burden toward real denominated and domestically held instruments. LULA DA SILVA restated his commitment to fiscal responsibility by maintaining the country's primary surplus during the 2006 election. Following his second inauguration, LULA DA SILVA announced a package of further economic reforms to reduce taxes and increase investment in infrastructure. The government's goal of achieving strong growth while reducing the debt burden is likely to create inflationary pressures.
GDP:

$1.849 trillion (2007 est.)

GDP growth rate:

2.4%

GDP per capita:

$8,400

GDP composition by sector:

agriculture: 8.4%
industry: 40%
services: 51.6%

Household income or consumption by percentage share:

lowest 10%: 0.7%
highest 10%: 31.27%

Inflation rate:

6.9%

Labor force:

90.41 million

Labor force by occupation:

agriculture: 20%
industry: 14%
services: 66%

Unemployment:

9.8%

Budget:

revenues: $140.6 billion
expenditures: $172.4 billion

Electricity production by source:

fossil fuel: 8.3%
hydro: 82.7%
other: 4.6%
nuclear: 4.4%

Industries:

textiles, shoes, chemicals, cement, lumber, iron ore, tin, steel, aircraft, motor vehicles and parts, other machinery and equipment

Agriculture:

coffee, soybeans, wheat, rice, corn, sugarcane, cocoa, citrus; beef

Exports:

transport equipment, iron ore, soybeans, footwear, coffee, autos

Export partners:

US 19.8%, China 7.5%, Argentina 7.3%, Germany 5.2%, Netherlands 4.3%

Imports:

machinery, electrical and transport equipment, chemical products, oil

Import partners:

US 19.6%, Germany 8.6%, Argentina 8.5%, China 6.2%, Nigeria 5.6%

Currency:

real (BRL)
SOURCES: The CIA World Factbook, U.S. Department of State, Area Handbook of the US Library of Congress
Copyright 2004 - 2008 worldfacts.us