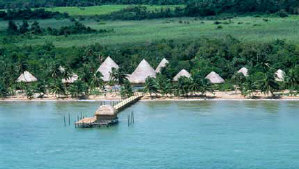 Belize was the site of several Mayan city states until their decline at the end of the first millennium A.D. The British and Spanish disputed the region in the 17th and 18th centuries; it formally became the colony of British Honduras in 1854. Territorial disputes between the UK and Guatemala delayed the independence of Belize until 1981. Guatemala refused to recognize the new nation until 1992. Tourism has become the mainstay of the economy. Current concerns include an unsustainable foreign debt, high unemployment, growing involvement in the South American drug trade, growing urban crime, and increasing incidences of HIV/AIDS.
Geography of Belize
Location:

Middle America, bordering the Caribbean Sea, between Guatemala and Mexico

Coordinates:

17 15 N, 88 45 W

Area:

total: 22,966 sq km
water: 160 sq km
land: 22,806 sq km

Area comparative:

slightly smaller than Massachusetts

Land boundaries:

total: 516 km
border countries: Guatemala 266 km, Mexico 250 km

Coastline:

386 km

Maritime claims:

exclusive economic zone: 200 NM
territorial sea: 12 NM in the north, 3 NM in the south; note - from the mouth of the Sarstoon River to Ranguana Cay, Belize's territorial sea is 3 NM; according to Belize's Maritime Areas Act, 1992, the purpose of this limitation is to provide a framework for the negotiation of a definitive agreement on territorial differences with Guatemala

Climate:

tropical; very hot and humid; rainy season (May to November); dry season (February to May)

Terrain:

flat, swampy coastal plain; low mountains in south

Elevation extremes:

lowest point: Caribbean Sea 0 m
highest point: Victoria Peak 1,160 m

Natural resources:

arable land potential, timber, fish, hydropower

Natural hazards:

frequent, devastating hurricanes (June to November) and coastal flooding (especially in south)

Environment - current issues:

deforestation; water pollution from sewage, industrial effluents, agricultural runoff; solid and sewage waste disposal

Geography - note:

only country in Central America without a coastline on the North Pacific Ocean
Population of Belize
Population:

301,270 (July 2008 est.)

Age structure:

0-14 years: 38.4% (male 58,987/female 56,674)
15-64 years: 58.1% (male 88,521/female 86,450)
65 years and over: 3.5% (male 5,095/female 5,543)

Median age:

19.6 years

Infant mortality:

24.89 deaths/1,000 live births

Life expectancy at birth:

total population: 68.19 years
male: 66.39 years
female: 70.08 years

Total fertility rate:

3.6 children born/woman

Nationality:

noun: Belizean(s)
adjective: Belizean

Ethnic groups:

mestizo 48.7%, Creole 24.9%, Maya 10.6%, Garifuna 6.1%, other 9.7%

Religions:

Roman Catholic 49.6%, Protestant 27% (Anglican 5.3%, Methodist 3.5%, Mennonite 4.1%, Seventh-Day Adventist 5.2%, Pentecostal 7.4%, Jehovah's Witnesses 1.5%), none 9.4%, other 14%

Languages:

English (official), Spanish, Mayan, Garifuna (Carib), Creole

Literacy:

definition: age 15 and over can read and write
total population: 94.1%
male: 94.1%
female: 94.1%
Government
Country name:

conventional long form: none
conventional short form: Belize
former: British Honduras

Government type:

parliamentary democracy

Capital:

Belmopan

Administrative divisions:

6 districts; Belize, Cayo, Corozal, Orange Walk, Stann Creek, Toledo

Independence:

21 September 1981 (from UK)

National holiday:

Independence Day, 21 September (1981)

Constitution:

21 September 1981

Legal system:

English law

Suffrage:

18 years of age; universal

Executive branch:

chief of state: Queen ELIZABETH II (since 6 February 1952); represented by Governor General Sir Colville YOUNG, Sr. (since 17 November 1993)
head of government: Prime Minister Dean BARROW (since 8 February 2008); Deputy Prime Minister Gaspar VEGA (since 12 February 2008)
cabinet: Cabinet appointed by the governor general on the advice of the prime minister
elections: the monarch is hereditary; governor general appointed by the monarch; following legislative elections, the leader of the majority party or the leader of the majority coalition is usually appointed prime minister by the governor general; prime minister recommends the deputy prime minister

Legislative branch:

bicameral National Assembly consists of the Senate (12 members appointed by the governor general - 6 on the advice of the prime minister, 3 on the advice of the leader of the opposition, and 1 each on the advice of the Belize Council of Churches and Evangelical Association of Churches, the Belize Chamber of Commerce and Industry and the Belize Better Business Bureau, and the National Trade Union Congress and the Civil Society Steering Committee; members are appointed for five-year terms) and the House of Representatives (29 seats; members are elected by direct popular vote to serve five-year terms)

Judicial branch:

Supreme Court (the chief justice is appointed by the governor general on the advice of the prime minister)
Economy
In this small, essentially private-enterprise economy, tourism is the number one foreign exchange earner followed by exports of marine products, citrus, cane sugar, bananas, and garments. The government's expansionary monetary and fiscal policies, initiated in September 1998, led to sturdy GDP growth averaging nearly 4% in 1999-2007. Oil discoveries in 2006 bolstered the economic growth in 2006 and 2007. Major concerns continue to be the sizable trade deficit and unsustainable foreign debt. In February 2007, the government restructured nearly all of its public external commercial debt, which will reduce interest payments and relieve liquidity concerns. A key short-term objective remains the reduction of poverty with the help of international donors.
GDP:

$2.444 billion (2007 est.)

GDP growth rate:

3.8%

GDP per capita:

$7,900

GDP composition by sector:

agriculture: 14.2%
industry: 15.2%
services: 61.2%

Inflation rate:

3%

Labor force:

90,000
note: shortage of skilled labor and all types of technical personnel

Labor force - by occupation:

agriculture: 27%
industry: 18%
services: 55%

Unemployment:

12.9%

Budget:

revenues: $262 million
expenditures: $329 million

Industries:

garment production, food processing, tourism, construction

Electricity production by source:

fossil fuel: 59.9%
hydro: 40.1%
other: 0%
nuclear: 0%

Agriculture:

bananas, coca, citrus, sugar; fish, cultured shrimp; lumber; garments

Exports:

sugar, bananas, citrus, clothing, fish products, molasses, wood

Export partners:

US 30.6%, UK 25.1%, Jamaica 4.9%, France 4.8%

Imports:

machinery and transport equipment, manufactured goods; fuels, chemicals, pharmaceuticals; food, beverages, tobacco

Import partners:

US 29.9%, Mexico 10%, Russia 9%, Guatemala 6.2%, Cuba 6%, China 4.4%, Spain 4.2%

Currency:

Belizean dollar (BZD)
SOURCES: The CIA World Factbook, U.S. Department of State, Area Handbook of the US Library of Congress
Copyright 2004 - 2008 worldfacts.us