World Facts Index > Belgium > Antwerp, Brussels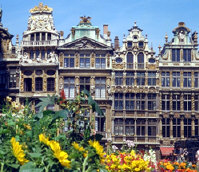 Belgium became independent from the Netherlands in 1830; it was occupied by Germany during World Wars I and II. It has prospered in the past half century as a modern, technologically advanced European state and member of NATO and the EU. Tensions between the Dutch-speaking Flemings of the north and the French-speaking Walloons of the south have led in recent years to constitutional amendments granting these regions formal recognition and autonomy.
Geography of Belgium
Location:

Western Europe, bordering the North Sea, between France and the Netherlands

Coordinates:

50 50 N, 4 00 E

Area:

total: 30,510 sq km
land: 30,230 sq km
water: 280 sq km

Area comparative:

about the size of Maryland

Land boundaries:

total: 1,385 km
border countries: France 620 km, Germany 167 km, Luxembourg 148 km, Netherlands 450 km

Coastline:

66 km

Maritime claims:

continental shelf: median line with neighbors
territorial sea: 12 NM
exclusive economic zone: median line with neighbors (extends about 68 km from coast)

Climate:

temperate; mild winters, cool summers; rainy, humid, cloudy

Terrain:

flat coastal plains in northwest, central rolling hills, rugged mountains of Ardennes Forest in southeast

Elevation extremes:

lowest point: North Sea 0 m
highest point: Signal de Botrange 694 m

Natural resources:

coal, natural gas

Natural hazards:

flooding is a threat in areas of reclaimed coastal land, protected from the sea by concrete dikes

Environment - current issues:

the environment is exposed to intense pressures from human activities: urbanization, dense transportation network, industry, extensive animal breeding and crop cultivation; air and water pollution also have repercussions for neighboring countries; uncertainties regarding federal and regional responsibilities (now resolved) have slowed progress in tackling environmental challenges

Geography - note:

crossroads of Western Europe; majority of West European capitals within 1,000 km of Brussels, the seat of both the European Union and NATO
Population of Belgium
Population:

10,403,951 (July 2008 est.)

Age structure:

0-14 years: 16.3% (male 864,287/female 828,435)
15-64 years: 66.3% (male 3,476,802/female 3,416,383)
65 years and over: 17.5% (male 751,745/female 1,066,299)

Median age:

41.4 years

Infant mortality:

4.5 deaths/1,000 live births

Life expectancy at birth:

total population: 79.07 years
male: 75.9 years
female: 82.38 years

Total fertility rate:

1.64 children born/woman

Nationality:

noun: Belgian(s)
adjective: Belgian

Ethnic groups:

Fleming 58%, Walloon 31%, mixed or other 11%

Religions:

Roman Catholic 75%, Protestant or other 25%

Languages:

Dutch (official) 60%, French (official) 40%, German (official) less than 1%, legally bilingual (Dutch and French)

Literacy:

definition: age 15 and over can read and write
total population: 99%
Government
Country name:

conventional long form: Kingdom of Belgium
local short form: Belgique/Belgie
local long form: Royaume de Belgique/Koninkrijk Belgie

Government type:

federal parliamentary democracy under a constitutional monarch

Capital:

Brussels

Administrative divisions:

10 provinces (French: provinces, singular - province; Dutch: provincies, singular - provincie) and 3 regions* (French: regions; Dutch: gewesten); Antwerpen, Brabant Wallon, Brussels* (Bruxelles), Flanders*, Hainaut, Liege, Limburg, Luxembourg, Namur, Oost-Vlaanderen, Vlaams-Brabant, Wallonia*, West-Vlaanderen

Independence:

4 October 1830 a provisional government declared independence from the Netherlands; 21 July 1831 the ascension of King Leopold I to the throne

National holiday:

21 July (1831) ascension to the Throne of King Leopold I

Constitution:

7 February 1831, last revised 14 July 1993; parliament approved a constitutional package creating a federal state

Legal system:

civil law system influenced by English constitutional theory; judicial review of legislative acts; accepts compulsory ICJ jurisdiction, with reservations

Suffrage:

18 years of age; universal and compulsory

Executive branch:

chief of state: King ALBERT II (since 9 August 1993); Heir Apparent Prince PHILIPPE, son of the monarch
head of government: Prime Minister Yves LETERME (20 March 2008)
cabinet: Council of Ministers are formally appointed by the monarch
elections: the monarchy is hereditary and constitutional; following legislative elections, the leader of the majority party or the leader of the majority coalition is usually appointed prime minister by the monarch and then approved by parliament

Legislative branch:

bicameral Parliament consists of a Senate or Senaat in Dutch, Senat in French (71 seats; 40 members are directly elected by popular vote, 31 are indirectly elected; members serve four-year terms) and a Chamber of Deputies or Kamer van Volksvertegenwoordigers in Dutch, Chambre des Representants in French (150 seats; members are directly elected by popular vote on the basis of proportional representation to serve four-year terms)

Judicial branch:

Supreme Court of Justice or Hof van Cassatie (in Dutch) or Cour de Cassation (in French) (judges are appointed for life by the Government; candidacies have to be submitted by the High Justice Council)
Economy
This modern, private-enterprise economy has capitalized on its central geographic location, highly developed transport network, and diversified industrial and commercial base. Industry is concentrated mainly in the populous Flemish area in the north. With few natural resources, Belgium must import substantial quantities of raw materials and export a large volume of manufactures, making its economy unusually dependent on the state of world markets. Roughly three-quarters of its trade is with other EU countries. Public debt is more than 85% of GDP. On the positive side, the government has succeeded in balancing its budget, and income distribution is relatively equal. Belgium began circulating the euro currency in January 2002. Economic growth in 2001-03 dropped sharply because of the global economic slowdown, with moderate recovery in 2004-07. Economic growth and foreign direct investment are expected to slow down in 2008, due to credit tightening, falling consumer and business confidence, and above average inflation. However, with the successful negotiation of the 2008 budget and devolution of power within the government, political tensions seem to be easing and could lead to an improvement in the economic outlook for 2008.
GDP:

$376.5 billion (2007 est.)

GDP growth rate:

1.5%

GDP per capita:

$36,200

GDP composition by sector:

agriculture: 1%
industry: 24%
services: 74.9%

Inflation rate:

1.4%

Labor force:

4.77 million

Labor force - by occupation:

agriculture: 1.3%
industry: 24.5%
services: 74.2%

Budget:

revenues: $180.4 billion
expenditures: $180.5 billion; including capital expenditures of $1.56 billion

Industries:

engineering and metal products, motor vehicle assembly, processed food and beverages, chemicals, basic metals, textiles, glass, petroleum, tourism

Electricity production by source:

fossil fuel: 38.4%
hydro: 0.6%
nuclear: 59.3%
other: 1.8%

Agriculture:

sugar beets, fresh vegetables, fruits, grain, tobacco; beef, veal, pork, milk

Exports:

machinery and equipment, chemicals, diamonds, metals and metal products, foodstuffs

Export partners:

Germany 19.8%, France 17%, Netherlands 11.8%, UK 8.2%, US 6%, Italy 5.4%

Imports:

machinery and equipment, chemicals, diamonds, pharmaceuticals, foodstuffs, transportation equipment, oil products

Import partners:

Germany 17.5%, Netherlands 17.5%, France 11.3%, UK 6.9%, Ireland 6.6%, US 5.4%

Currency:

euro (EUR)
note: on 1 January 1999, the European Monetary Union introduced the euro as a common currency to be used by financial institutions of member countries; on 1 January 2002, the euro became the sole currency for everyday transactions within the member countries
SOURCES: The CIA World Factbook, U.S. Department of State, Area Handbook of the US Library of Congress
Copyright 2004 - 2008 worldfacts.us