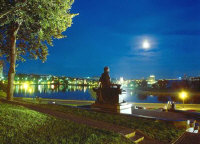 After seven decades as a constituent republic of the USSR, Belarus attained its independence in 1991. It has retained closer political and economic ties to Russia than any of the other former Soviet republics. Belarus and Russia signed a treaty on a two-state union on 8 December 1999 envisioning greater political and economic integration. Although Belarus agreed to a framework to carry out the accord, serious implementation has yet to take place. Since his election in July 1994 as the country's first president, Alexander LUKASHENKO has steadily consolidated his power through authoritarian means. Government restrictions on freedom of speech and the press, peaceful assembly, and religion continue.
Geography of Belarus
Location:

Eastern Europe, east of Poland

Coordinates:

53 00 N, 28 00 E

Area:

total: 207,600 sq km
water: 0 sq km
land: 207,600 sq km

Area comparative:

slightly smaller than Kansas

Land boundaries:

total: 2,900 km
border countries: Latvia 141 km, Lithuania 502 km, Poland 407 km, Russia 959 km, Ukraine 891 km

Coastline:

0 km (landlocked)

Maritime claims:

none (landlocked)

Climate:

cold winters, cool and moist summers; transitional between continental and maritime

Terrain:

generally flat and contains much marshland

Elevation extremes:

lowest point: Nyoman River 90 m
highest point: Dzyarzhynskaya Hara 346 m

Natural resources:

forests, peat deposits, small quantities of oil and natural gas, granite, dolomitic limestone, marl, chalk, sand, gravel, clay

Environment - current issues:

soil pollution from pesticide use; southern part of the country contaminated with fallout from 1986 nuclear reactor accident at Chornobyl' in northern Ukraine

Geography - note:

landlocked; glacial scouring accounts for the flatness of Belarusian terrain and for its 11,000 lakes; the country is geologically well endowed with extensive deposits of granite, dolomitic limestone, marl, chalk, sand, gravel, and clay
Population of Belarus
Population:

9,685,768 (July 2008 est.)

Age structure:

0-14 years: 14.4% (male 717,885/female 677,254)
15-64 years: 70.9% (male 3,333,699/female 3,531,920)
65 years and over: 14.7% (male 459,627/female 965,383)

Median age:

37.2 years

Infant mortality:

13 deaths/1,000 live births

Life expectancy at birth:

total population: 69.08 years
male: 63.47 years
female: 74.98 years

Total fertility rate:

1.43 children born/woman

Nationality:

noun: Belarusian(s)
adjective: Belarusian

Ethnic groups:

Belarusian 81.2%, Russian 11.4%, Polish, Ukrainian, and other 7.4%

Religions:

Eastern Orthodox 80%, other (including Roman Catholic, Protestant, Jewish, and Muslim) 20%

Languages:

Belarusian, Russian, other

Literacy:

definition: age 15 and over can read and write
total population: 99.6%
male: 99.8%
female: 99.5%
Government
Country name:

conventional long form: Republic of Belarus
former: Belorussian (Byelorussian) Soviet Socialist Republic
local long form: Respublika Byelarus'

Government type:

republic

Capital:

Minsk

Administrative divisions:

6 voblastsi (singular - voblasts') and one municipality* (harady, singular - horad); Brestskaya (Brest), Homyel'skaya (Homyel'), Horad Minsk*, Hrodzyenskaya (Hrodna), Mahilyowskaya (Mahilyow), Minskaya, Vitsyebskaya (Vitsyebsk); note - when using a place name with the adjectival ending 'skaya,' the word Voblasts' should be added to the place name
note: voblasti have the administrative center name following in parentheses

Independence:

25 August 1991 (from Soviet Union)

National holiday:

Independence Day, 3 July (1944); note - 3 July 1944 was the date Minsk was liberated from German troops, 25 August 1991 was the date of independence from the Soviet Union

Constitution:

30 March 1994; revised by national referendum of 24 November 1996 giving the presidency greatly expanded powers and became effective 27 November 1996

Legal system:

based on civil law system

Suffrage:

18 years of age; universal

Executive branch:

chief of state: President Aleksandr LUKASHENKO (since 20 July 1994)
head of government: Prime Minister Sergey SIDORSKIY (since 19 December 2003); First Deputy Prime Minister Vladimir SEMASHKO (since December 2003)
cabinet: Council of Ministers
elections: president elected by popular vote for a five-year term; first election took place 23 June and 10 July 1994; according to the 1994 constitution, the next election should have been held in 1999, however, Aleksandr LUKASHENKO extended his term to 2001 via a November 1996 referendum; subsequent election held 9 September 2001; an October 2004 referendum ended presidential term limits and allowed the president to run in a third election, which was held on 19 March 2006; prime minister and deputy prime ministers appointed by the president
election results: Aleksandr LUKASHENKO reelected president; percent of vote - Aleksandr LUKASHENKO 82.6%, Aleksandr MILINKEVICH 6%, Aleksandr KOZULIN 2.3%; note - election marred by electoral fraud

Legislative branch:

bicameral National Assembly or Natsionalnoye Sobranie consists of the Council of the Republic or Soviet Respubliki (64 seats; 56 members elected by regional councils and 8 members appointed by the president, all for four-year terms) and the Chamber of Representatives or Palata Predstaviteley (110 seats; members elected by universal adult suffrage to serve four-year terms)

Judicial branch:

Supreme Court (judges are appointed by the president); Constitutional Court (half of the judges appointed by the president and half appointed by the Chamber of Representatives)
Economy
Belarus has seen little structural reform since 1995, when President LUKASHENKO launched the country on the path of "market socialism." In keeping with this policy, LUKASHENKO reimposed administrative controls over prices and currency exchange rates and expanded the state's right to intervene in the management of private enterprises. Since 2005, the government has re-nationalized a number of private companies. In addition, businesses have been subject to pressure by central and local governments, e.g., arbitrary changes in regulations, numerous rigorous inspections, retroactive application of new business regulations, and arrests of "disruptive" businessmen and factory owners. A wide range of redistributive policies has helped those at the bottom of the ladder; the Gini coefficient is among the lowest in the world. Because of these restrictive economic policies, Belarus has had trouble attracting foreign investment. Nevertheless, GDP growth has been strong in recent years, reaching nearly 7% in 2007, despite the roadblocks of a tough, centrally directed economy with a high, but decreasing, rate of inflation. Belarus receives heavily discounted oil and natural gas from Russia and much of Belarus' growth can be attributed to the re-export of Russian oil at market prices. Trade with Russia - by far its largest single trade partner - decreased in 2007, largely as a result of a change in the way the Value Added Tax (VAT) on trade was collected. Russia has introduced an export duty on oil shipped to Belarus, which will increase gradually through 2009, and a requirement that Belarusian duties on re-exported Russian oil be shared with Russia - 80% will go to Russia in 2008, and 85% in 2009. Russia also increased Belarusian natural gas prices from $47 per thousand cubic meters (tcm) to $100 per tcm in 2007, and plans to increase prices gradually to world levels by 2011. Russia's recent policy of bringing energy prices for Belarus to world market levels may result in a slowdown in economic growth in Belarus over the next few years. Some policy measures, including tightening of fiscal and monetary policies, improving energy efficiency, and diversifying exports, have been introduced, but external borrowing has been the main mechanism used to manage the growing pressures on the economy.
GDP:

$103.5 billion (2007 est.)

GDP growth rate:

8%

GDP per capita:

$10,600

GDP composition by sector:

agriculture: 9.3%
industry: 31.6%
services: 59.1%

Population below poverty line:

27.1%

Inflation rate:

10.3%

Labor force:

4.3 million

Labor force by occupation:

agriculture: 14%
industry: 34.7%
services: 51.3%

Unemployment:

1.6% officially registered unemployed; large number of underemployed workers

Budget:

revenues: $5.903 billion
expenditures: $6.343 billion; including capital expenditures of $180 million

Industries:

metal-cutting machine tools, tractors, trucks, earthmovers, motorcycles, television sets, chemical fibers, fertilizer, textiles, radios, refrigerators

Electricity production by source:

fossil fuel: 99.5%
hydro: 0.1%
nuclear: 0%
other: 0.4%

Agriculture:

grain, potatoes, vegetables, sugar beets, flax; beef, milk

Exports:

machinery and equipment, mineral products, chemicals, metals; textiles, foodstuffs

Export partners:

Russia 43.4%, Poland 6%, UK 5.3%, Ukraine 5%

Imports:

mineral products, machinery and equipment, chemicals, foodstuffs, metals

Import partners:

Russia 60.5%, Germany 9.2%, Poland 4.9%

Currency:

Belarusian ruble (BYB/BYR)
SOURCES: The CIA World Factbook, U.S. Department of State, Area Handbook of the US Library of Congress
Copyright 2004 - 2008 worldfacts.us